A single serve Paleo breakfast skillet made with just three ingredients plus an egg!  This crispy and savory breakfast skillet with plantain, bacon, and kale is the perfect answer to your savory breakfast craving.  Full of crispy savory flavor and packed with nutrients.  Grain free, Paleo, dairy free and Whole30 approved.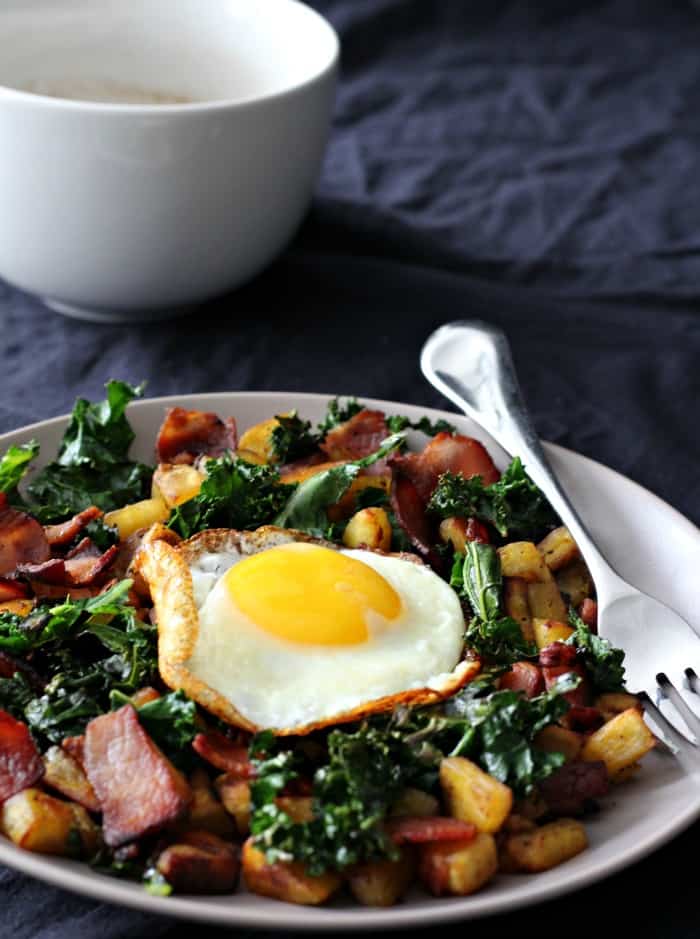 Let's talk breakfast for a minute – you know by now I love the subject.  There was a time, pre-Paleo, when I was all about sweet breakfasts all the way.  I used to eat huge bowls of cereal with berries, bananas, honey, and almond milk.  Then I'd eat another.  Occasionally, I had eggs with toast – and the toast was always cinnamon raisin with butter and honey.
The only time I ever ate bacon with breakfast was if I was out to eat and assumed it would make me sick.  I did always get sick, but I have a feeling the pancakes with syrup or stack of rye toast might have had something to do with that.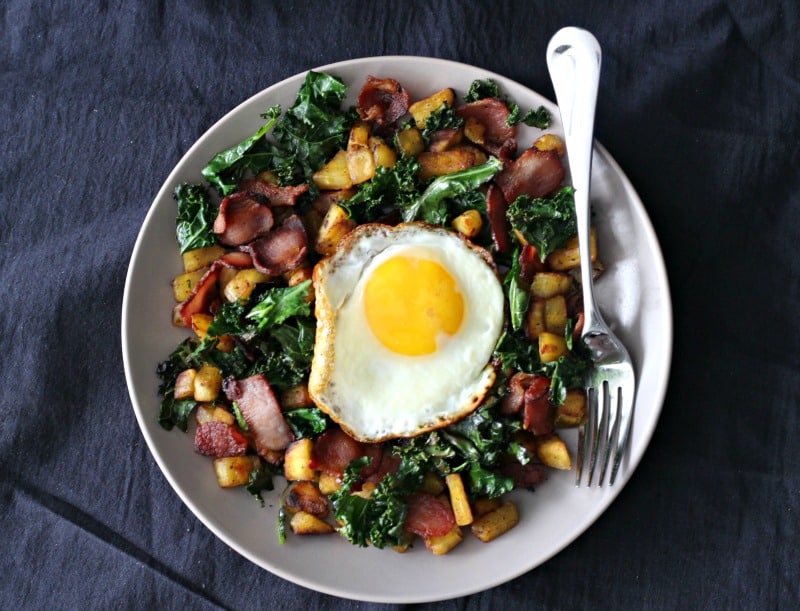 Anyway, I remember when I began eating Paleo I thought there was absolutely no way I could eat bacon, sausage, and potatoes in the morning without being sick later on.  I actually recall waiting for it to hit and being REALLY surprised when it never did.  In fact, after 2 weeks of eating breakfasts like this, it was apparent that I felt better than I ever had in my life – my digestion was improving along with everything else.
So, my crazy love for savory breakfasts was born, and has since just grown and grown.  Sure, I love my breakfast bread in the afternoon, but, you'll probably never catch me Instagramming it for my actual breakfast!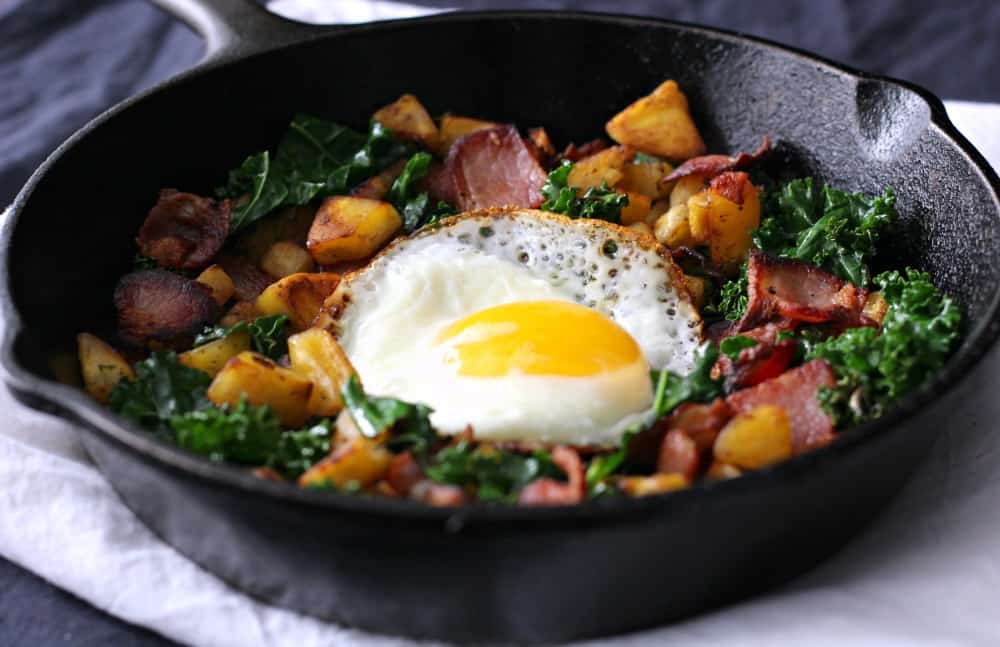 Sometimes, I have a savory/crispy craving in the morning – especially after a long run – so much so that even plantains and sweet potatoes seem too sweet.  After my first long run for Boston training, I wanted something easy (of course), super filling, crispy, and savory.
So, I made this recipe!  It uses a green plantain – which I typically reserve for chips and fries – but wanted to see what would happen if I let them hang with sizzling bacon in a pan for a little bit.  Well, wonderful things happened!  The bacon and plantains got nice and crisp, and I added kale for more crispiness and nutrients, too.  A crispy fried egg completed this single serve paleo breakfast skillet in the best way possible!  This recipe can easily be adapted to serve more than one by simply doubling the ingredients and using a bigger skillet.  See?  Everyone is happy!
Single Serve Paleo Breakfast Skillet – Bacon, Plantain & Kale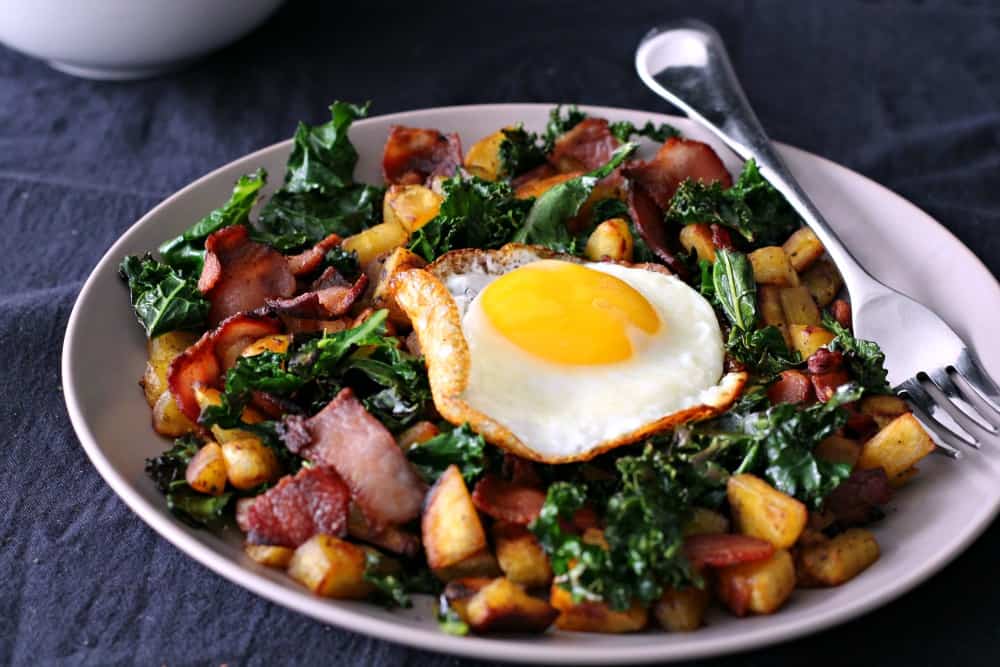 Single Serve Paleo Breakfast Skillet - Crispy & Savory Bacon, Plantain & Kale
Quick and easy 3 ingredient single serve Paleo breakfast skillet with savory and crispy bacon, plantains, and kale, plus an egg! Whole30, grain and dairy free.
Prep Time: 5 minutes
Cook Time: 10 minutes
Total Time: 15 minutes
Course: Breakfast
Cuisine: Paleo
Servings: 1 serving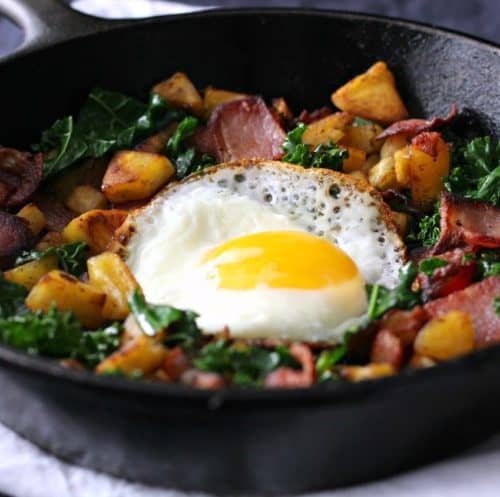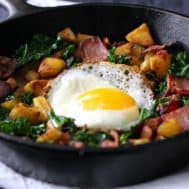 Ingredients
1/2 large green plantain peel removed (you can refrigerate the other half for later use)
3 slices nitrate free bacon - sugar free for Whole30** - cut into pieces
1 handful fresh kale roughly chopped
Sprinkle of fine grain sea salt
1 egg
Instructions
*To peel a green plantain, you'll have to score the sides and separate the peel from the plantain with your thumb or a knife. You'll use half a large one for this recipe.

Chop the peeled plantain into small thin pieces. They'll crisp up better when on the thinner side, although it's not incredibly important.

In a small - medium heavy skillet over medium heat, add the bacon pieces and stir to evenly cook. When the bacon begins to render fat, add the chopped plantain and stir for even cooking.

Cover the pan (the lid doesn't have to fit exactly) and allow the bacon and plantain to cook together, removing the lid to stir after about 30-60 seconds to prevent burning.

Once the plantain and bacon begin to brown, add the chopped kale to the skillet, stir, and cover again with the lid, adjusting or lowering the heat to prevent burning if necessary.

After the kale has softened, remove the lid and stir again. When the bacon, plantain and kale are all cooked and crispy, sprinkle with sea salt to taste. Turn the heat off but cover the lid to keep hot while you cook an egg in a separate pan (or however you want!)

Once your egg is cooked, put the hash on a plate and top with your cooked egg. Enjoy!

Favorite quick breakfast?
What's your breakfast "history?" lol 🙂
Do you prefer veggies or fruit in the morning (or both?)