This week I finally started Boston marathon training by doing a long run longer than 10 miles – yes!  I think I was secretly wondering if this would ever actually happen, since as of last week I wasn't in run-mode at all, followed by the germ takeover this week leaving me exhausted.
Let's get right into the workouts and then look at a few scenes from the weekend.
Boston Marathon Training Week 1
Monday – 5 miles in the snow easy, 23 minute morning yoga flow with Tim Senesi.  I should have run on the treadmill, no joke.  This run was hopping, leaping, and high-knees-through-the-snow more than it was actual running, and it's a good thing I didn't time it.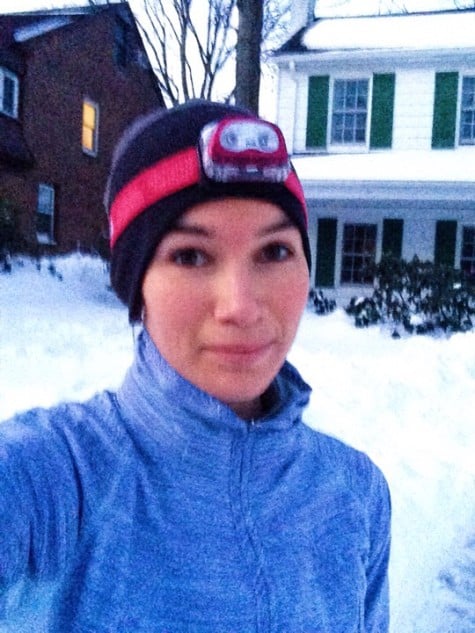 Tuesday – 5.5-ish miles, first 2 uphill.  I'm going to start doing 5-6 miles on this route once per week while training to get some hill work in.  Luckily after driving around on Monday I was able to see what areas were safe and run-able to make for a much more pleasant and normal run than the day before!
Later on, 30 minutes Total Body Yoga Workout 2.  This one still leaves be with sore abs for the next day at least!  I've been up to about 3 days per week of some sort of core work, and I'm noticing the difference and feel noticeably stronger and more balanced than just a couple of weeks ago.
Wednesday – Earlier than usual 5 miles after a night of not much sleep due to a sick Emily.  Later on while she napped, I did this 34 minute Total Body Yoga Workout.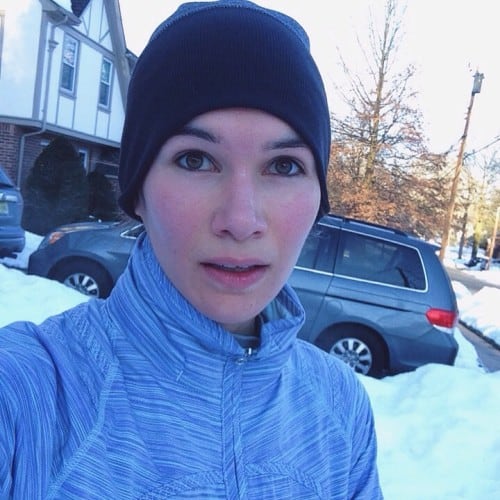 Thursday – Finding routes to navigate around the snow means I don't know exactly how far every run is, which is fine.  I have no desire to time my short weekday runs for 2 reasons –
1.) They're done at an easy pace and I'm not concerned with the distance as long as it's 5ish miles and
2.) I don't want to wait for the GPS to start in the cold!  Or have to take my mitten and glove off to start the MapMyRun app.  Yes, I'll make that effort for my long run, but for the others I'd rather just run out the door and not think about it.
So, this run was on a different route, a bit hilly and probably a little bit longer than 5 miles.  I'll definitely be running it again since it was nice and quiet and clear of snow and ice for the most part.
Later on, I squeezed in this 22 minute Well Rounded Yoga Flow – just perfect for 20 minutes.
Friday – Total rest day!  I slept until 6am, which was awesome and made me realize that I need more sleep in general.  Well, that and the fact that I've been clearly sleep deprived all week.  Sleep is something I'm almost always deprived of and I still haven't figured out a good solution.  What works for a few days just doesn't stick longterm, and it's not just a single factor interrupting it.   I would love to get a solid 7 hours per night, but I'm always hovering in the 6 hour range on average.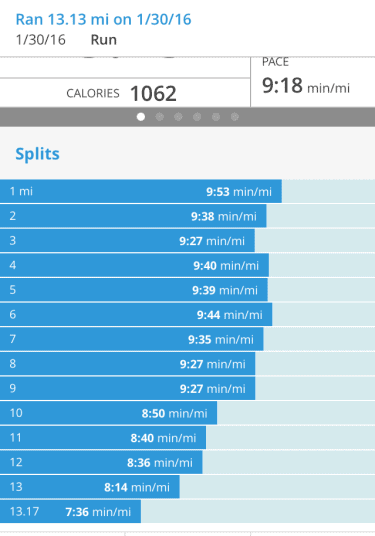 Saturday – 1st official long run for marathon training!  Of course I picked the coldest point of the entire weekend to do it, but that's when I had the time and it's always nice to get it out of the way, regardless.
I decided on 13 miles (yes I was sort of OCD and went for 13.1) and will probably go for 14 next week.
This run was interesting because I started out much slower than I typically would, and hearing the paces made me feel defeated because I had no desire to run any faster.  I also was nervous about how 13 miles would feel since I haven't run more than 10 since November 1st!
But, running is SO, SO mental – it still surprises me.  Once I got to the point in my route (about 4 miles from home) where a part of my brain clicks and I know I'll finish the run (based on dozens of long runs on this route) I suddenly sped up without trying to, and the last 4 miles were progressively faster, while somehow feeling easier.  I hope this experience sticks and gives me the confidence to make my long runs enjoyable over the next 11 weeks!
Sunday – No running, early morning yoga.  It seems to feel good to keep the day before a long run a total rest day with no yoga, and save a longer yoga practice for the morning after.  Today it was Vinyasa Yoga for Strength and Balance.  This video has some very tough core work in it that I could barely complete – Tim Senesi does not mess around with core work.
And, because there are a lot of food pictures waiting for you on my phone, here's a few of my meals from the weekend!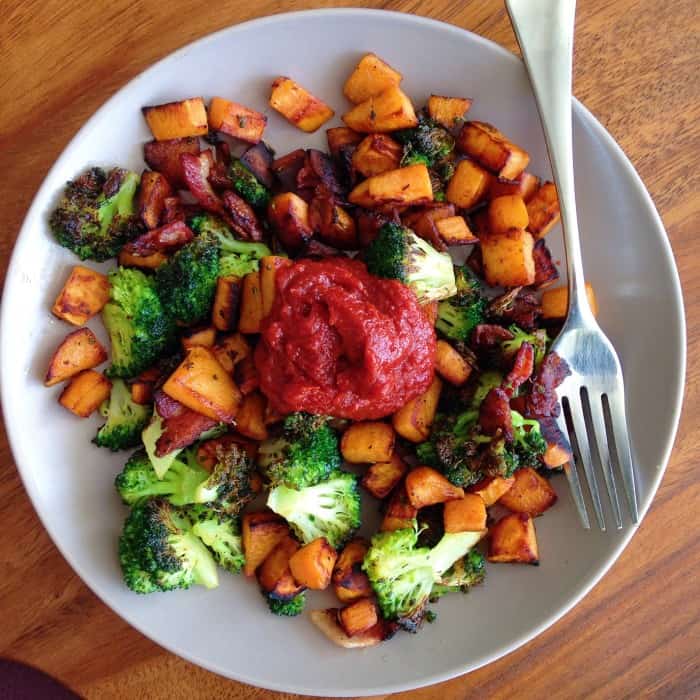 I'm having fun getting the most mileage possible out of my Maple Chipotle Ketchup!  It can go with everything, if you want it to.  For this lunch I cooked sweet potatoes, bacon, and broccoli together in a pan and topped with a nice dollop of the ketchup.  This was sooooo good 🙂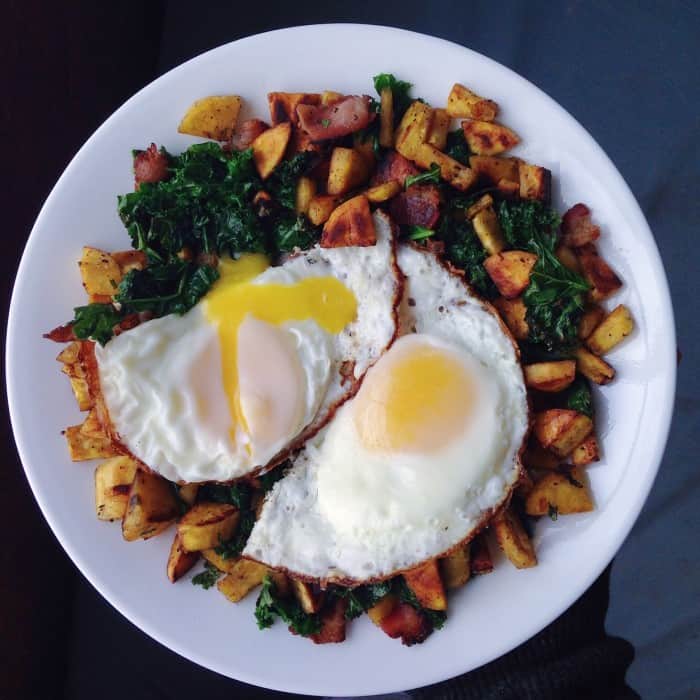 I was having some serious savory cravings this weekend both days for breakfast, and decided to use green plantains instead of ripe one to make a hash – I'm wild, we both know that.
I crisped up chopped bacon and plantains in the same pan and then added some chopped kale at the end and covered the pan.  The result (topped with 2 crispy eggs) was savory breakfast heaven, in my opinion!
This is basically the same thing but with sweet potatoes, skin on for extra crispiness! I'll save the rest of the food for WIAW for both of our sakes.
The other highlight of my weekend was FINALLY getting a darned haircut after literally 7 months without one.  About time right?  Not a good idea to go that long, especially since I use my flatiron a little bit every day, and my ends were dried out and dead.  Luckily Meredith reminded me in her post Friday that this needed to be high on the priority list for the weekend!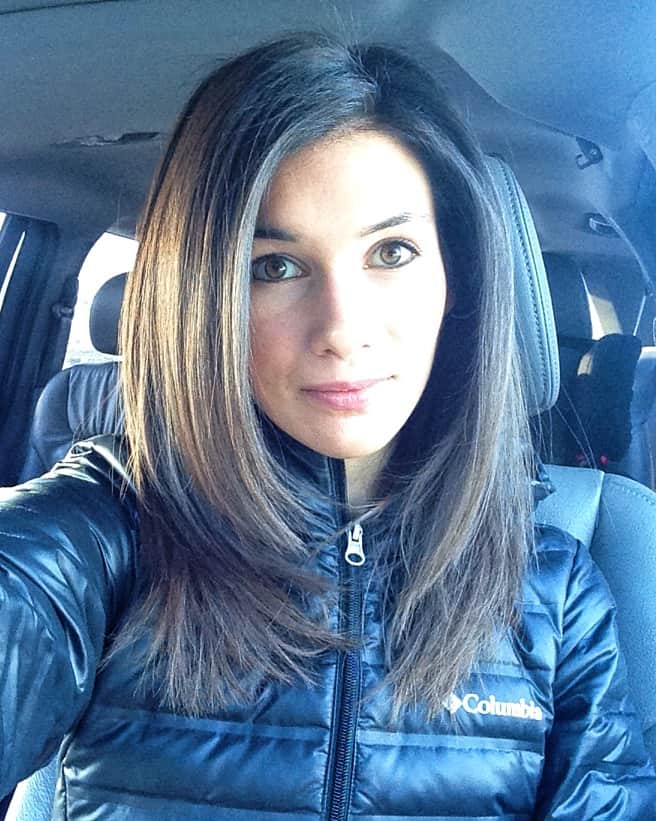 Nothing like a post-haircut car-glamour-selfie, right?  I'm allowed, since I only cut my hair twice per year.  The moment is fleeting of course, and now the day after, the "volume" they created is now just the top/back part sticking straight up, and the rest is flat.  I never get good blowouts that last, there's something wrong with me.
Do you take a selfie after getting a haircut?
How was your week of workouts?  Anything new in your routine?
Best meal of the weekend?