Get ready for a savory and healthy treat with this Brussels, Sausage & Bacon Quiche with Sweet Potato Crust!  The grain free crust is simply thin sliced, roasted sweet potatoes and makes for an easy yet impressive healthy brunch dish or make ahead meal.  Gluten free, Paleo, and Whole30 friendly!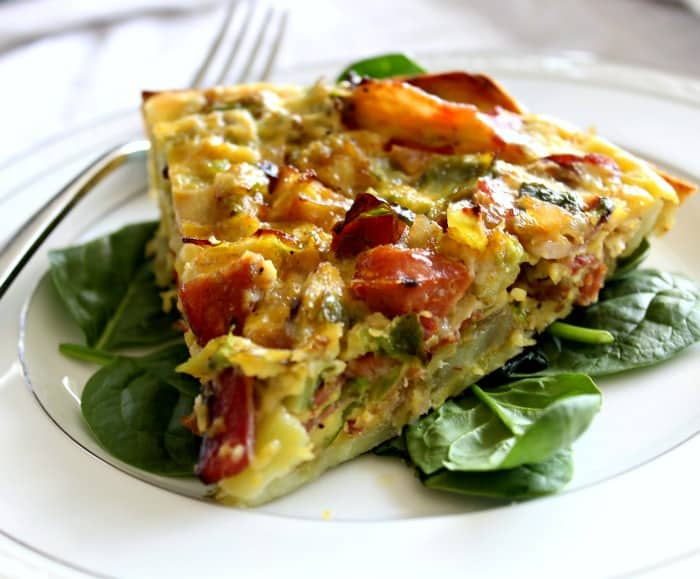 A very lucky week in my kitchen means back to back recipes!  Today we get a break from the sugar (whaaa!) because I can only make so many sweets in a row before I need a major break.  And by major break, I mean maybe one day, tops.  Does dark chocolate count?  In that case, the break doesn't even last a day.
So, I'm not sure if you've noticed, but one thing I have taken a break from recently is the moderately strict low FODMAP diet that I stick with whenever I'm training for a race.   There is no rocket science here, I just take more risks with food when I won't be stranded in IBS hell on a 20 mile run.
With a long run to think about every week, "it's just not worth it" becomes my motto for many things, brussels sprouts and onions being at the top of that list.  I hate trying to resist you, my veggie friends!  Especially when you're mingling with both sausage AND bacon.  And sweet potatoes. Seriously, it might not get better than this in savory breakfast land.  Who's joining me here?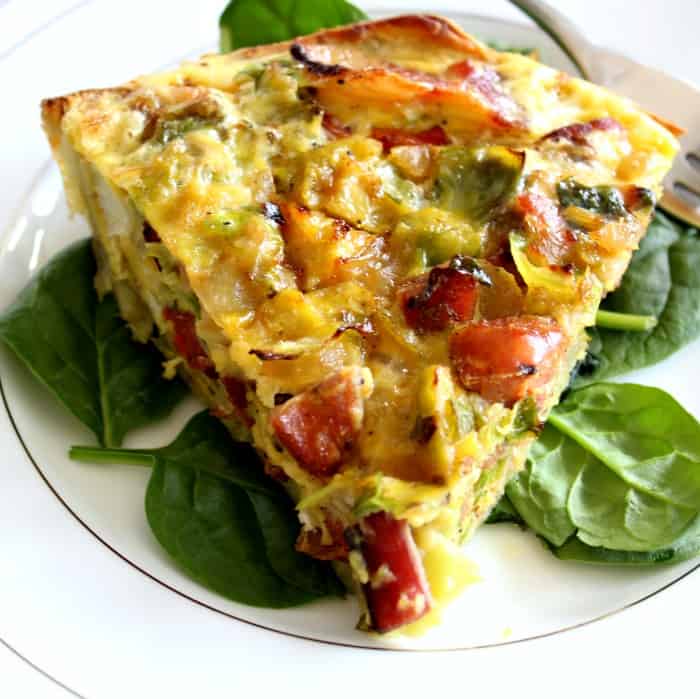 The running/low FODMAP thing isn't just an irrational fear, though.  I've noticed that my digestion is calmer when I'm "less active."  Meaning not training for a marathon and not running over 30 miles/week.  It could be that I'm simply not eating the massive quantities of everything that I eat when I train hard, or it could be stress related.  I tend to think that both factors contribute.  But heck no, I'm not complaining – just happily eating some of the yummy veggies and fruits I've missed!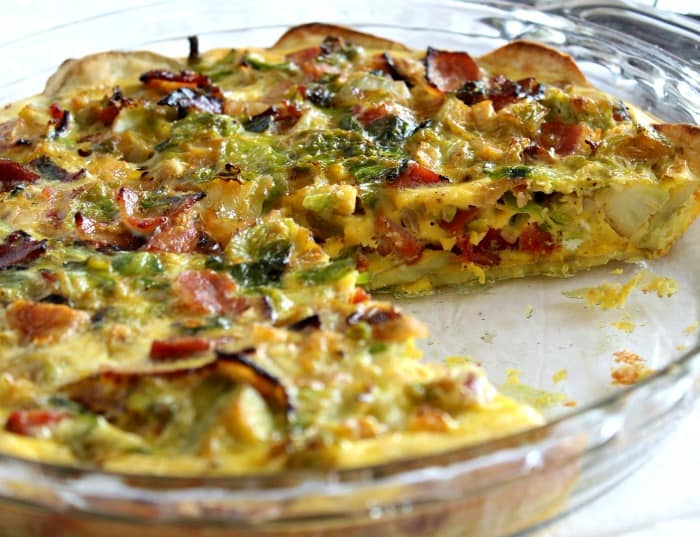 A bit more about this quiche before I give you the recipe.  There was most definitely a time when the words "sweet potato crust" would intimidate me, because I pictured myself cooking, pureeing, and I don't know what else-ing the sweet potatoes into a crust that would then fall apart on me.  But it's not like that at all, see, look at this: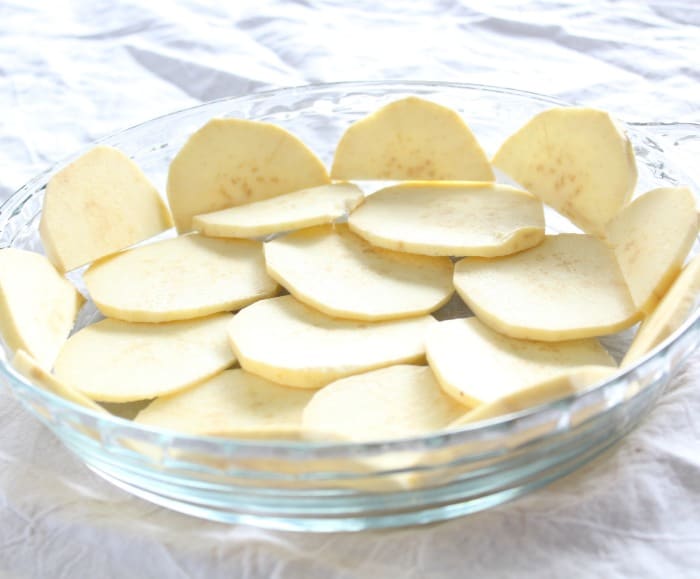 If you can cut circles and semi-circles à la 1st grade, this crust is a delightful breeze. Plus it works and doesn't crumble, but I guess that was the main point of it.  What I'm trying to say is, you peel, slice, grease, and roast.  While you roast, you create the filling.  It all comes together very easily – meat, veggie, and egg perfection!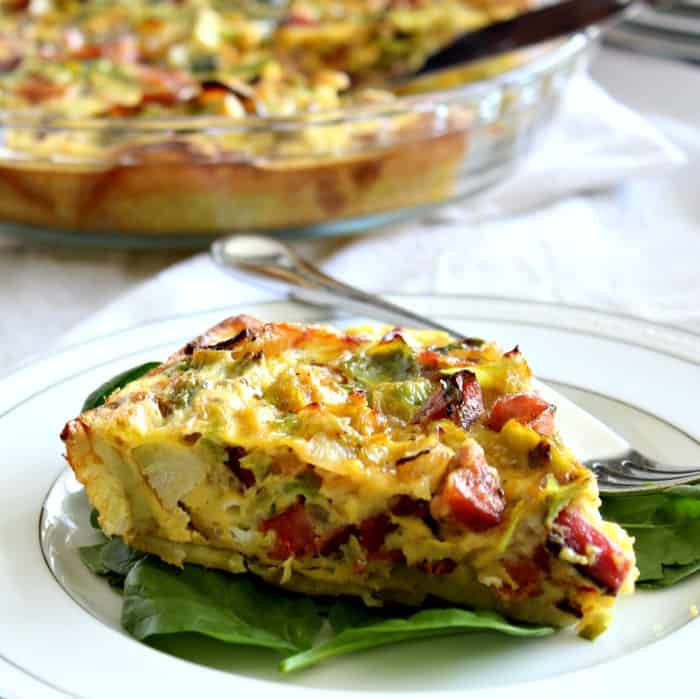 But don't take my word for it – I'm a "paleo eater" so my tastes are skewed, right? Maybe so.  But, my children and husbands' tastes aren't, to say the least.  They eat things like pizza, bagels with cream cheese, and occasionally an actual pastry crust.  And, they all liked this.  Sure, I might have made life temporarily miserable for everyone if they hadn't (10 minutes or so), but that hasn't stopped them from rejecting my food before, so, I say we take their word and show our love for this sausage and bacon quiche!  Did I mention it has both sausage and bacon in it?  Surely that must give it bonus points.
Plus, there's the fact that Diana ate this for lunch, a snack, and then breakfast the next day.  I did not force her – she just knows how to party with paleo leftovers when they happen to be around.  Of course, her fierce bacon obsession didn't hurt the motivation for this delicious bacon quiche!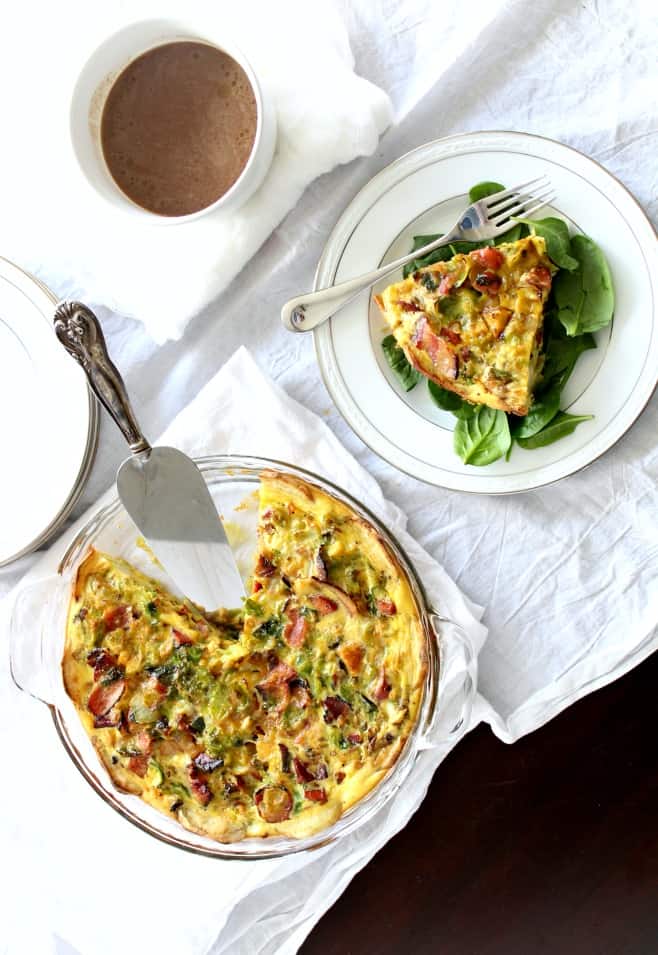 Brussels, Sausage & Bacon Quiche with Sweet Potato Crust
This Brussels Sprouts, Sausage & Bacon Quiche with Sweet Potato Crust is an easy to make healthy breakfast or brunch stunner! It's paleo, whole30 friendly, grain free, gluten free, and dairy free.
Prep Time: 10 minutes
Cook Time: 50 minutes
Total Time: 1 hour
Course: Breakfast/brunch
Cuisine: Paleo &amp, Whole30
Servings: 6 -8 servings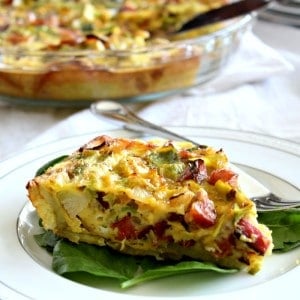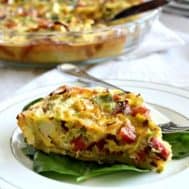 Ingredients
For the crust:
1 large Japanese sweet potato my variety of choice, but use what's available to you*
2 tbsp coconut oil for greasing/roasting sweet potato crust
sprinkling of fine grain sea salt for crust
For the Filling:
1 and 1/2 - 2 cups roughly chopped brussels sprouts
1/2 small onion diced
3-4 slices bacon use sugar free for Whole30
1 precooked organic sausage link diced - use your favorite! Sugar free for Whole30
1/4 cup full fat canned coconut milk
1/4 tsp salt
1/8 tsp black pepper
1/4 tsp garlic powder *optional
Instructions
Make the Crust:
Preheat your oven to 400 degrees. Peel your sweet potato and slice it thinly into rounds about 1/8 inch thickness for the bottom of your crust. For the sides of the crust, slice into semi circles (shown in photo above)

Grease a 9 inch pie dish with coconut oil, and, grease your sliced sweet potatoes lightly with coconut oil as well as you arrange the crust in the dish. Overlapping a bit is fine, since the potatoes will shrink when roasted.

Sprinkle the crust with a bit of sea salt, and roast in the preheated oven for 25-30 minutes, or until potatoes are soft and beginning to brown. Check them midway to make sure none are browning too quickly.
For the filling:
As the crust bakes, prepare the filling. Cook the bacon slices over med-hi heat in a heavy skillet until crisp, drain on paper towels and set aside, reserving the rendered fat in the pan.

Add the chopped brussels sprouts to the skillet and cook, stirring until they begin to soften. Add the diced onion and continue to cook for another minute until softened.

Once the brussels sprouts and onion are soft, add the diced sausage link to the pan and cook, stirring, for another minute to brown a bit. Remove from heat, then crumble the cooked bacon and add to the skillet. Stir to combine.

Once the crust has baked, pour the entire brussels sprouts mixture into the crust evenly.

In a large bowl, whisk together the eggs, coconut milk, salt, pepper, and garlic powder if using. Carefully pour the egg mixture over the brussels sprouts mixture evenly - it will spread throughout the dish, which is fine, since the eggs will "fill in" any empty spaces between the sweet potatoes.

Lower the oven temperature to 375 degrees, and bake the quiche for about 25 minutes, until the edges begin to turn golden brown and the middle has just set. My sweet potatoes did not overly brown, but if yours begin to just cover the top with foil as it bakes.

After removing from oven, let the quiche sit for at least 10-15 minutes before slicing to serve (this helps it to "set" more for easy serving) Store leftovers in the refrigerator for up to 3 days. Enjoy!

Want more paleo quiches, frittatas, and eggs bakes?  Try out one of these!
Chorizo Sweet Potato Frittata with Caramelized Onions
Sun-dried Tomato Bacon Mini Frittatas
Do the words "sweet potato crust" intimidate anyone or was I alone in that?  
Runners: Do you eat different foods when you're not training hard?  What do you try to avoid while training?