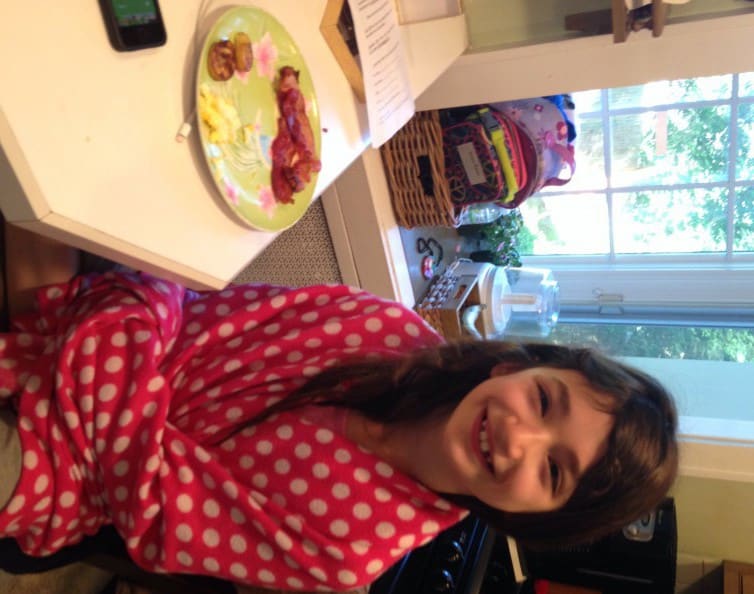 As I've mentioned, my daughter Diana, age 7 and 1/2, is my "naturally paleo" kid.  Never cared for pasta, is always up for a second portion of meat and eats fried plantains on the daily.  She also claims paleo pancakes are better than IHOP. Seriously, she was born to eat paleo.
For a while now she's been wanting to write a "guest post" for the blog, and on Sunday morning she had a burst of inspiration after an experience at breakfast with her bacon.   This was a total "Thinking Out Loud" moment for her, so, it was only fitting for me to include it in today's post.  Besides, a little break from MY thoughts might not hurt 😉

Thanks for hosting, Amanda!   And now, the (barely) edited version of "How to Keep Your Bacon Safe" by Diana Rosen:
How to Keep Your Bacon Safe
Bacon is good for you, but only the organic bacon.  It's the best food in the world!! 🙂  Breakfast is the best time to eat bacon.  If someone is near you, make sure to hide your bacon in a good hiding spot.  When someone leaves their bacon on their plate your job is to get that bacon to safety.  Make sure no person is looking at you.  If someone in your family is a bacon crazy person like me, you need to be on the look out – you never know when they're trying to eat your bacon.
Now we're going to talk about your family trying to eat your bacon.  For example, my dad 20 minutes ago just was trying to steal my bacon.  I was also trying to get his bacon but whatever.  
Okay so how to keep your bacon safe.  Well one way is to eat the bacon.  2 is put it in your room in a bag.  3 is put it in a pocket in tin foil but make sure it's tucked inside the pocket so no family member will see the bacon.  4 is put the bacon behind you.  But most important, remember don't let your dad or someone else steal your bacon.
By Diana Rosen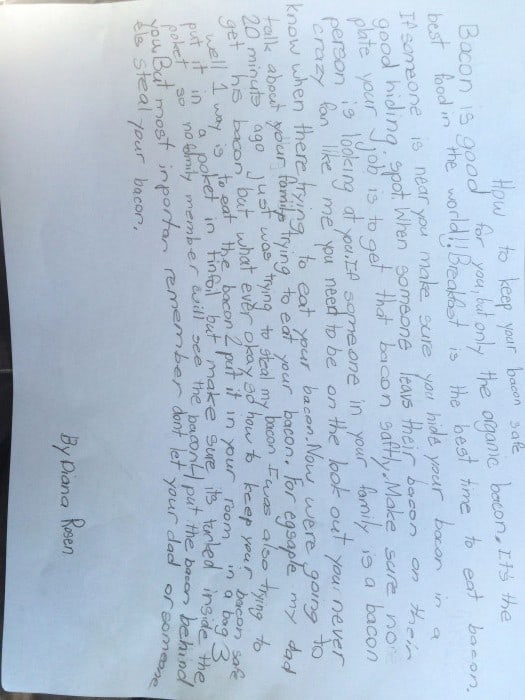 If that guest post is not a sign that I'm raising my kids right, then please show me what would be.  Just kidding of course, it simply means Diana appreciates any excuse to write a story about her favorite food.  It's really time I get her one of those bacon T-Shirts or something 🙂
Not to be outdone, Emily, age 6, also wrote a guest post for today.  She seems to be more into the design than the writing and that very much meshes with her style.  This was the finished project: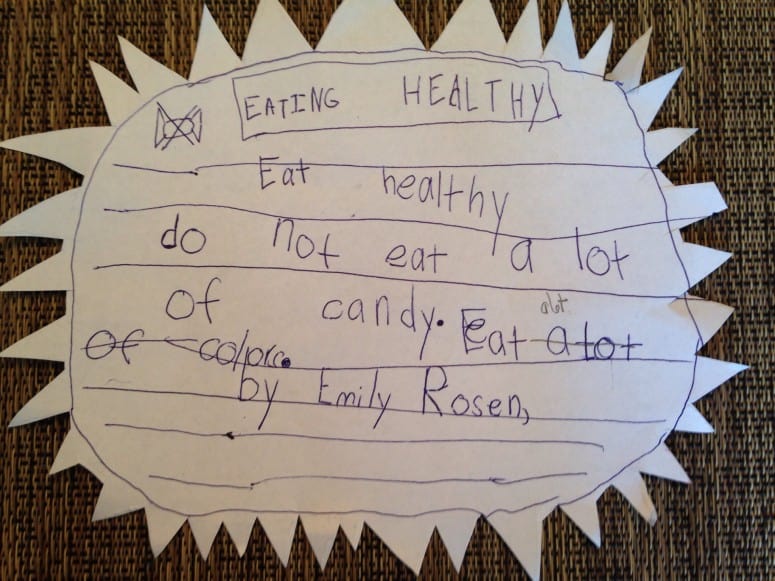 Don't eat a lot of candy, eat a lot of colors.  Good advice for anyone and inclusive of all special diets, right?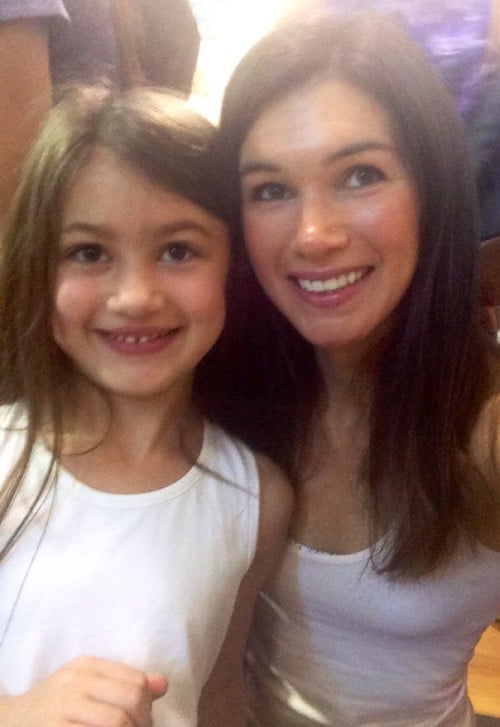 In other kids news, Emily has officially "moved up" from Kindergarten as of yesterday.   I always have mixed feelings at the end of every school year, but mostly I'm relieved we got through another all in one piece!  The changes from the first day to the last are pretty drastic in Kindergarten but it's easy to forget where you started if you don't look back.
The difference in her writing even from the winter is pretty awesome 🙂
And not to steal my childrens' spotlight (and because my thoughts right now just can't compete with the bacon piece) I'll leave you with all this to contemplate for today!
Stay cool, don't eat too much candy, and please, for the love of all things paleo, keep your bacon safe from predators.
What's your tip for keeping your ___________ (insert favorite food) safe?