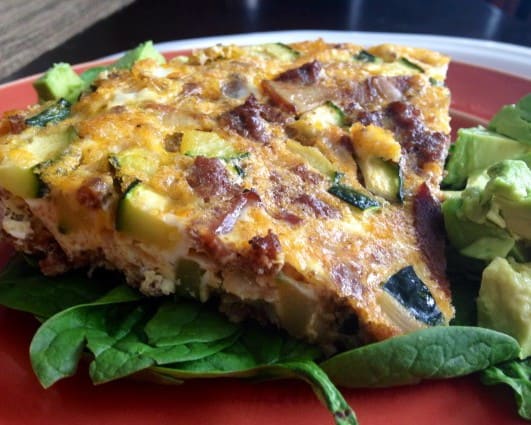 Adam has a mental block with the word "frittata."  He loved this one by the way, and was raving about it, right before he asked me "wait, what do you call it?  Focaccia?"  Honestly, it would be super awesome-incredible if I came up with a delicious paleo friendly focaccia, but, lord knows I'm not there yet 🙂  In honor of the mental block, this recipe will simply be called an "egg bake."  Potato, patato, frittata, focaccia.
My 6 year old, Emily, has had major spring fever this week.  She definitely inherited that from me because I get it every year in mid March almost like clock work.
In the past in meant a big happy mood, a new haircut and makeup and maybe a crush on a new boy (yes, VERY long ago.) Nowadays my spring fever is marked by an overwhelming need to buy new shoes and workout clothes, and a desire to stop wearing socks.  My, yes, things have changed.
Her spring fever is so exaggerated that I had to explain to her and the other kids just why she's been acting this way.  She can't stop smiling and bouncing around, and she's just SO excited for spring, she claims.  She also wants to wear T-shirts, tanks, and a denim jacket.  I hear you girl.  It's been a long winter!
Back to the recipe!  A simple and delicious egg bake with a bacon and ground bison "chili" that can go spicy or not that spicy.  I'm a spice wimp, so you know which way I go.  Bison is similar to ground beef, but leaner, and the bacon complements it well.  You can use whatever type of ground meat you like best though, this will work with anything.
Bison Chili Egg Bake with Bacon
Chipotle seasoned ground bison and bacon are cooked with chopped onions and zucchini and baked with eggs for an anytime meal or snack.
Prep Time: 5 minutes
Cook Time: 30 minutes
Total Time: 35 minutes
Course: Breakfast, Dinner, Lunch
Cuisine: Paleo
Servings: 6 servings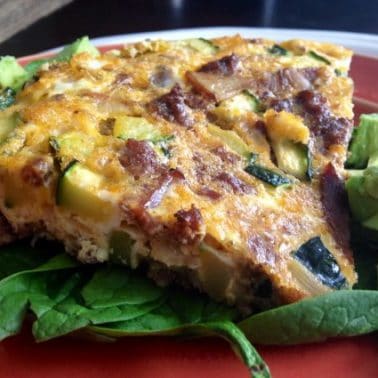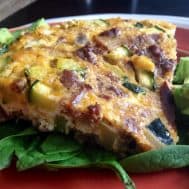 Ingredients
4 slices sugar free bacon cut crosswise into pieces (U.S. Wellness Meats is my favorite!)
1/2 lb ground bison or your favorite ground meat
1/4 tsp fine grain sea salt
1/2 tsp smoked paprika
1/4 - 1/2 tsp Chipotle chili pepper seasoning mine was McCormick depending on desired spice level
1/4 tsp cumin
1/2 small onion finely chopped
1 small zucchini chopped
6 eggs
salt and pepper to season eggs
Instructions
Heat a medium to large skillet over medium-high heat, and preheat your oven to 400 degrees.

Add the bacon pieces to the skillet and cook, stirring to evenly brown, until not quite done. Drain just a bit of the rendered fat, leaving plenty in the pan to cook the rest of the ingredients.

Add the ground bison to the pan and break up lumps/stir as it cooks. At this point, add the salt, paprika, chipotle pepper, and cumin

When the bison is browned, add the chopped onions and cook for another minute. Then add the zucchini, stir and cook for under a minute before removing from heat, and setting aside.

In a large bowl, whisk together the eggs and add a bit of salt and pepper to season.

In a 9 inch baking dish, pour the bacon/bison mixture and spread out evenly. Then pour in the whisked eggs and gently stir to combine with the meat.

Bake in the preheated oven for about 15 minutes, or until the eggs are just set.

After removing from oven, let sit for 10 minutes before slicing and serving. This also saves well for leftovers or as a make-ahead dish, for up to 4 days in the refrigerator.

Enjoy!
For myself, I wound up serving it over spinach and topped with avocado, but you can completely eat it as-is and it be good to go.   It's also perfect as a make-ahead dish or to have leftovers the next day for breakfast, snack, or anything really.  It passed the tupperware in the car test for me 🙂
Anyone feeling the spring fever yet?  What are your symptoms?
Weekend Plans?  I'm hoping to take my daughters to the movies but otherwise nothing too busy for us!
Have a great Friday everyone!