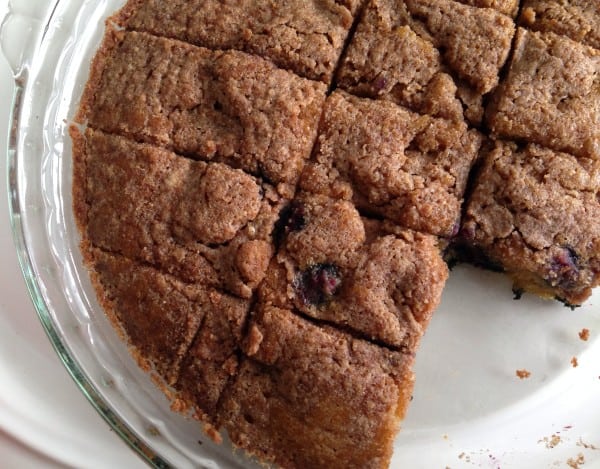 One of my kids commented that the above photo doesn't do justice to the blueberry part of this cake.  Actually my kids don't speak that way at all.  It was more along the lines of "you can't see the blueberries."  So here's take 2 of this Paleo blueberry cinnamon breakfast cake, so you don't start feeling nervous about a potential blueberry shortage.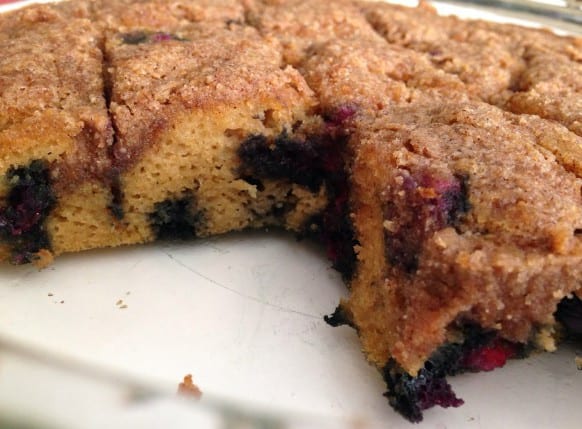 Plenty of blueberry and cinnamon goodness as the title implies.  I totally didn't make this with the thought that we'd have yet another no-school snow day, but that is exactly what happened so good timing.  Or not, because it was so well received that I wound up making a second one on the day it actually snowed.  Double trouble and delicious results both times = keeper.
Enough with the blueberries and enough with the snow.   Hmm, not much to say here right now when you take those two things away from me.  On snow days I play this game (only in my own head, I don't tell the kids because that would jinx it) of how long can we last as a family without turning on the TV.
Have you noticed that once the TV is on for the day, it basically never turns off until the last person up goes to sleep? And that assumes that person doesn't fall asleep while watching it.  By the way, that person is never me.  I literally cannot fall asleep if there is any light or noise around me, and since I've had a smart phone I don't really watch TV at all.  Not necessarily a good thing, I kind of miss getting into a show.
Back to the food now!  You didn't think I forgot about it did you?  The pictures are staring me in the face as I type, and I know you want the recipe already 🙂
Blueberry Cinnamon Breakfast Cake - Nut Free
Blueberry Cinnamon Cake great for breakfast, snack, or treat. Paleo, grain free, no refined sugar, gluten free, nut free, dairy free and soy free.
Prep Time: 20 minutes
Cook Time: 25 minutes
Total Time: 45 minutes
Course: Breakfast/Snack/Treat
Cuisine: Paleo
Servings: 9 inch cake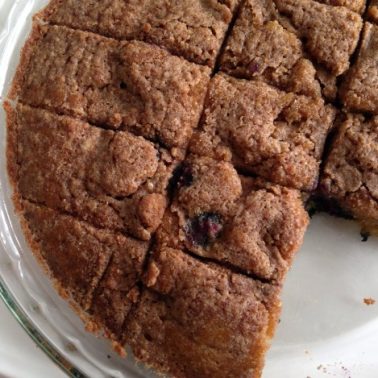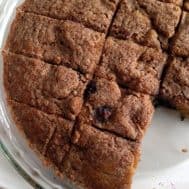 Instructions
Preheat your oven to 350 degrees and coat a 9 inch baking dish or cake pan with coconut oil.

In a large bowl, combine the eggs, coconut sugar, coconut milk, vanilla, and coconut oil and stir or blend with a hand blender until smooth.

In a medium bowl, combine the coconut flour, arrowroot powder, baking soda, and pinch of salt

Add the dry ingredients to the wet ingredients and blend with a handheld blender until smooth. The batter will be somewhat thick but still pourable.

Fold the blueberries into the mixture. Pour entire mixture into prepared baking dish and use a rubber spatula to scrape the sides of the bowl. Set aside,

For the topping, combine all topping ingredients in a bowl and blend together with a pastry blender or fork, until crumbly. Sprinkle the cinnamon topping over the unbaked cake.

Bake for 20-25 minutes in the preheated oven, until the center is just set. Remove from oven and allow to cool before serving. As it cools to room temperature, the topping will become more "crumbly." Enjoy!
Recipe Notes
*Tapioca flour will work as well
**You can refrigerate beforehand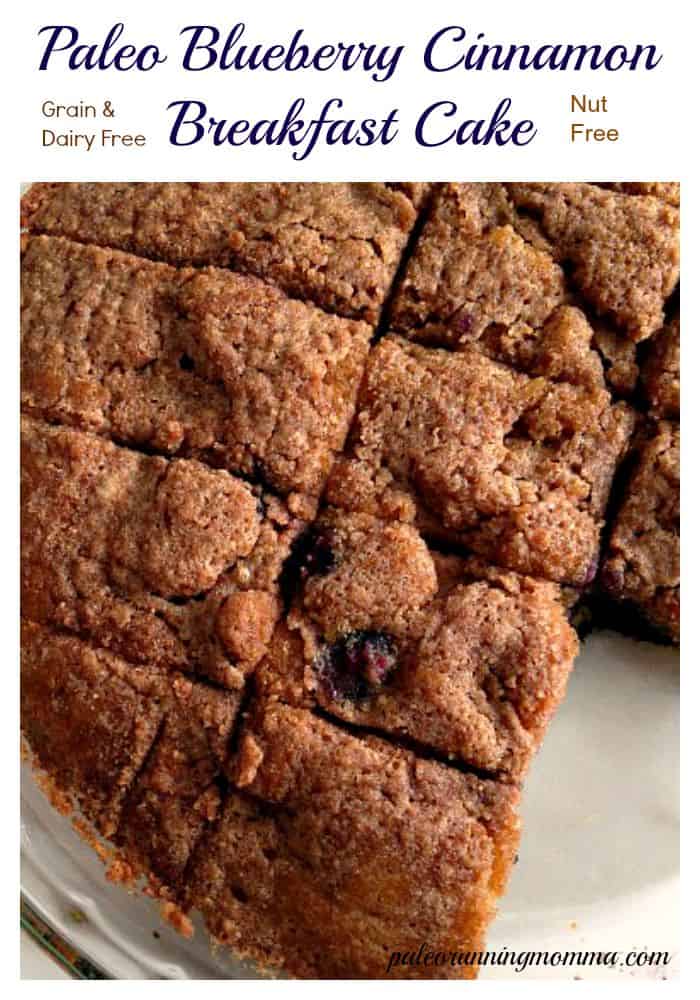 Good stuff, I'm telling you.  Go enjoy your weekend now!