These tender, moist and sweet paleo blueberry muffin breakfast bars are loaded with flavor and great to have on hand for busy mornings or after school snacks!  Gluten free, dairy free, refined sugar free and paleo.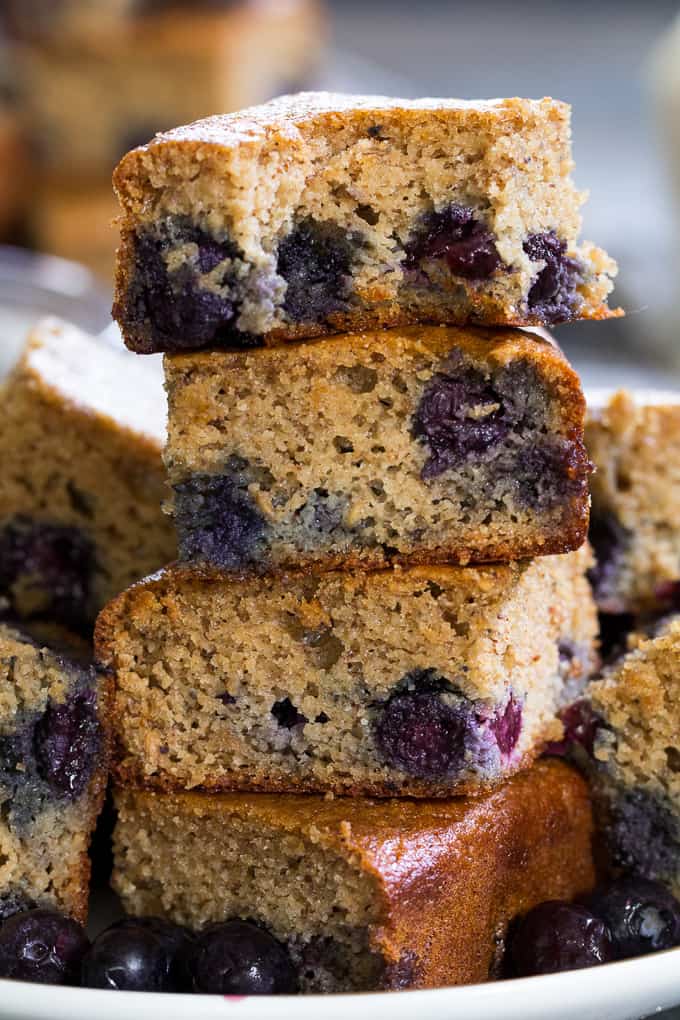 Aren't blueberry muffins one of life's greatest little pleasures?  Maybe it's my fond memories of Entenmann's  blueberry muffins as a kid, but blueberry muffins equal total bliss and comfort for me.  Breakfast, snack, whenever – they make the perfect companion for any time of day.
But no – what I'm sharing today isn't the traditional blueberry muffin, but rather a fun twist that happens to be even easier to make than muffins – if only because you're pouring the batter into one pan instead of muffin cups.  They're also just a bit more dense and sweet than a typical muffin recipe to make them true to "bars" rather than actual muffins.   Does that make sense?  Trust me and try them – delicious!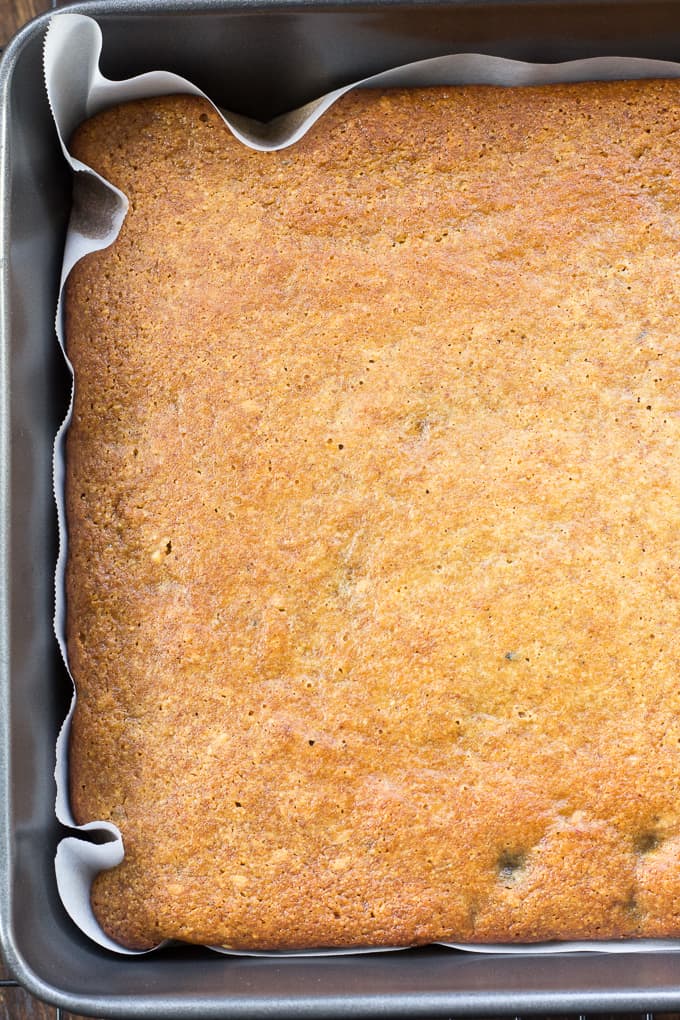 I like to give myself little "challenges" when creating new recipes, such as keeping the ingredient list down, using a certain type of flour, sweetener, etc.  For these blueberry muffin bars, my goal was to use applesauce and either honey or maple syrup.
I don't use applesauce often in my recipes, but it seems that whenever I do, they come out perfectly, and, this one was no exception!    Somehow I thought, since I wanted these to be very "breakfast-y", that applesauce was the right call.   I won't pretend I totally understand why some combinations work so well, but this one was a hit.  I can't complain.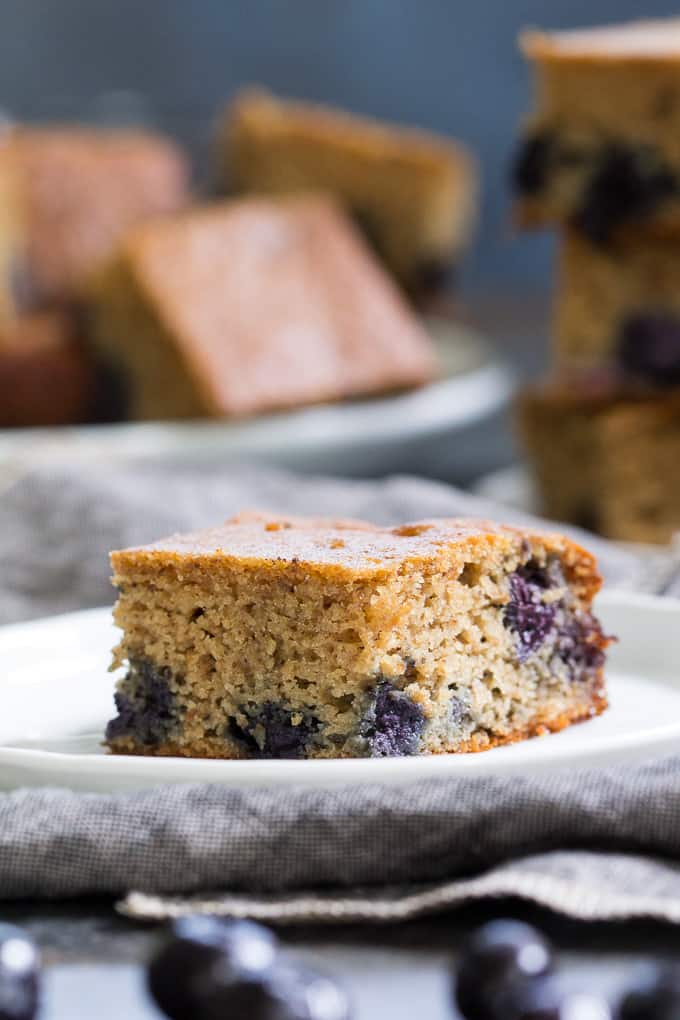 This is such a straightforward recipe that you absolutely can't go wrong.  I used primarily almond flour – although threw in a Tbsp of coconut flour since I find that just a small amount helps bind almond flour recipes a bit better without adding an extra egg.  The applesauce keeps them light while the almond butter gives them great texture and flavor.  You can sweeten with either raw honey or maple syrup, whatever you prefer.
And then those blueberries!  Since they're not in season right now, I used frozen ones that I thawed and drained well prior to adding them.   I'm thinking when I can actually get some good fresh blueberries, these will be first on my list for baking.  A picky family of 5 does not lie.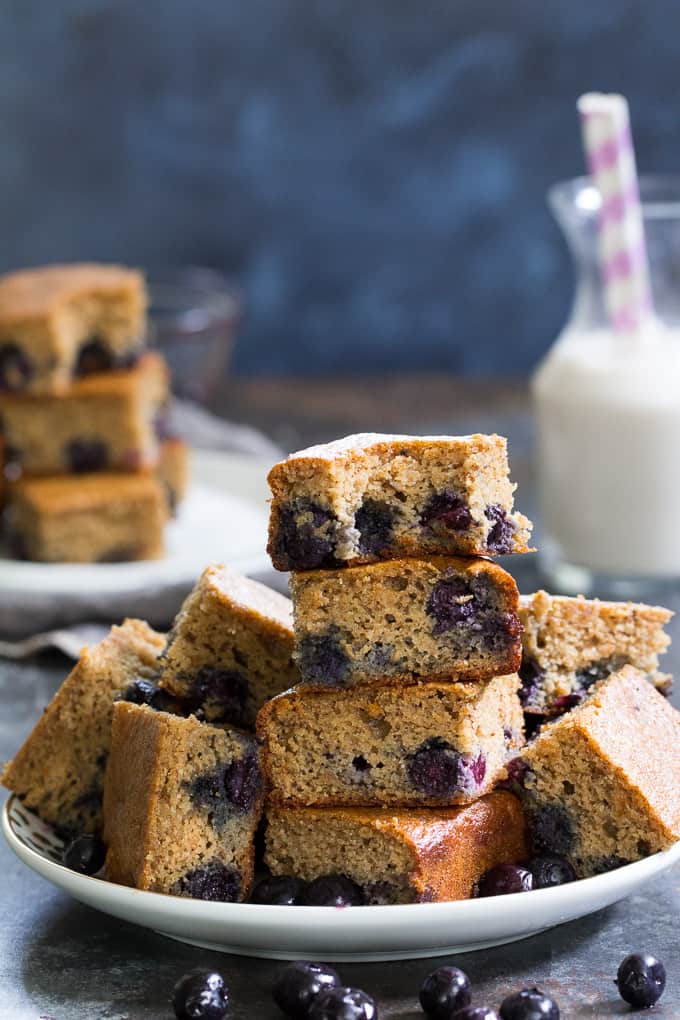 If you want to really go paleo-wild, you can even drizzle with melted coconut butter mixed with a little bit of honey like I did in the photo below.   Coconut nut butter isn't for everyone (my kids are not fans!) but if you're into it it's delicious with these bars.  That said, any nut butter would be pretty yummy drizzled/spread on these too.  Are you guys ready to bake?  Let's go!
Paleo Blueberry Muffin Breakfast Bars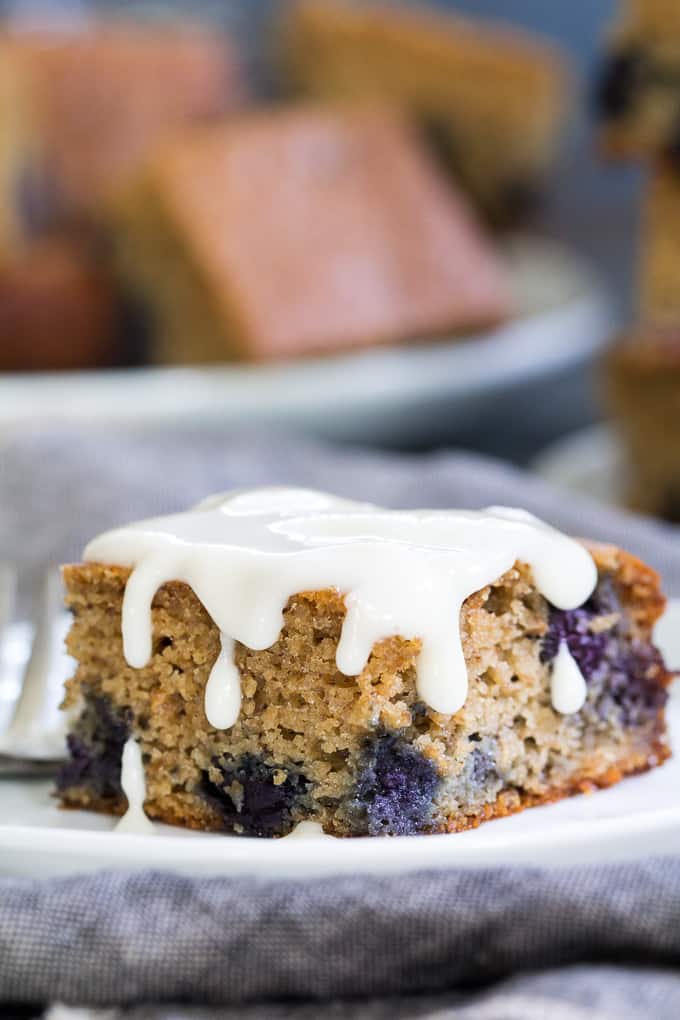 Paleo Blueberry Muffin Breakfast Bars
These tender, moist and sweet paleo blueberry muffin breakfast bars are loaded with flavor and great to have on hand for busy mornings or after school snacks! Gluten free, dairy free, refined sugar free and paleo.
Prep Time: 10 minutes
Cook Time: 30 minutes
Total Time: 40 minutes
Course: Breakfast/Snack
Cuisine: Paleo
Servings: 16 bars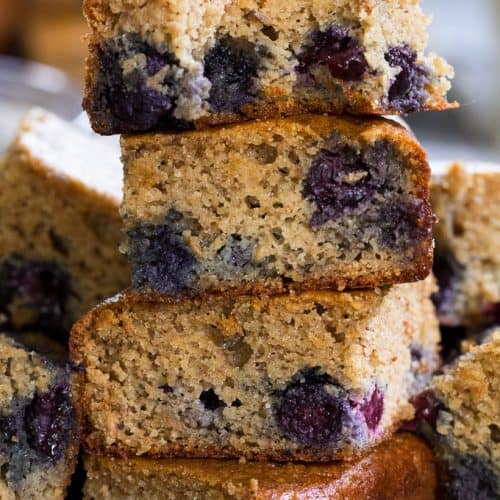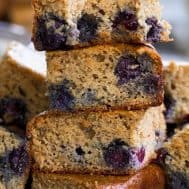 Instructions
In a large bowl with an

electric hand mixer

on low, or whisk, combine the eggs, almond butter, applesauce, honey OR maple syrup, and vanilla until smooth and well combined.

In a separate bowl, combine the dry ingredients to fully blend, then add the dry ingredients to the wet until just combined, don't over-mix. Gently fold in the blueberries to evenly distribute.

Transfer the mixture to the parchment lined baking pan, scraping the bowl to use all every drop. Bake in the preheated oven for 30 minutes or until the middle is just set and top turning light brown - you can insert a toothpick near the center and if it comes out batter-free (blueberry is okay) it's ready.

Cool in the pan on a wire rack for about 10 minutes, then hold the parchment paper on either side to remove from pan and continue to cool on the wire rack. Cut into 16 squares to serve**, and store leftovers covered the the refrigerator for up to 5 days. Enjoy!
Recipe Notes
*If using frozen, thaw and drain well first
**Option to drizzle with melted coconut butter like I did in the photo!
Recommended products to make my Paleo Blueberry Muffin Breakfast  Bars:
Want more Paleo muffin and bar recipes?  Try one of these!
Sweet Potato Cinnamon Raisin Muffins
Strawberry Banana Bread Breakfast Bars
Banana Muffins with Almond Butter and Flax
Tell Me!
What was your favorite muffin as a kid?
Honey or maple if you have to choose?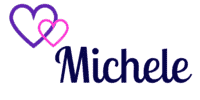 Note: This post contains Amazon affiliate links. This means that if you click on a link and make a purchase, I will receive a small commission at no cost to you. Thank you for supporting Paleo Running Momma!