If you haven't tried yuca fries – you are in for a treat!  These Crispy Baked Yuca Fries (Cassava Fries) have a crisp, savory, "buttery" outside and soft inside.  They're super easy, Paleo and Whole30 friendly and vegan.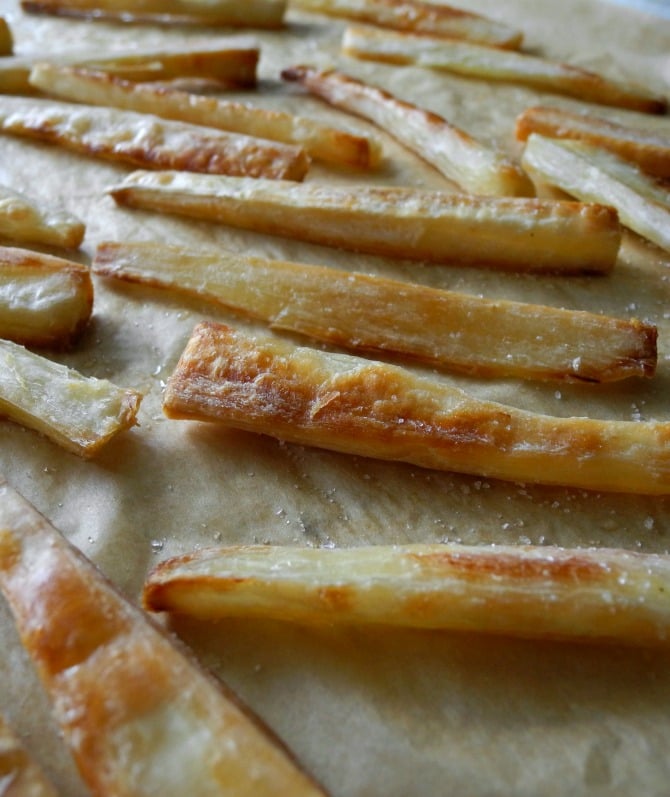 I know you want these (I know you want these)  It's easy to see (it's easy to see)
But now, seriously.  
Don't cha wish your yuca was…
Baked into hot crispy fries like mine?
Don't cha.
That was circa 2006 in case you have trouble remembering these things like I do.  But as my friend Nicole said the other day, basically everything pre-kids can be considered "90s" even though none of our kids were born before 2007.  The timeline of a mommy brain is so complex.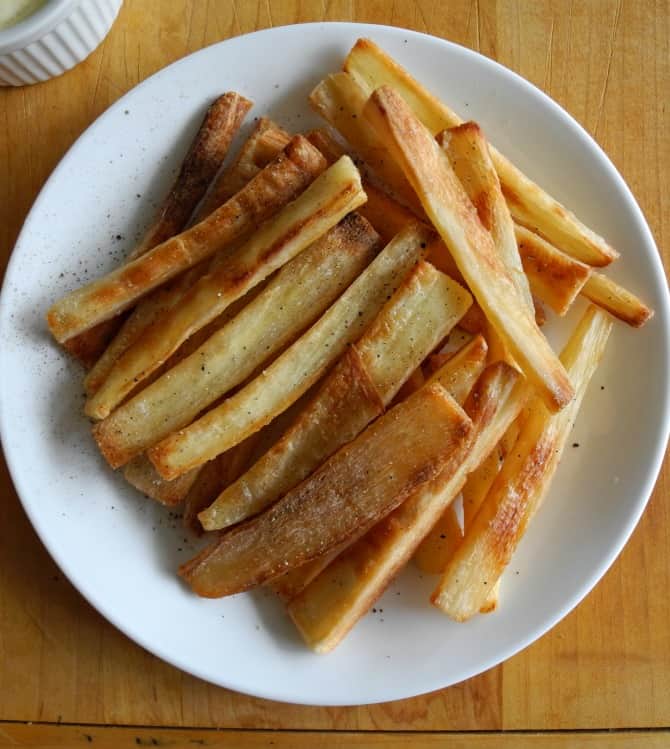 Onto the recipe!
I was finally able to nail down the details for these, which I've actually now made 3 times, because my oven played nice with me and didn't shut off through the baking cycle.   Not complaining one bit about making it 3 times though, because these fries are really tasty.  Light, the right amount of crisp, crunch and salt AKA all of the most important things in life and don't argue on that one because it's true.
One thing that I must caution though is that these fries should be eaten right away.  Poor Adam.  Every time I've made them he's come home from work late and they've just sadly sat on his plate for hours, drying out.  Then he microwaves them and they just get hard.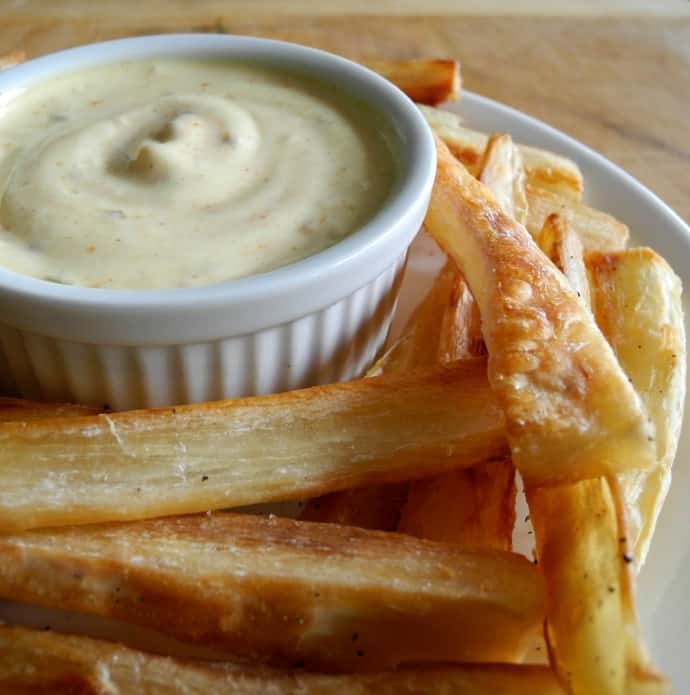 So, my advice is not to let that happen to YOUR yuca fries.  Eat them fresh out of the oven, I mean carefully and without burning yourself on hot oil.  Dip them in something delicious.  Might I recommend my maple chipotle ketchup?  Homemade mayo?  Or maybe this awesome ranch from last week?
There are two grocery stores near me that carry yuca, if you are having trouble finding it I believe most Latin markets have it as well as speciality stores.
Don't fight the feeling.  Make the fries!
Crispy Baked Yuca Fries
Crispy baked yuca fries perfect as a side dish or snack
Prep Time: 10 minutes
Cook Time: 40 minutes
Total Time: 50 minutes
Course: Baked Yuca Fries
Cuisine: Paleo
Servings: 2 -4 servings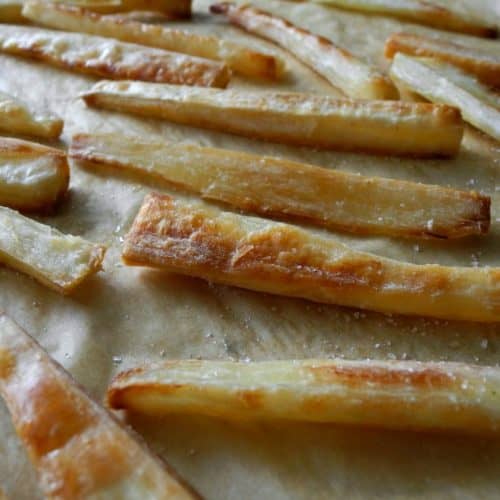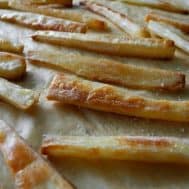 Instructions
Over high heat on the stove, heat about 8 cups water until bubbles begin to form. Add some salt to the water as well.

Preheat your oven to 425F.

As the water heats, cut off the ends of the yuca with a sharp knife. With a vegetable peeler, peel off the thick layer of brown skin completely. (If you prefer to use a sharp knife to remove the peel, this is fine too. I used a regular potato peeler and it worked well.)

If the yuca is long, cut it in half before slicing it into "fries" about 1/2 inch thick. Leave out the tough fibrous core.

Place the cut yuca in the just-bubbling water and bring to a boil. Allow to cook for about 10-15 minutes, or until the yuca is fork tender, don't let it get soft.

Drain yuca and pat dry with paper towels. Toss the fries with coconut oil* and salt to coat them completely, and line a large baking sheet (or 2) with parchment paper.

Arrange the yuca in a single layer on the parchment paper giving each one a bit of space, this will ensure the crispy texture.

Bake in the preheated oven for 30 minutes, turning over in the middle of the cooking time. When they are golden brown and crisp they are ready to come out. Don't let them brown too much! Sprinkle with black pepper while still hot.

Serve right away alone as a snack or as a side dish with your favorite dip Enjoy!
Recipe Notes
*Using all the coconut oil is key to get a golden brown, crispy outside. Yuca is starchy and absorbs oil quickly.

Have you tried yuca?  Are you curious?
Want some dipping options?  Try my Zesty Ranch Dip, Honey Mustard, or Maple Chipotle Ketchup – all Paleo.