Creamy Paleo Honey Mustard that can be used as a dip or dressing for anything your heart desires!  With just 6 simple ingredients and an immersion blender, this sweet and tangy honey mustard will be ready in under 5 minutes.  It's gluten free, soy free, dairy free, and contains no refined sugar.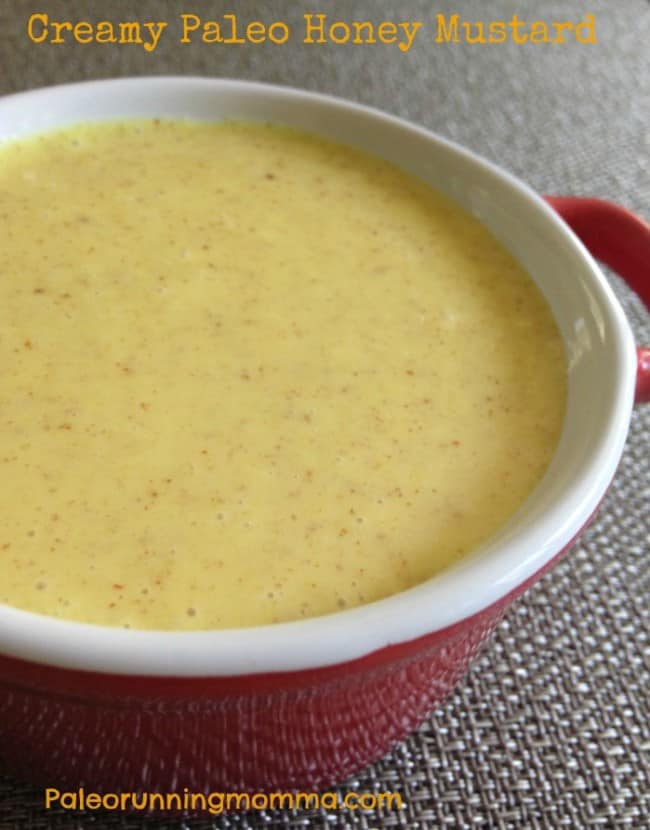 One thing that makes my nerves crawl is the idea of not delivering on a promise. Subsequently, I do not make many (any?) promises because I just get too anxious.  General responsibilities I'm fine with.  Even a lot of responsibilities are okay.  But there is something about the word, the idea of a promise that gets me all worked up.
And you are wondering how I'm tying this together with honey mustard.  I know what you're thinking – I can see you AND read your mind though the screen.  Hello!  Don't click away yet!  Anyway, it ties together with the recipe because I'm almost positive I promised a honey mustard recipe last week, or at least told you it would be here very soon, when I gave you these tasty little chicken nuggets: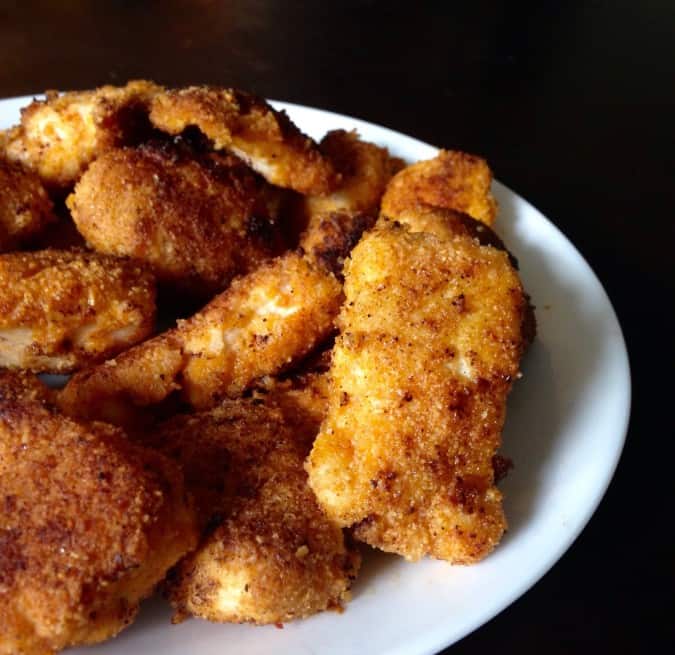 Remember these?  They're still waiting for you, and now you don't have to worry what you'll dip them in! What a relief.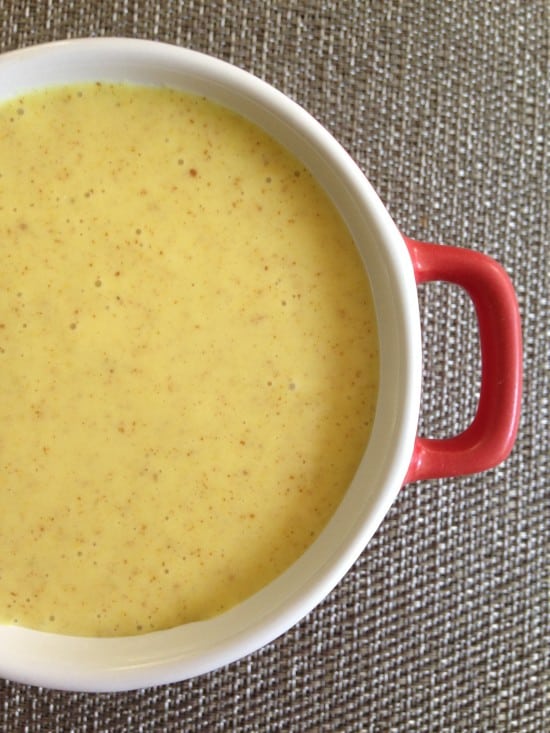 Back to my promise issue though.  I truly hate the thought of disappointing people.  Part of me knows it's ridiculous and even sort of narcissistic to think that my actions or non actions matter THAT much to anyone.  But, if there's one thing I value, it's reliability.  So, I can't help but feel that if I promised honey mustard and for some reason it didn't happen, someone out there would cry.  Or decide they hate me.
Or, maybe worst of all, decide I'm one of "those people", the ones who make promises because they sound good at the time, without the intent and follow through.   I would rather avoid the idea of promises altogether than be viewed that way I suppose.
So, if I do happen to promise something, you can be pretty certain it will happen and happen soon.  But I can't actually promise you that so maybe it's time to shut up and move along to the honey mustard.  No promises, but I think you might like it.  A lot.  At least I hope you will!
Creamy Paleo Honey Mustard
A creamy paleo honey mustard dressing with just 6 ingredients, and ready in under 5 minutes! All you need is an immersion blender. Gluten free, soy free, dairy free, and refined sugar free.
Prep Time: 5 minutes
Total Time: 5 minutes
Course: Dip/Dressing
Cuisine: Paleo
Servings: 1 and 1/2 cups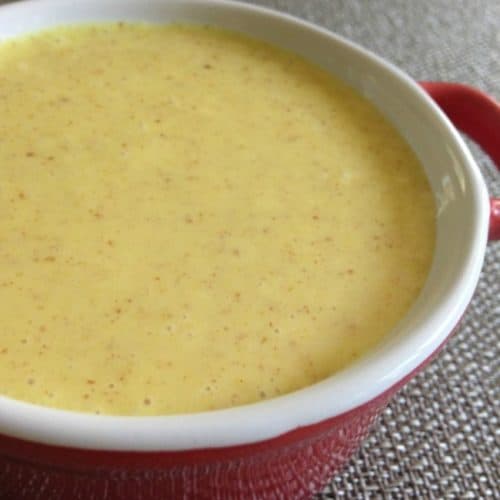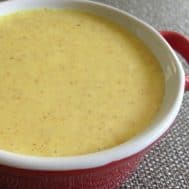 Ingredients
1 whole egg - organic or pasture raised
1/2 tsp fine grain sea salt
1/4 cup + 2 tbsp brown mustard
2 level tbsp raw honey - if you want it sweeter you can always add more at the end
2 tbsp fresh squeezed lemon juice
2/3 cup light flavored olive oil
Instructions
Put all ingredients in a tall cup or container.

Put your immersion blender in the container down to the bottom, then blend on high for about 30 seconds. Slowly raise the blender and blend until all ingredients are immersed and creamy.

Serve with anything and enjoy! Will keep in the refrigerator tightly covered for up to a week.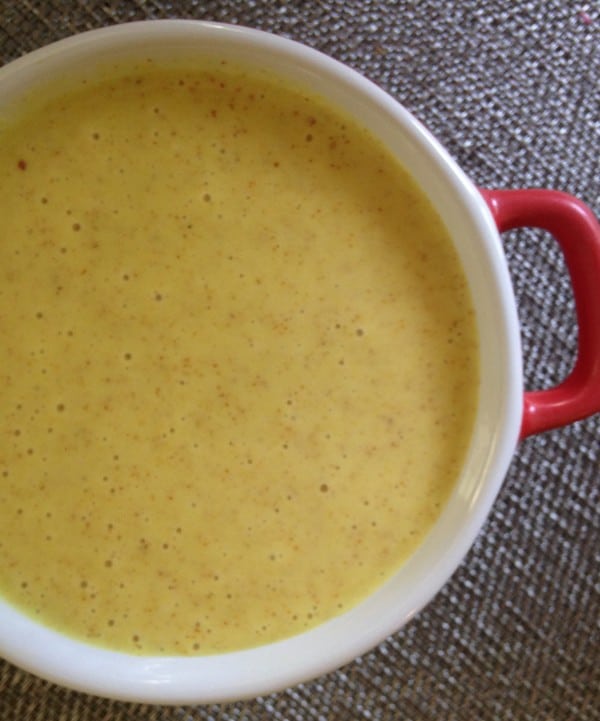 And what else is new besides this recipe?  3 things:
First, Diana turns 8 today!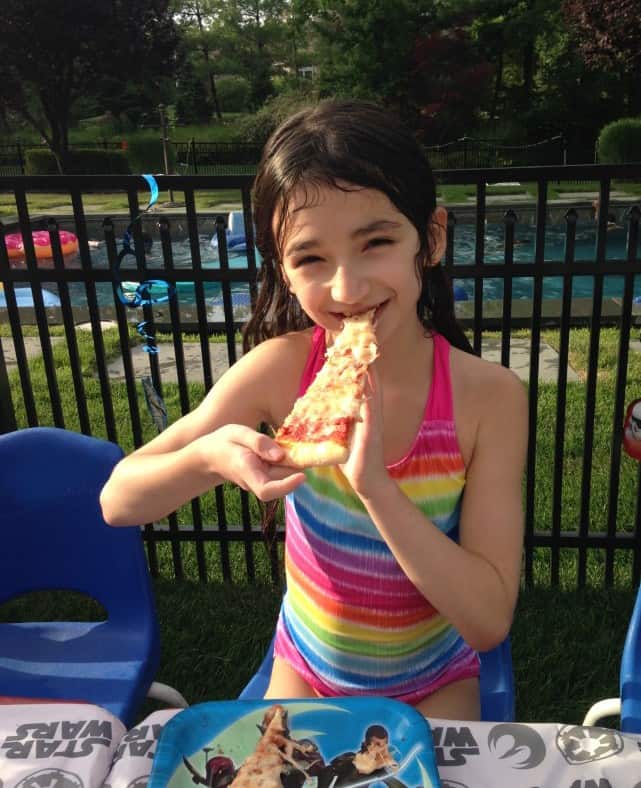 This is not her birthday party but she chose this picture because she was happy eating pizza.  Totally get it.
So, 8 years a mom and 3 kids, and you wonder why I have promise issues?  Just kidding, I was nutty long before I had children.
Second, we leave for vacation tomorrow, you know, right after my 17 mile run is supposed to happen. Should be interesting, and hopefully the extra travel adrenaline – "flight" – will make me fly through this run. We'll see.
Since I'll be away at the beach next week, my posting schedule will be lighter.  But don't you worry, I will not abandon ship.  My marathon training week 5 recap will be up Monday, and I have 2 recipes that will post Wednesday and Friday.  I'll still be on Instagram, Facebook, and Twitter, most likely with beachy pictures, so come visit!
Do you hesitate to make promises? 
Would you have cried if I didn't deliver honey mustard? 
When were you last let down by an unfulfilled promise?