Savory pan seared scallops over spinach cobb salad with crispy bacon, creamy avocado, cherry tomatoes all in a fresh and simple lemon chive vinaigrette.  Grain free, paleo, and Whole30 friendly!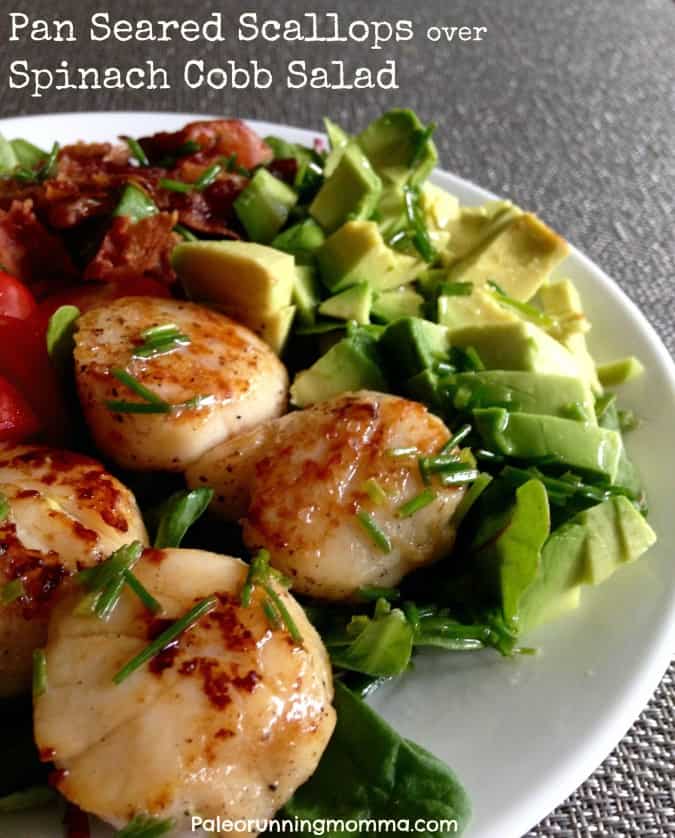 Is there a better present to receive in the mail than high quality, delicious seafood?  I think not.  Unless you also want to gift all my groceries every week and present them to me on my doorstep.  Just kidding.  That's crazy!  What does it take to please this girl?  Fabulously delicious and healthy seafood is more than enough, so thank you a million times, Sizzlefish!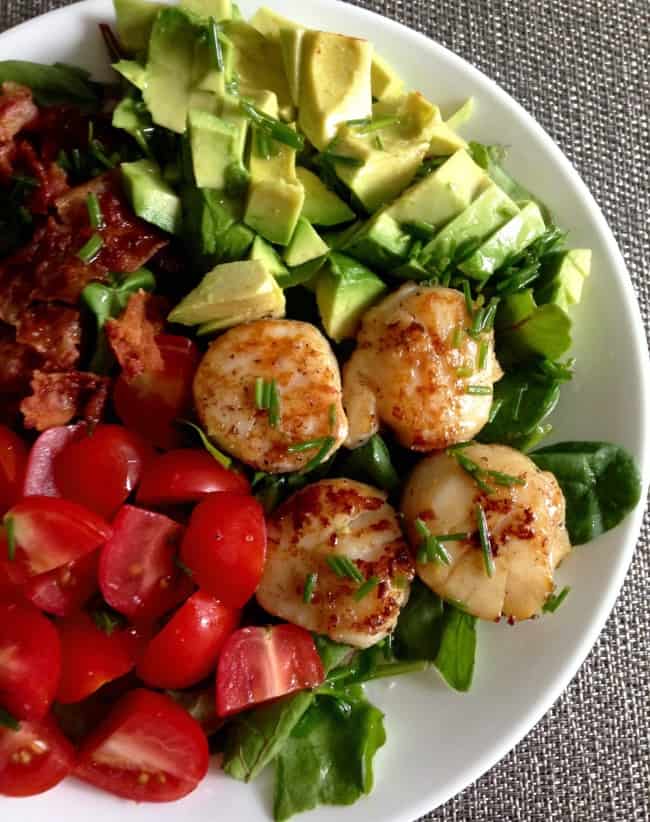 The first package I had to dive into was the scallops.  I triple heart scallops, but rarely (that means never) actually buy them, because, budget.  But darn it they are good, and they happen to be Adam's favorite, too. Remember how much he hates salmon?  Well it's the opposite with scallops.  He's a superfan of scallops and that makes me happy!  So I had to figure something out.
I wanted simple, fresh, and great for a summer lunch or dinner.  Nothing too heavy or creamy.  I find that good scallops tend to hold their own and deserve to be the star of a dish.  They don't need a lot of fuss, they just need some good supporting cast members to allow them to shine.  That's what this salad did for these simple pan seared scallops, and it all came together quickly and oh so deliciously too 🙂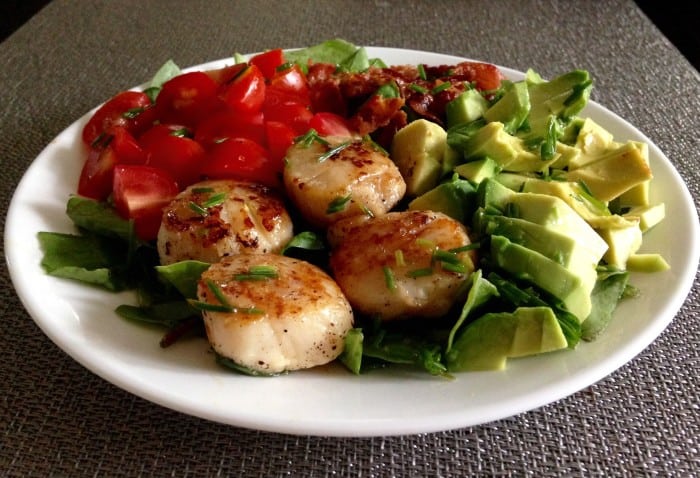 The bacon adds to the savory, crispy flavor, the tomatoes and avocado compliment the sweetness of the scallops.  The vinaigrette is as simple and fresh as they come, and you don't need a lot at all!  Drizzle on just a little bit and go from there.  The addition of fresh chives adds depth to the flavor while keeping it low FODMAP for those of you avoiding onions and garlic.    Is that a win-win?  I hope so.  Try it out and taste test for yourself!
Pan Seared Scallops over Spinach Cobb Salad
Savory pan seared sea scallops over spinach cobb salad in a fresh lemon chive vinaigrette. This easy and healthy meal and ready in under 20 minutes and is gluten free, paleo, whole30 and sugar detox friendly!
Prep Time: 10 minutes
Cook Time: 10 minutes
Total Time: 20 minutes
Course: Seafood
Cuisine: Paleo
Servings: 2 servings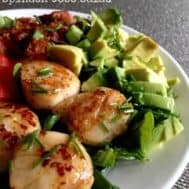 Ingredients
For the salad:
2-3 large handfuls baby spinach
4 slices sugar free uncured bacon
1 medium avocado
1/2 cup quartered cherry tomatoes
For the scallops:
8 sea scallops 1/2 lb thawed if previously frozen
Coarse sea salt
Bacon fat saved from cooking the bacon
For the lemon vinaigrette:
1/4 cup olive oil
1 tbsp + 2 tsp fresh squeezed lemon juice
1-2 tbsp chopped fresh chives
Instructions
First, cook the bacon in a large cast iron pan over med-hi heat until crisp, drain on paper towel and set aside. Reserve a couple of tbsp of bacon fat to cook the scallops.

Next, prepare the salad by arranging spinach, avocado (sliced to preference) tomatoes, and cooled/crumbled bacon in a serving bowl or platter and set aside.

Now, prepare the scallops. Heat a large cast iron pan over med-hi heat and add the reserved bacon fat (or just use the same pan that you prepare the bacon in.)

Pat the scallops dry with paper towel and sprinkle with black pepper. Sprinkle a small amount of coarse sea salt over the bottom of the pan.

Once the fat begins to smoke, add the scallops to the pan one by one, and let cook on the first side about 2-3 minutes depending on thickness. Adjust the heat to prevent burning.

After the first side is brown and crisp, flip each scallop and cook about 2 more minutes, or until opaque (just cooked through.) Immediately remove the scallops from heat and arrange over the salad.

Lastly, whisk together the vinaigrette ingredients and drizzle over the salad just before serving. Enjoy!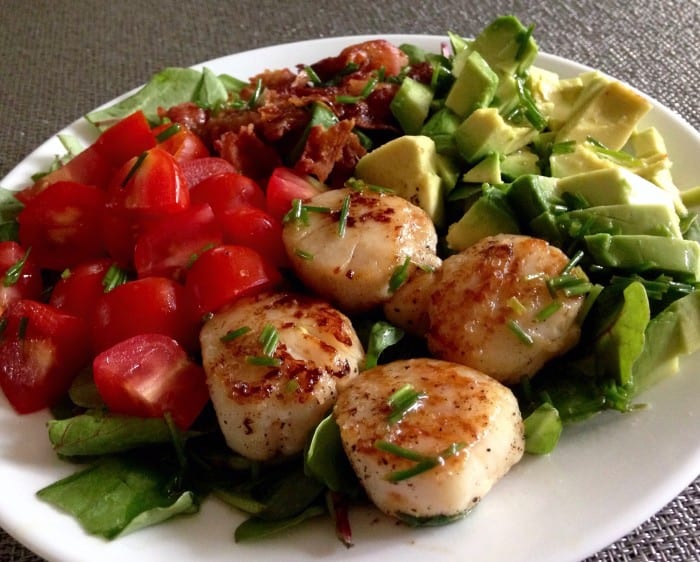 Hope all of you are having a great week!  I hope I am too (as I'm writing this post nearly a week early!)  Even though I'm not blogging this week, I'm still reading (and hopefully answering) all of your comments.
You can also find me as always on Instagram, Twitter, and Facebook (pick your drug social media outlet of choice) so come stop by and see what I'm up to!
Are you a fan of scallops? 
Do you cook them or mainly order them when out to eat?