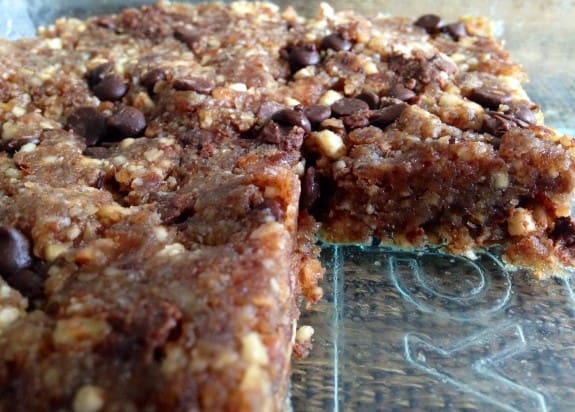 I'm totally late to the no-bake game for sure.  No excuse, just a mental recipe block for me!  But, I've been really wanting to start making something like this on my own, since Larabars don't exactly grow on trees.  Then again neither do food processors.  Luckily my mom was kind enough to gift me a good one last year.  Generous moms do not grow on trees either, and yes, I could go on 😉
Internet recipes don't grow on trees either (oops I really did go on), unless your tree is an Apple Inc. tree (haha!) with decent wifi.  For all I know, such a thing already exists because seriously, what the heck do I know about technology?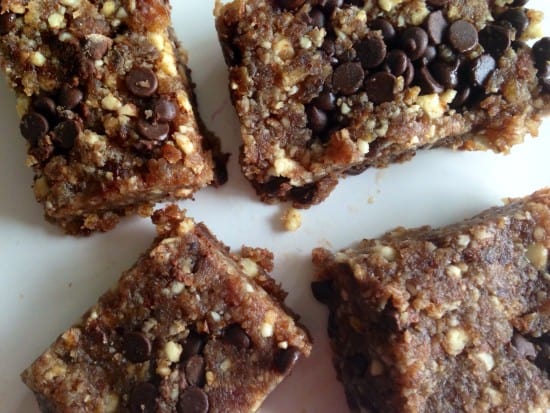 Anyway, if you have a food processor these are incredibly easy to make.  They might be even better if you also happen to enjoy cleaning your food processor after you use it.  Did that make any sense?  Yes.  I don't particularly like cleaning my food processor, so I'd say that was the one down side to this recipe, but you just can't have it all. Nope, what goes up must come down and what goes in the food processor WILL leave something behind for you to clean out.  Life lesson #37,456.
No Bake Fruit, Nut and Chocolate Chip Squares
No bake fruit, nut, and chocolate chip squares that are paleo, gluten free, grain free, dairy free, soy free.
Prep Time: 30 minutes
Total Time: 30 minutes
Course: Snack, Treat
Cuisine: Paleo
Servings: 16 servings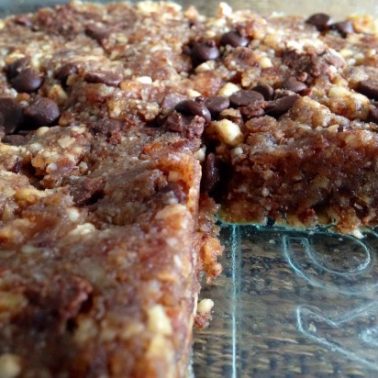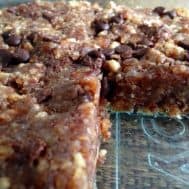 Ingredients
1 and 1/2 cups shelled raw pecan halves
3/4 cup raw almonds
2 and 1/2 cups pitted dates
1/4 cup virgin coconut oil - solid
1/2 cup Enjoy Life mini chocolate chips - or preferred brand of mini chocolate chips
Instructions
Prepare an 8 x 8 inch baking dish by lightly coating with coconut oil.

Make sure your dates are soft enough not to kill your food processor! I had to learn this the hard way. If they are a bit hard you can soften them by microwaving with a little water, then draining.

Put your pecans, almonds, and dates in your food processor and process on high until you get a crumbly pasty mixture. Then add the coconut oil and pulse until fully combined and the mixture is getting cohesive.

Stir the chocolate chips in to evenly distribute, then transfer the mixture into the baking dish.

Cover with wax paper to help press down firmly enough to get the mixture to stick together. Refrigerate about 15-30 minutes to firm up, before using a plastic knife to cut into squares. Store covered in the refrigerator.
Good stuff, I'm telling you!  Very simple, and you can substitute other dried fruits if dates aren't your thing.  Or try mixing and matching if you like variety, I don't think you can really go wrong here.
Have a happy, happy Friday (and let's pretend it's not snowing on the first day of freaking spring!)  Yeah let's just not talk about that at all.
What kind of tree would you grow if it could be anything at all?  For me right now, anything but snow.  Oops…
Do you have a food processor?  How often do you use it?