A Japanese sweet potato butternut hash with bacon, perfect for a lazy, but healthy, weekend breakfast or brunch!  Beef or pork bacon, and greens add savory flavor to this classic paleo breakfast while sweet potatoes and butternut add just the right amount of sweetness.  Grain free, paleo, Whole30 friendly.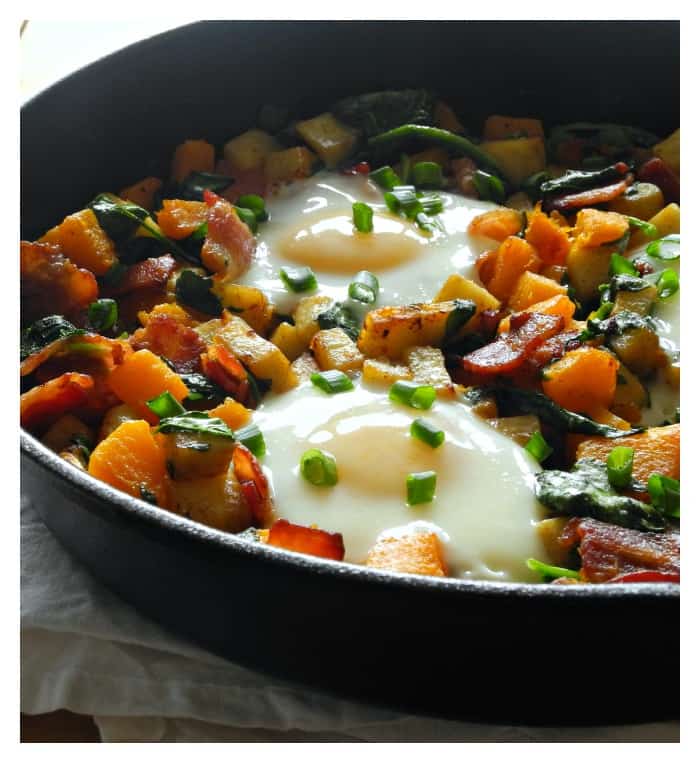 I totally had to back off and chill out with my recipe creation this week.  I was putting way too much pressure on myself, and, when that happens I seem to completely lose touch with what kind of dish I'd actually like to make.  I was trying to force myself to create a couple of different recipes for things I just didn't want to eat, and, my brain doesn't work that way – it rebels.
So I had to take a step back.  I asked myself "what foods do you like lately that maybe some other people might like too?" Sounds ridiculous and basic but it worked, and here we are, together at last.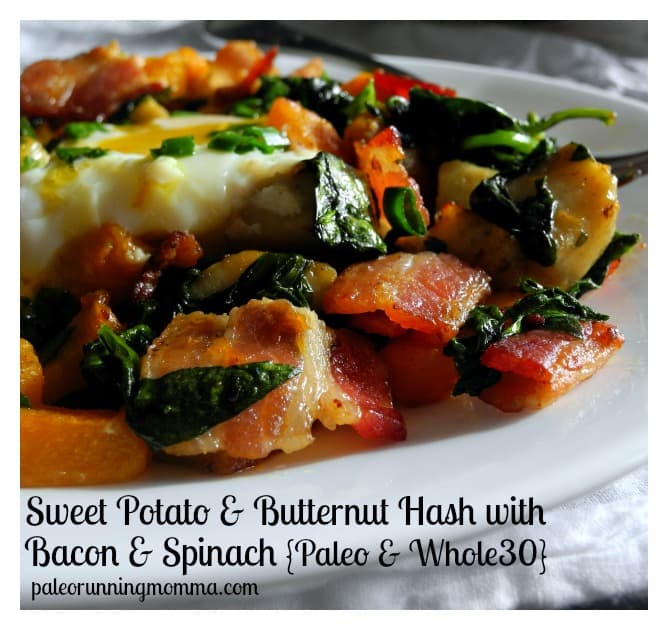 I've been really loving Japanese sweet potatoes recently ever since I found a local market that always seems to have an abundance of gorgeous ones.
They are reddish-purple on the outside with a creamy white inside, starchier, more dense, sturdier and less sweet than other varieties, in my opinion.  I've been roasting them in coconut oil and salt and my kids are very into them too.  I've been wanting to do some sort of "loaded" version, so that might be coming along too if I can swing it. For now, a sweet potato hash with bacon will more than satisfy my craving!
Sugar free beef bacon from US Wellness Meats was a very cool discovery, and, for the past several months it's been a must-have in every order I've placed with them.  The pork bacon was a long time favorite, the beef bacon is so very different yet completely and awesomely delicious.  I think it goes so well with the Japanese sweet potatoes!  Something about the textures and flavors just blend so well for me.
However, if you decide to use some other bacon in this recipe it will be just as delicious – I can assure you of that!  You can even use another meat entirely if you so choose.  But maybe forget I said that and just use bacon actually.  Because bacon is the boss!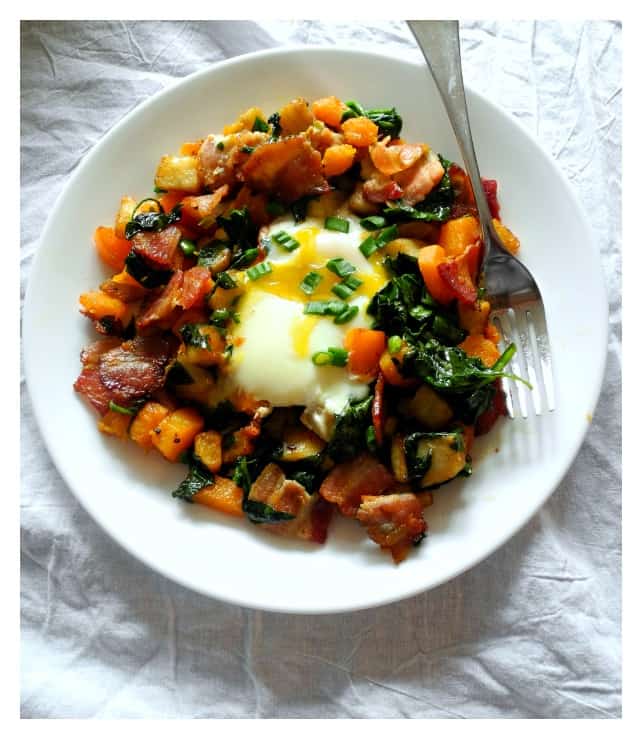 Sweet Potato Butternut Hash With Bacon & Spinach
A sweet, savory and hearty hash made with thick, crispy beef bacon, butternut squash, Japanese sweet potatoes and spinach topped with eggs and fresh chives
Prep Time: 10 minutes
Cook Time: 30 minutes
Total Time: 40 minutes
Course: Breakfast, Brunch
Cuisine: Paleo
Servings: 3 -4 sevings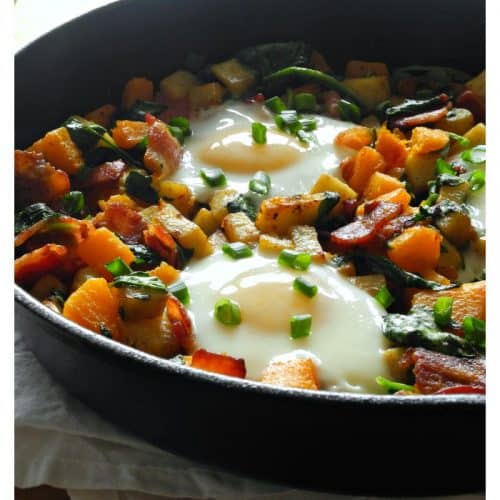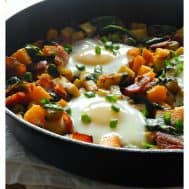 Ingredients
1/2 pound sugar free beef or pork bacon - I used U.S. Wellness Meats
1.5 cups peeled and diced butternut squash I chopped ahead of time
1.5 cups peeled and diced Japanese sweet potatoes you can use any sweet potato variety
fine grain sea salt to taste
2 cups fresh spinach roughly chopped
3-4 eggs
salt and pepper
2 tbsp chopped fresh chives
Instructions
Heat a 10 or 12 inch heavy ovenproof skillet on the stove over medium-hi heat and preheat your oven to 400 degrees.

Chop your bacon into 1 inch pieces and add to the heated skillet.

Let the bacon cook until a bit crispy but not yet done, and drain off a bit of the fat, leaving enough to cook the potatoes and butternut. You can save the fat for later use if you like in a glass container.

Put the chopped butternut squash and sweet potatoes in the skillet with the bacon and toss to coat with fat, then sprinkle salt on to taste and toss again.

Lower the heat to medium and cover the pan (a non-matching lid is okay!) to let the potatoes and butternut soften a bit. After 2-3 minutes or so, uncover and stir to evenly brown.

Once the butternut squash and potatoes are browning and soft, add the spinach and just toss to coat and soften.

Remove from heat and carefully crack each egg in a different spot on top of the hash so as not to "break" the yolk. Sprinkle a bit of salt and pepper over the eggs, and put the entire skillet in the preheated oven for 5-10 minutes, depending on how well done you want your eggs cooked. I cook mine until the whites are set and the yolks are creamy.

Check often, and, when eggs are cooked to preference, remove the skillet (carefully!) from the oven. Sprinkle a generous amount of chopped fresh chives over the top, and let sit for 5 minutes before serving.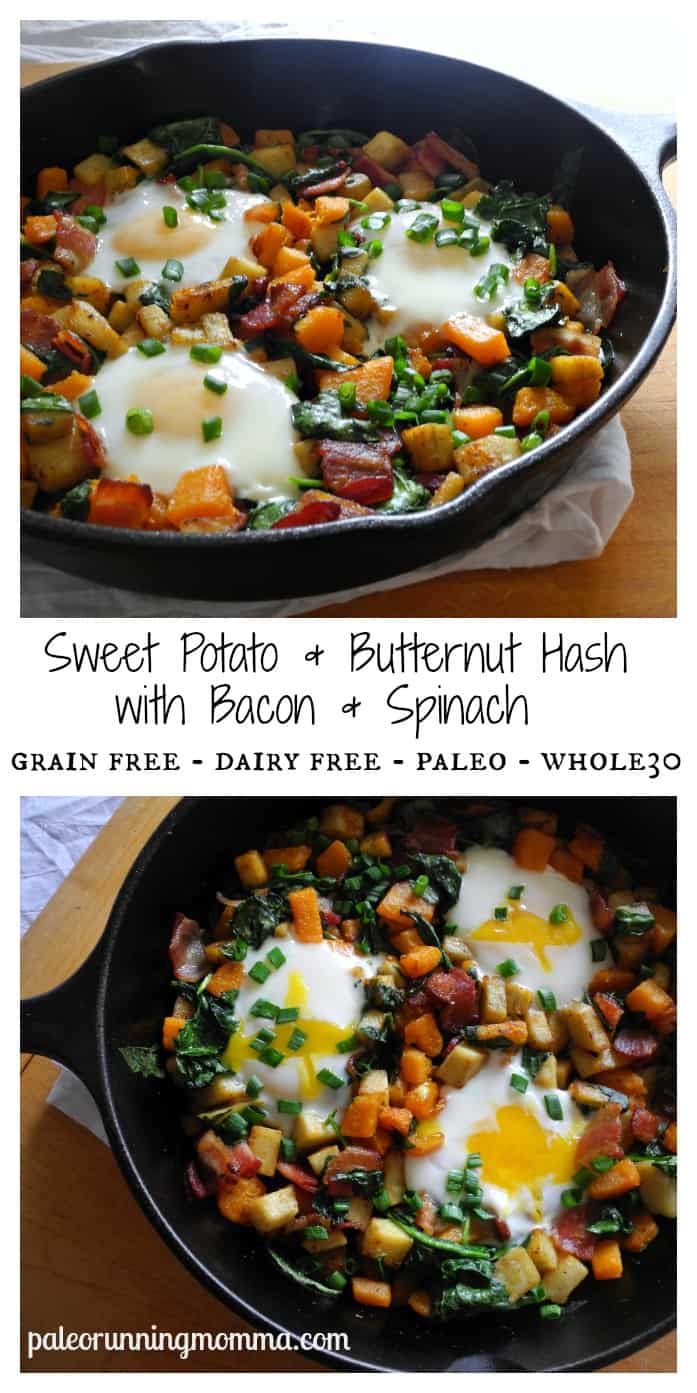 What's your favorite variety of sweet potato?  Hard to choose one, I know.
What inspires you to create new recipes?
Have you ever tried beef bacon?
Smile for the weekend everyone 🙂