I am going to talk FODMAPs again, it's the Paleo word of the week (fine acronym) I guess!
For those of you who participate in WIAW, do you find yourself looking at your meals from the day as you write your post and realize a) you ate nearly the same thing 3 times that day b) no, seriously, you almost ate the exact same thing at every meal and c) It felt really good?
Just me?  Well that was your warning.  This is not really a post discussing variety so I'll leave it as it is.  I think we can all relate to living in reality meaning we often choose the path of least resistance with our food on a busy day, so that's my excuse for this!  That, and, I'm doing the low FODMAP thing and wanted to keep things pretty basic on this day (Monday.)
In addition to low FODMAP I didn't really eat any fruit on Monday, unless you count tomatoes, which I don't because they're tomatoes.  I have been eating bananas pretty regularly and also include strawberries, which both seem to be fine for me, but just happened not to have any on this particular day.   No running happened, so maybe that has something to do with my lack of fruit.  Or I was just too full from all the plantains and pork I ate, which as you will see were the foods I was referring to being the stars of the show today.
Thanks for hosting Jenn!  Now, let's get started people!  WIAW Paleo and low FODMAP diet for IBS.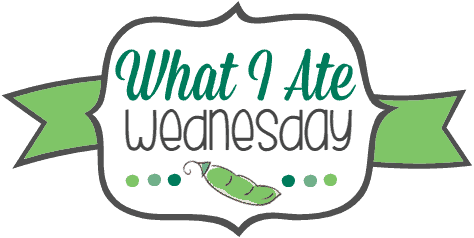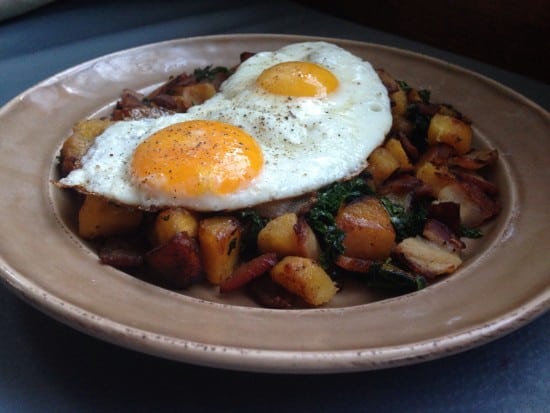 I did an hour long online yoga video in the early morning and ate breakfast at my normal time of 8am.  This was some chopped green-yellow plantains (not sweet yet but also not crunchy) sugar free pork bacon from U.S. Wellness Meats (my dear, dear favorite!) a little bit of chopped kale, and 2 fried eggs.
Not sure if you can tell the difference in the size of the yolks from this photo but it's big.  I bought pastured eggs and I'm finding that they are not really unified in size, has anyone had that experience?  Anyway, I'm really thankful that one of my favorite and easy to prepare breakfasts is low FODMAP!  See what I mean about fun?  I am having fun.  This was fun, and you can eat this too and feel happy and have fun!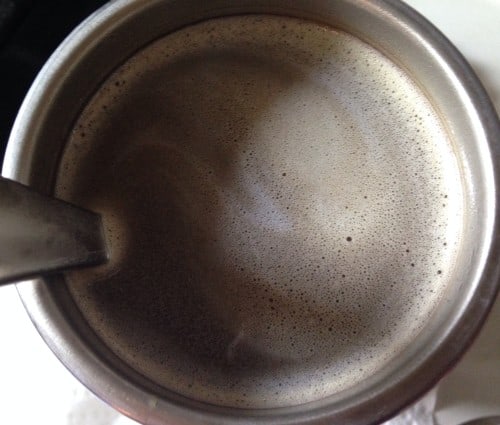 Mid morning, I had some regular coffee made at home, with full fat organic coconut milk stirred in.  Whenever I buy a new can of coconut milk, I put it in a tall container and whip it up with my immersion blender to create a thick, whipped creamy sort of texture.  I then store it in the fridge and use it in my coffee everyday or put it on bananas if I don't have coconut butter.  Try it, you'll like it.  Once you go high fat, you never go back 🙂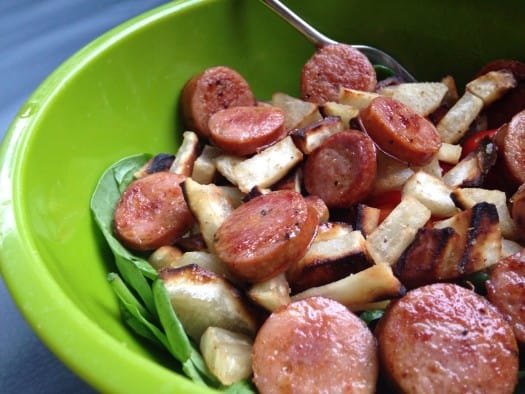 And then there was lunch, and what do you know?  I ate pork again, this time in sausage form.  I'm sure I let some garlic/onion sneak in with this Aidell's sausage but nobody's perfect, right?  I'm going to work on finding some great spice combos that don't involve onion and garlic (my favorites dammit!) but for now, this happened.  It's chopped yuca fried in coconut oil (a great combo) with andouille sausage over baby spinach and tomatoes, both of which are sort of hiding under all the good stuff.  The yuca gets nice and crispy, and seasoned with sea salt, it has the perfect sweet/salty flavor.
Not your typical candy bar and soda 3pm snack right here.  Or even your typical healthier banana and Lara bar.  No, I had wild sardines (bone in for the calcium!) in olive oil over a little baby spinach.  I do have to be in the right mood for this sort of snack but when I am it hits the spot like nothing else.   Plus, a kombucha for some gut-healing sweetness!  I honestly don't know if kombucha is helping my digestion, at this point I just love it and it makes me feel happy to drink it.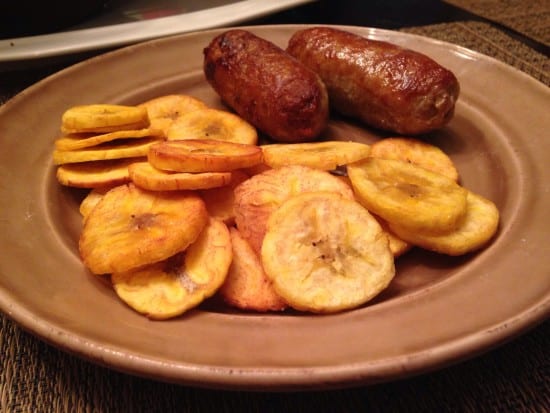 Nothing green on my dinner plate?  There's something about eating spinach as an afternoon snack that kind of excuses you from eating it for dinner.  I'm right on this, trust me.  No one's body needs that much leafy green stuff.   So these homemade plantain chips are not exactly the easiest thing to prepare as a dinner side dish for 5 people, but they are totally worth it once per week.  You can check out my recipe here.
We also had store made sweet pork sausage (my store doesn't add anything, just pork and spices) which is another kid-favorite.  I slice theirs thin and they eat it with organic ketchup, as they eat with everything.  I fry the sausages right on the stovetop in a little of the leftover coconut oil from the plantain chips just to help with even browning.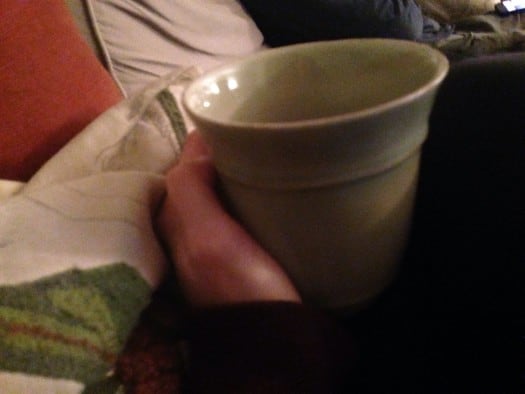 I had some hot lemon water after the kids went to bed (I buy lemons and use the juice for lemon water or tea, and mayonnaise.)  Didn't feel like a snack tonight, probably due to the mid afternoon sardines plus filling dinner zapping my hunger completely.  I am also trying to go to bed right at 9:30 lately to help with the early morning motivation. Can't say it's completely working, but by 9:30 I'm exhausted anyway and really should be sleeping.
Do you eat greens with every meal or skip them when you don't feel like it?  
How much fruit do you typically eat in a day?  For me it varies a lot.
Are your afternoon snacks typically protein/fat or carb based?  
Happy WIAW everyone!