These super chewy, thick and soft paleo and vegan snickerdoodles are deliciously addicting, kid approved, and great for holiday cookie season or anytime a craving hits!  Dairy free, egg free, grain free, gluten free, paleo and vegan.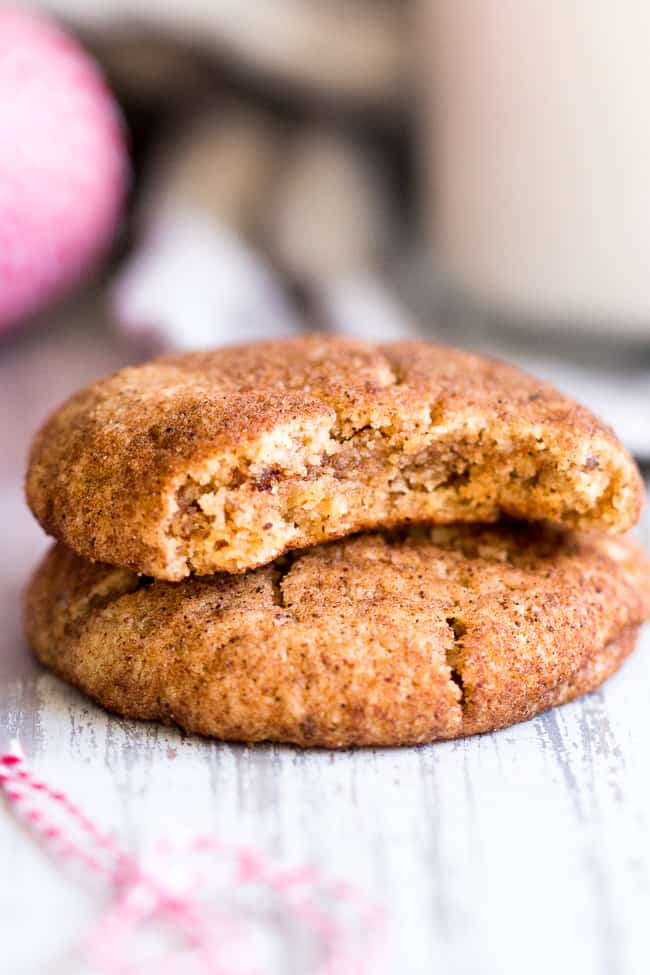 It's day 2 of 3 new paleo and vegan cookie recipes!  If you missed my cranberry orange chewy chocolate chip cookies yesterday, you must go check them out ASAP – they might just be my favorite cookies, ever.
Not to put down these vegan snickerdoodles one bit, because you are in for a major treat with these cookies!  It's so tough to pick favorites when it comes to cookies, so I won't even try.  Let's move on to the details!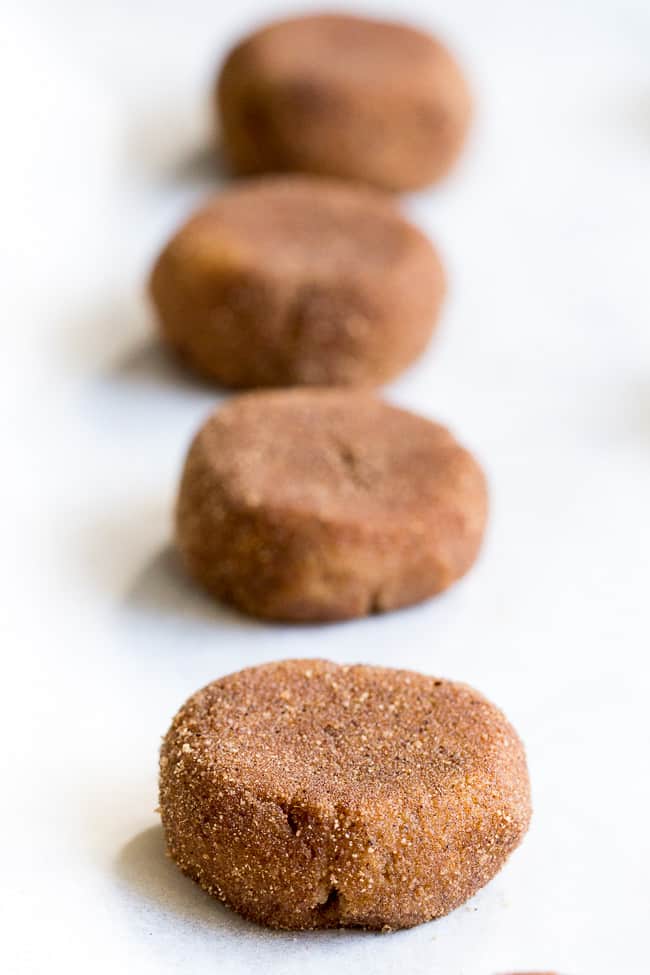 So, here we have snickerdoodles – a simple and delicious cookie with a funky name.  I've made pumpkin snickerdoodles in the past and an apple pie snickerdoodle skillet cookie but never good ol' no-frills snickerdoodles.
Now's the time!   With December here, and me going on a big vegan cookie kick, I figured it was the perfect time to break out THE only healthy, grain free, dairy free, and egg free snickerdoodle recipe you'll ever need.
It took me just two tries to get these right.  They come together easily, roll easily, bake easily and, of course, they get eaten pretty easily (and way too quickly!)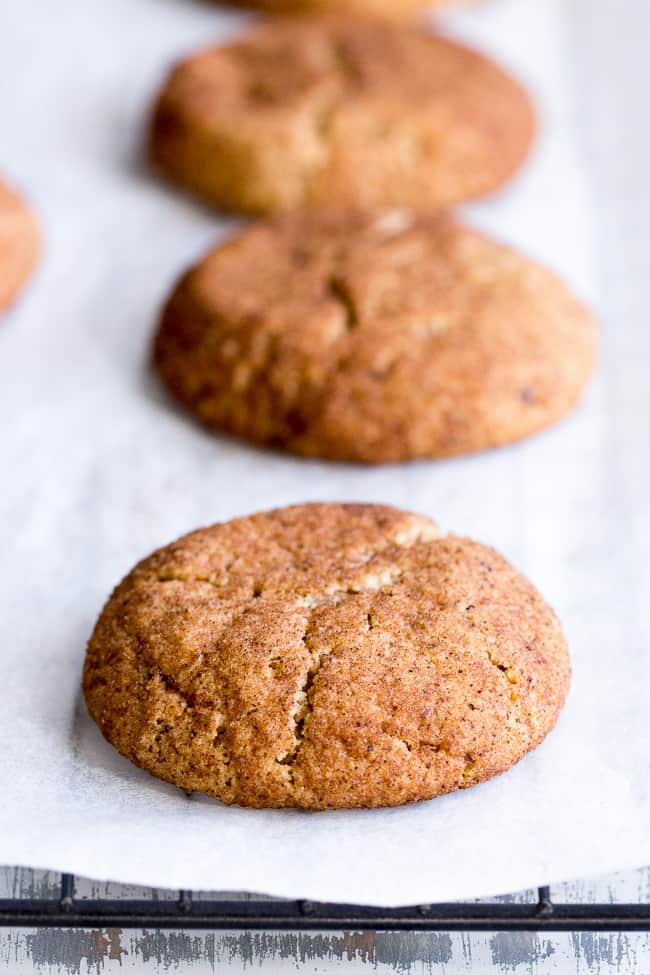 I used a mixture of almond butter and coconut oil for the fats, maple syrup and maple sugar to sweeten (you can use coconut sugar too, I like maple sugar for how fine and light in color it is), almond flour mixed with coconut flour, and a flax egg to get everything to stick together.
Don't let the flax egg intimidate you one bit – it's literally just 1 Tbsp ground flaxseed mixed with 2 1/2 Tbsp water, allowed to sit for 10-15 minutes.  Easy!
It acts similarly to a whole egg in a cookie recipe, and to be honest, I actually have been preferring the texture of my vegan cookie and bar recipes that use flax eggs to the egg-containing ones.  I NEVER would've guessed I'd say that, but here we are!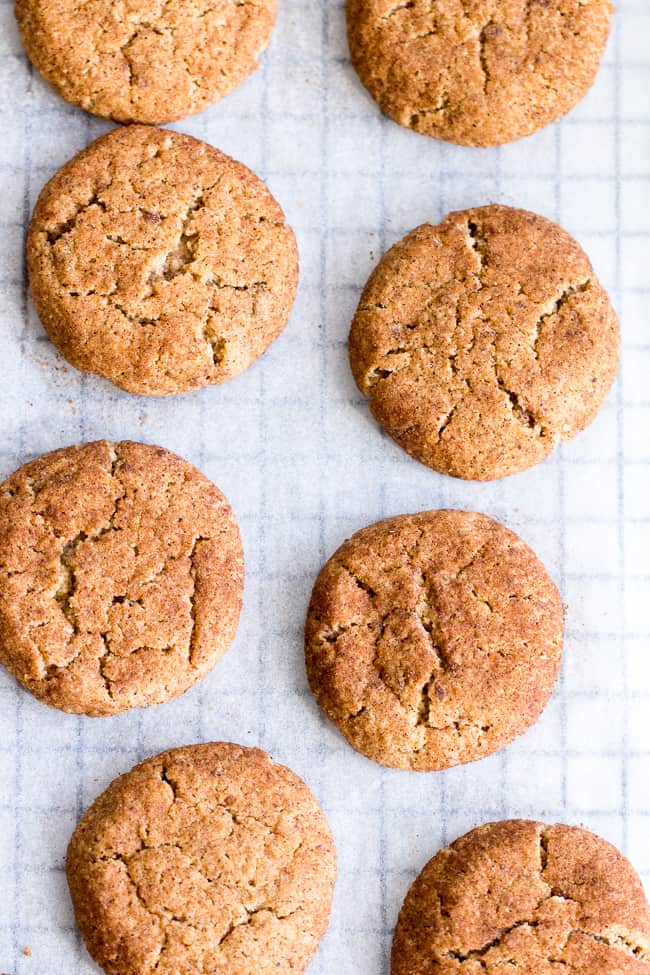 Just as with traditional snickerdoodles, you need the dough to be rollable.  I found that with my first batch, the dough was easy to roll but the cookies themselves turned out too dry and not pretty, either.
I decided to tweak the recipe to get a softer, stickier dough, that could be chilled until ready to roll.  It worked!  The  dough was easy to work with after about 20 minutes of chilling, and the cookies came out perfectly shaped, chewy, and not too dry or too gooey.
The best part?  I left them out on the countertop for 2 days, loosely covered, and they still tasted pretty much the same on the third day.  Low maintenance cookies make me happy!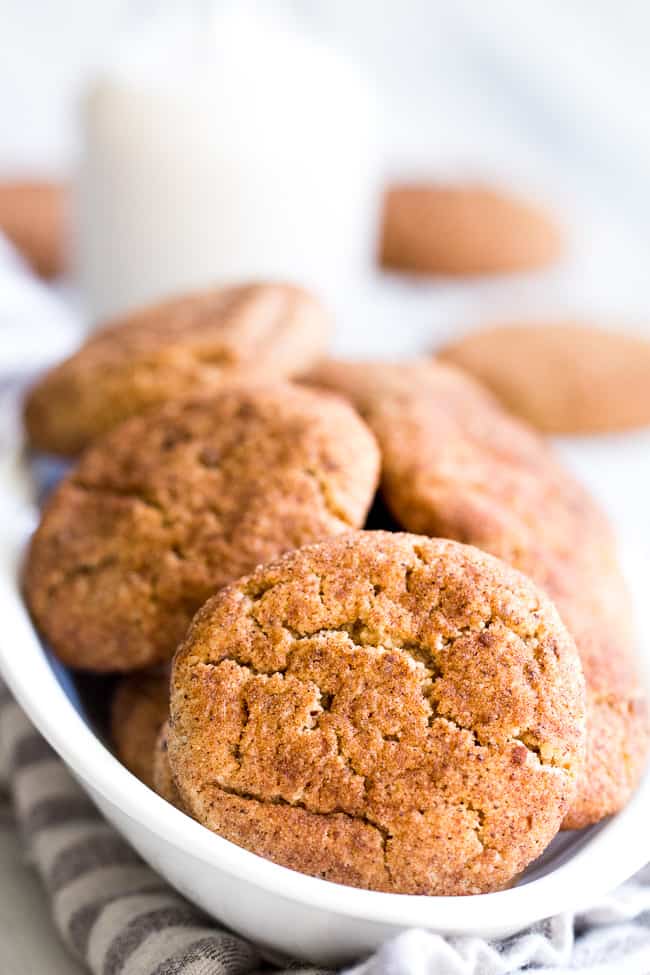 These snickerdoodles also made my family happy too – in fact, my pickiest kid (the 6 year old) requested these cookies after school every day after I made them.
He's typically really sensitive to any baked goods containing "strange" flavors (like almond butter, so "strange", right?!) and he didn't notice anything but cinnamon sugar goodness in these!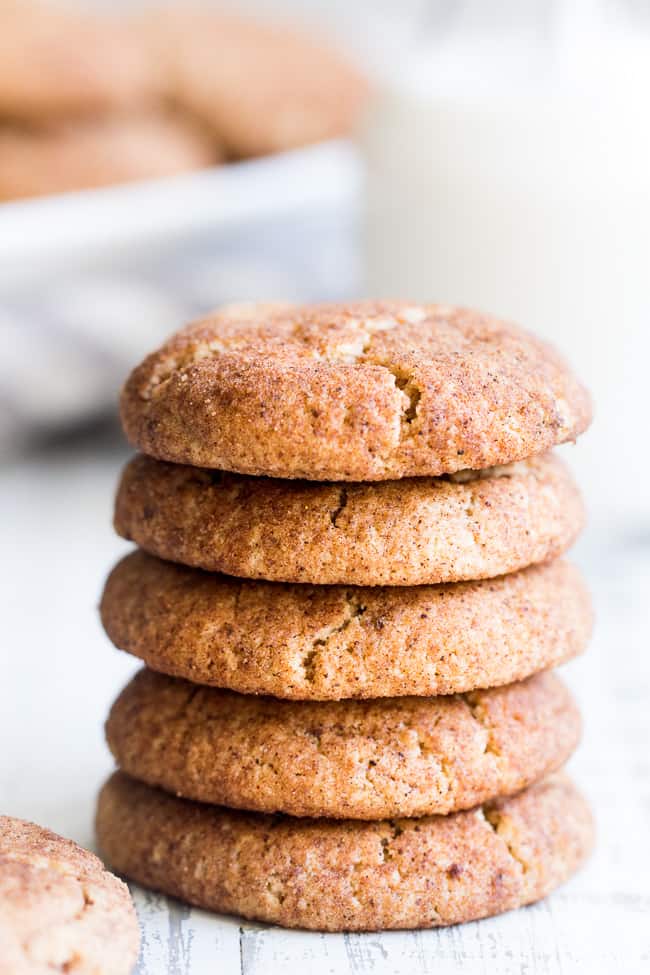 So, just in case you have super picky kiddos like I do, rest assured that these snickerdoodles passed the hardest test.  They're also easy for kids to help out with – and who doesn't love rolling dough balls in sugar!  It's healthy family holiday (or anytime) baking at its best!
Let's get our flax egg together and the oven preheated!  I'm ready to bake cookies – let's go!
Thick Chewy Paleo & Vegan Snickerdoodles

Thick Chewy Paleo & Vegan Snickerdoodles
These super chewy, thick and soft paleo and vegan snickerdoodles are deliciously addicting, kid approved, and great for holiday cookie season or anytime a craving hits! Dairy free, egg free, grain free, gluten free, paleo and vegan.
Prep Time: 35 minutes
Cook Time: 10 minutes
Total Time: 45 minutes
Course: Baking/Dessert
Cuisine: Paleo, Vegan
Servings: 18 cookies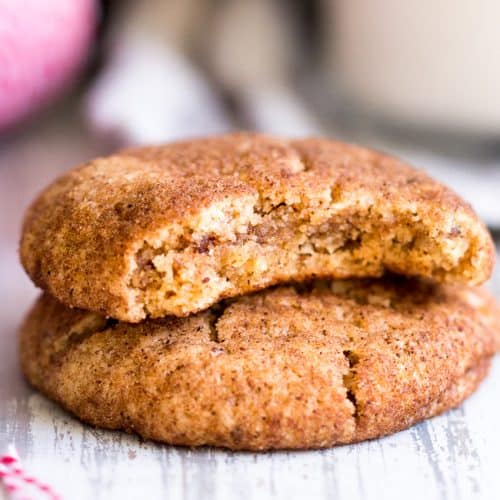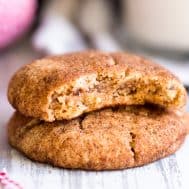 Instructions
Prepare flax egg as described above and set aside. Preheat your oven to 350 degrees and line a large baking sheet with parchment paper. Position your oven rack in the upper portion of oven.

Combine the almond flour, coconut flour, baking powder*, salt and 3/4 tsp cinnamon in a medium mixing bowl, stir to evenly distribute ingredients.

In a separate larger bowl, use an electric mixer to cream together the coconut oil, almond butter, maple syrup and sugar until smooth. Beat in the flax egg and vanilla and mix on low/medium until well combined.

Slowly add the dry ingredients to the wet until fully combined and a dough forms (it will be soft/sticky at first. Chill dough 20-30 minutes (before rolling into balls and dipping in cinnamon sugar).

Once dough is chilled and able to be rolled into balls, combine cinnamon & sugar in a small bowl. Form dough 18-20 balls and roll each one gently in the cinnamon sugar topping. Place on cookie sheet 2" apart (bake 2 batches if necessary.) Flatten each ball just a bit (as pictured in post) using your hand or parchment paper.

Bake in the preheated oven for 11-13 minutes or until cookies are set and browning. Allow cookies to cool on baking sheet 5-7 minutes (they're very soft at first) before carefully transferring to wire racks to cool completely. Enjoy! Store leftovers loosely covered at room temperature for 1 day, then refrigerate or freeze to keep longer.
Recipe Notes
*Recipe Note: To make paleo friendly baking powder (corn free) mix 1 tsp baking soda with 2 tsp cream of tartar. For this recipe, you will need just 1 tsp total of this mixture.
**Coconut sugar will work well in this recipe but will make the cookies appear darker in color.
Nutrition
Calories: 172kcal
Carbohydrates: 10g
Protein: 3g
Fat: 14g
Saturated Fat: 6g
Sodium: 37mg
Potassium: 73mg
Fiber: 2g
Sugar: 5g
Calcium: 54mg
Iron: 0.7mg
What I used To Make My Paleo & Vegan Snickerdoodles:

Want More Paleo and Vegan Baking Recipes?  Try One of These!
Cranberry Orange Chewy Chocolate Chip Cookies
Chewy "Oatmeal" Raisin Cookies
Fudgy Triple Chocolate Brownies
Banana Blueberry Breakfast Cookies
Almond Butter and Jelly Cookie Crumb Bars
No Bake Coconut Apple Cinnamon Cookies
Maple Pecan Banana Bread Breakfast Bake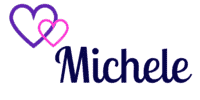 Note: This post contains Amazon affiliate links. This means that if you click on a link and make a purchase, I will receive a small commission at no cost to you. Thank you for supporting Paleo Running Momma!