These are the most delicious fudgy paleo and vegan brownies that you'll ever make!  Raw cacao, unsweetened chocolate and chocolate chunks make them extra chocolatey with rich flavor and chewy fudge-like texture.  Kid approved, gluten-free, dairy-free and great when you need a healthy chocolate indulgence!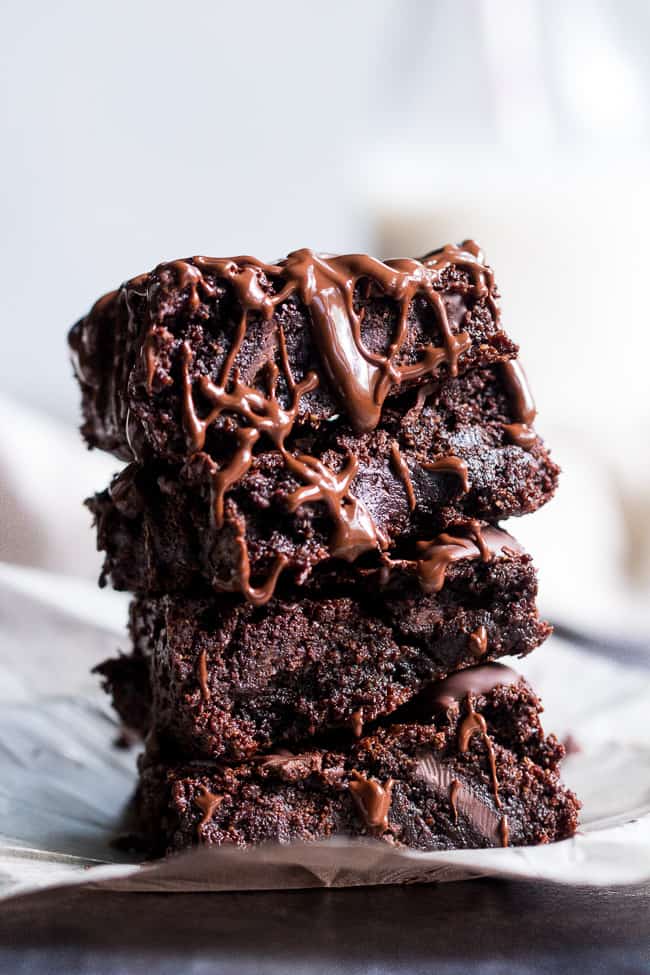 Brownies are one dessert that everyone can get excited for, don't you think?  Even my 6 year old son, Drew, who claims to not like chocolate (okay fine, to not like DARK chocolate) is always up for a paleo brownie.   Even the ones with sweet potato in them!  Seriously, chocolate actually DOES win, every time.
I recently revisited one of my old favorite brownie recipes – these double fudge almond butter brownies – and decided to update them – mainly because I am nearly incapable of making the exact same recipe twice.
Plus, I'm truly horrible at following my own recipes to a T – sort of like those reviewers you see on recipe sites who change everything about the recipe and are then very confused/angry about what went wrong?  Well, that's me, except on my own flipping website.  I'll freak out that my own recipe sucks until I realize that I actually didn't follow it.  Oops.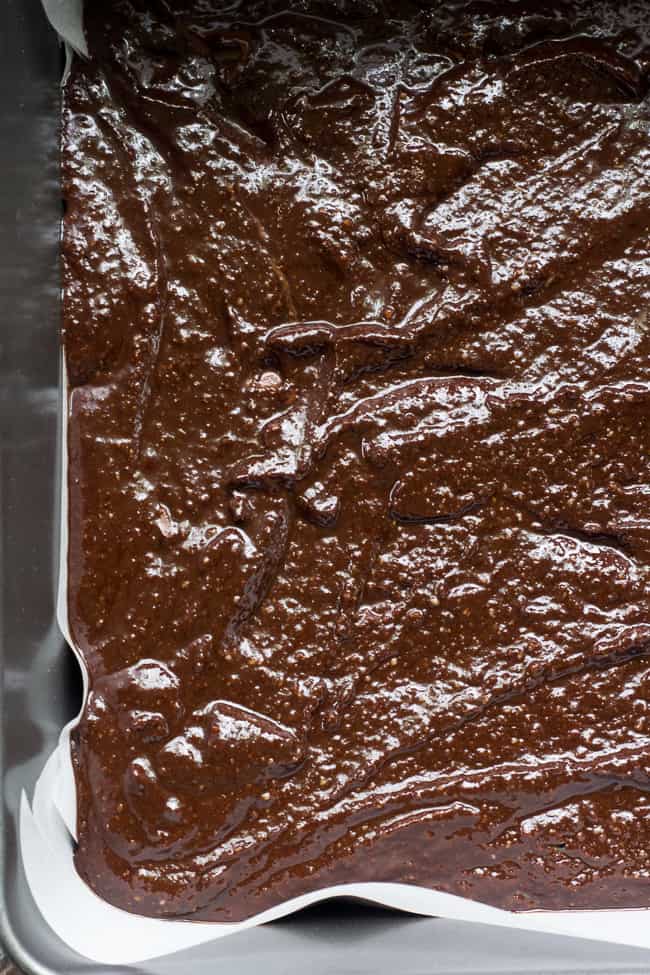 That said, sometimes my impulsive recipe variations lead to good things – like in this case.  I'd been DYING to try flax eggs in a couple of my recipes after hearing great reviews from readers who've subbed in flax eggs to make my dessert recipes vegan.  I have a constant supply of ground flaxseed in my fridge anyway, so figured the easiest place to start would be with brownies.
So, I tweaked a couple of things about that old brownie recipe, plus subbed in 2 flax eggs for the egg + egg-yolk in the original.  I got rid of the fudge topping because good 'ol melted chocolate seemed just as delicious.  Then, I prayed.  Well, not exactly, because I don't stress about brownie recipes all that much – they get eaten regardless of the result.  I mean seriously, BROWNIES.  How bad can they be?!  The batter alone is worth eating, so, you really can't go wrong, I think.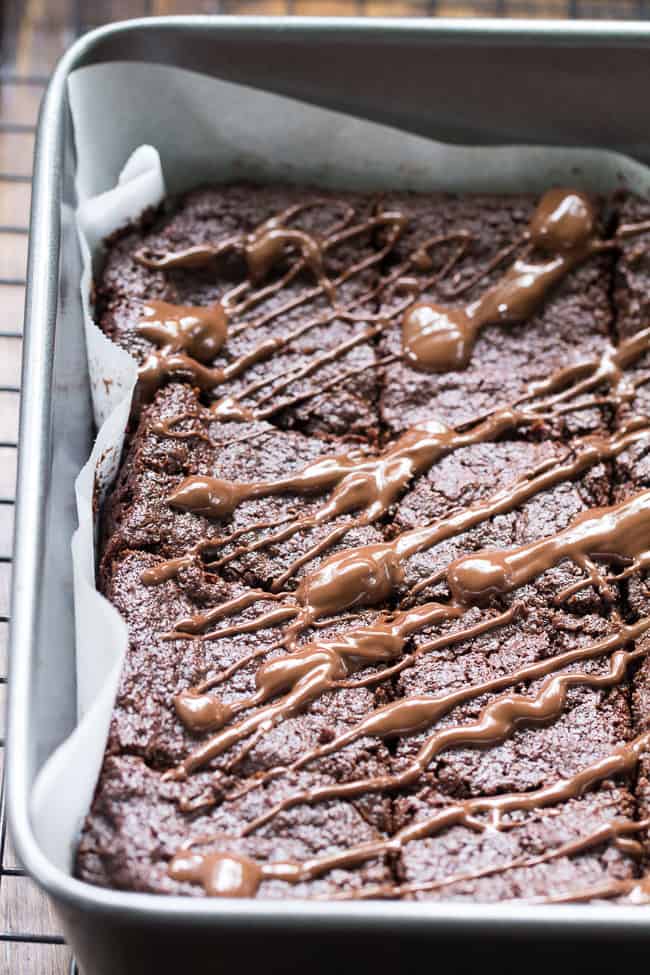 One thing I've noticed about all paleo brownies, is that they taste WAY fudgier when they get to set/chill for a good long while in the refrigerator before you dig in.  I believe the coconut oil is responsible for this phenomenon, since it needs to be cooled for quite a while to solidify.
This can be a torturous wait, but try to put them out of your mind and let them chill for several hours, then have them return back to room temp for an hour or so.  FUDGY BROWNIE HEAVEN!  That said, they're pretty darn tasty no matter when you dig in – I typically eat one (or a blob, spoonful, etc) right out of the oven, and then test again once they're nice and cooled.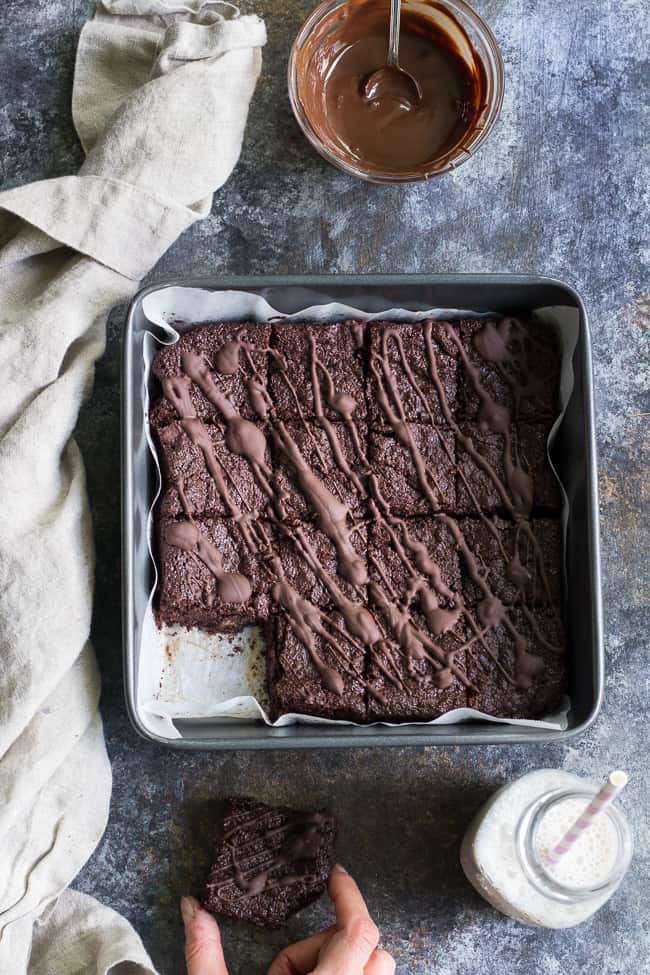 And let me be honest with you right now – my family liked these brownies BETTER than they're non-vegan, egg containing counterpart.  Truthfully, I liked them better too.  The flax eggs somehow made them chewier and fudgier, and no one here complained about that!
I tend to go wild with my melted chocolate, if only for the photos (and because I like to make a mess and then lick the whole thing up.)  Look, extra chocolate won't hurt these or anything, but you don't need to drizzle – they're super fudgy and chocolatey as-is!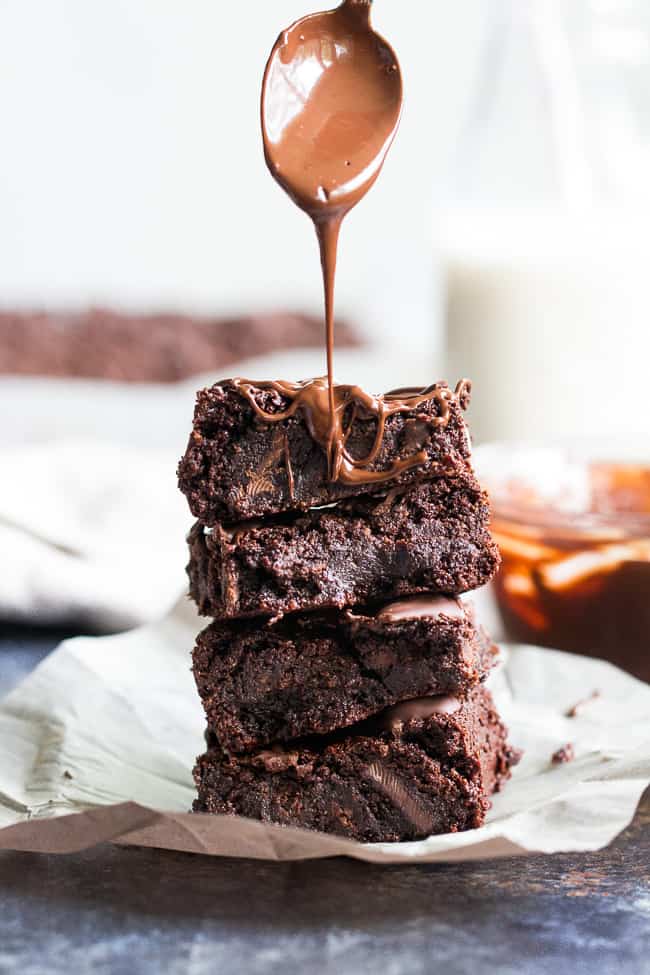 So, you might be wondering how the heck these are "triple" chocolate even without the drizzle.  See now, this is because I legitimately cannot contain myself when it comes to adding different forms of chocolate to chocolate desserts.  So, we start these out with unsweetened baking chocolate mixed with almond butter, we add plenty of raw cacao powder (or cocoa) to the dry ingredients, then, we whip out our dark chocolate chips.  And add them to the batter, of course, if not only after eating several handfuls.
Now, I know many of you are not fans of "paleo" recipes that call for dark chocolate chips that contain cane sugar (like my beloved Enjoy Life morsels.) No worries though, because you can easily make your own 100% paleo dark chocolate chunks with this recipe from Bakerita.  The chunks will give you the "triple" effect while still staying technically paleo and free of refined sugar.  That said, add whatever chocolate you want for your personal triple effect.  I will not tell 🙂
Are you ready to bake?!  I want brownies!  Let's go!
Fudgy Triple Chocolate Paleo & Vegan Brownies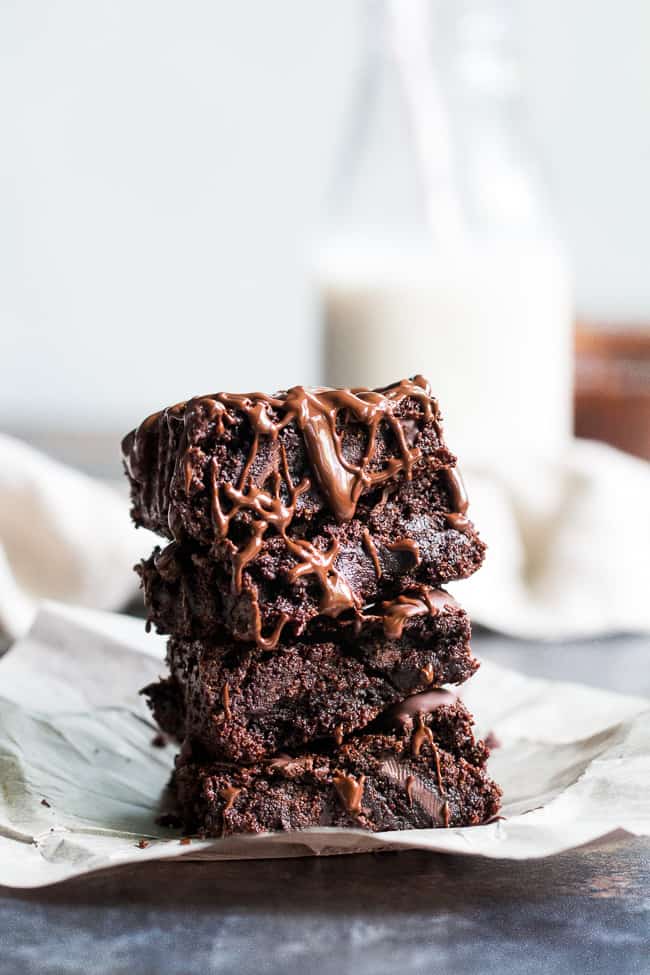 Fudgy Triple Chocolate Paleo & Vegan Brownies
These are the most delicious fudgy paleo and vegan brownies that you'll ever make! Raw cacao, unsweetened chocolate and chocolate chunks make them extra chocolatey with rich flavor and chewy fudge-like texture. Kid approved and great when you need a healthy chocolate indulgence!
Prep Time: 15 minutes
Cook Time: 25 minutes
Total Time: 40 minutes
Course: Dessert
Cuisine: Paleo, Vegan
Servings: 16 servings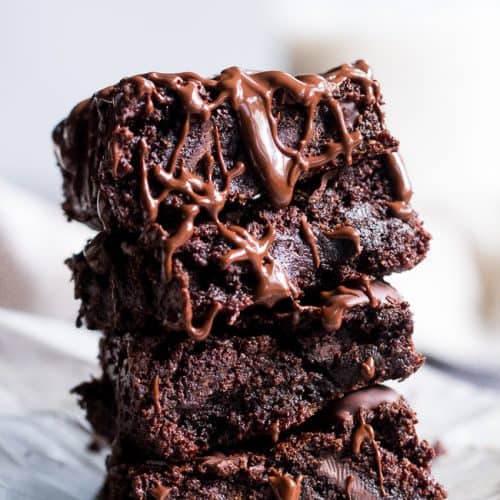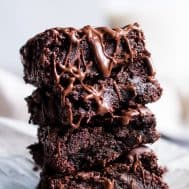 Instructions
Prepare the flax eggs as listed above, allow to sit for 15 mins while preparing the rest of the batter. Preheat your oven to 350 degrees.

Combine all dry ingredients including the coconut sugar in one bowl, then set aside.

In a medium saucepan over very low heat melt the baking chocolate while stirring constantly, then stir in the almond butter to combine.

Remove from heat and allow to cool for a minute, then stir in the coconut oil, then the maple syrup and vanilla, add the flax eggs* and beat until smooth and well combined.

Stir in the dry mixture until no flour spots remain (if your saucepan was too small you can also stir the wet ingredients into the dry, either way will work.)

Fold in the chopped dark chocolate (or morsels or chunks), then transfer the batter to a parchment lined 8x 8 inch baking pan, scraping to get all the batter. and bake in the preheated oven for 20-25 minutes or until just set in the center.

Allow to cool completely to room temp before cutting into squares** Due to the coconut oil content I recommend chilling in the fridge to set prior to cutting. Drizzle with extra melted chocolate if desired.

These brownies are at their fudgy-est after chilling in the fridge and then allowing to settle back to room temp for about an hour. Store leftovers covered in the refrigerator for up to 4 days, or freeze for later use.
Recipe Notes
* If you wish to make a paleo version with eggs, use 1 egg plus one egg-yolk at room temp and follow the same directions
**Time needed to cool is not included in "prep time"
Nutrition
Calories: 176kcal
Carbohydrates: 15g
Protein: 3g
Fat: 12g
Saturated Fat: 6g
Cholesterol: 0mg
Sodium: 116mg
Potassium: 154mg
Fiber: 2g
Sugar: 8g
Calcium: 29mg
Iron: 1.9mg
What I Used to Make My Fudgy Triple Chocolate Paleo & Vegan Brownies:


Want more delicious Paleo & Vegan dessert recipes?  Try one of these!
Easy Paleo & Vegan Chocolate Pudding
No-Churn Chocolate Chip Cookie Dough Ice Cream
Chocolate Chip Cookie Vanilla Cheesecake
Soft Chewy Chocolate Chip Cookies
Tell Me!
Are brownies best alone, frosted or topped with ice cream?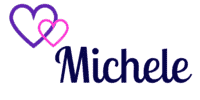 Note: This post contains Amazon affiliate links. This means that if you click on a link and make a purchase, I will receive a small commission at no cost to you. Thank you for supporting Paleo Running Momma!