These Paleo and Vegan Chocolate Chip Cookies are soft, delicious and secretly so good for you!  They can be sweetened with either dates or pure maple syrup and have a chewy texture and nutty flavor thanks to almond butter.  Kid approved, gluten free, dairy free.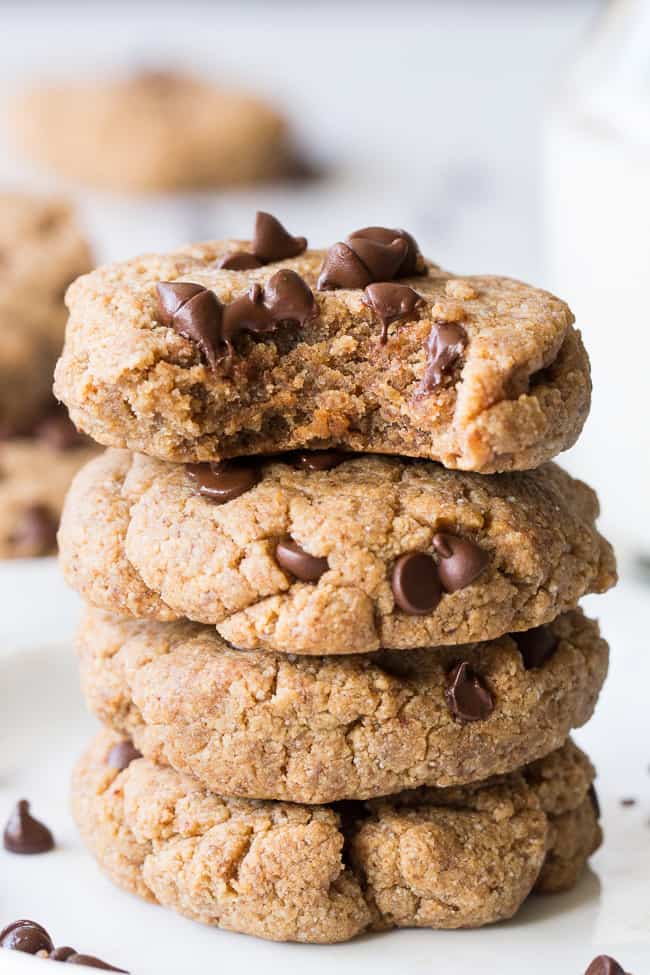 Isn't it true that you simply can't have too many chocolate chip cookie recipes?  I think the reasoning behind it is no secret – chocolate chip cookies are everyone's favorite, period.  Am I wrong?  I know there are a few of you out there shaking your heads.  Shame on you!  Listen to your heart!  The cookies are calling for you…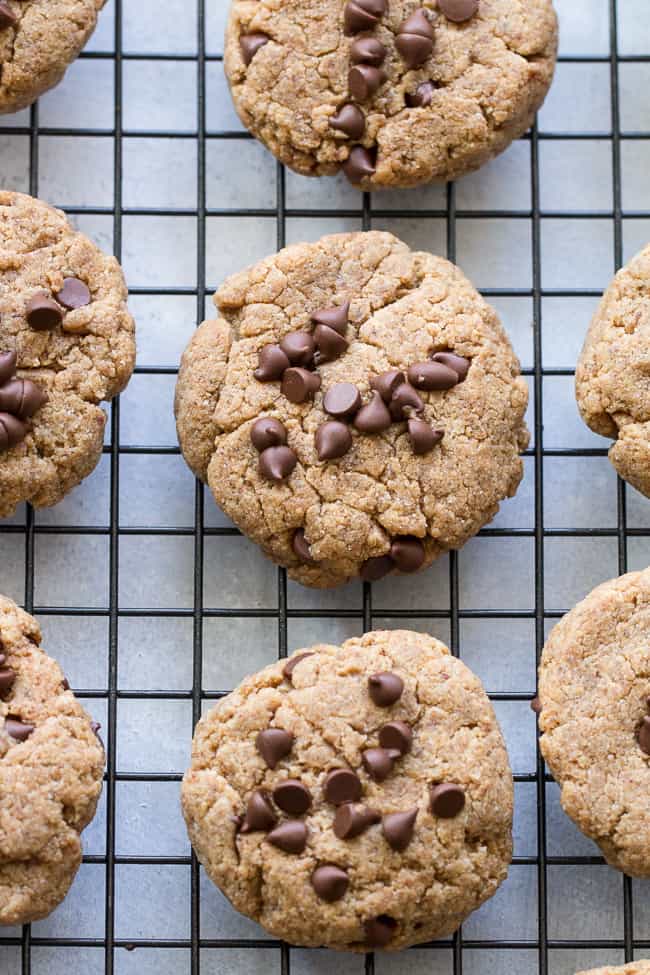 I'm going to assume you have a heart and soul and you love chocolate chip cookies – they're your FAVORITES!  They're the first thing you ever baked with your mom, who doesn't actually bake it turns out, so… they're also the last thing you ever baked with your mom.  Hmm, that sounds sort of sad.  Mom, if you're reading, let's bake some cupcakes sometime, mmmkay?
Anyway, where was I?  Right, favorites.
So, I think one of the rules of favorite foods is that you want to eat them as much as possible, that's the whole point.  Maybe you want to make them as much as possible, too since homemade ones are – DUH – the best kind.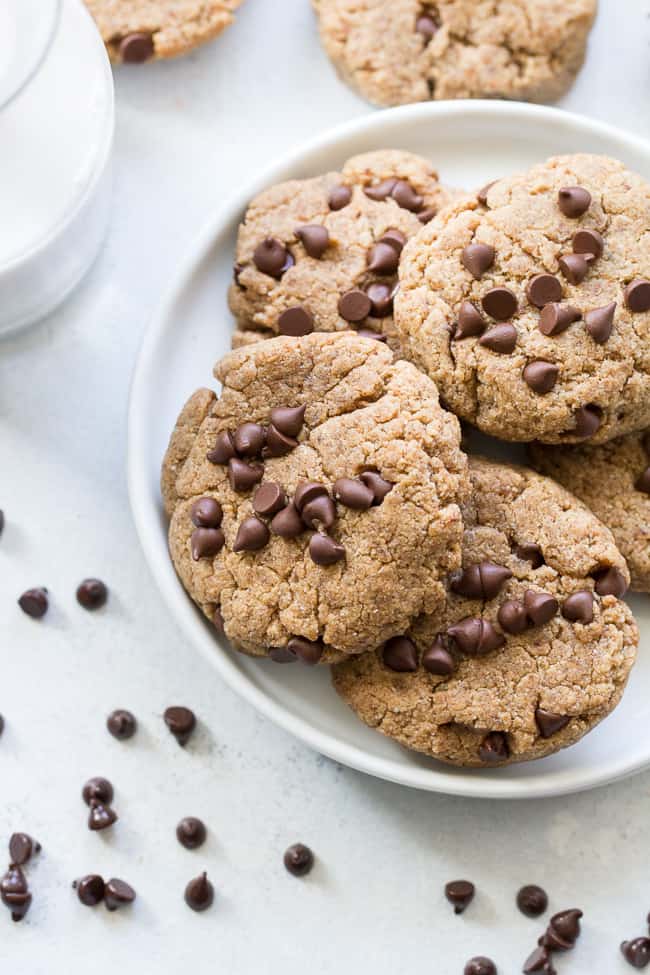 In conclusion, of course, that is why we, as human beings, need as many chocolate chip cookie recipes as we can come up with.  Little variations, totally different methods, all of it.  We want, we need, we demand lots and lots of chocolate chip cookies.
Sounds like a third grader's persuasive essay, but hey, it's the darned truth.
But let's get to the good stuff already – the actual recipe that I present you with today!  This is the first vegan + paleo chocolate chip cookie recipe that I've posted on the blog.  Live and learn!  These are sort of a cross between my ultimate chocolate chip cookies, which contain an EGG, and the crust/crumble for my almond butter jelly cookie bars.  A happy marriage, indeed.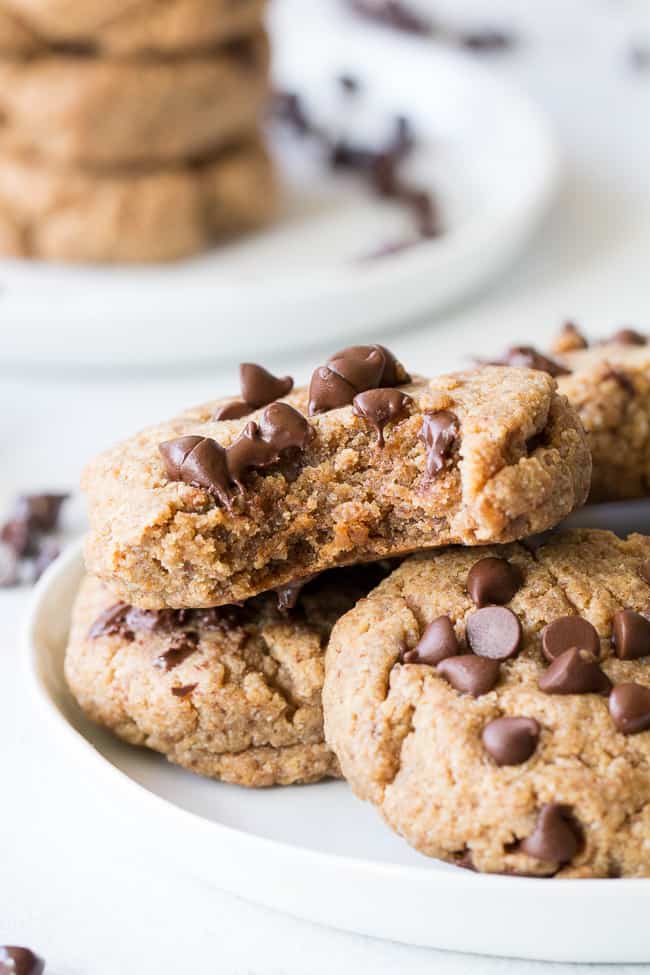 But, these paleo and vegan chocolate chip cookies have yet another cool (or awesome, or whatever word the kids are using these days) feature – and that how they're sweetened.  I used DATES, guys!  Dates in chocolate chip cookies, and really, you'd never know it.
In truth, I tested this recipe using dates first and then using maple syrup, and either way is YUM.  However, if you can rally and drag out that food processor or blender for the dates, it's worth it, in my opinion, since you get a special sort of "chew" (we're talking texture!) that maple syrup just doesn't provide.   If you wanted to make this recipe completely free of refined sugars, you can even use this recipe for chocolate chunks for just about the healthiest chocolate chip cookies, ever.
I think I'm ready to bake, are you with me?!   Let's go!
Soft Paleo & Vegan Chocolate Chip Cookies

Soft Paleo & Vegan Chocolate Chip Cookies
These Paleo and Vegan Chocolate Chip Cookies are perfectly soft and chewy and secretly very healthy! They can be sweetened with dates or pure maple syrup, and get a nutty flavor from almond butter. Kid approved, gluten free, dairy free
Prep Time: 10 minutes
Cook Time: 10 minutes
Total Time: 20 minutes
Course: Dessert
Cuisine: Paleo, Vegan
Servings: 14 cookies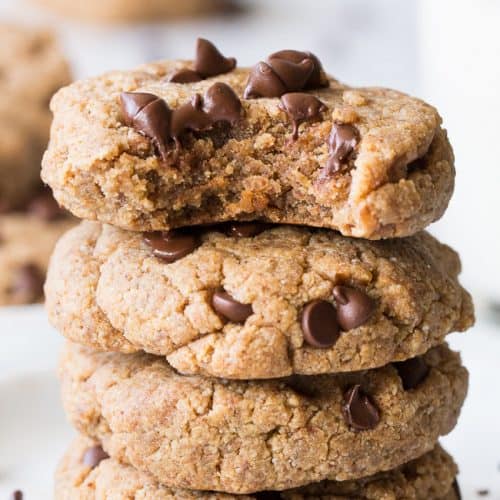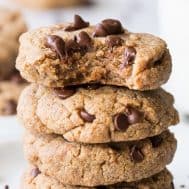 Instructions
Preheat your oven to 350 degrees and line a large baking sheet with

parchment paper

.

Process the dates and almond butter first to form a paste, then process in the remaining ingredients, except for the chocolate.

The mixture will feel greasy due to the almond butter and coconut oil, but don't worry! Stir in chocolate, and then add more on top right before baking since the chocolate sometimes has trouble "sticking" to this dough.

Shape into 12-16 cookies on the prepared baking sheet, flattening since they won't spread much, add a few more chocolate chips on top if desired. Bake in the preheated oven 8-10 minutes or until just set, they can be a bit underbaked without an issue, don't overbake.

Cool on wire racks and enjoy!
Recipe Notes
*You can cover the dates with water in a bowl and microwave in 30 second increments until dates are soft, drain before using
**Alternatively you can sweeten with 4-6 tbsp pure maple syrup
***Dairy and soy free, like Enjoy Life Brand, chopped dark chocolate, or chopped homemade paleo chocolate
Nutrition
Calories: 226kcal
Carbohydrates: 16g
Protein: 5g
Fat: 16g
Saturated Fat: 5g
Cholesterol: 0mg
Sodium: 98mg
Potassium: 213mg
Fiber: 3g
Sugar: 10g
Vitamin A: 15IU
Calcium: 89mg
Iron: 1mg
What I Used to Make My Paleo & Vegan Chocolate Chip Cookies:
Want more paleo and vegan cookies and bars?  Try one of these!
No-Bake Banana Chocolate Chip Cookies
Almond Butter & Jelly Cookies Bars
No-Bake Chocolate Coconut Butter Cookies
Tell Me!
What's your personal favorite chocolate chip cookie texture?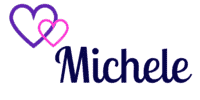 Note: This post contains Amazon affiliate links. This means that if you click on a link and make a purchase, I will receive a small commission at no cost to you. Thank you for supporting Paleo Running Momma!