These thick and chewy double chocolate chip cookies are easy to make, packed with chocolate and made with real-food ingredients.  They're dairy-free, gluten-free, paleo, vegan, egg free and family approved!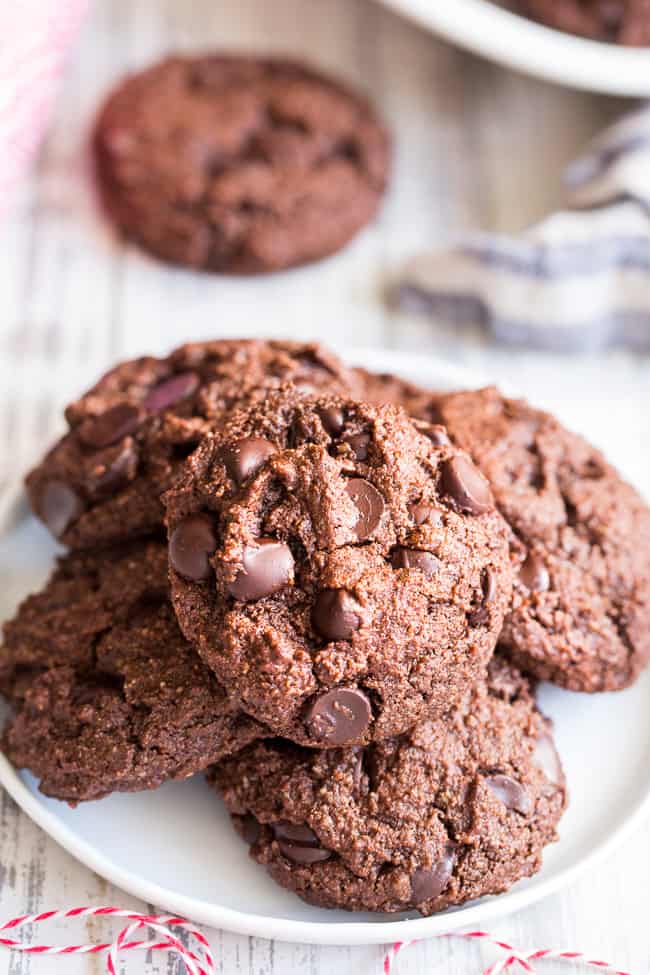 I just couldn't resist making more cookies for December!  I think these might be the last cookie recipe I share this holiday season, but no promises – cookies have their way of wooing me, and, if I'm making more, I'll be sharing them with you!
I've been very into experimenting with vegan baking lately, and these double chocolate chip cookies are another one of my successes.
They're sort of similar in texture to the cranberry orange chocolate chip ones I posted recently, which are one of my recent favorites.  There's just something about the mix of ingredients here that can do no wrong by me.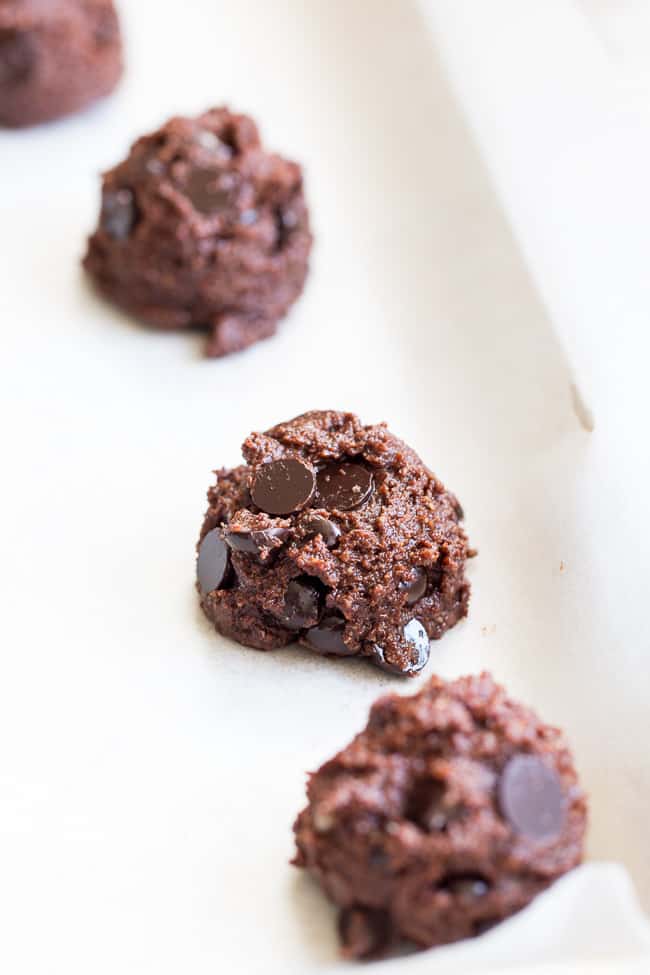 To start, these are so simple to make.  Really.   My girls (10 and 8) are now flax-egg experts and can make these cookies all by themselves, so definitely don't let the flax egg intimidate you here!
A flaxseed "egg" is really just 1 Tbsp ground flaxseed mixed with 2.5 Tbsp water, which you then set aside for about 10-15 minutes.  The result is a mixture that works very similarly to a raw egg!
I actually find that flax eggs make chewier cookies, which is why I've been hooked on vegan cookies lately.  I'm all about the chew.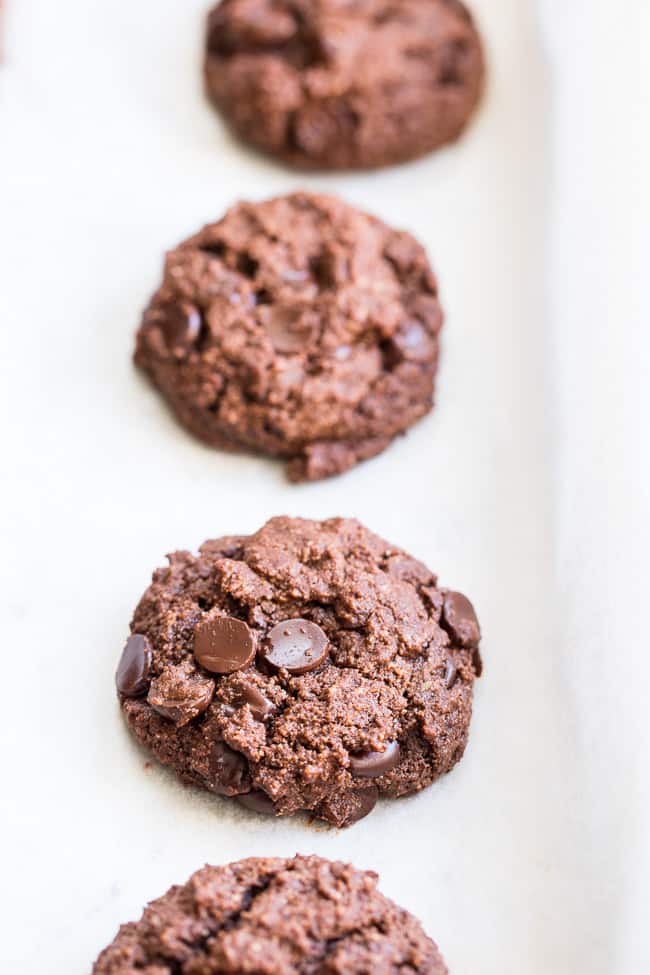 Aside from the flax egg, we have a mix of coconut oil (in a solid/soft state), creamy almond butter, maple syrup, coconut sugar and vanilla for the wet ingredients.
The dry ingredients are just blanched almond flour, raw cacao (or unsweetened cocoa powder), baking soda and salt.  No need for multiple flours here, which is a nice change from some of my recipes!
These double chocolate chip cookies are truly "low maintenance" in my opinion.  Since I do tons of grain free baking, I'm very much aware that some desserts are definitely NOT low maintenance.  And my that, I mean they can't sit out for long, need freezing/refrigeration/or the stars to align correctly for them to turn out properly.  Have you been there?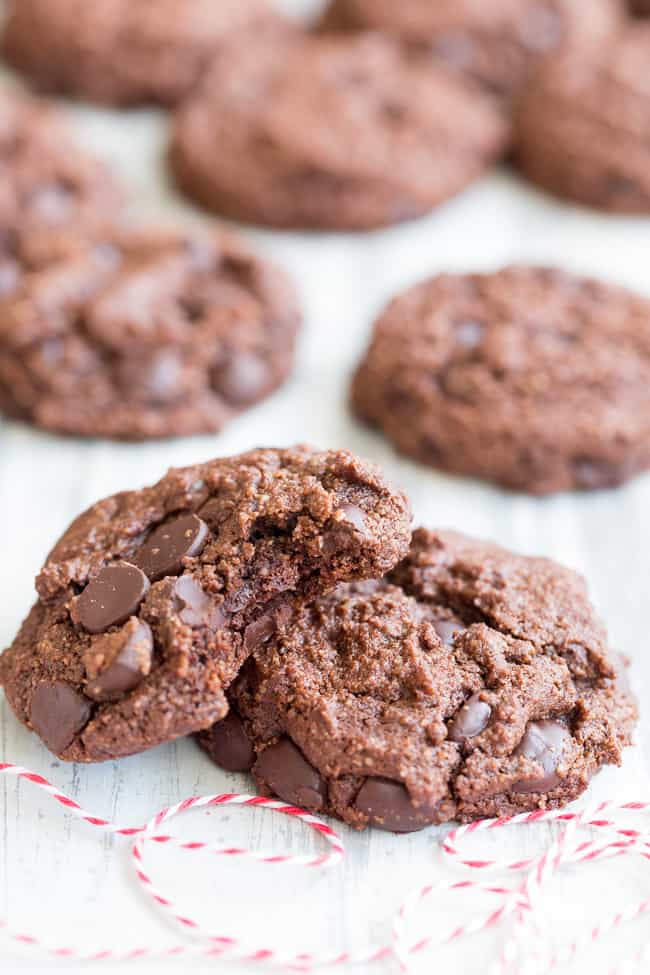 Well, I certainly have!  But, not with these cookies!  These are true "drop" cookies – meaning they don't need to be shaped, rolled, etc – you can literally use a cookie scoop to drop the dough onto the cookie sheet and they work themselves out perfectly in the oven!
These double chocolate chip cookies are definitely on my list of "sharing cookies" – ones that I can pack to bring to someones house knowing they won't melt, fall apart, and that regular non-paleo people will actually like them.  That's saying a lot, trust me!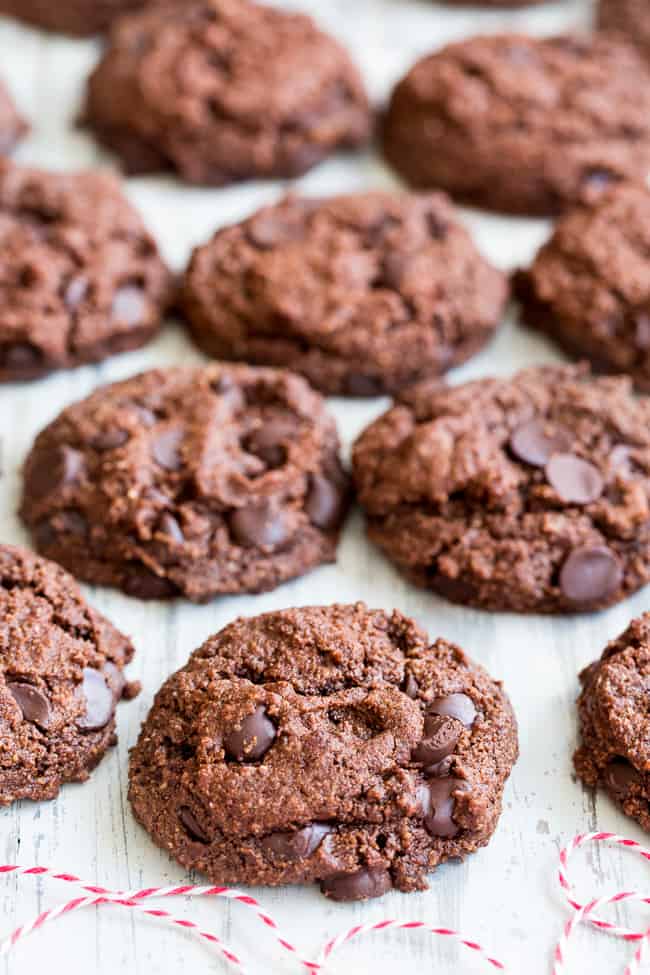 So, the sharing factor means these are absolutely perfect for holiday parties, gatherings, or just baking and gifting healthy cookies to a friend or family member.  It also doesn't mean you have to share, but I guess you didn't really need my permission to keep these all to yourself, either.
I hope you guys are ready to bake – these are going to be good ones – I promise!  Get your ovens preheated (and the flax egg going) and let's bake!
Paleo & Vegan Double Chocolate Chip Cookies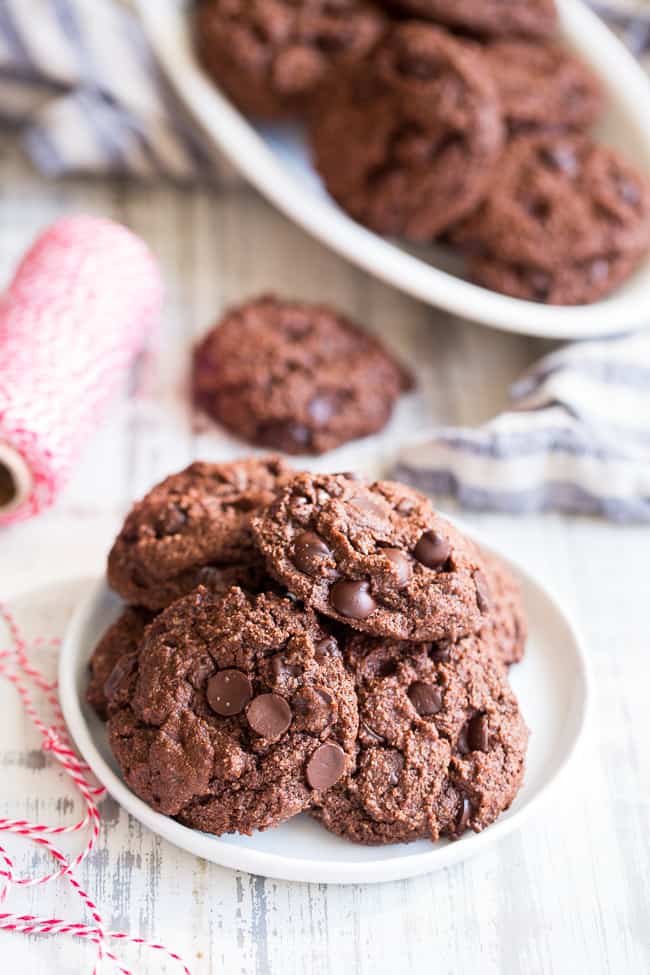 Paleo Vegan Double Chocolate Chip Cookies
These thick and chewy double chocolate chip cookies are easy to make, packed with chocolate and made with real-food ingredients. They're dairy-free, gluten-free, paleo, vegan, egg free and family approved!
Prep Time: 15 minutes
Cook Time: 15 minutes
Total Time: 30 minutes
Course: Baking/Dessert
Cuisine: Paleo and Vegan
Servings: 16 cookies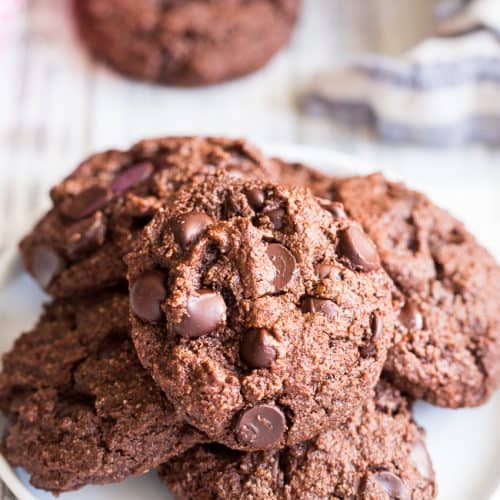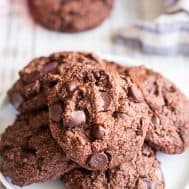 Instructions
Prepare the flax egg first, set aside. Position your oven rack to the middle and preheat your oven to 350 degrees and line a large cookie sheet with parchment paper.

Combine dry ingredients well in a bowl and set aside. With an electric hand mixer, cream together coconut oil, almond butter, maple syrup and coconut sugar until smooth. Add in the vanilla and flax egg on medium speed, then stir in the dry ingredients until fully combined. Gently stir in the chocolate chips to evenly distribute.

Chill the dough in the fridge for 10 minutes.

Using a medium cookie scoop, scoop dough onto parchment lined cookie sheet about 2" apart. Use a second baking sheet if necessary. Bake in the middle rack for 12-15 minutes or until cookies are set and tops are bumpy.

Allow to cool on the baking sheet 2 minutes, then carefully transfer to wire racks to cool completely. Enjoy!
Nutrition
Calories: 185kcal
Carbohydrates: 15g
Protein: 3g
Fat: 13g
Saturated Fat: 6g
Sodium: 93mg
Potassium: 157mg
Fiber: 2g
Sugar: 8g
Vitamin C: 0.1mg
Calcium: 73mg
Iron: 1mg
What I Used To Make My Paleo and Vegan Double Chocolate Chip Cookies:

Want More Paleo and Vegan Treats?  Try One of These!
Cranberry Orange Chewy Chocolate Chip Cookies
Thick and Chewy Snickerdoodles
Chewy "Oatmeal" Raisin Cookies
Almond Butter and Jelly Cookie Bars
Fudgy Triple Chocolate Brownies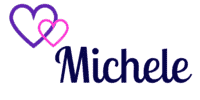 Note: This post contains affiliate links. This means that if you click on a link and make a purchase, I will receive a small commission at no cost to you. Thank you for supporting Paleo Running Momma!