Fluffy, thick, perfectly sweet Paleo Blueberry Pancakes with a simple maple blueberry compote!   It's double the juicy blueberry sweetness with these grain free, dairy free pancakes made with almond and coconut flour.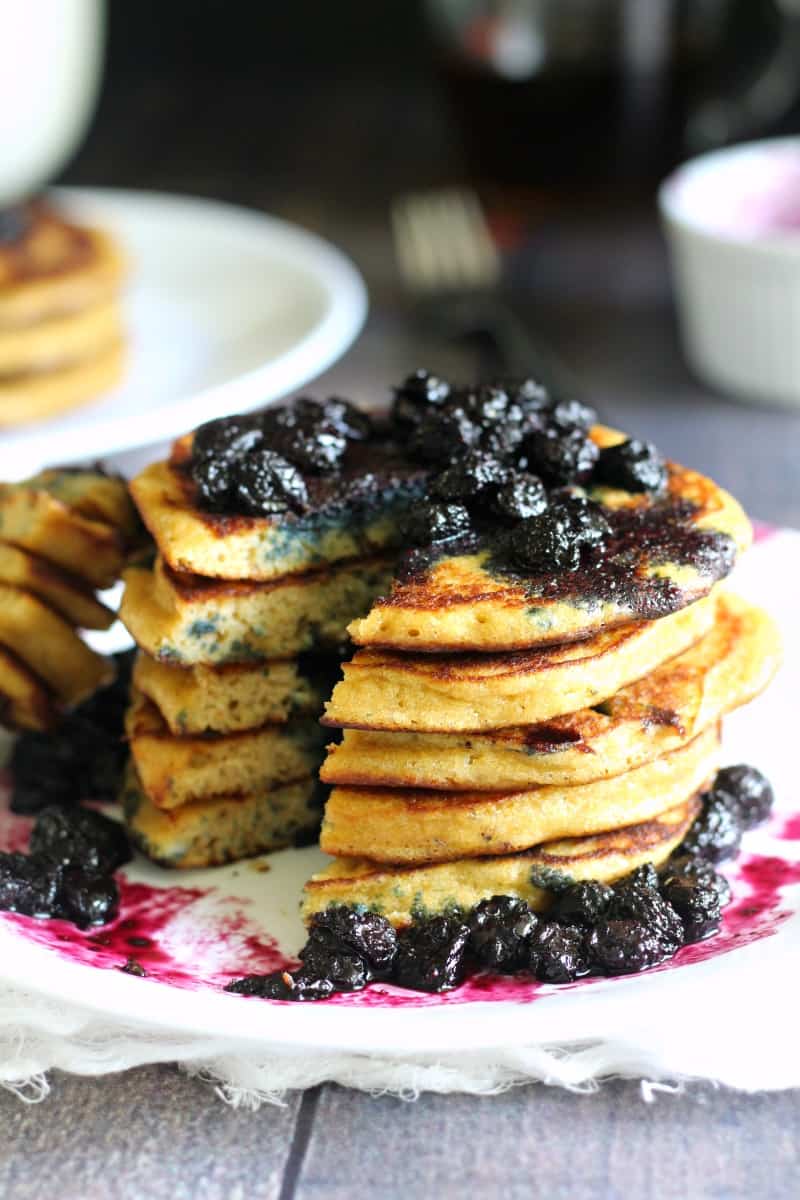 Surprise!  I'm whipping (flipping?) the blueberry pancake recipe out today.  It's a three day weekend, a holiday, and this calls for pancakes I believe.
Don't worry – I haven't forgotten about recapping my trip to Austin last week for the Paleo f(x) health entrepreneur event and will fill you guys in on Thursday.   It's a lot to process, plus I'm preee-ty tired and pancakes helps with things like that.  Pancakes help with a lot of things, don't they?  Sort of like the ultimate comfort food, and this is coming from me, who isn't typically a pancake lover.  Change is on the horizon, as far as my pancake status is concerned.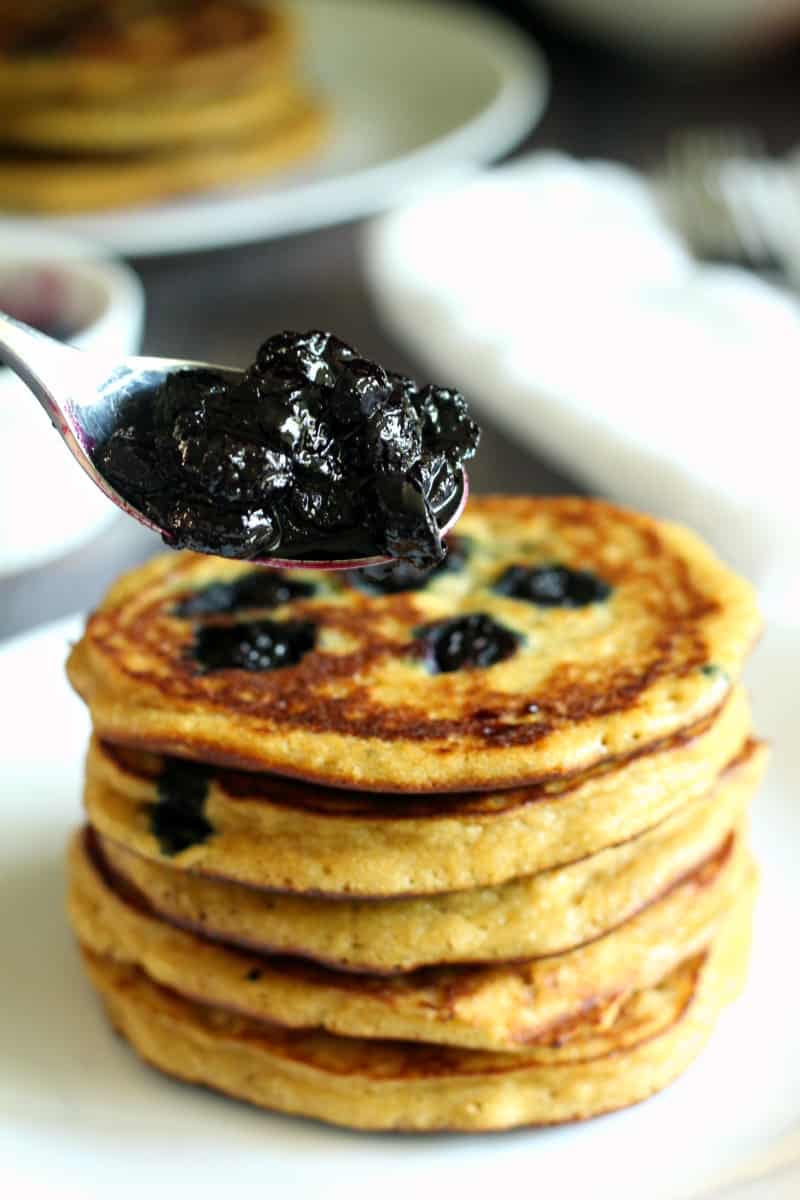 Here's the thing about pancakes for me.  Or, maybe it's really two or three things.  But anyway…thing #1 is that for most of my life pancakes made me sick like clockwork.  Refined flour + sugar + syrup hurt my head and my stomach.  So, I learned to just avoid them altogether.
So, when Paleo came around for me, pancakes were definitely not the first thing I wanted to recreate.   But, since they're still a "fun food" – for the kids and Adam at least, I attempted them.  And you know what I discovered?  Paleo pancakes are generally speaking pretty dang hard to flip.  Well, that, and the fact that I miss out on that pancake-flipping-practice during all those years I avoided them.  So that was thing number 2 – frustrating to flip.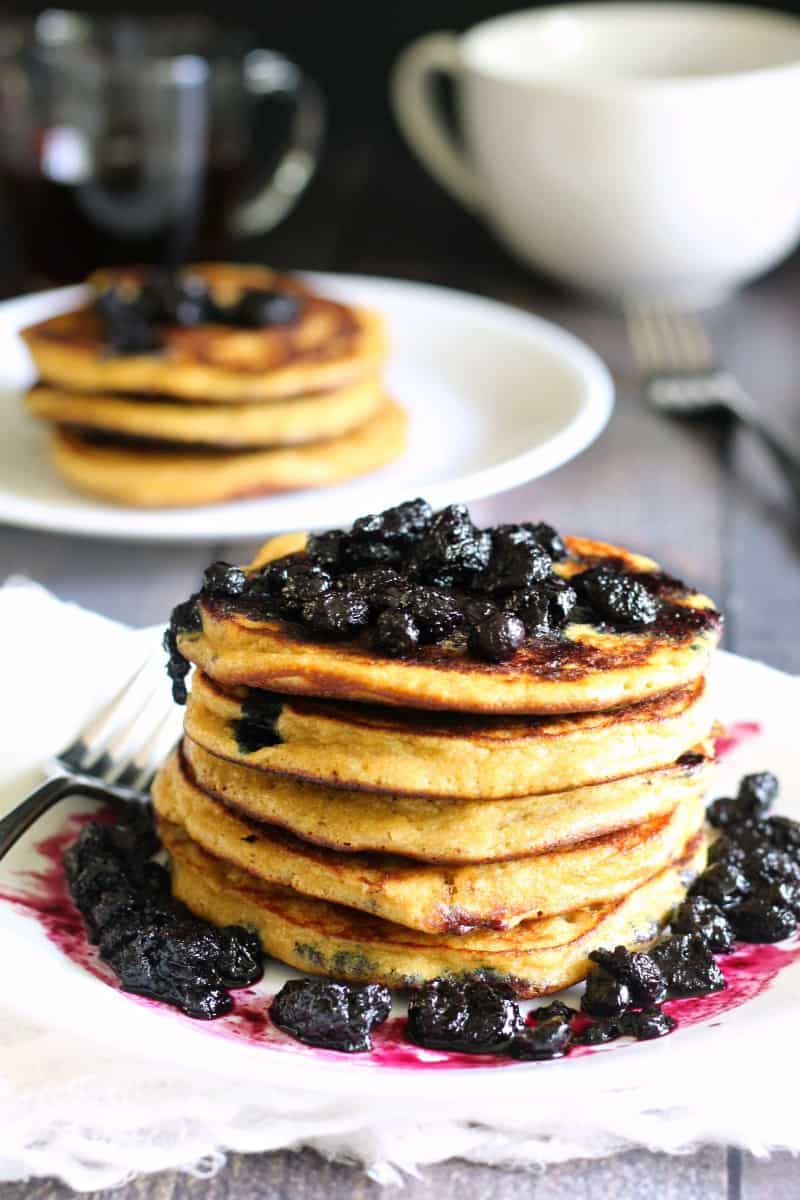 The last and final reason pancakes just weren't my thing, even the lower in sugar, healthier Paleo variety, was the fact that I'm in love with in a mutually committed relationship with my savory breakfast hashes.  Plantain apple bacon hash, you complete me.  You had me at hello – you had me at hello sausage sweet potato kale hash!
It's pretty intense, for real y'all! (see, Texas.)  But anyway, a few things changed the way I feel about pancakes – I realized that 1.  They don't have to make me sick anymore because I can make them with all the same ingredients I make muffins, cookies, and any other baked good with.  2.  I can top them with fruit and not straight up way-too-sweet maple syrup (look, I love it for cooking, not drinking, like my kids do.) 3. I can eat them for lunch, or rather, if I'm ever going to make them for the blog, I HAVE to eat them for lunch!
So now, since I know you'll love this one as much as I did – let's get down to the recipe!  It's easy, wholesome, filling yet fluffy and fruity plus grain free and Paleo of course!
Paleo Blueberry Pancakes with Maple Blueberry Compote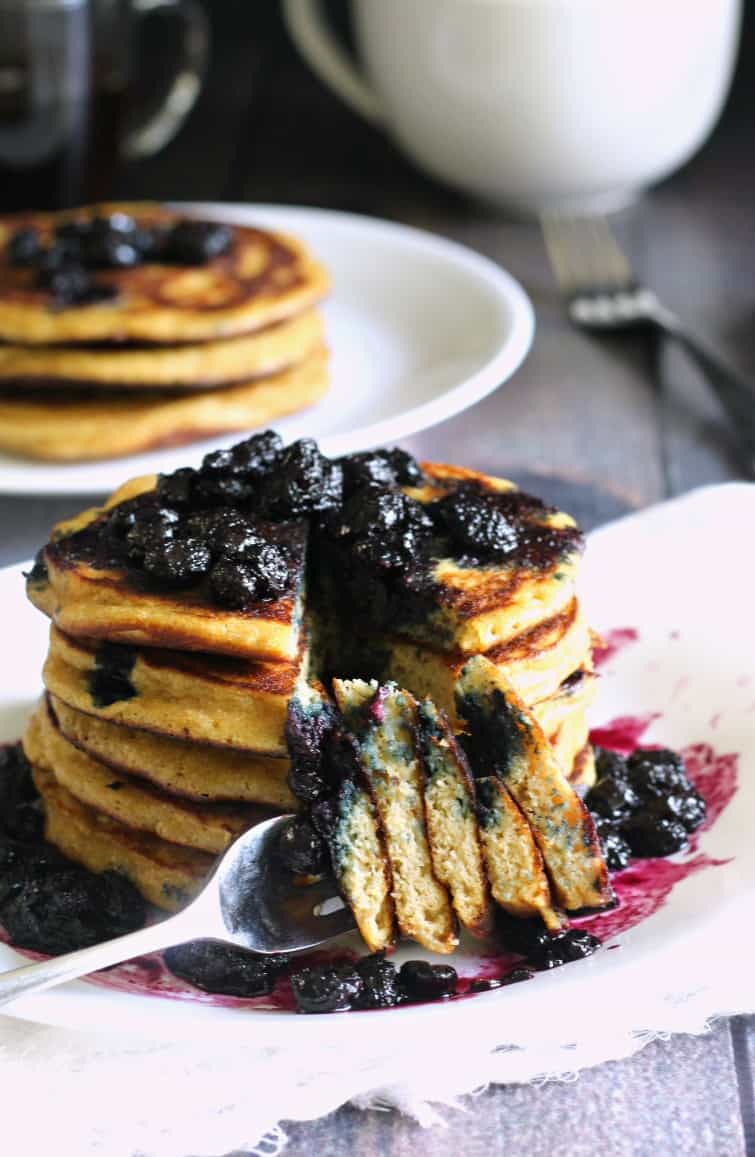 Paleo Blueberry Pancakes with Maple Blueberry Compote
Paleo Blueberry Pancakes with simple maple blueberry compote. They're fluffy, perfectly sweet, grain free, dairy free, and Paleo - made with almond and coconut flour.
Prep Time: 10 minutes
Cook Time: 10 minutes
Total Time: 20 minutes
Course: Breakfast/brunch
Cuisine: Paleo
Servings: 10 pancakes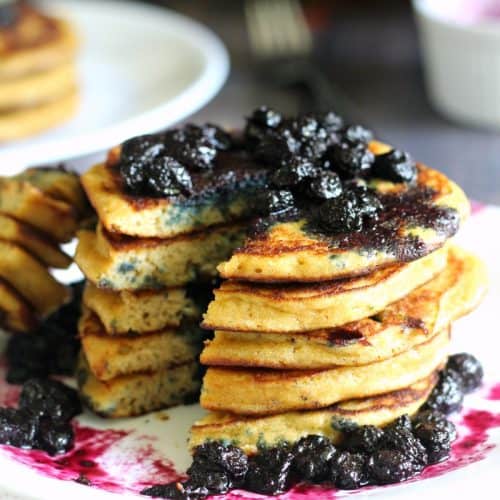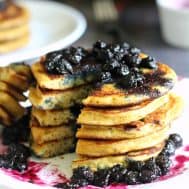 Ingredients
For the Blueberry Compote
2 cups fresh or frozen blueberries I tried with both
2 tbsp water
2 tbsp pure maple syrup
coconut oil for greasing*
Instructions
Make the blueberry compote first so you can serve the pancakes warm:
In a medium saucepan, combined the 2 cups blueberries, water, and maple syrup, stir over medium heat and bring to a boil, lower the heat and mash the blueberries a bit, simmer for 5-10 minutes until mixture thickens, set aside.
For the Pancakes:
Make sure all your wet ingredients are as close to room temp as possible (including the melted coconut oil) to ensure they blend evenly.

Combine all dry ingredients in a mixing bowl and set aside.

In a bowl or very large measuring up, whisk together the eggs, maple or honey, almond milk, vanilla, and lastly the coconut oil, blending with a whisk or electric hand mixer until smooth.

Slowly pour the dry ingredients into the wet and mix well until smooth, with a whisk or electric mixer.

Heat a large griddle or non stick pan over medium heat** and grease with coconut oil. Pour or ladle small amounts of pancake batter onto the griddle, then sprinkle a few blueberries over each one. Wait until edges are dry and bubbles form on the surface of the pancakes, then flip each one.

Repeat until all the batter is used up - this recipe made 10 pancakes for me, about 4-5 servings. Serve topped with the maple blueberry compote and enjoy!
Recipe Notes
*I start out with a small amount to coat my griddle and add as I need it
**I start with medium and adjust my heat setting as I go to prevent burning


Name one food you like a whole lot better when it's made healthier..
What do you like on pancakes?  Flavored syrups?  Fruit toppings?  Butter?  Nut butter?