This salmon avocado salad is simple to make, delicious, and good for you!  Salmon is pan fried in coconut oil and drizzled with an easy maple balsamic reduction along with fresh greens, sweet strawberries, avocado, and optional goat cheese.  This sweet and savory salad is gluten free, grain free, soy free, and packed with protein and healthy fats!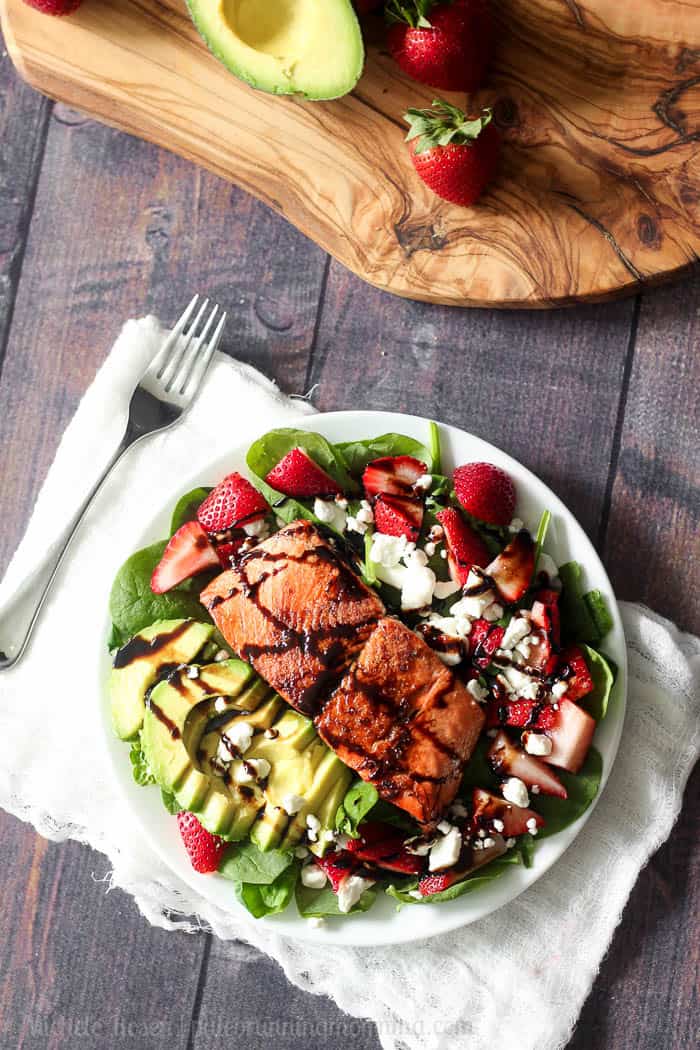 Remember when I rambling on about drinking balsamic reduction?  I hope so, because it was just yesterday. Well, this is recipe #1 involving my new favorite and the possibilities are endless!  But let's focus on one thing at a time, starting with this salad.  And by focusing I mean I'm going to change the subject at least twice before talking about the salad, but sit tight, there will be pictures along the way.
I'm the type of person who can't sit still for long, as you guys have probably realized at this point.  I need a project, goal, purpose, long road ahead in order to feel complete.  I have tried to fight the feeling and just sit but it really never goes well.  Cooking and running feel so, so much better, and aren't the two activities sort of similar anyway?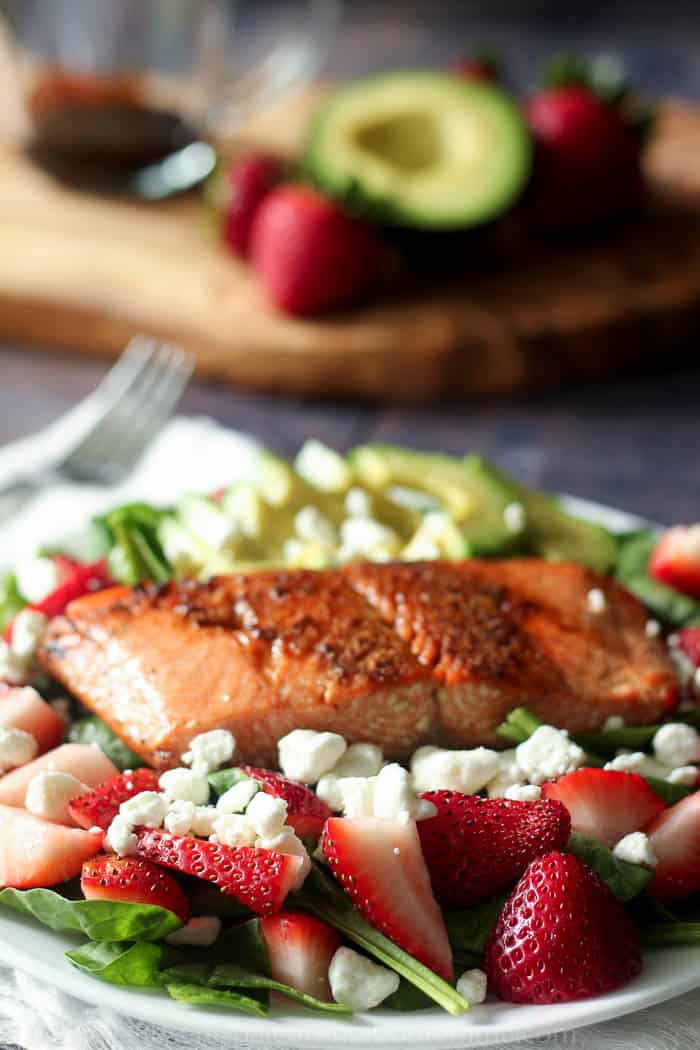 I've noticed I have the same feeling at the beginning of a cooking project as I do before a run.  I set out with an idea of what I want to do and get lost in the activity.  I get in that state of "flow" that everyone says is a great place to be, since you're present in what you're doing.  My mood is always better after a successful run/recipe creation and let's face it – both activities always culminate with eating lots of good stuff.  What do you guys think – are running and cooking different expressions of the same thing?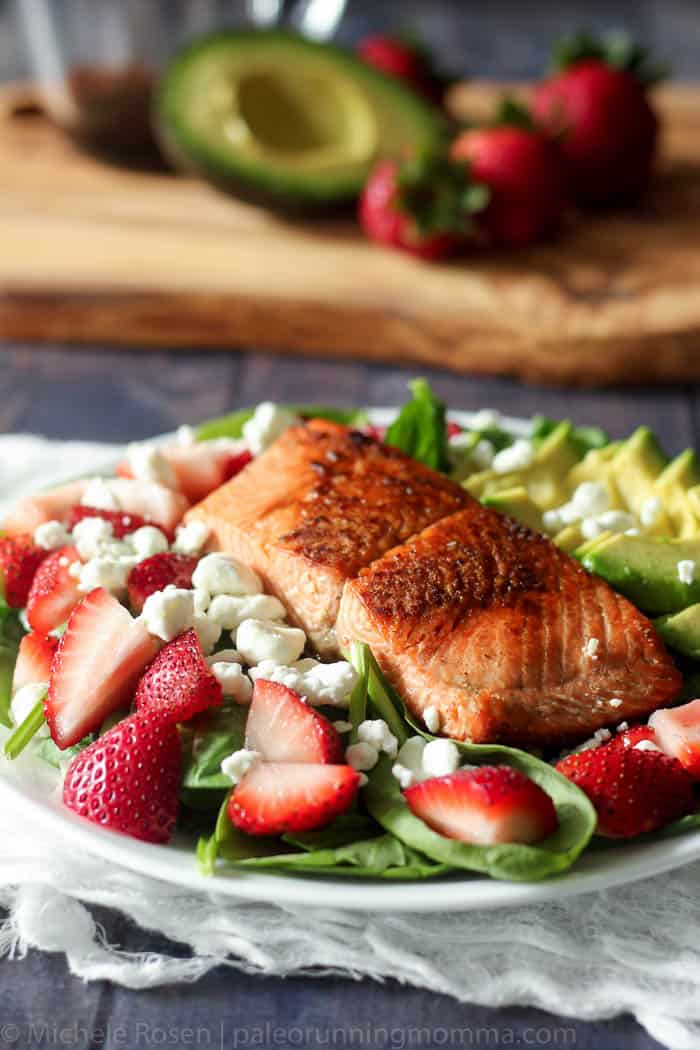 I'll move onto the salad now.  It has goat cheese in it, in case you hadn't yet noticed, but it's entirely optional and will be the best salad ever either way.  Maybe not the best ever, but the best of this week for sure.  It's the maple balsamic reduction that MAKES this salad what it is, and help me bacon but how did I ever live without this stuff running out of my faucet?  Just kidding.   By now you know I feel that way about a lot of things, a few of which are kombucha, homemade mayo, and bacon fat.  And kalamata olives, if it were possible for them to fit through a faucet.  And eggs.  But what am I saying now?  Let's move on to the recipe so you can make this ASAP!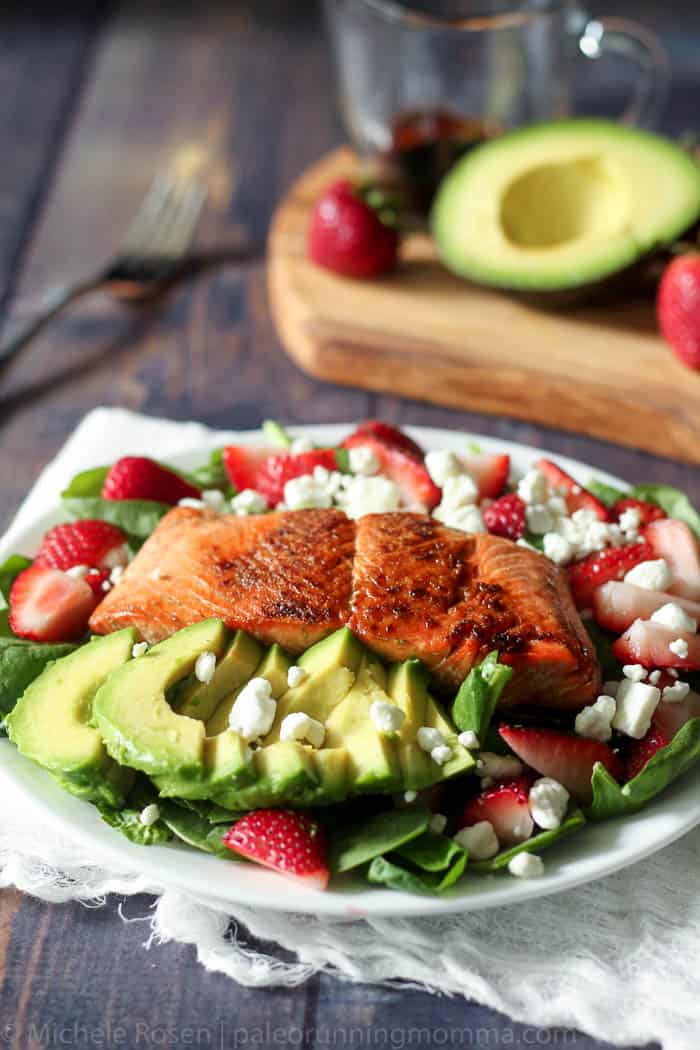 This salad was inspired by two things: 1.) Every salad I ever order at a restaurant.  I have a thing for sweet/savory, goat cheese, and avocado.  Plus I always mean to make a balsamic reduction after having it out to eat! 2.) A freezer packed with delicious healthy seafood, thanks again to Sizzlefish!  I actually made this salad two days in a row and used both their Sockeye Salmon and Coho Salmon and it worked beautifully and delicious-ly either way 🙂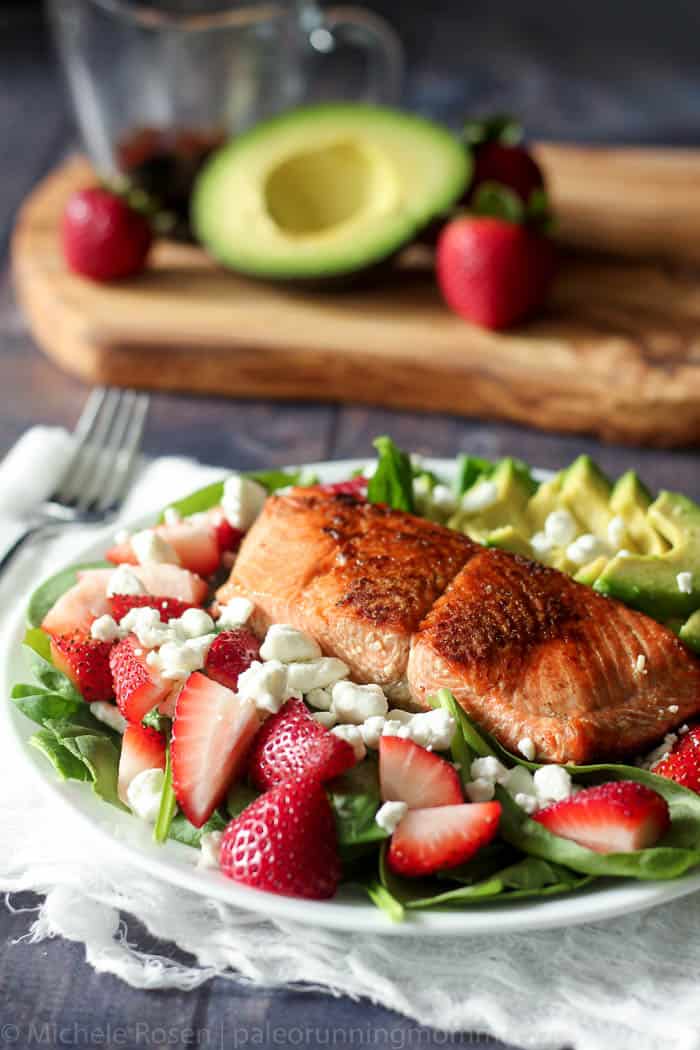 Maple Balsamic Salmon Over Strawberry Avocado Salad
Maple balsamic salmon over strawberry avocado salad with optional goat cheese. Salmon is pan fried and drizzled with a maple balsamic reduction with fresh greens, sweet strawberries, ripe avocado, and creamy goat cheese.
Prep Time: 10 minutes
Cook Time: 30 minutes
Total Time: 40 minutes
Course: Salmon
Cuisine: Gluten-free, grain free, Paleo
Servings: 2 servings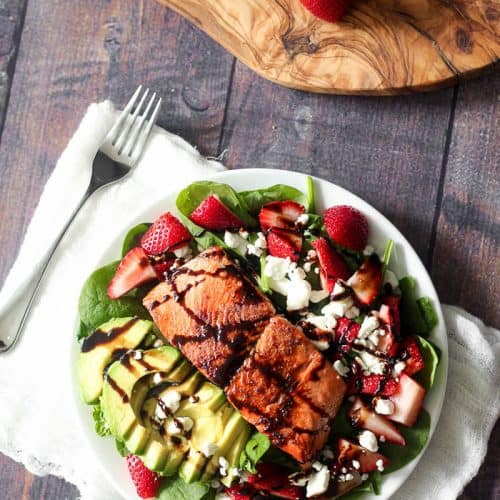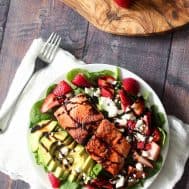 Ingredients
For the Maple Balsamic Reduction
1 cup balsamic vinegar
2 tsp pure maple syrup
For the Salmon
2 4-6 oz wild caught salmon fillets with skin
Coconut oil for frying
Sprinkle of sea salt
For the Salad
3 cups baby spinach spring mix, or a mix of your favorite salad greens
1 cup strawberries sliced in half
1 medium avocado
*Optional 1/3 cup goat cheese
Instructions
First, begin the balsamic reduction. Add the balsamic vinegar and maple syrup to a small saucepan and cook over med-low heat. When it begins to boil, keep the heat on low/med-low so it remains at a low simmer and stir occasionally to prevent burning. Once it thickens to a syrup and reduces by half, remove from heat to let cool. This took me 20-25 minutes.

For the salmon, heat a non-stick skillet over medium heat and add about a tbsp of coconut oil. Pat the salmon fillets dry with paper towel, and gently score the bottom skin a couple of times to prevent shrinking when cooked.

Add the salmon fillets to the hot pan, skin side down and sprinkle the top with a dash of sea salt. Let cook for 3-4 minutes until skin is crisp and then flip. Let the second side cook about 3 minutes until cooked through and the flesh flakes. Remove from heat and set aside.

Prepare the salad ingredients by arranging the greens, sliced strawberries, and avocado - sliced as you wish, on a serving platter or on two plates. Add the goat cheese as well if you plan to include it. Place the cooked salmon fillets over the salad and drizzle with the cooled maple balsamic reduction. You will likely have some left, which can be stored in a glass container on the counter top.

Makes just enough for two, enjoy!


Make sure to check out these other seafood recipes in case you missed them!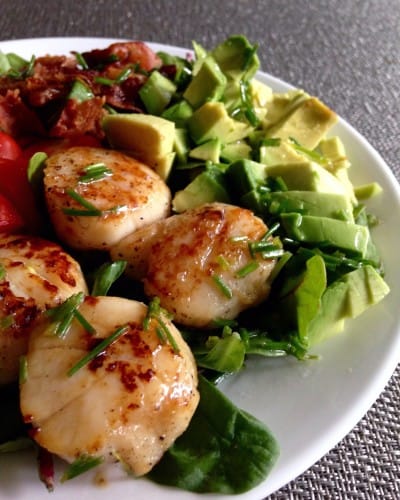 Sea Scallops over Bacon Cobb Salad in Lemon Chive Vinaigrette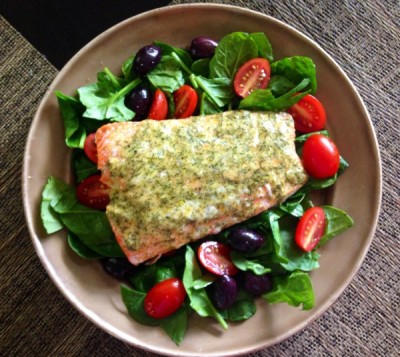 Buttery Dill Mustard Baked Salmon 
What salads do you gravitate toward when out to eat?
Thoughts on balsamic reduction?
What are two things you love doing that are so different from one another yet also the same?