These Cutout Paleo Gingerbread Cookies were sponsored by King Arthur Flour and all opinions are my own, as always.
These paleo gingerbread cookies are chewy and crisp with traditional flavor from molasses and spices.  The dough is easy to work with and cut making them perfect for holiday baking and decorating!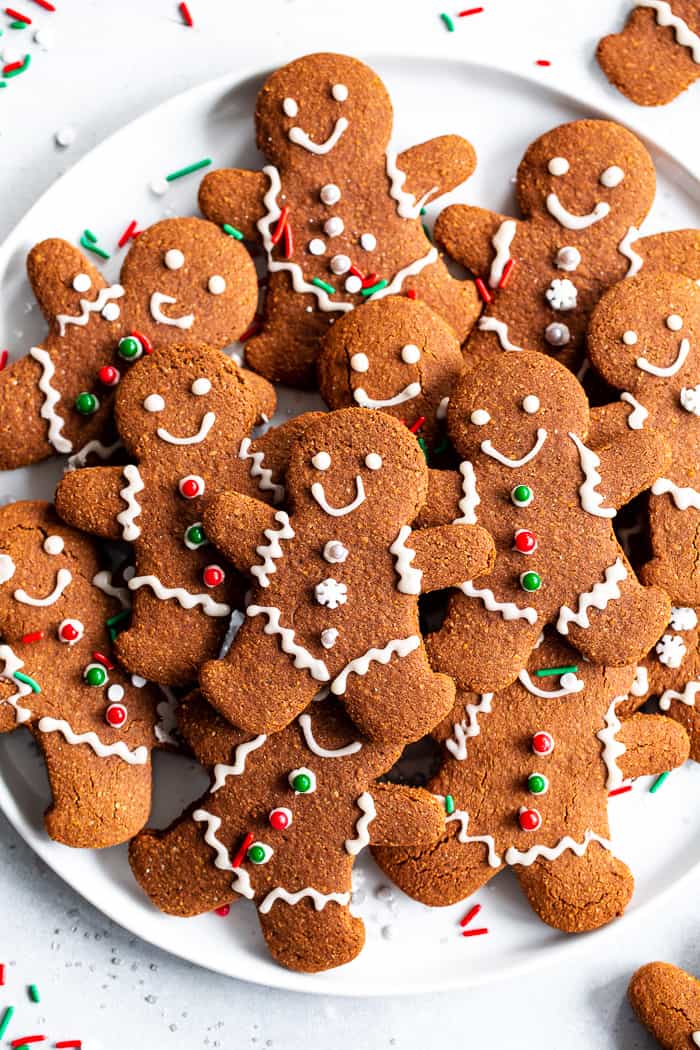 I couldn't be more excited to share these absolutely perfect gingerbread cookies with you today!   They're everything you'd expect in a traditional gingerbread cookie, but better for you, though you'd seriously never know it.
To be honest I think the adults in my house enjoy decorating cookies more than my kids do.  Since I tested a few batches of these before deciding on the final recipe, we had SO many cookies to decorate.  
And, while my kids were perfectly fine loading them up with icing (of course!) and then sprinkles, Adam and I treated these gingerbread men like a craft project and had way more fun that we expected.  There's something about holiday baking that's just so much BETTER than any other kind of baking!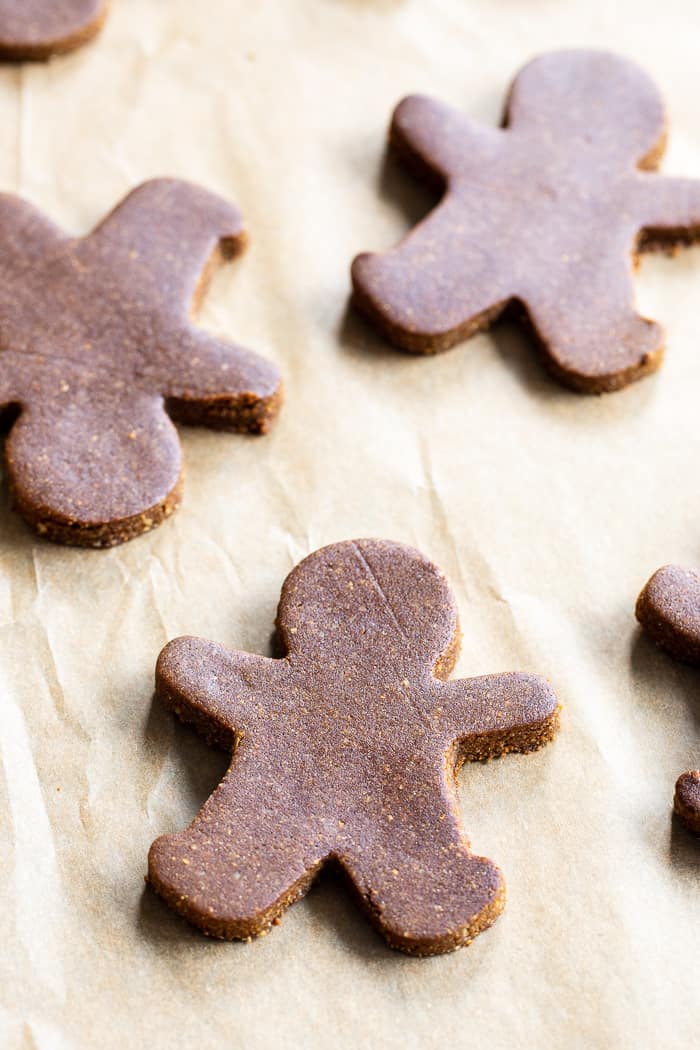 What You Need to Make Paleo Gingerbread Cookies
Simple ingredients make the cookie dough a breeze to throw together!  Here's what you'll need for both the cookies, and icing.
Ghee or grass-fed butter
Coconut Sugar or maple sugar
Molasses 
Vanilla Extract
Egg
Baking Soda
Sea Salt
Ginger
Cinnamon
Cloves
Maple sugar or organic powdered sugar
Dairy-free milk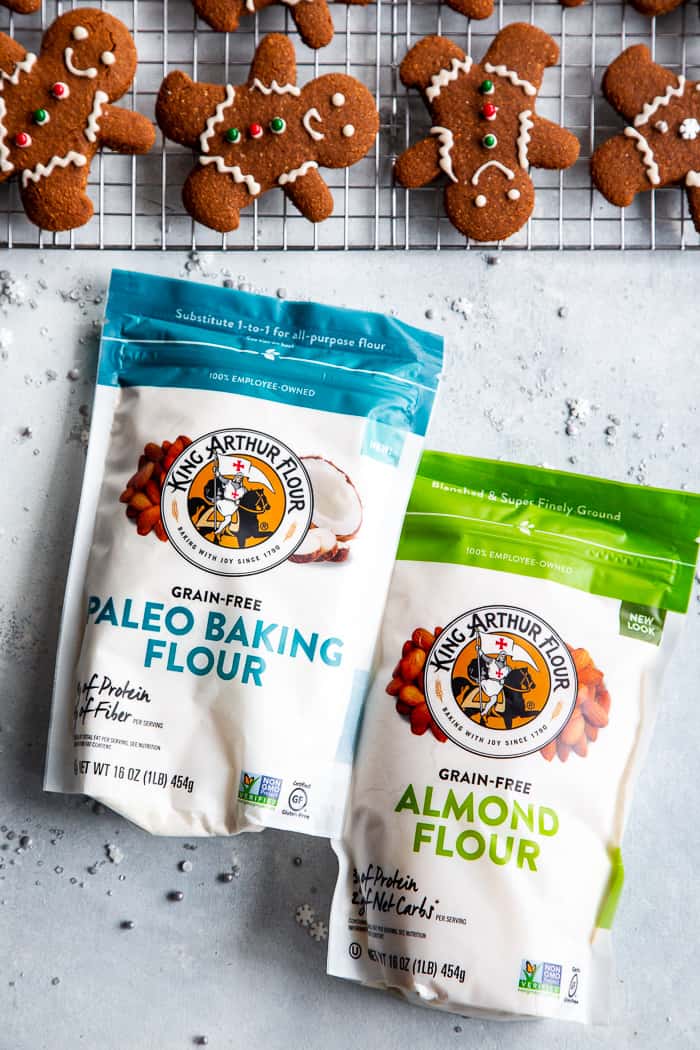 All About King Arthur Flour's Paleo Baking Flour 
I'm very excited about this new Paleo Baking Flour from King Arthur Flour because it simplifies the ingredients in many recipes.  Instead of measuring out two or three different flours, you only need one here!
The flour consists of blanched almond flour, coconut flour, and cassava flour.  King Arthur Flour states that you can sub this in using the same amount, by volume, for conventional all purpose flour.  
Based on my recipe testing, this flour is seriously a dream to work with.  Plus, you need less of it than when you bake with blanched almond flour.  I always find that I need about 1 1/2 cups of blanched almond flour for every cup of conventional flour in a recipe.  
This easy Paleo baking flour takes a lot of guess work out of grain-free baking – especially when you're trying to make a traditional recipe paleo-friendly.  Find out more about King Arthur Flour Paleo Baking here.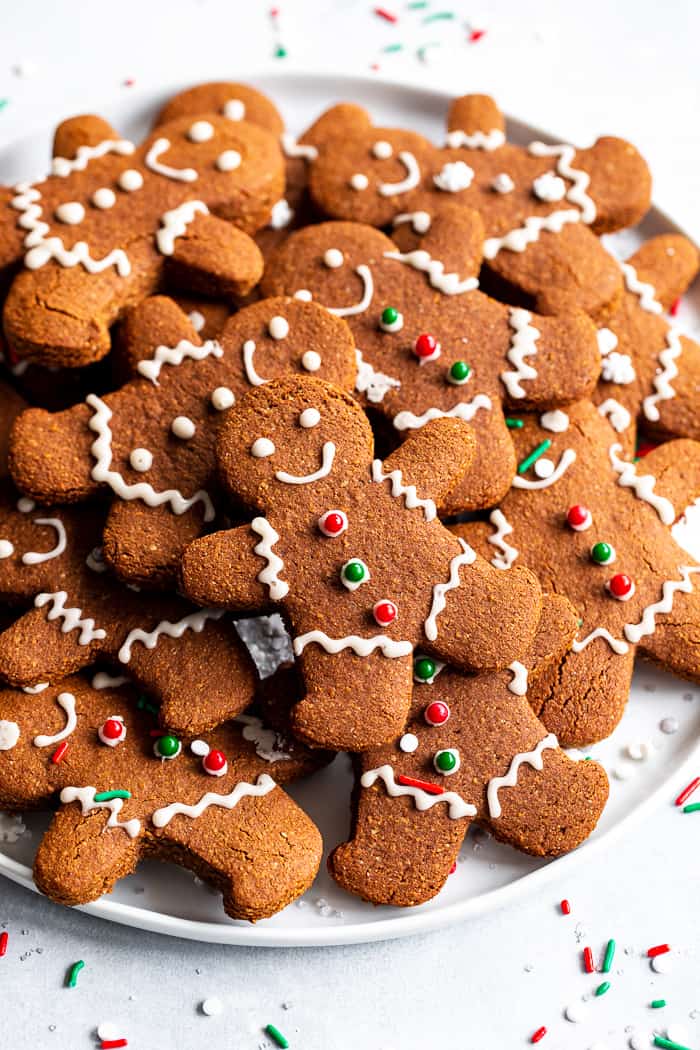 How to Make Paleo Cookie Icing for Paleo Gingerbread Cookies 
To make strictly paleo icing, you'll need to make powdered sugar from maple sugar or coconut sugar (coconut will be dark.). Simply blend your sugar in a high speed blender or food processor until it reaches a powdery consistency.  Then, measure and use it as you would use powdered sugar in the icing recipe. Maple sugar will make a very light brown icing that contrasts great with the dark gingerbread cookies!
For a bright white icing, you can always use organic powdered sugar.  It's gluten and grain free, just not strictly paleo due to the cane sugar.   
I hope you're ready for some out of this world delicious, fun, and festive Cutout Paleo Gingerbread Cookies!  Grab your ingredients and let's get started!
Cutout Paleo Gingerbread Cookies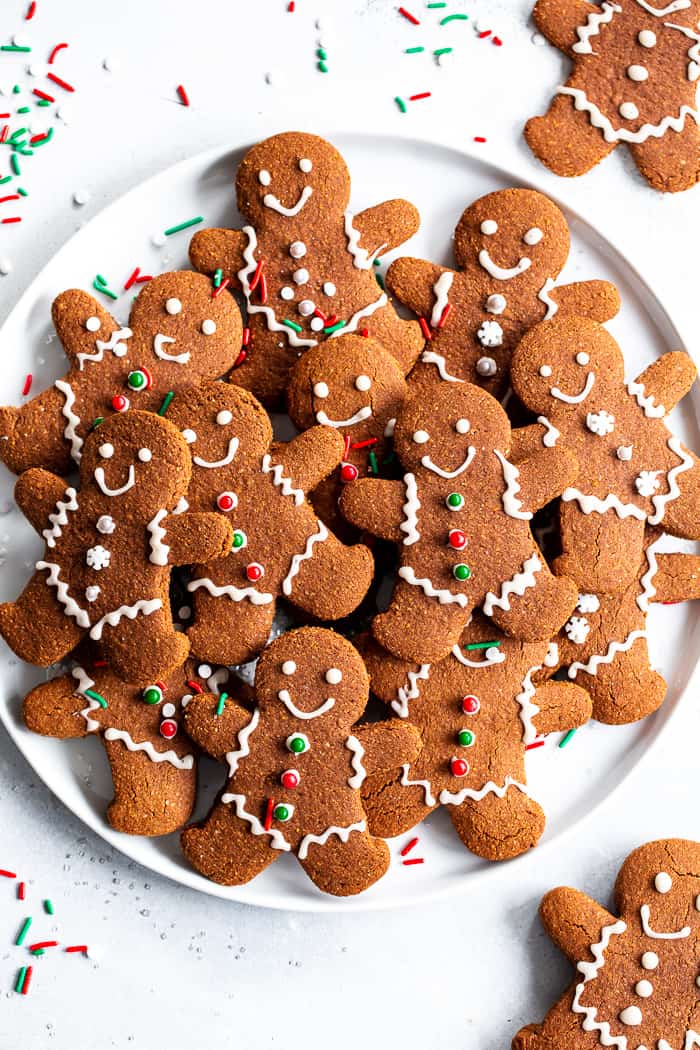 Cutout Paleo Gingerbread Cookies
These paleo gingerbread cookies are chewy and crisp with traditional flavor from molasses and spices. The dough is easy to work with and cut making them perfect for holiday baking and decorating!
Prep Time: 45 minutes
Cook Time: 8 minutes
Chilling time: 2 hrs
Course: Baking/Dessert
Cuisine: Paleo
Keyword: christmas, Christmas cookies, cookies, gingerbread
Servings: 18 4" cookies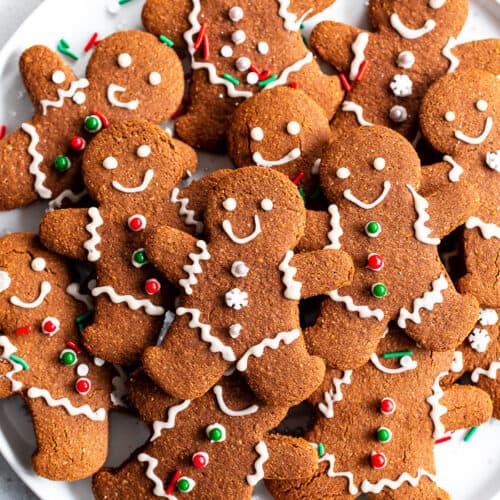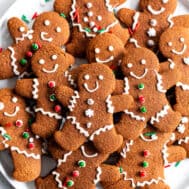 Instructions
For the Cookie Dough:
In a large bowl using an electric mixer, (you can use a stand mixer as well if you prefer) cream together the ghee or butter with the sugar and molasses until smooth. Beat in the egg and vanilla until smooth.

In a separate mixing bowl, combine the flour, baking soda, salt, and spices. Beat the dry mixture into the wet slowly until well combined. Gather the cookie dough into a ball and wrap it tightly in plastic wrap, flattening it into a disc for chilling. Chill for 2-3 hours or up to 2 days in advance of baking.

Once ready to bake, preheat your oven to 350° F and line 2 baking sheets with parchment paper.

Allow the dough to sit out for 10-15 minutes before rolling. Place the dough between two pieces of parchment paper and roll out gently to between 1/4-1/2" thickness. Thinner cookies will turn out crispier, thicker ones a bit softer.

Use cookie cutters to cut dough into desired shapes, then carefully transfer to the prepared baking sheets with at least 1" of space around each cookie. Bake in the preheated oven for 8 minutes or until just set. Allow the cookies to cool for 10 minutes on the baking sheet, then carefully transfer to wire racks to cool completely.

Repeat the rolling, cutting, and baking process with the leftover dough until all the dough is used up.
For the Icing:
While the cookies cool, prepare the icing. In a small bowl. whisk all the icing ingredients together and drizzle over the cooled cookies, or use a squeeze bottle or piping bag to decorate as desired.

Place back on parchment paper for the icing to set - it will harden after 20 minutes or so.

Store loosely covered at room temperature for the first day, or place in a sealed container in the refrigerator to keep fresh longer.
Recipe Notes
*Making powdered sugar from maple sugar is surprisingly easy. Simply blend your maple sugar in a NutriBullet (what I use), high-speed blender or food processor until it has a powdery consistency. You'll want to measure the sugar after blending to make sure you're adding the right amount.
**Nutrition is calculated without the icing
Nutrition
Calories: 314kcal
Carbohydrates: 20g
Protein: 9g
Fat: 25g
Saturated Fat: 5g
Cholesterol: 22mg
Sodium: 94mg
Potassium: 143mg
Fiber: 4g
Sugar: 11g
Vitamin A: 13IU
Calcium: 106mg
Iron: 2mg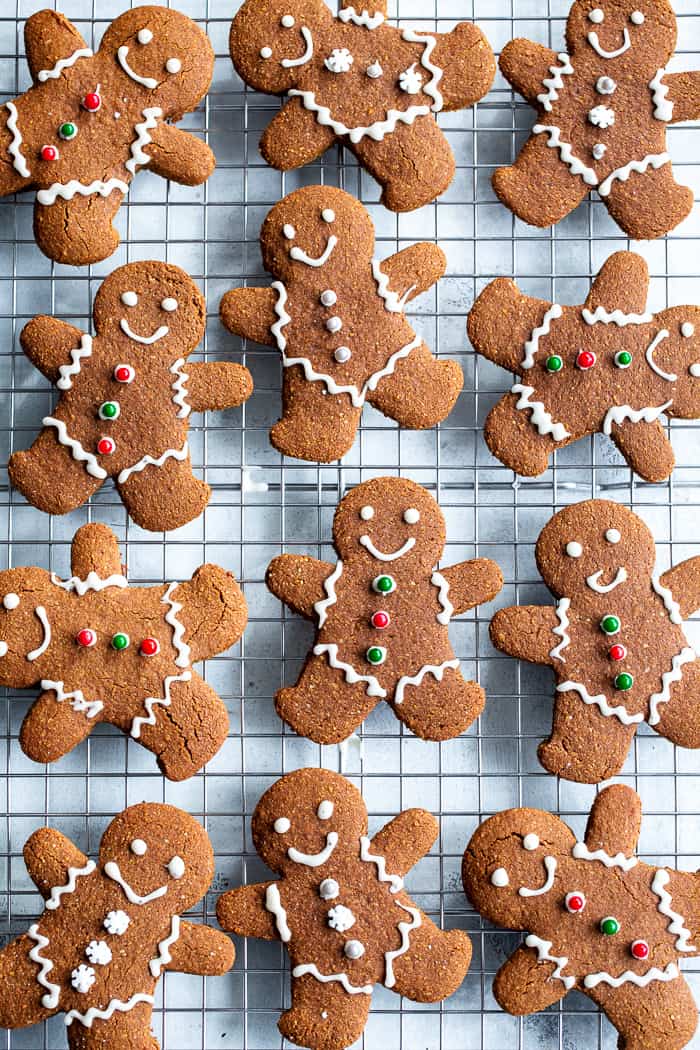 Want More Recipes Using King Arthur Flour's Paleo Baking Flour?  Try One of These!
Paleo Cranberry Orange Bundt Cake