Big soft and chewy Paleo Gingerbread Cookies that you won't be able to stop eating! No one will know these delicious ginger cookies are Paleo.  Perfect for a healthy Christmas/winter holiday cookie!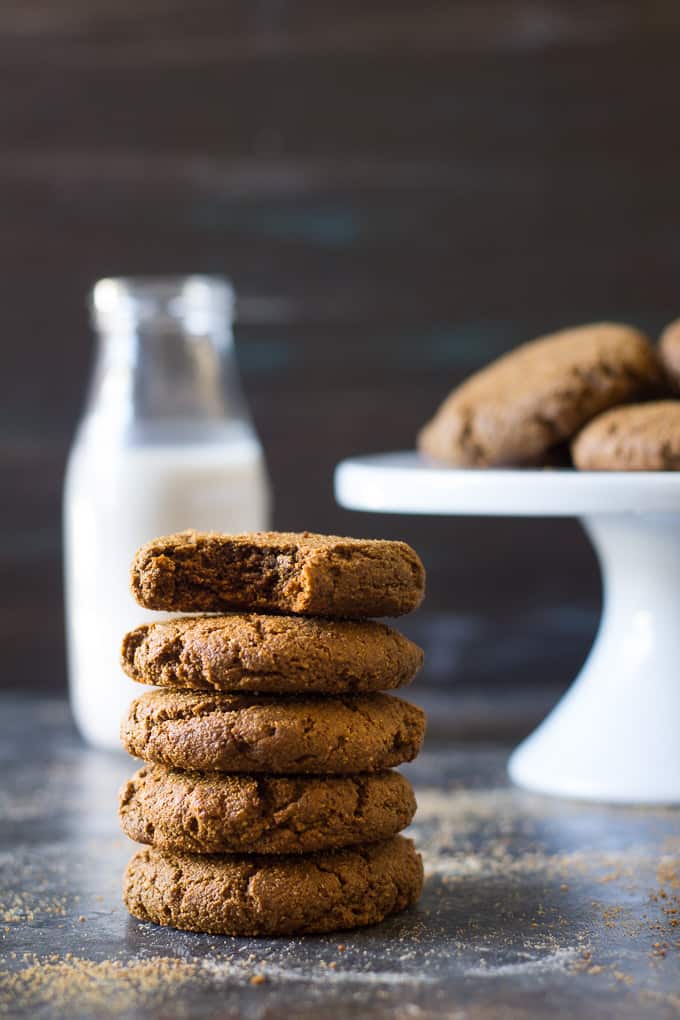 With Thanksgiving finally behind me (felt like I prepped since August!) I'm saying BYE BYE to pumpkin and HELLO to a whole lot of cookies.  In fact, beginning today I'm bombarding you with at least 3 Paleo cookie recipes – please consider this your warning.   But don't be scared – be exited!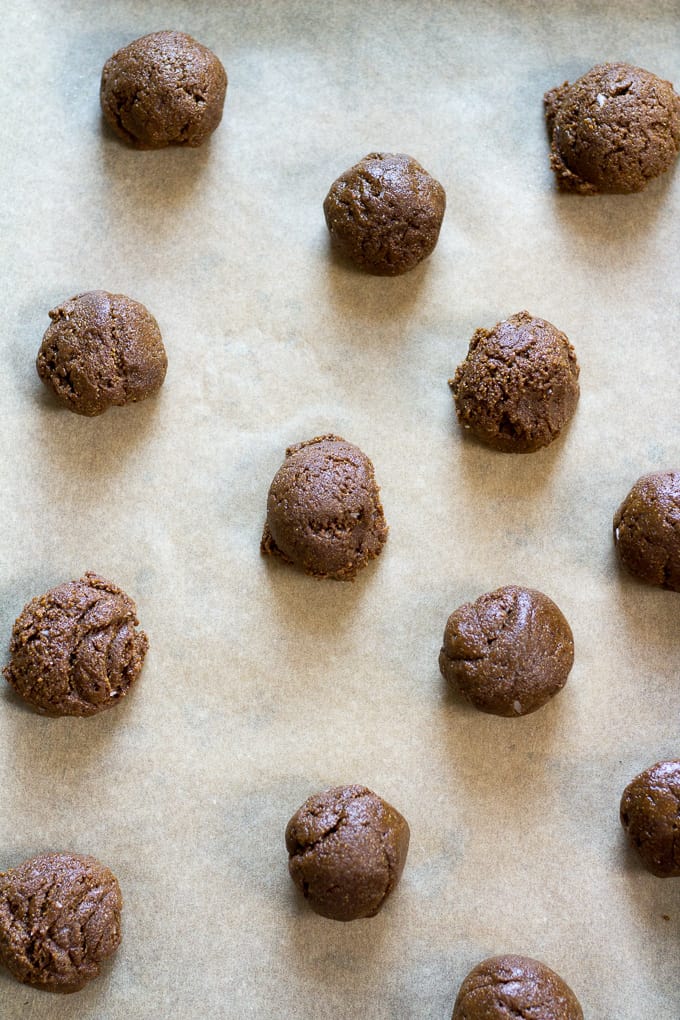 I know – you're still working on Thanksgiving leftovers – I am too.  BUT!  December begins in a hot minute and it's time to bake cookies.  Warm, chewy, soft sweet cookies.  I'm pretty happy about it if you couldn't tell, since baking cookies is far easier than baking pies!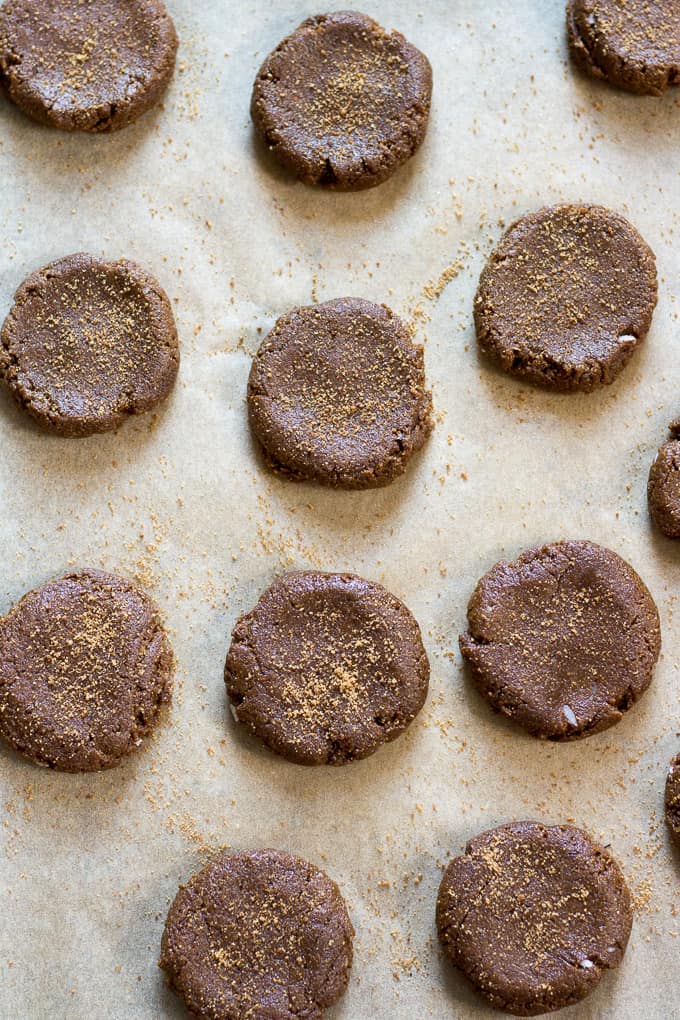 To be totally honest I only break out the molasses this time of year – no matter how much I'm reminded that I LOVE it once I use it – it just doesn't feel right after the holidays are over.  Big, soft and chewy ginger cookies have always been my favorite – way better than crunchy ginger snaps or plain sugar cookies in my opinion!
Prior to Paleo, my favorite ginger cookie recipe came from Allrecipes.  I remember years ago when my girls were 3 and 22 months, we made these cookies on the floor of our kitchen because they wanted to help me roll the cookie dough in sugar.  Even back then, Emily was a total sugar monster and had that job completely owned at not-even-2-years-old.   We've graduated to sitting on chairs now, and, of course a healthier, grain free and Paleo version that's seriously tasty and very addicting!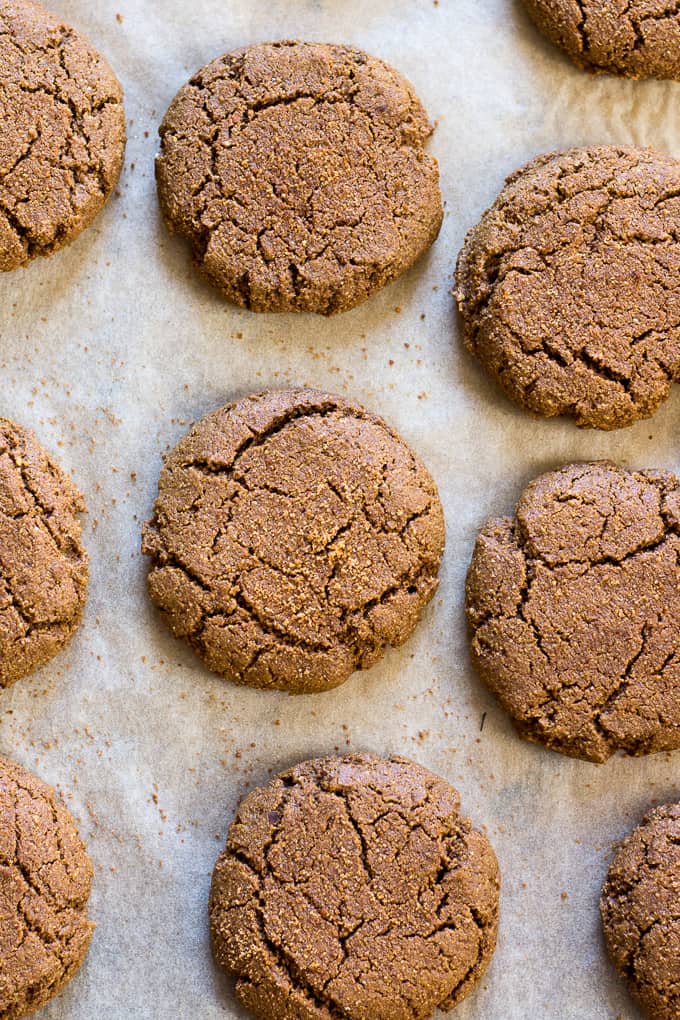 Last year, I made similar Paleo ginger molasses cookies, but, I wanted to see if I could get these cookies to be even bigger and chewier, because who doesn't love a challenge like that?  I'm constantly trying to improve my cookie recipes by tweaking little things – and not complaining at all about getting to eat all my experiments.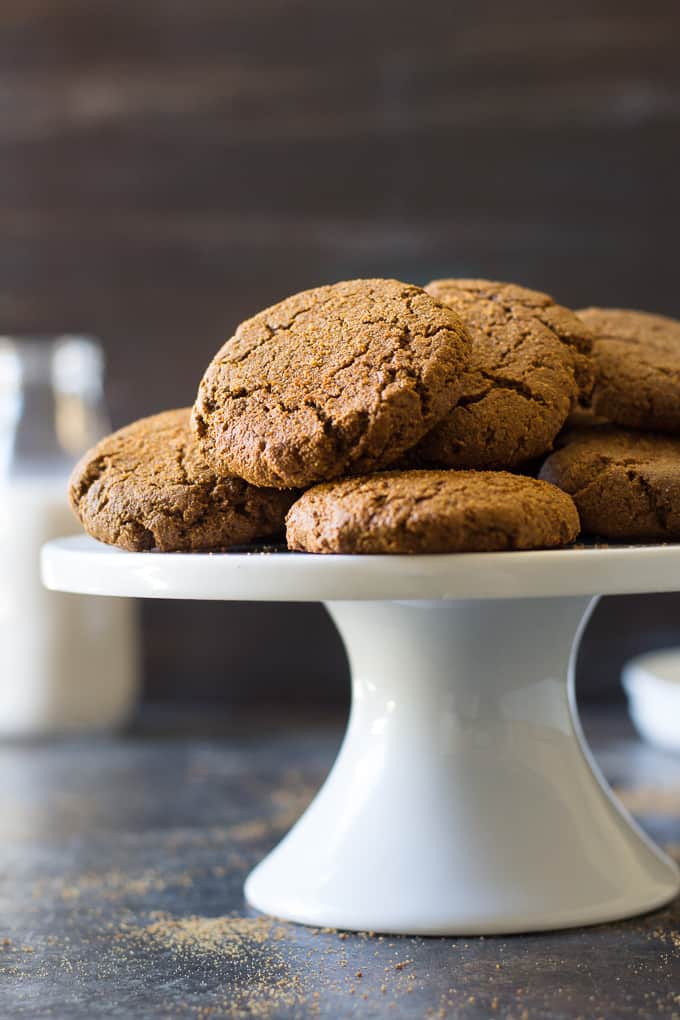 The combination of an egg + egg yolk instead of 2 eggs, no stir almond butter (which I find lends to chewier Paleo cookies in general) and the right combo of molasses/coconut sugar makes these cookies extra special in my opinion.  You also get enough dough to make a dozen BIG cookies, which obviously is essential if you want to put BIG in your title.  Which I do.  Big cookies are better cookies, always.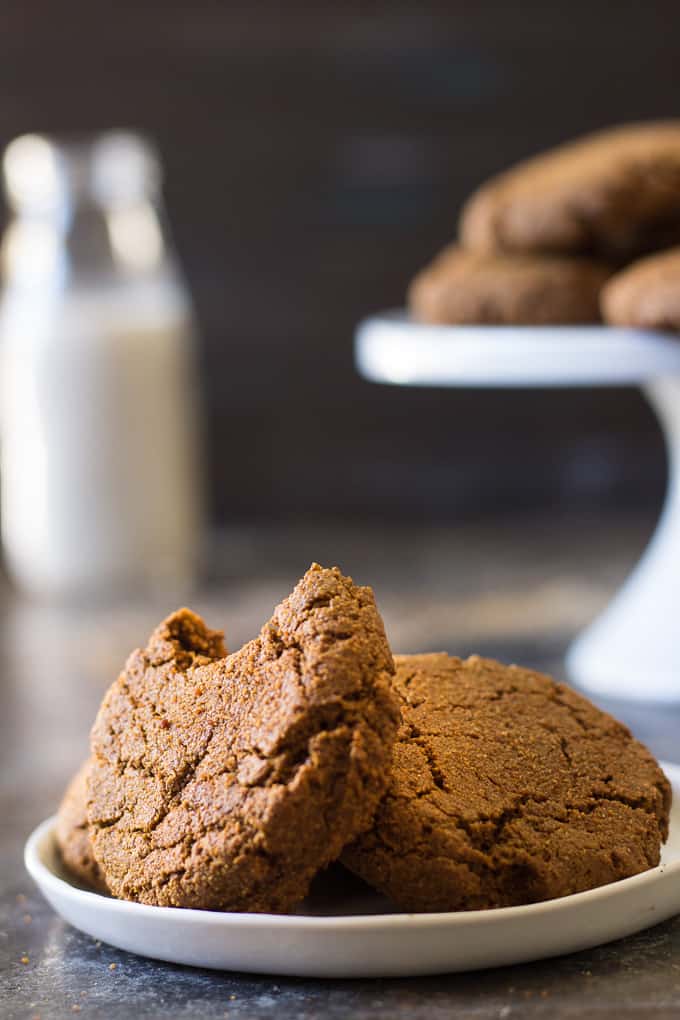 Lastly, since we use only coconut flour, you'll need to be careful to measure precisely and then allow the dough to sit and chill after mixing, since coconut flour is dense, expands a whole lot and needs some time to "set".
Also, you can definitely adjust the spices a bit to suit your preference – I added a whole tsp of ground ginger which added a decent amount of "spice" so feel free to experiment to suit your taste.  Other than that?  I KNOW you're going to love these cookies!  Let's start baking!
Big & Chewy Paleo Gingerbread Cookies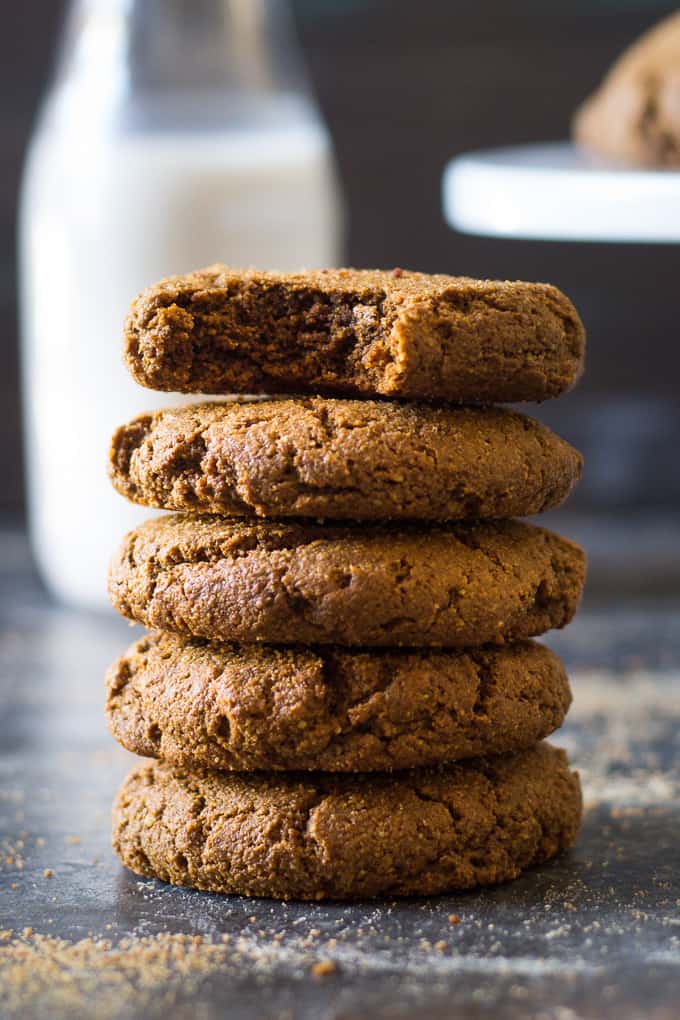 Big & Chewy Paleo Gingerbread Cookies
Big Chewy Paleo Gingerbread Cookies that are easy to make, delicious, addicting and no one will know they're Paleo! Perfect as a Christmas cookie or for anytime.
Prep Time: 20 minutes
Cook Time: 10 minutes
Total Time: 30 minutes
Course: Dessert
Cuisine: Paleo
Servings: 14 cookies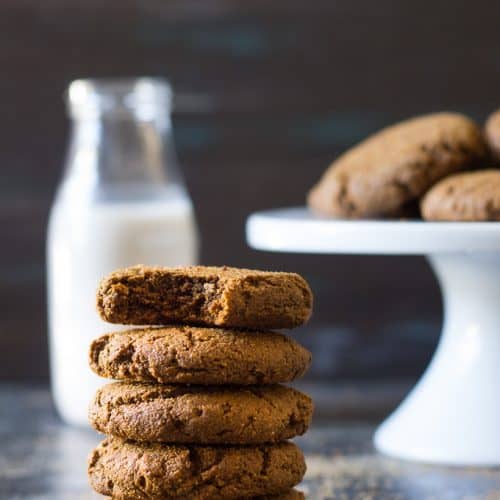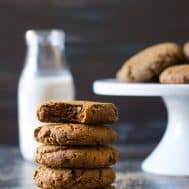 Instructions
Preheat your oven to 350 F and line a large baking sheet with

parchment paper

In a large bowl, whisk (or use an electric mixer to combine) the egg, egg yolk, almond butter and coconut oil until smooth. Add the molasses, coconut sugar, and vanilla and continue to mix until smooth.

In a separate bowl, combine the coconut flour, baking soda, salt and spices. Add the dry mixture to the wet ingredients until fully combined - the dough will be sticky. Chill dough in the freezer for 5-10 minutes until it thickens and can be easily scooped.

Use a cookie scoop or rounded spoon to scoop the dough in heaping tbsps on the parchment paper, then gently flatten and sprinkle with coconut sugar if desired.

Bake in the preheated oven for 8-10 minutes until tops crack, don't overbake - cookies will become firmer and chewier as they cool. Cool completely on wire racks and enjoy!
Nutrition
Calories: 151kcal
Carbohydrates: 12g
Protein: 3g
Fat: 10g
Saturated Fat: 3g
Cholesterol: 25mg
Sodium: 115mg
Potassium: 181mg
Fiber: 3g
Sugar: 7g
Vitamin A: 35IU
Calcium: 59mg
Iron: 1mg
What I Used to Make My Chewy Paleo Gingerbread Cookies
Want more Paleo cookie recipes?  Try one of these!
Big Soft Chocolate Chunk Cookies
Pumpkin Chocolate Chip Cookies
Chewy Double Chocolate Pecan Cookies
Paleo Gingerbread Cookies on the Web:
Soft and Chewy Paleo Gingerbread Cookies
Paleo Gingerbread Cookie Recipe
Tell Me!
What's your all time favorite holiday cookie?
Were you ever an Allrecipes junkie like me?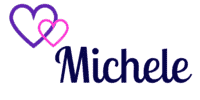 Note: This post contains Amazon affiliate links. This means that if you click on a link and make a purchase, I will receive a small commission at no cost to you. Thank you for supporting Paleo Running Momma!