Rich, thick and chewy Paleo Double Chocolate Tahini Cookies packed with dark chocolate and sweetened with unrefined coconut sugar.  The tahini adds depth to the flavor and gives the cookies an incredible texture!  Gluten free, grain free, dairy free.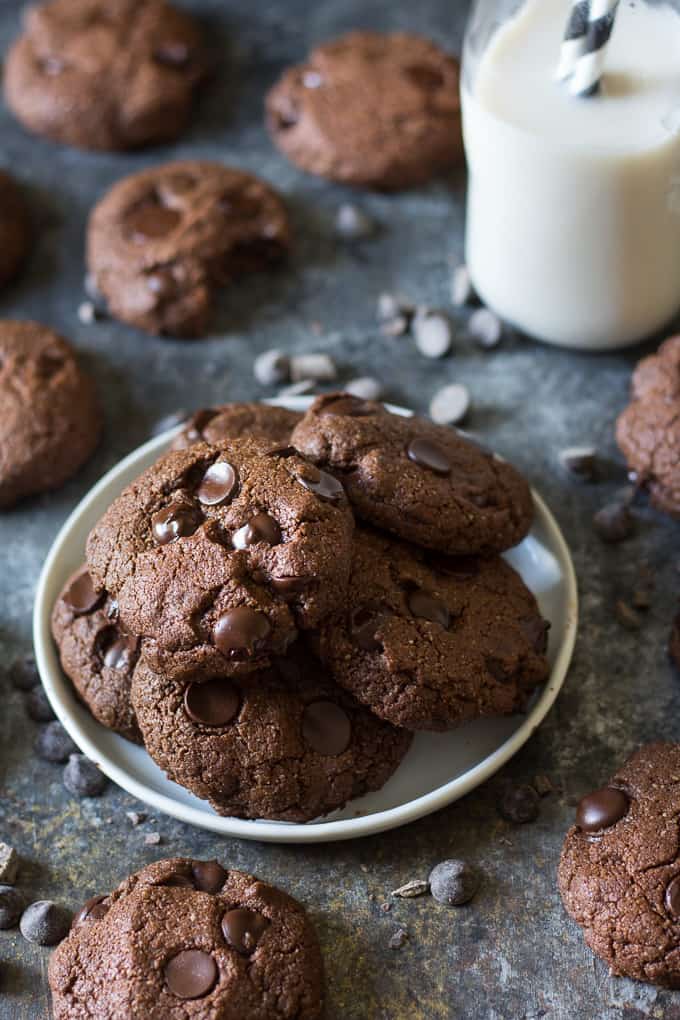 Tahini is one of those ingredients that makes me a little bit nervous.  Like the kind of nervous you feel when you're dating someone new, perhaps someone smarter and more hip than you, and you don't want to go all almond-butter-with-a-spoon on them too soon so you try to play it real cool.
Tahini is SO the bad boy of my kitchen.  It's no almond butter and it's not completely obvious how to handle it.  The wrong brand can be bitter, you're not sure how much of it you really need, or how much "sweet" is needed to balance the flavor.  Recipe heartbreak is a real risk.
It/he (yup I'm nuts) sort of hangs out in the corner of my pantry with chia seeds (which I've never even used – oops) flax seeds (another oops), curry and cardamom, and a few other spices that I never seem to  experiment with because frankly they intimidate the crap out of me.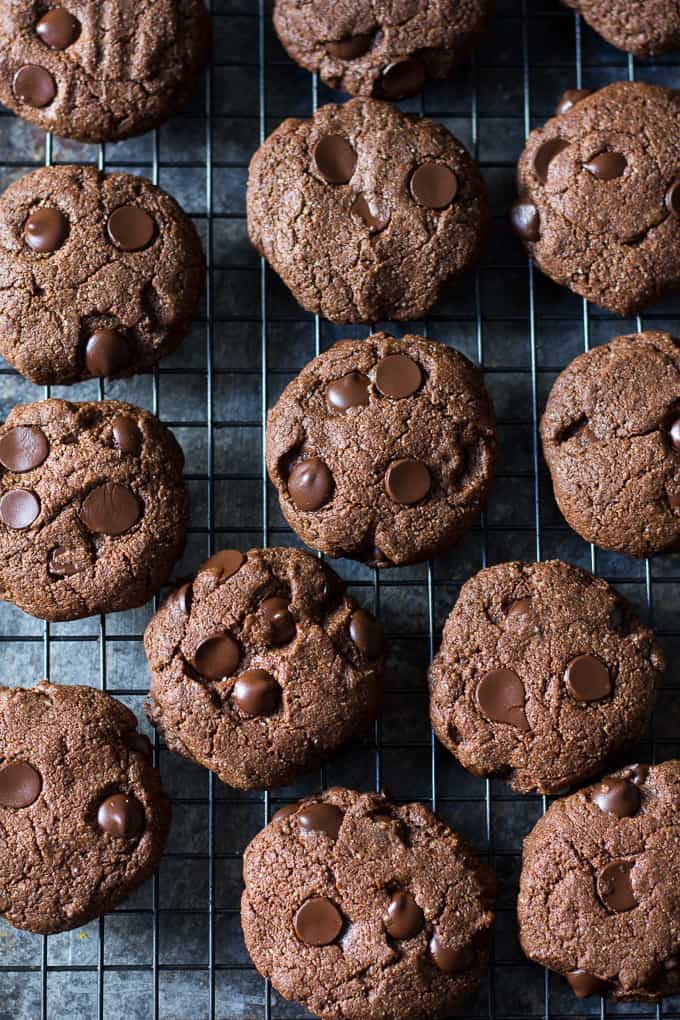 Still, Tahini also happens to be one of those ingredients that surprises me in a very kind & friendly way –  every time I find the courage to break it out and create a new recipe.  A bad boy with a good heart, maybe.  Even though I've only gone the "safe" "dessert" route with tahini thus far – I'm not sure I'm ready to dive into anything savory with it quite yet.
But hey – it's an honest start to what might one day be a more serious relationship between the two of us.  You know, me and tahini.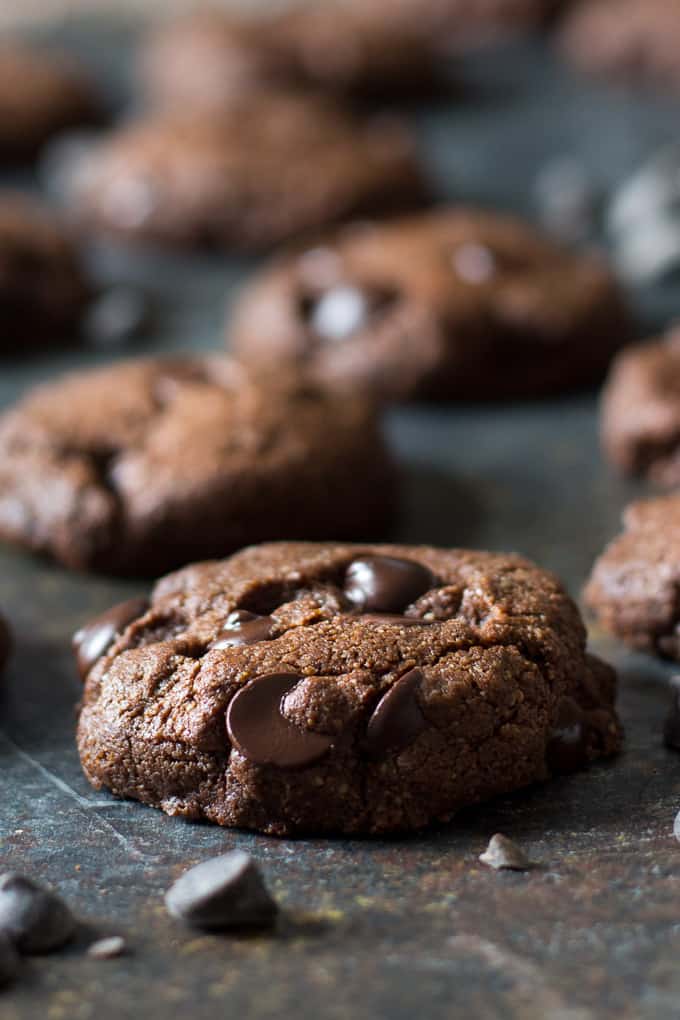 Even though I sound insane, you probably read me right – I want to someday, somehow take things to the next level with tahini – and after you try these cookies, you will too.   And yes, you guessed right – that was totally the pickup line tahini used on me the day I made these cookies.   No need for jealousy, there's more than enough tahini to get around to each and every one of your kitchens.
But before we start, can someone remind me what the heck I'm even talking about anymore?  It started out a typical cookie recipe post and then we went to revisit my adolescent angst and relationship insecurities.  I guess feelings are feeling, right?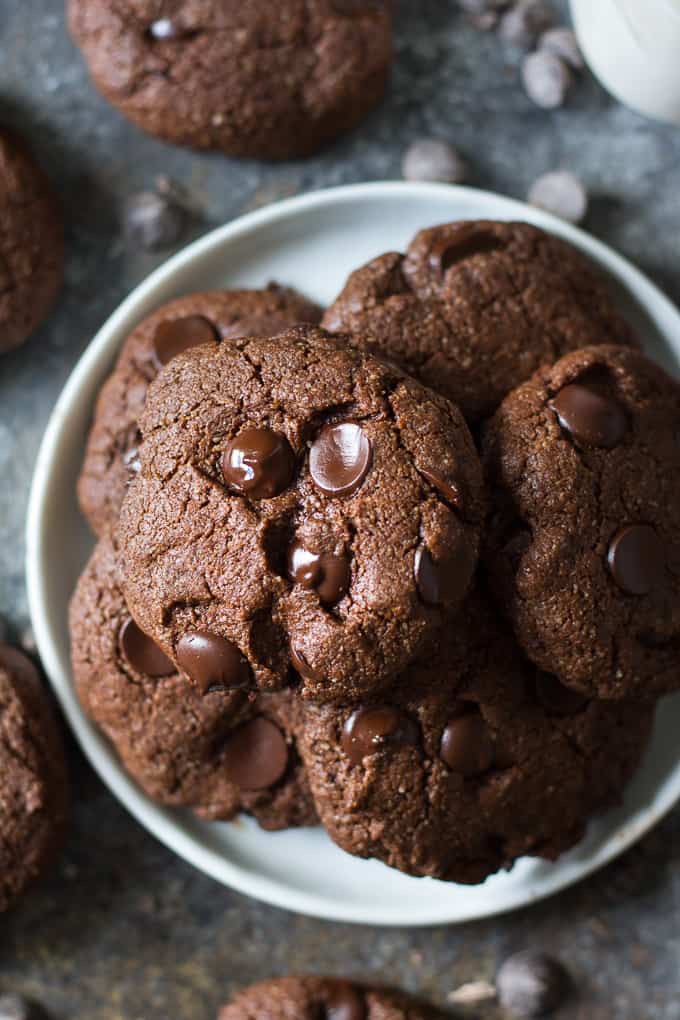 Right, back to the cookies – believe it or not, after all the blabbering with my tahini/bad boy metaphor – these double chocolate tahini cookies are not intimidating in the least.  Nor are they particularly "sophisticated" – all my kids ate them and LOVED them – the tahini adds a nuttiness but the cookies are sweet and chocolatey just the way we like them over here!
They're also seriously easy to make since I used just one type of flour, and you can eat them almost right out of the oven since they set quickly.  What I'm saying is – you can be reading this post, dreaming of cookies and then actually be sitting down eating one or five of them 30 minutes later.  Quicker if your kitchen is more organized than mine 🙂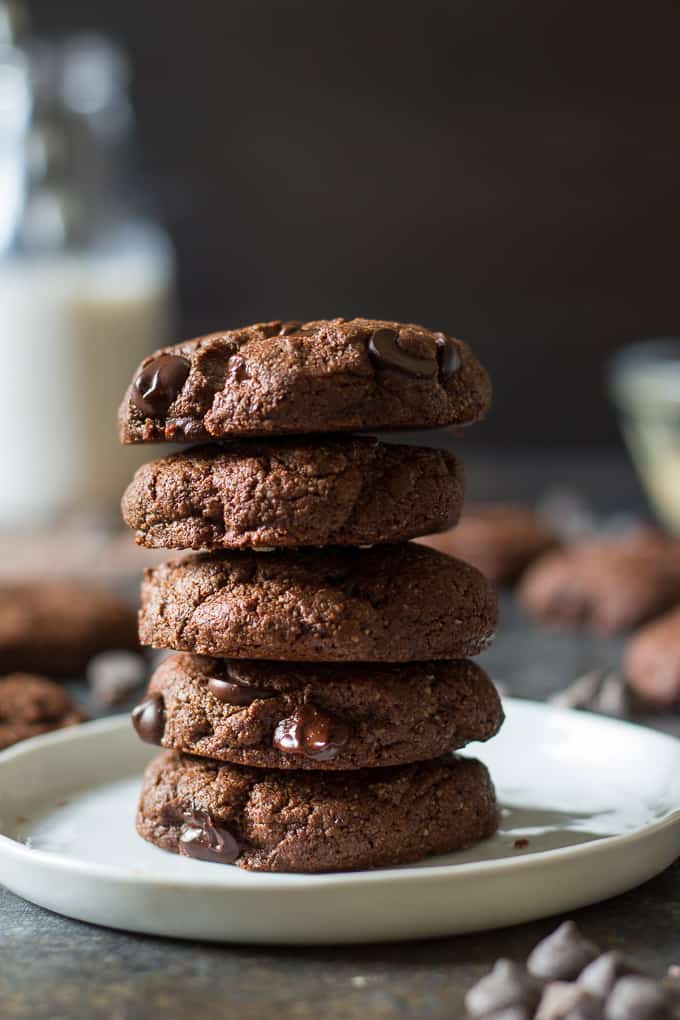 Are you ready to put on your red lipstick, 4 inch heels and Victoria's Secret push up bra to make these double chocolate tahini cookies?   Obviously that's what we should all wear whilst cooking/baking.
I'm kidding, you see, although if food blogs existed 60 years ago maybe I wouldn't be.  With the exception of the push up bra – didn't people stuff their bras with socks back then?   I prefer my socks on my feet and will trade the lipstick for coconut oil.  Throw my favorite sweatpants in there too (or on me, I guess) and the cookie game is on!
Paleo Chewy Double Chocolate Tahini Cookies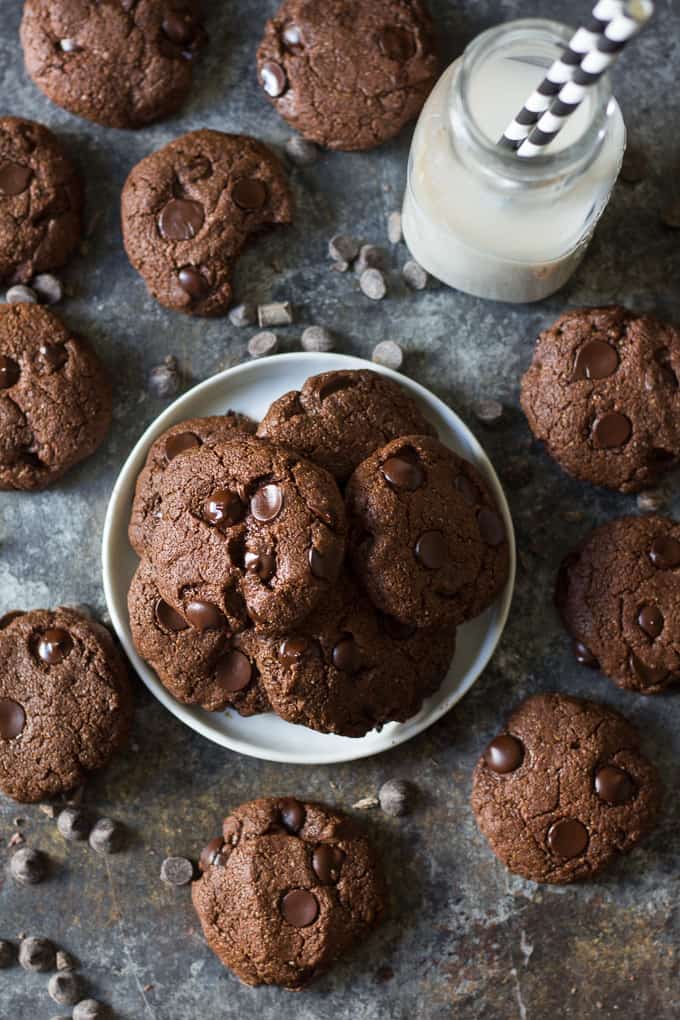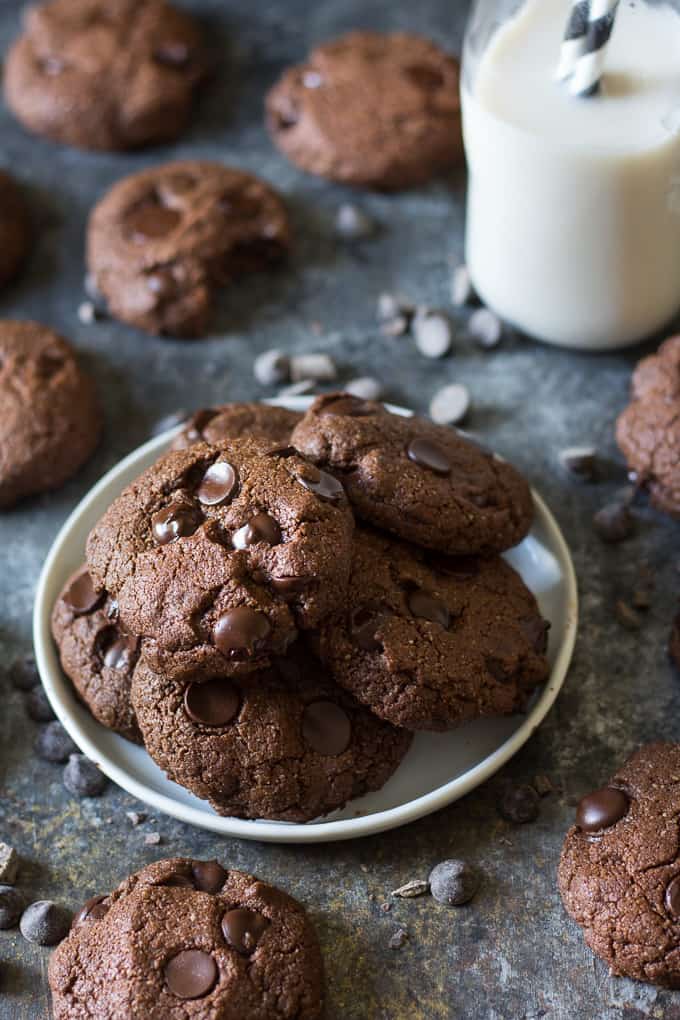 Paleo Chewy Double Chocolate Tahini Cookies
Rich, thick and chewy Paleo Double Chocolate Tahini Cookies packed with dark chocolate and sweetened with unrefined coconut sugar. The the tahini adds depth to the flavor and gives the cookies an incredible texture! Gluten free, grain free, dairy free.
Ingredients
1

egg

1/2

cup

organic tahini

mixed prior to adding

1/4

cup

organic coconut oil

solid but soft (room temp)

3/4

cup

unrefined coconut sugar

2

tsp

pure vanilla extract

1

cup

fine blanched almond flour

1/2

cup

cocoa powder

or raw cacao

1/2

tsp

baking soda

1/8

tsp

fine grain sea salt

1/2

cup

dark chocolate chips

I used Enjoy Life Dark Chocolate Morsels
Instructions
Preheat your oven to 350 degrees and line a large cookie sheet with parchment paper.

Beat together the tahini and coconut oil until smooth - I used

my hand mixer

for this. Then, beat in the coconut sugar, egg, and vanilla.

Mix the dry ingredients together in a separate bowl (except for chocolate chips) then add the dry mixture to the wet ingredients and mix well until a sticky dough forms.

Stir in the chocolate chips, then chill the dough for about 10 minutes. Use a spoon or cookie scoop (I love

this cookie scoop

) to drop dough into 16 balls (you may need more than one cookie sheet) Flatten each one into a "cookie shape" and bake in the preheated oven for 10-12 minutes, until just set.

Allow the cookies to cool on the baking sheet for 3-5 minutes, then transfer to wire racks to fully cool. Store leftovers in a sealed container in the refrigerator. Enjoy!
What I Used to Make My Chewy Double Chocolate Tahini Cookies:
Want more crazy delicious, easy Paleo cookie recipes?  Try one of these!
Chewy Chocolate Chip Cranberry Cookies
Ultimate Chewy Paleo Chocolate Chip Cookies
Double Chocolate Pecan Cookies
Tell Me!
What ingredient(s) intimidate you/make you nervous to work with?
What food is your best friend?  Spouse?  One night stand?  Soul mate?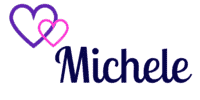 Note: This post contains Amazon affiliate links. This means that if you click on a link and make a purchase, I will receive a small commission at no cost to you. Thank you for supporting Paleo Running Momma!