Hey there!  You caught me in between sips of lemon tea (this cough is still meh) and Insta-procrastinating.  That means I was procrastinating by scrolling down and down and down to the depths of Instagram, which is sort of like modern-day digging a hole to China, don't you think?
Yes, that's what it is.  And it's also Thursday and I'm Thinking Out Loud today – so why the need to procrastinate in the first place?  Silliness.  Or maybe I need a break from everything, and by "everything" I just mean my computer, and by "break" I just mean a switch to my phone.
Oh stupid.   I'm starting to get that feeling you get when you're stuck in a really boring conversation with someone, to the point where you're experiencing the other person and yourself as equally and annoying.  Except it is just me and me, so there really is no way out.  I have to turn this around.  MUST GET FOCUSED!  I'll start numbering.  I know I had at least 3 things to share with you guys today.
1.) The Real Paleo Crack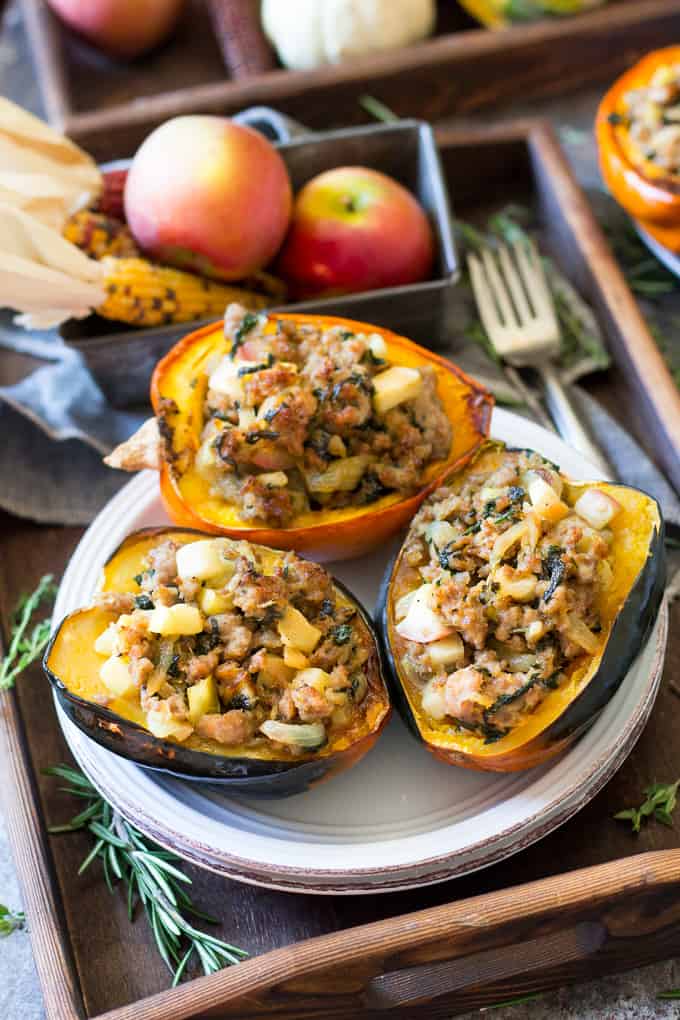 This is it guys – it's not dessert AT ALL.   I could say that caramelized onions alone is/are Paleo crack, but caramelized onions together with sausage, garlic, savory herbs, apples, and spinach all stuffed in roasted acorn squash?
It's legit the most dangerously addicting Paleo substance on the planet.  I made this today, and almost did not survive, AKA avoid eating literally everything you see here.  I seriously think there's a "hole" in the Whole30 program (ha) if they let you eat this stuff (which they do) because to me it's drugs.
Maybe I've just been sausage-and-onions-deprived lately, I dunno.   I might wind up posting this on Sunday since I'm just too darned excited to hold this recipe back!
I also made double chocolate tahini cookies this week, which are surprisingly kid friendly.  So chewy, packed with chocolate, with a perfectly nutty undertone from the tahini.  Maybe these can be Paleo kid crack.  I'd rave even more but my heart belongs with the sausage stuffed in the acorn squash.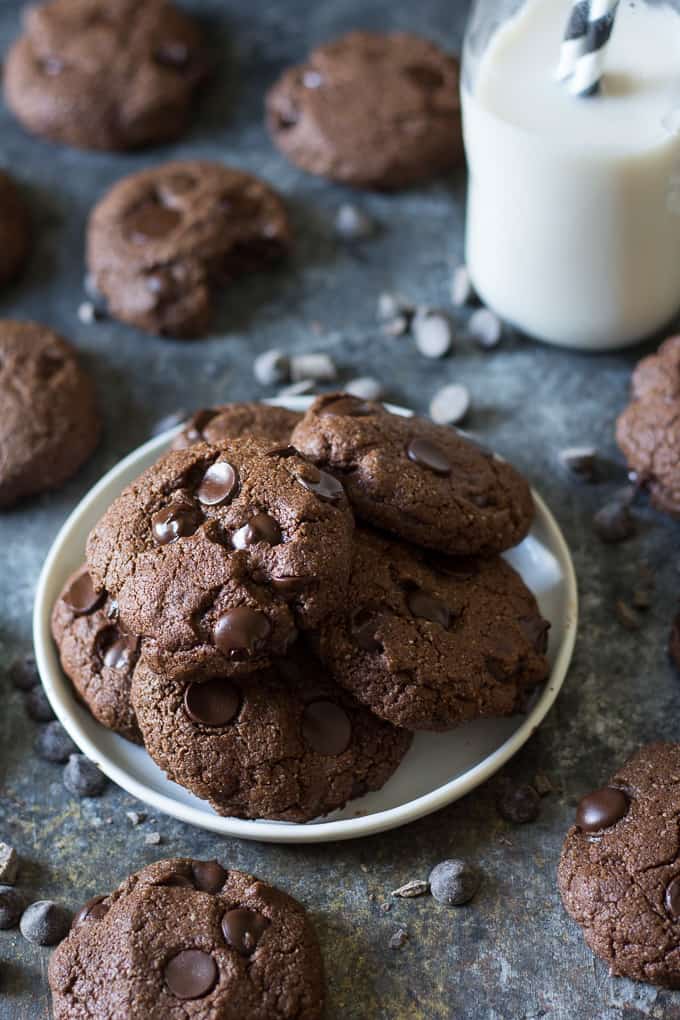 2.) Socks are the New Sweatpants
I NEED NEW SOCKS!  Remember how I take my sweatpants really seriously? Well, now that I'm actually starting to feel cold, which is good of course,  I'm obsessing over warm socks.  I need a few new pairs of my beloved Free People socks that I live in all winter.  The socks keep me sane, really.
Who gets socks from Free People?  Is that weird?
Not sure, but I swear by these socks not just for the warm cozy factor that I crave all winter, but because cute socks put me in a good mood.  Plus, they don't fall down when you're wearing boots.  Did I mention they're cute and comfy?  GIVE ME ALL THE FREE PEOPLE SOCKS.
3.) My birthday present is a cactus

My kids know me really well.  Of course, they also made me posters, cards, and all the cute homemade mommy stuff for my birthday, and then they got me this cactus.
The flower of course isn't real, the cactus is.  Oddly I sort of like it – even though I typically don't want plants of any kind since they're too "needy" and "just one more thing to do" – but the cactus is cute.  It takes up almost no space, it's fun to practice photo lighting with, and I like the bowl/vase.  Birthday win for me 🙂
Okay, that will be all for now.  I'm 1.) out of thoughts and 2.) not yet late for school pickup but might be if I try to think more.   Remember to ask me if I bought the socks, I have a feeling I might forget even after going on and on about them.
Tell Me!
What's Paleo/healthy crack for you?
What's your latest clothing obsession?