Between end of school year chaos and our week long trip to Seattle approaching, I'm feeling the pressure.  Are you ever so overwhelmed that you can't even pinpoint exactly WHAT is overwhelming you?  It's nothing and everything, all at once!  I say it constantly but it just feels so true – it's all very small "extra" things that arise and need to be taken care of, that throw my schedule off and zap my energy, and I'll be honest, my sanity right along with it.
That and the heat.  Actually it might JUST be the heat that's causing this and I just hate admitting that I'm THAT sensitive to it.  I'm a whiny, tantruming toddler in Target crossed with an emotional 14 year old who just got dumped when it gets hot outside.  It seems ridiculous to say that but I am just not my best self when it's 85 and humid to say the very least.
It's during weeks like this (and the one coming up right now!) that I wonder if running/yoga actually helps me de-stress or just adds another "to-do" to my list.  Since it's not like I'm stopping I guess there's really no point in even asking myself the question!  At least when I'm out running, my mind is in one piece, even in the heat.  At 6am stress has not affected me yet. Of course, that feeling is usually long gone by 8am and if you come home to 3 kids after running in the morning you might know what I mean.  I probably deal with it better when I'm able to ride the runner's high just a little longer.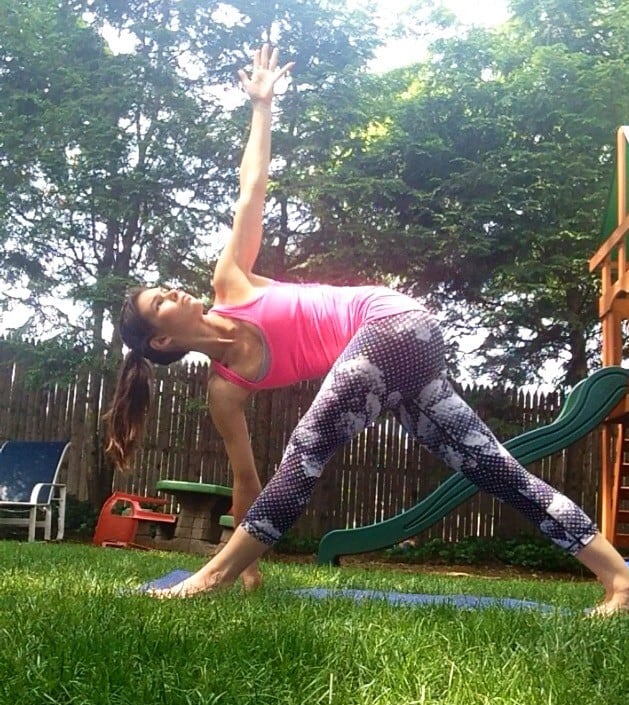 Monday – 6 miles easy pace, 30 minute yoga stretch with Leslie Fightmaster.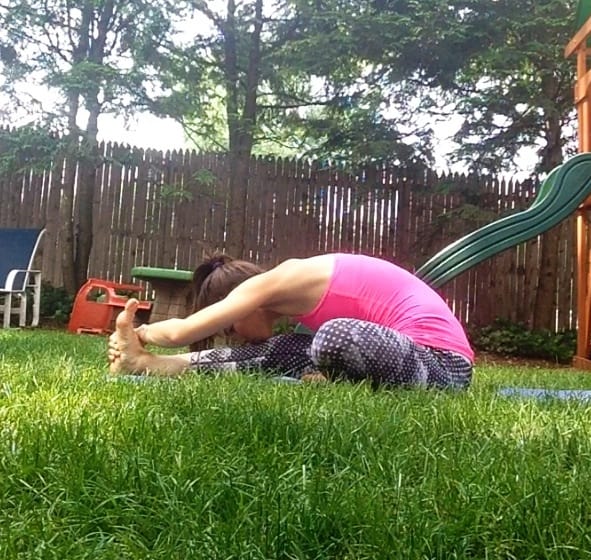 Tuesday – 5.5 miles hills, gentle yoga with Lesley Fightmaster.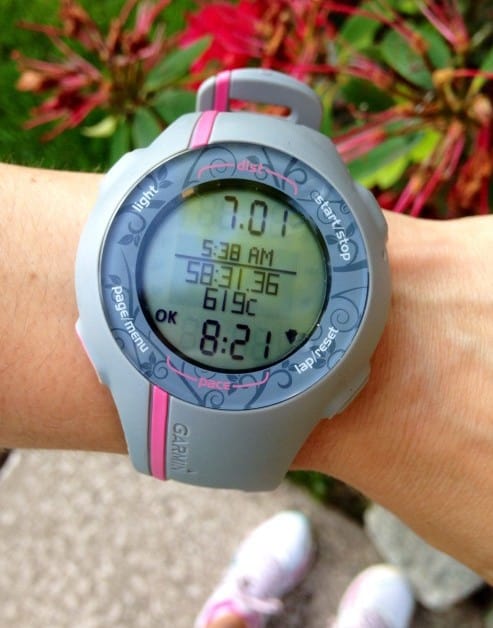 Wednesday – Meredith's negative split workout.  7 miles total, and overall it was a bit slower than last week but the splits were similar.  Not sure if the difference was due to motivation, heat, or both.  This week's splits were 9:09, 8:17, 7:50, 8:47, 8:11, 7:44.  I was happy with the workout and glad that it was an overall negative split, with miles 4-7 being faster than 1-3.
I did about 20-25 minutes of my own yoga flow later in the day and finished off with practicing a few inversions.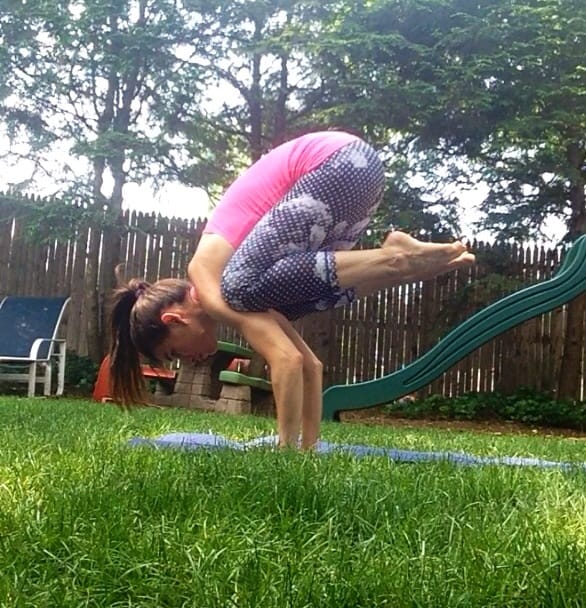 Thursday – 5 miles easy pace, vinyasa to shift perspective with Tracy Noseworthy, 35 mins.  I should do Tracy's videos more often because something about the way she speaks really calms me and actually does shift my perspective!  All the yoga pictures in this post were from this practice.
Friday – No running, 40 minutes vinyasa yoga with Tim Senesi .  This had a few challenging arm balances that were fun to practice!  I have so much more energy for yoga when it replaces running for the day.
Saturday – 5 miles easy pace.  Not easy really when it's already 75 and humid at 5:30 in the morning, but whatevs. It's summer fo sho yo 😉  Was really thanking Stephanie for having plans this morning because it was not the day to run long anyway!
At least yoga actually seems to work well with hotter weather.  If it weren't for yoga I might not see any benefit at all to summer at all, but I like feeling more flexible as it heats up.  No official practice/video today but did my own thing in the backyard for about 30 minutes – back bends, hip stretches, and headstands.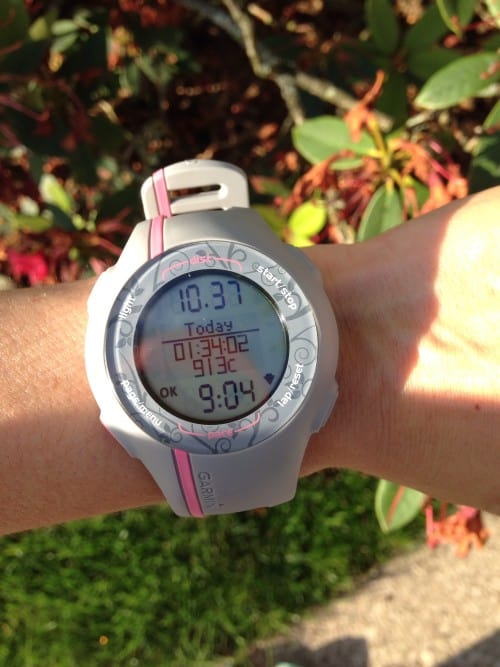 Sunday – 10 miles with Stephanie – our last run together 🙁  Had a great time chatting with her and barely noticed the humidity.  Off to my parents house, so no time for yoga.
I feel bad/guilty complaining about the way I feel when everything is going well.  Yes there's stress and pressure, but much of it I put on myself.  Like cooking/recipe heartbreak.   No one made me attempt two new recipes on Saturday, and after the first I should have known better.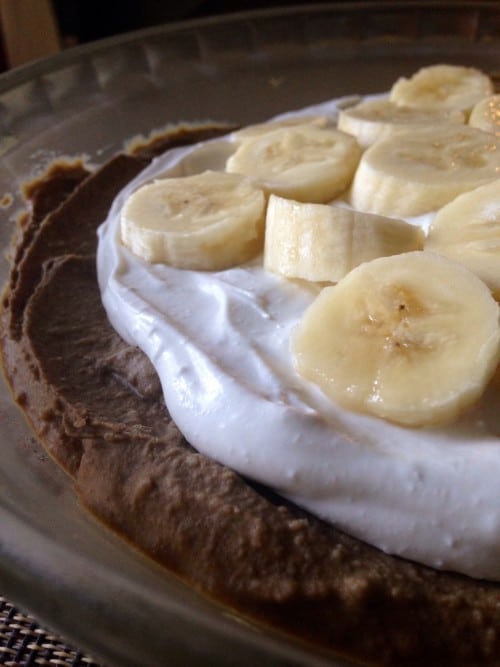 Exhibit B from Saturday.  My SECOND failed recipe of the day.  There actually is no exhibit A from the first one since they were misshapen pancakes and the whole point was that they were ugly and unphotographable.
The banana sunbutter ice cream pie shown above was good enough for me to eat, just not good enough for the blog.  I might try a variation on it at some point but for now I'm still mourning.  I was tired when I started making it and really just never should have attempted it.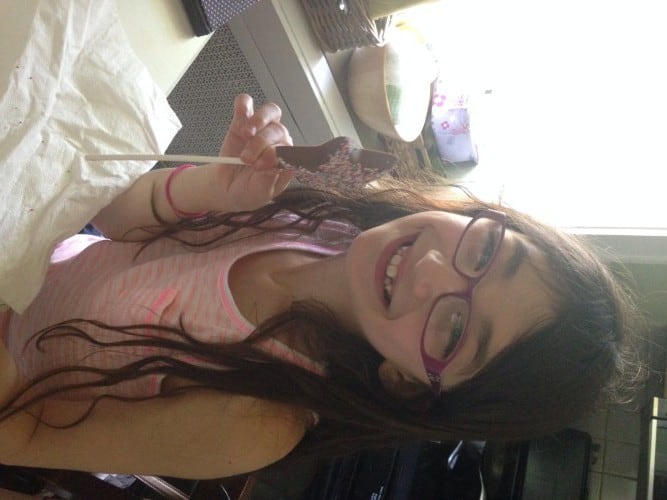 Regular old milk chocolate from the candy store definitely got all the smiles this weekend.  After dentist and eye doctor appointments we went out for a pizza lunch and then got big chocolate lollipops.   I've noticed I've been loosening up food wise on my kids lately.   I'd be willing to listen to anyone who wants to psychoanalyze why that is, because I really don't have a clue other than, again, tired.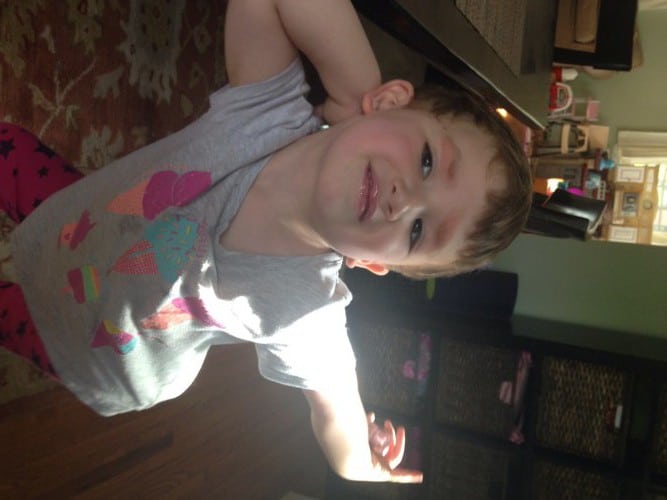 Drew put on makeup and was feeling oh so pretty…and witty…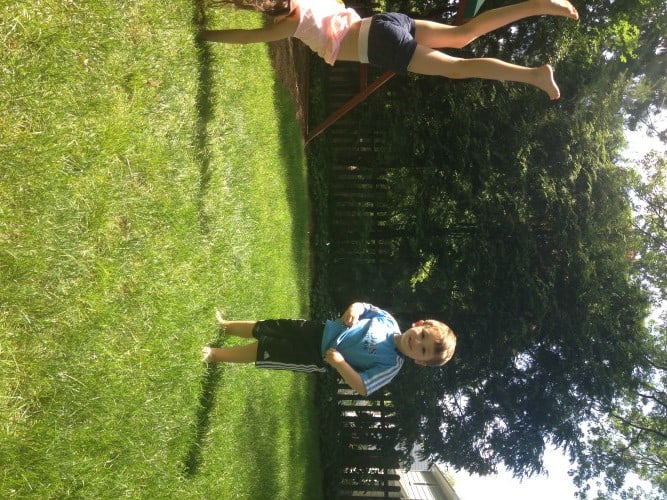 We also spent some time upside down in the backyard which always makes me smile and shift perspective.  Emily's normally the gymnastics queen but lately Diana (in the picture) has been putting the time in and seeing some good results with her handstands and cartwheels.
It's now Sunday night, we just got back from my parent's house and it's time to make dinner, lunches, bathe everyone, and get my life back together for Monday.   I'm so not witty right now and apologize for having nothing entertaining to say.  So I'll have to turn it over to you guys, ready, set, go!
What was your best workout this week?
Do you do well in the heat or find it dreadful?
How do you deal with recipe/cooking heartbreak?