These sweet and perfectly spiced Soft Paleo Ginger Molasses Cookies are irresistible and delightfully addicting!  Made with coconut flour and sweetened with coconut sugar and molasses, they're gluten free, grain free, dairy free, and Paleo.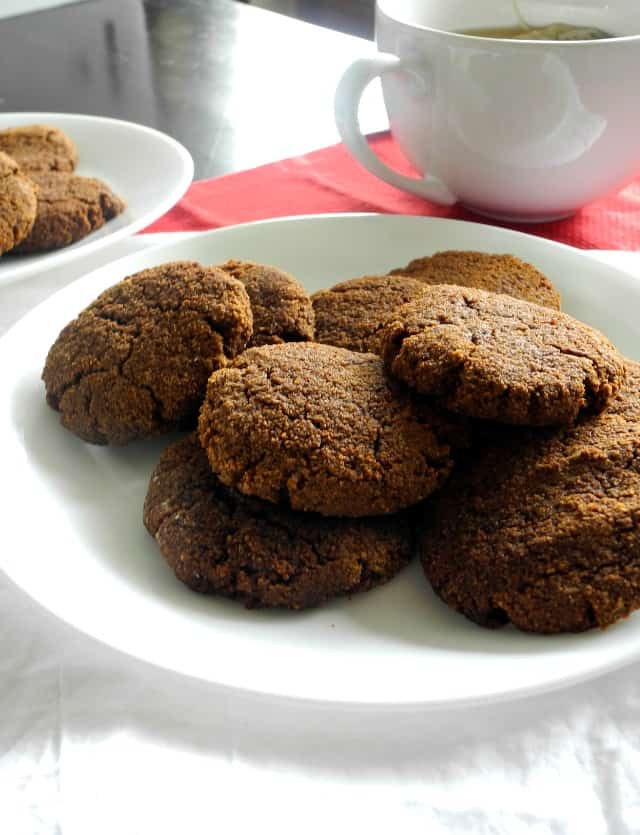 Isn't there something about rolling cookie dough in sugar that makes you feel like the holidays are here?  That and hot tea – it's funny how I'll have hot coffee year round, yet when I break out hot tea I know winter is coming…
…Even if it's technically 60 degrees outside and raining right now.  I made tea and these yummy soft ginger molasses cookies and that's going to have to be "winter" enough for me for the moment!
Long before I knew what Paleo was, or that you could bake with anything other than all purpose flour, baking cookies in the month of December was my favorite thing to do.  I like to be original that way.  Baking cookies during the holidays sure does make me a unique snowflake, or so I would like to think…
Just kidding!  I like that I enjoy baking holiday cookies BECAUSE it makes me feel connected to the rest of the world, somehow.  The month of December means we can all join together over our love for baking treats, drinking hot chocolate or tea, and finally having a valid excuse to live in sweatpants.
I'm feeling all warm and fuzzy just thinking about it!  And that has nothing to do with the fact that I am actually drinking tea and wearing sweatpants right now.  And possibly eating more of these paleo ginger molasses cookies.  You just read yesterday that I made three batches of these, right?  Luckily for me, they all made it to the third day tasting delicious, maybe even better than they tasted the first!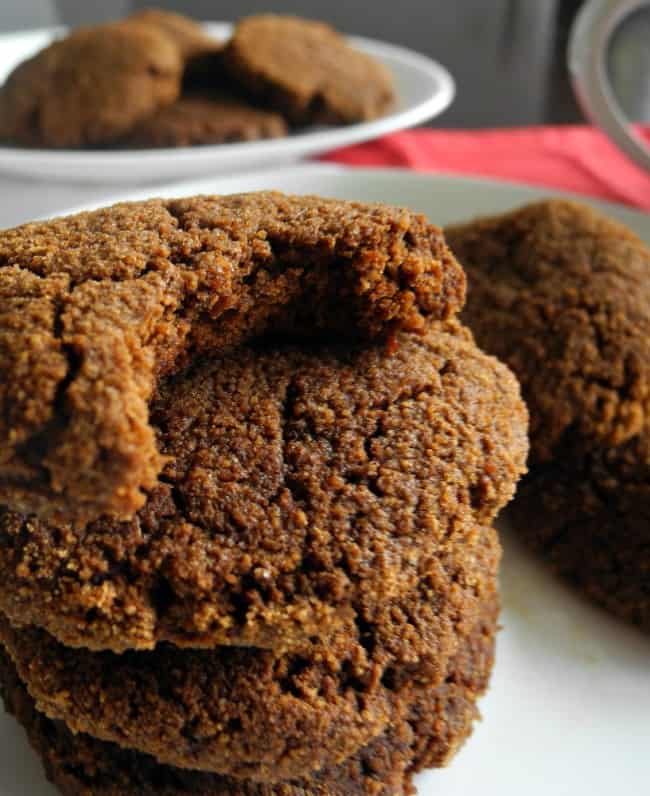 Assuming you decide to make only one batch though, I doubt these will last two days in your house.  They are sweet, a little spicy, soft, a bit chewy (especially the day after) and downright addicting.  Don't say I didn't warn you – bake these with a friend so you'll have a witness and an obligation to share 🙂
One little secret about these soft and chewy paleo ginger molasses cookies, is that I never planned to make them with coconut flour – it was supposed to be almond all the way.  What happened?  Well, I was at the store that typically has an overflowing selection of every gluten free and Paleo baking supply I could ever want.  For great prices too, by the way.
Anyhow, I came prepared with my list, saw the almond flour on the list, and sadly, a big gaping empty space where they usually stock the blanched almond flour.  (And yeah I'm that crazy person who will take everything off the shelf to search, before accepting they've run out. Don't worry, I put it all back.)
Instead of going to another store, I decided to take on the challenge of making these with coconut flour and I'm really glad I did.  Sure, it took a couple of tries to get it right, but, I'm thrilled with the final product and I know you will be too!
Soft Paleo Ginger Molasses Cookies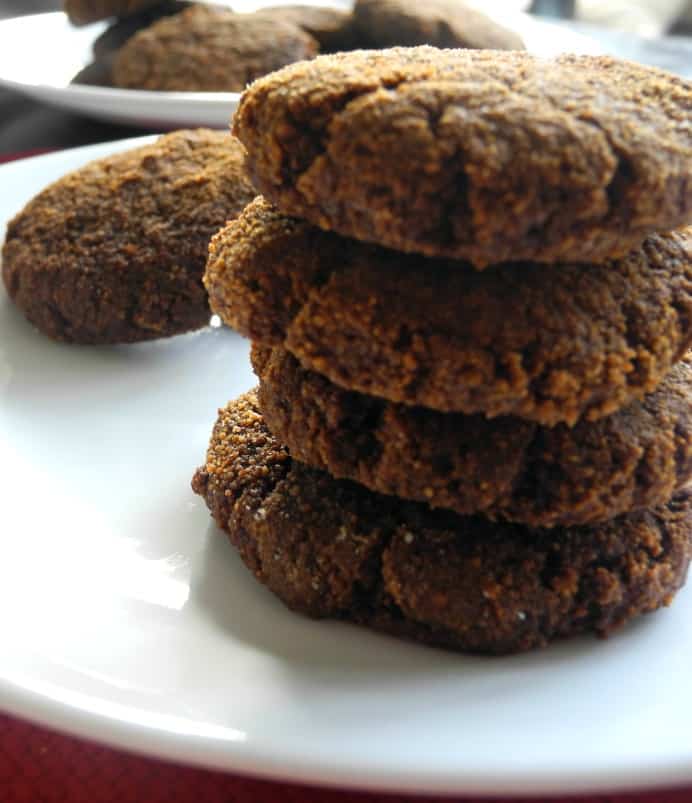 Soft Paleo Ginger Molasses Cookies
These soft Paleo Ginger Molasses Cookies are sweet, perfectly spiced, and made with real whole food ingredients. They're gluten free, dairy free, grain free, soy free, and Paleo.
Prep Time: 15 minutes
Cook Time: 10 minutes
Total Time: 25 minutes
Course: Soft Paleo Ginger Molasses Cookies
Cuisine: Dessert/Treat
Servings: 12 -16 cookies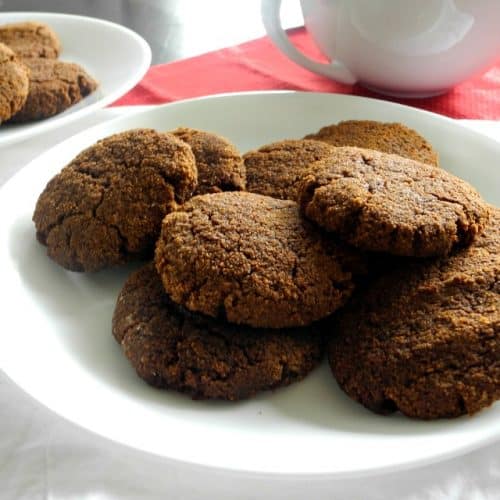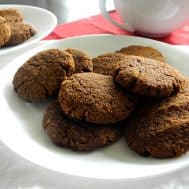 Instructions
Preheat your oven to 350 degrees and line a large cookie sheet with parchment paper

In a large bowl, whisk together the eggs, coconut sugar, molasses, vanilla, cashew butter, and coconut oil until very smooth

In a separate bowl, combine the coconut flour, ginger, cinnamon, baking soda and salt and mix

Now slowly mix the dry ingredients into the wet until a sticky dough forms. Chill the cookie dough for about 5 minutes to allow it to firm up enough to roll into balls.

Roll the dough into 1.5 inch balls and then roll in the coconut sugar**

Place each ball on the cookie sheet and flatten to about 1/2 inch thickness before baking.

Bake in the preheated oven for 8-10 minutes, until the tops crack. They won't seem "set" yet but they're perfect!

Remove from oven, cool on baking sheet for 2-5 minutes before transferring to wire racks to cool completely before serving. Enjoy!
Recipe Notes
*With 3 tbsp coconut sugar it was significantly sweet (loved by my kids!) but I preferred the batch with 2 tbsp
!**Optional step (recommended!) - lightly roll in coconut sugar for a final touch before baking

What's your sign that the holiday season is here?  
What's your favorite holiday cookie to bake?