Happy Thursday!  Did anyone else forget that next week is Thanksgiving?  Does anyone remember if we already discussed this on the blog this week?
Apologies if we have – but seriously – this is the first year I'm slacking on Thanksgiving plans and energy.  Sure, all I do all day is cook and bake, but Thanksgiving snuck up and I don't quite feel "ready" yet.  Maybe it's because it hasn't been cold enough.  I want it to be cold so I can start complaining about winter already.  Nothing to complain about – this is the mildest fall I can remember having for years.

Since it's Thursday and all, that means it's time to Think Out Loud, which you likely gathered from my intro anyway.  So many thoughts, so few of them fit for display on the internet – bummer.  Just kidding, there's not much of a filter here – which probably paints a more pathetic picture than if there was.  A filter, that is.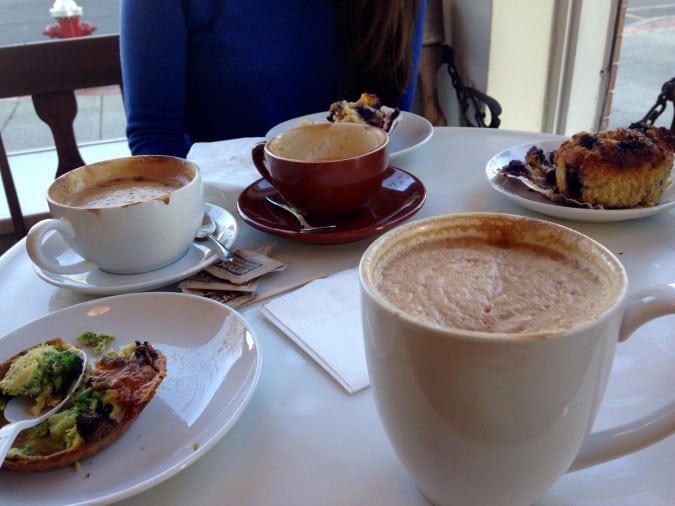 First, I will tell you how I was quite the rebel while meeting up for coffee with my friends this morning.  You see that delicious mug in front of me?!  That delicious mocha latte had me begging for mercy within 3 hours.
On a whim, I thought I'd test out lactose containing dairy (aka milk), because why not – I didn't have a ton going on and I figured I could afford the effects (although I was secretly hoping/expecting them to be minimal.) The drink was delicious, yes, but would've been almost as much so with almond milk or coconut milk and far less horrible afterwards.
Things were not/are not pretty after the fact, but I will remain positive and file this experience away in the "good to know" category in my brain, and just go with almond milk next time.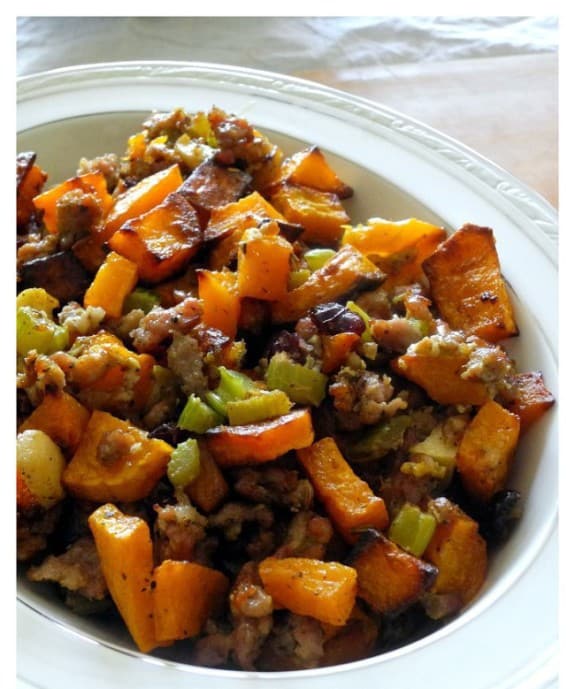 Later on, I went from rebel with a stomachache to rockstar with a butternut squash when I realized that MSN linked to a Redbook Paleo Recipe Roundup that included three of my recipes – cool!  The picture here is my Butternut Sausage Stuffing with Apples and Cranberries, and the other two were Pumpkin Fudge Cookies and Pecan Pumpkin Pie Bars.
Of the three, the stuffing is my favorite – I get a little wacky with it and ask for lots of "positive feedback" when I make it.  Well, you know what?  I think I'm satisfied with positive feedback for now.  I even sent the link to my family with the subject line "now I do not care if you like my stuffing or not."  Maybe I'll care next week again, but, for now – I'm good!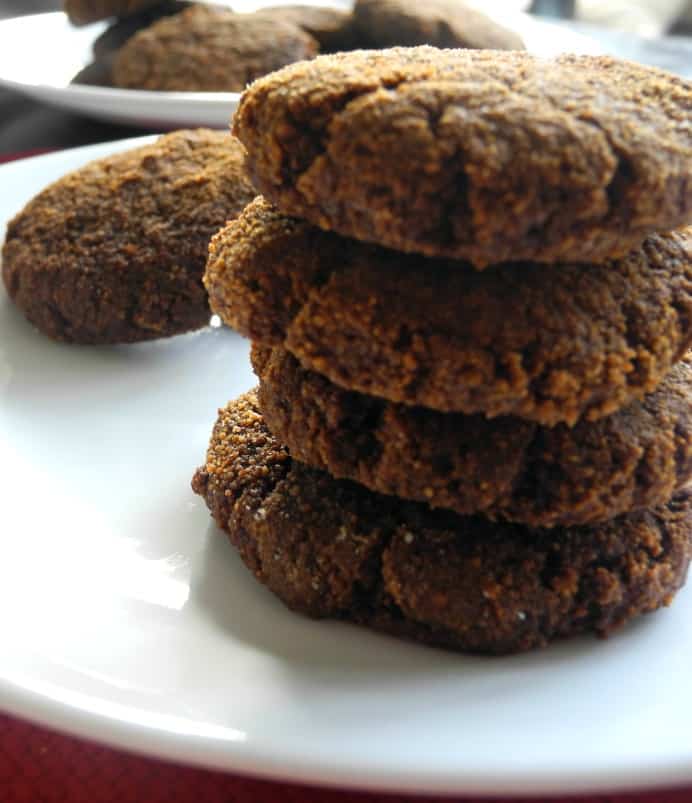 So, let's rewind to before the dairy incident and talk about my obsessive baking.  I made these ginger molasses cookies not once, not twice, but three times in one day (HELP ME!) to nail down the recipe.  Third time's the charm?
I DID wind up liking the third the most, after making what I thought were significant changes from the first go-round, but, according to my family, they all tasted the same. They DO NOT!  The good news is everyone enjoyed them no matter how I made them, which I suppose just means it's a pretty forgiving recipe.  I think we can all appreciate a forgiving paleo treat recipe, since there are times that paleo + oven = a whole lot of WTF.
Anyhow, these yummy, soft, Paleo ginger molasses cookies will be at your fingertips tomorrow morning, just in time for a weekend sweet attack.  And sweet they are!  Then I'll be on to obsess over whatever idea is waiting for me in the notes section of my phone.  OR maybe I'll finally get around to putting together my own holiday recipe roundup, since half the time I'm drooling over all the insanely delicious looking ones I see on Pinterest.
One thing I think you should know about me (because I never talk about myself…) is that I'm not a fan of mint – mint chocolate or otherwise – and therefore I will probably never post a recipe involving mint!  Never say never, I guess (and I'm sure I could be persuaded) but anything mint is just not high up on my list.
If you have food sensitivities, how often do you "test" them?  Are the results always the same?
Are you a fan of mint?
How much do you care if people like your cooking?  Can't lie, I like validation. A lot.