A sweet treat for the New Year or anytime, this Sweet Potato Noodle Paleo Kugel is made with spiralized sweet potatoes, apples, pears, raisins, and warm, sweet fall spices!  It's gluten free, dairy free, Paleo, and Whole30 friendly with no added sugar.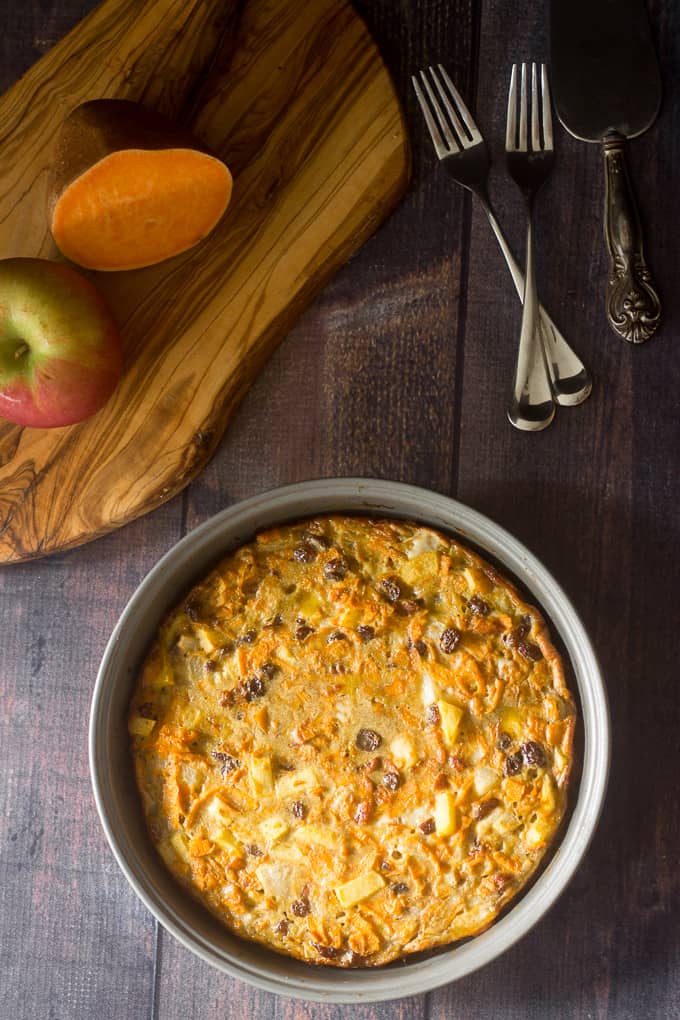 Let's see – what's September all about besides back to school chaos, good running weather and lots of germs circulating? (Sorry I'm bitter I caught my kids' cold yesterday.)  Jewish holidays, that's what.
And, though I might not be the most observant Jew (don't tell my kids, although I guess they might know this by now) I still think of the Jewish New Year as a time to cook lots of yummy food with apples, honey, and raisins.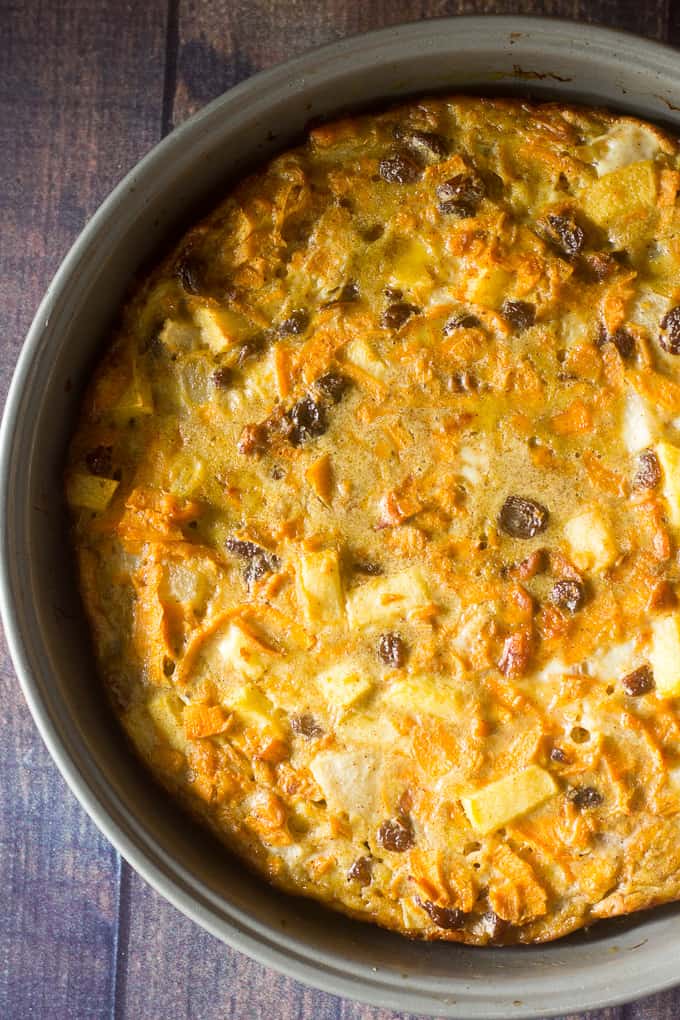 This is the first September I realized that I won't be eating my beloved noodle kugel!
Isn't it funny how you can slam the door in pizza's face yet something you only had once a year that has sentimental value makes you sad to leave it behind?  So anyway, I was like, "no way, we're having noodle kugel."  And, here it is.  Sweet Potato Noodle Paleo Kugel!
Look, I don't remember what noodles taste like anymore so don't hold me to that, but in every other way this Paleo kugel lives up to what I remember my grandma's noodle kugel to be.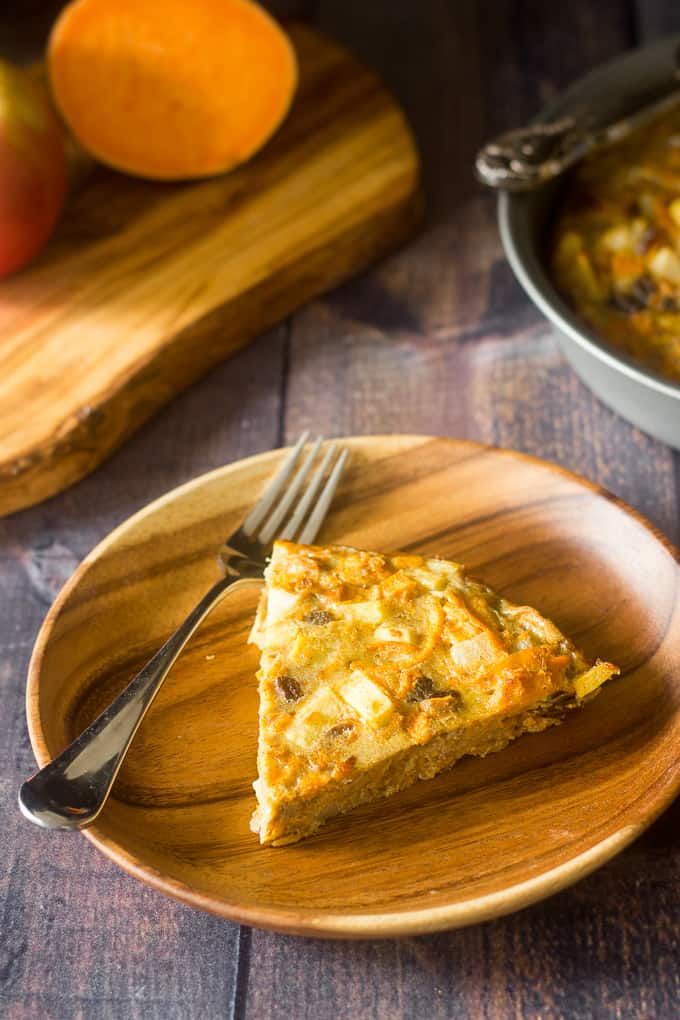 And, don't think you have to know what noodle kugel even is to enjoy this.  The secret might as well be out – this Paleo kugel is really the same thing as a sweet potato noodle pie!  Plus, you can happily and healthfully consume this Paleo kugel whenever you want – breakfast, lunch, dinner, snack, dessert.  It's perfect to make ahead of time too!
Now, you just can't argue with these delicious, fresh ingredients baked up in a pie together.  Paleo kugel equals comfort food at it's finest!
*I have the Paderno World Cuisine A4982799 Tri-Blade Plastic Spiral Vegetable Slicer
 (affiliate link) which I purchased on Amazon, and, in my own opinion, is more than worth it for the variety of veggie noodles you can make!
Sweet Potato Noodle Paleo Kugel (Pie) – Whole30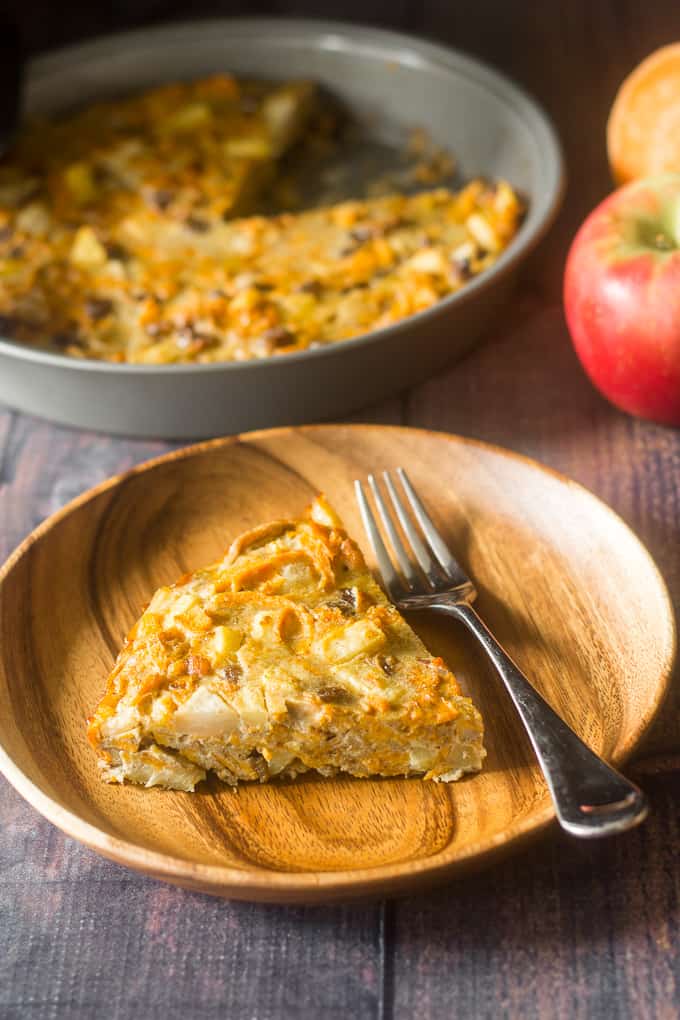 Sweet Potato Noodle Paleo Kugel (Pie) with Apples, Pears and Raisins
Grain, dairy, soy and added sugar free sweet potato noodle Paleo kugel (pie) with apples, pears, and raisins spiced up with the flavors of cinnamon, nutmeg, and ginger. Whole30 friendly!
Prep Time: 15 minutes
Cook Time: 50 minutes
Total Time: 1 hour 5 minutes
Course: Anytime, fall themed
Cuisine: Paleo
Servings: 8 servings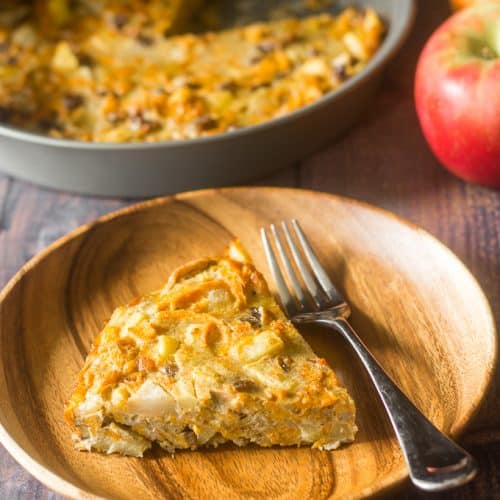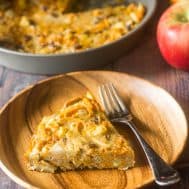 Ingredients
1 large sweet potato peeled and spiralized (or peeled into ribbons with a veggie peeler)
2 tbsp coconut oil
1 medium honeycrisp apple peeled, cored and chopped
1 medium pear peeled cored and chopped
3 tsp cinnamon
1 tsp nutmeg
1/2 tsp dried ginger
1/4 tsp allspice
2/3 cup full fat coconut milk
4 eggs
1/3 cup raisins
Drizzle of raw honey optional*
Instructions
Preheat you oven to 350 degrees, and heat a large saute pan over med heat. Add the coconut oil to melt in the pan.

Once the pan is heated, add the sweet potato noodles and saute, tossing and stirring to evenly cook for 2-3 minutes.

Now add the chopped apples and pears to the pan. Continue to saute, stirring often to evenly brown, until the apples and pears are soft and light brown and the noodles are tender.

Remove from heat and set aside.

In a large bowl whisk together the eggs, coconut milk and all the spices. Add the sweet potato noodle apple pear mixture to the bowl and mix to thoroughly combine.

Stir in the raisins, and pour the entire mixture into a 9 inch pie dish or baking dish, spreading out evenly in the dish.

Bake in the preheated oven for 35-40 minutes or until completely set and lightly browned on top.

Let sit to cool a bit before slicing and serving warm. Drizzle with a little raw, melted honey if you want.*

Enjoy!
Recipe Notes
*For Whole30 compliant, do not add the honey


So, tell me – what's your favorite fall-themed comfort food?  Have you ever tried noodle pudding/kugel?