A delicious and comforting paleo meal that won't have you missing real pasta!  Easy oven baked Italian style paleo meatballs and sweet potato pasta are given a kick with savory garlic and onion.  A fun meal for any night to please even the pickiest eaters.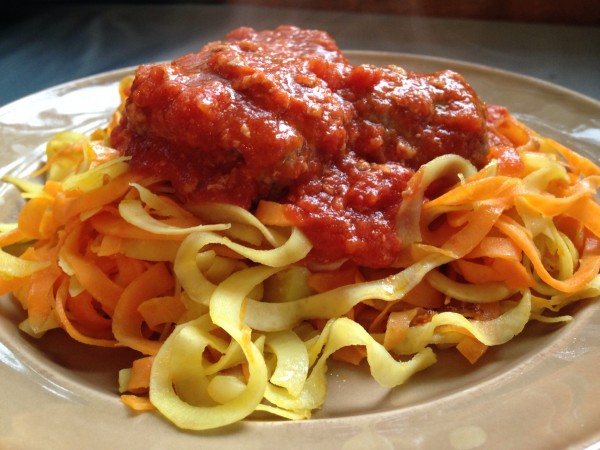 Meatballs.  It's what's for dinner like 3 times a week when all you buy is ground meat to save money.  But that's okay.  Meatballs are good and there are a ton of ways to experiment with them.  For months when I was marathon training my go-to pre long run dinner was turkey meatballs with sweet potato fries.  I loved getting the fries all covered with the marinara sauce.  Seriously, sweet potatoes and marinara go together way better than you'd ever think if you haven't tried it.  Try it and it will suddenly make all kinds of sense.
After making the fries with the meatballs for months, I finally got a spiralizer and try to spiralize my sweet potatoes, but then I wasn't sure how to cook them.  The first time I made them they were overcooked (which is difficult with these and honestly not sure how I made that mistake) and I shied away from making them for a while.  But they impulsively made a comeback this week since I'm pretty pissed at spaghetti squash.  Remember I left it in the oven too long last week?  I'm just still not over it and couldn't go there.  Luckily my sweet potato noodles didn't fail me – in fact- they turned out better than I thought they would!  And so now I have to share and you have to hear about them.  And get the recipe. And hopefully try them out.  By the way, the spiralizer is not expensive and it's definitely worth it.  I got this one at Amazon and have no complaints: Paderno World Cuisine A4982799 Tri-Blade Plastic Spiral Vegetable Slicer
.
Do you think my food pictures are getting prettier?  I happened to look at some older recipes and the pictures looked less than appetizing.  I'm just about the least talented photographer ever so it's a challenge and I have below average patience for these things!  I'm known for not moving garbage out of backgrounds and things like that.  But I really think I'm learning and improving.  All from studying Instagram.  Pinterest is still too depressing and defeating.  But I'll get there.
Italian Style Meatballs Over Garlic-Onion Sweet Potato Noodles
Italian Style Meatballs Over Garlic Onion Sweet Potato Noodles
Prep Time: 10 minutes
Cook Time: 30 minutes
Total Time: 40 minutes
Course: Anytime
Cuisine: Italian American Paleo
Servings: 4 -6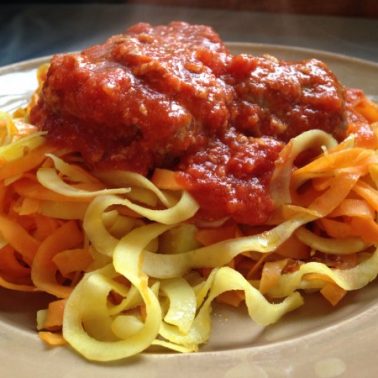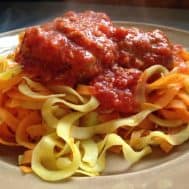 Ingredients
For the Meatballs:
1.5 lbs ground lamb or other ground meat of choice
2 eggs
1/3 cup almond meal
1 tbs garlic powder
1 tbsp onion powder
1 tbsp salt-free pizza seasoning I used Frontier
1/2 tsp salt
1/2 tsp black pepper
For the Noodles:
2 large sweet potatoes I used one white and one orange because it's what I had
1/4 cup chopped onion
3 cloves garlic minced
1 cup marinara sauce of choice no sugar added! I used Cucina Antica
Instructions
Get out that spiralizer! Chop off the ends of your sweet potatoes and peel them. Attach to your sprializer and spiralize that thing down to a nub! Use a bowl to catch the noodles of course. Now do it again with the second one. Set the noodles aside.

Preheat your oven to 400 degrees. In a large bowl, combine all the meatball ingredients and mix well with your hands to incorporate all the flavors.

Prepare a large baking sheet by lining with parchment paper. Form the meatball mixture into, you guessed it, BALLS about 2 inches in diameter, and place them on the parchment paper leaving a little space around each one.

Bake them in the preheated onion for 10-15 minutes, flip, and bake for 5 more minutes.

After you put the meatballs in the oven, heat a large sautee pan over med heat and add olive oil (or preferred fat.) Once heated, add the onions and garlic and let them cook until soft and fragrant.

Now add the sweet potato noodles. Yes all of them. I know it's a lot, but they'll cook down soon enough. Toss and stir to coat them with fat. Now, cover the pan with a lid (or anything that will fit over it, even another pan if you don't have a lid!) and uncover to stir about once per minute to prevent burning and to ensure even cooking. I cooked mine for about 5-7 minutes covered for "al dente" but test them out to see what you like. Once they steam a bit they'll be easier to stir.

When the meatballs have cooked, add them to a large sauce pot on the stove, and cover with marinara sauce. Turn the heat to medium and cover the pot for 5-10 minutes to heat everything through.

Plate the steam/sauteed noodles and ladle the meatballs and sauce over the noodles. Now eat! Don't worry about leftovers - this meal saves really well for a few days.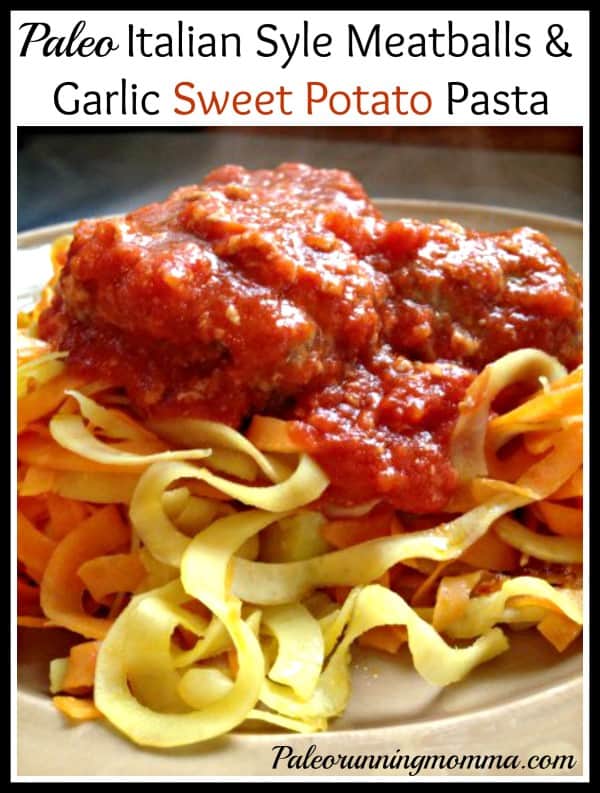 I finally got a recipe plugin, about time right?  I feel so…professional with the little "print" icon right next to it.  Like I've really arrived in the world now.  Kidding.  I'm just kidding.  But I do feel cool because I've been getting recipes off the internet for 14 years (jeez) and now I can say I have my own in that little box.  I haven't even tested if the print button works but if it does, I might have to use it a few times just to let the coolness sink in.
By the way, I wasn't kidding when I said this works great for leftovers.  I mixed my leftovers with kale and topped with eggs for a delicious and filling breakfast.  I'm all about more bang for your buck as you know.
What are the best meatballs you've ever had?  For me they were from a small Italian place in Queens, NY that's sadly closed now.  They also had the best pizza ever, hands down   (loud sigh.) Those were the days 🙂  Enjoy your weekend!