I have to be honest with you.  I have never "bonked."
I've read about it, heard people describe it, and believe me I've felt all kinds of ridiculous pain around mile 20 of a marathon, but, I've never bonked or "hit the wall."
While I can't say for certain why I've avoided it, I do think my fasted morning runs haven't hurt the issue.   I have almost always run fasted in the early morning because it's been convenient, I'm never hungry that early, and in the past I was always trying to avoid having GI issues on my run and less food equaled less chance of a problem for me.
In the beginning, I had no idea what glycogen was or that I had inadvertently been training myself for long distance success by running in a fasted state.   All I knew was that I felt great on my runs and was perfectly fine to save breakfast until afterwards.
It wasn't until I started reading about the science behind running that I realized I had been teaching my body to burn fat more readily over long distances and maintain my pace more easily.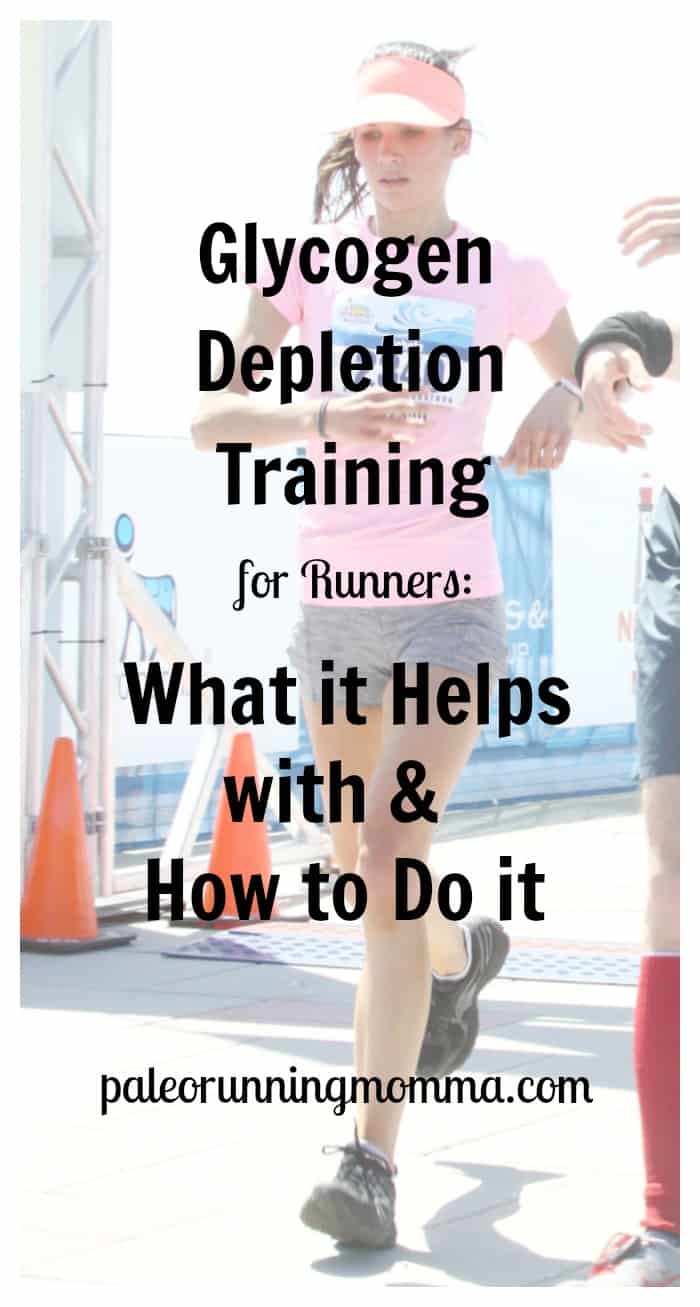 What It Is
"Glycogen depletion training" is really simple:  you don't fuel, or you cut way down on fuel, before and during a longer run, with the purpose of training your body to use its own fat for fuel more easily.
If you're training for a marathon, your long runs already have this as one of their goals, because anytime we run more than about 1.5 – 2 hours, we are going to have to use some of our fat for fuel.  If your body is not used to this and can't burn its own fat efficiently, you will inevitably slow down and possibly "hit the wall" or "bonk" right around 2 hours into your run.  Or so the legend has it!  Okay kidding, it's not a legend.  There is science behind why this happens.
When To Do It
Since your body can use stored glycogen for about 1.5 hours, it makes sense to do this type of run when you will be running about 2 hours or a bit longer.  I do this type of long run earlier on in marathon training when my weekly long runs are 14-18 miles and I don't need to practice my fueling strategy just yet.   I have done this for 2 or 3 runs per training plan.  I also only do this if the run will be at an easy pace (no marathon paced middle miles) since at faster paces our bodies will require more sugar.
And since the goal here is endurance over a long period of time, I believe it is only truly beneficial to do this type of training if you are preparing for a marathon or ultra, rather than shorter distances.
When Not To Do It
Don't do this for speed work, tempo or marathon paced runs, or long runs near the peak of your training since at that point, fueling as you will on race day will be more important for your training than teaching your body to burn fat efficiently.  If you have done some fasted runs earlier on in your training, your body should be pretty skilled at using fat by this point!
Why Do This?
You don't have to train fasted to be successful in a marathon, but if you have had issues in the past with "bonking" it is probably a good idea to incorporate fasted training into your plan to improve your ability to use your own fat for fuel. It won't make you faster, it won't make you lose weight, it won't make you a better runner with superpowers – BUT it will help your body learn how to turn its own fat into energy while maintaining a certain pace.   So, even when you are fueling normally during your marathon your body will not "burn through" sugar as quickly since it will be using fat as well, and "saving" sugar for the times you need to kick.
How Do I Do it Without Starving?
First thing in the morning is the best time, because you haven't used up much energy at that point just by being awake and you probably aren't as hungry/tired as you would be later in the day.  If it's the first time you're trying it, bring along fuel "just in case" or just start off with shorter runs to see how you feel.  It's not for everyone, and if it doesn't feel right, there's no reason you need to do it!

Consider This
Hydrate as much as usual!  Make sure you drink lots of water!  No need to be dehydrated along with lacking fuel.  Hydrate the night before and the morning of, and bring along water as you normally would.

You will need to plan your after-run refueling more carefully.  Your body needs carbohydrates and calories to help it recover from a long run, and this is especially important if you completed your run in a fasted state.  Make a carb-heavy smoothie (something simple like coconut water or almond milk with bananas) to have within 20-30 minutes of completing your run.  Or if you're lazy like me just shove bananas and coconut water directly into your face after your run.  About an hour later, or sooner if you're hungry, have a large meal consisting of carbs, fat, and some protein.  You may feel a bit more tired after this type of run than others, so plan to rest accordingly.

Like I said earlier, THIS IS NOT ABOUT GETTING FASTER OR LOSING WEIGHT!  It's simply about the utilization of fuel.  Here are links to some websites for further reading:
Have you tried glycogen depletion training?  Have you ever "bonked" in a marathon?  Are you happy with your current fueling strategy?  What has been your experience running in a fasted state?