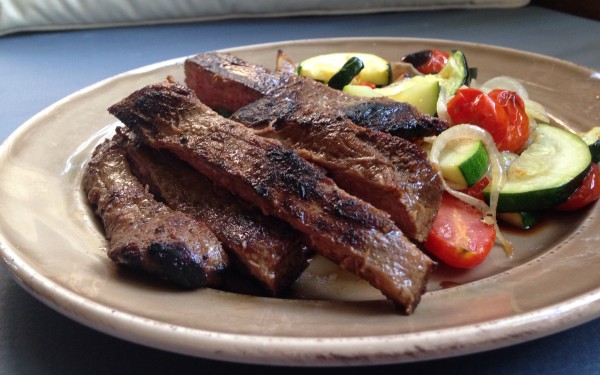 I wish I could have steak every day.   If I could afford it I would, but we all know how that goes and I wind up with a refrigerator full of ground meat, chicken thighs, and pork chops.  Which isn't a bad thing at all, and I'll just keep telling myself I'd be sick of steak if I had it more than once or twice a month.  Sure I'd be.  Anyway, when I do wind up buying steak I want to make sure I don't royally F!@# it up because that would be really, really sad and traumatic for the cheap-a** in me.  So, I try to keep it pretty simple.  With good (enough) meat, the simple stuff usually works well.
This week has been chaotic with back-to-school nerves, papers flooding the house and lots of other stuff that I can't even pinpoint but is making me crazy somehow.  Did you ever feel so busy but when someone asks you what you need to do you realize you're not even sure what it is?  Or that it's 50 different small things that are each so little and disjointed they each take up twice the time you'd think?  Like for example, today I spent a good 2 hours attempting to locate "slippers" with a "hard rubber sole" that my daughter's teacher wants "before the weekend," along with gallon ziplock bags, bottled water, bananas, baby wipes and seriously only half of that was accomplished before my son and I needed to leave to go pick up my kindergartener who has half days for the next week.  Sorry for the run on, but that's how this week is going.  Busy with busy work is not the way I like to spend time.  It's like getting a masters degree and then being asked to construct a shoe box at your internship, but that's really just a whole 'nother story.
Perfectly Simple Marinated Flank Steak with Broiled Veggies
Paleo marinated flank steak with broiled zucchini, onions, tomatoes, and garlic
Prep Time: 4 hours
Cook Time: 15 minutes
Total Time: 4 hours 15 minutes
Cuisine: Paleo
Servings: 4 -5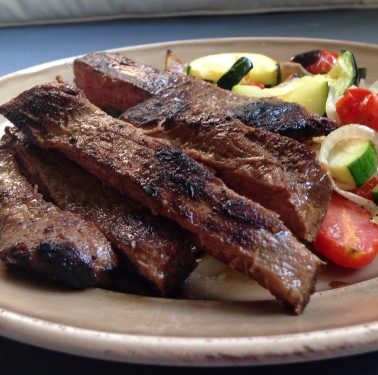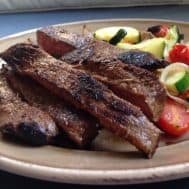 Instructions
The meat will need to marinate for 3-4 hours at least so plan accordingly!

In a large, shallow bowl or dish, whisk all the marinade ingredients together with a fork until well combined. Put the uncooked steak in the bowl and coat on both sides. Cover with plastic wrap and refrigerate at least 3 hours and up to 10, flipping a couple of times to fully coat.

About 1 hour before you will cook the steak, remove from refrigerator and set on the countertop, still covered, to return to room temp before cooking. Turn again to coat with marinade.

In a large bowl, combine the veggies, salt, and coconut oil and toss to coat. Preheat the broiler to "hi" and arrange the veggies in a single layer on a foil lined baking sheet. Broil for 10 minutes, stir, and continue to broil until cooked to preference. if adding goat cheese, sprinkle it over the veggies for the last minute or so.

Before putting the veggies in, heat a large, heavy bottomed saute pan over med-hi to hi heat. Discard the leftover marinade and cook the steak in the hot pan for about 4 minutes on each side for med, depending on thickness. I cooked 2 steaks and one was thicker and took 5 minutes per side.

Wrap the steaks in foil while you deal with the veggies and then slice them to preference, going with the grain of the steak. Serve sliced with lots of veggies and enjoy!
How often do you eat steak?  Do you have a favorite marinade recipe?  Do you ever cook steak stove-top?  Are you a fan of goat cheese?