Got any for me?  'Cause I'm dyin here.  No I don't want my kids buying school lunch every day because I think I can do better, but then, I realize just how dang hard it is to do better!  Back in my own bagel days I thought it was perfectly fine to pack a bagel with cream cheese one day and butter the next, and, <– see look, variety!  I had no pangs of guilt over that but now that I'm trying to go toward the paleo-ish route with all their meals, packing a different type of nitrate free deli meat everyday seems like way-overkill.  And the fruit and veggies?  Carrots, cucumbers, or peppers, grapes, strawberries and bananas seem repetitive.  I'm already in a school lunch rut and I've only packed lunch 3 times.
You know you are deep in mommy-land when you lose even a little sleep over "what to pack for lunch."
I know there are bigger things to worry about, but this one is up there, and it never goes away!  This year I've set myself up to pack lunch for 3 kids 4 times a week.  And the fifth day everyone's having pizza so there's extra pressure to make the from-home lunches healthy.  So here comes a brainstorm, or rather, tips on how to pack healthy school lunches that maybe might will get eaten, at least by someone at your kids' school if not by them personally.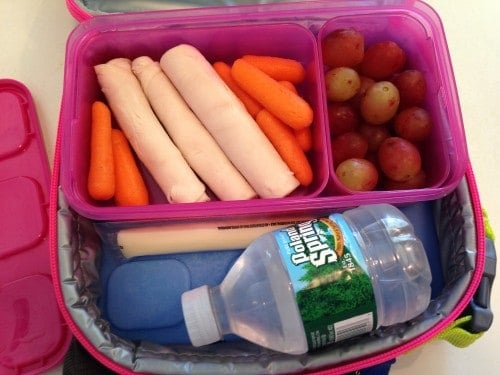 1. The rule of 3 things:
Focus on 3 things in each lunch – I focus on 3 different foods that each are primarily carbs, fat, or protein.  As long as the carb isn't chips, the protein isn't in powder form, and the fat isn't cheesecake, you're on your way to a good meal.
2. Have them pick the fruits/veggies at the store:  
My pickiest daughter likes to feel in control of her life (don't we all?) and she feels a great deal of loyalty toward any food she personally chose at the store.  Just make sure you stick to the produce section, or hit up a farmers market in nicer weather, to ensure a healthy pick.  And no pangs of guilt if they keep picking and eating the same ones every week – you've found a winner.
3. Think Dip:
If a dip can function as one of the 3 things, like hummus, mayo or guacamole (my kids wouldn't do guac, but I wish someone would make it for me) that makes it a bit more likely that it might get eaten.  This works best with cut raw veggies, but also with sliced or cubed deli meat and hard boiled eggs.  Or even if they eat it with their finger, a spoon, a fork, does any of it matter if it gets eaten?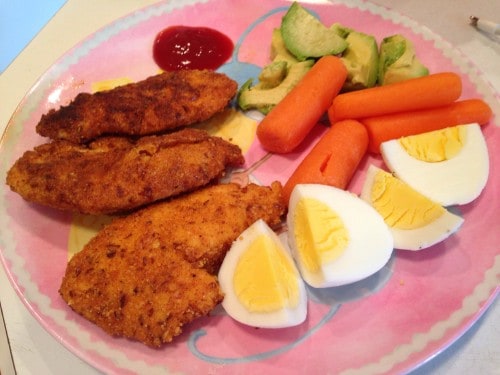 4. Give them the leftovers: 
Just like you shove leftovers at your husband before he heads out, you can do this with your kids too.  This one is only a good tip if they liked the meal the first time around.  I'm all for repeating things that work for me, so if my kids like a particular dinner, it will show up in their lunch at some point too.  Meatballs are a winner here.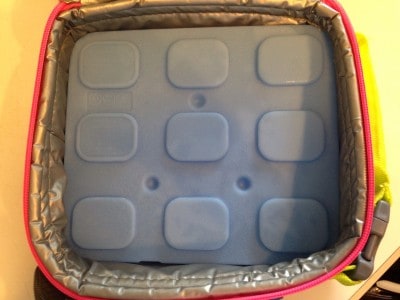 5. Get an ice pack:
If you don't already have something to keep their lunch cool, definitely do this – it expands the list of items you can send in their lunch that will survive and thrive.  Plus, it makes their lunch look more appetizing when the cheese stick doesn't go the glue route.
6. Make some stuff on Sunday:
Make time on Sunday to make bigger batches of foods you can send with them all week.  Chicken salad, egg salad (or a bunch of hard boiled eggs) or tuna salad, a healthy muffin, cookie or pancake recipe (store in the fridge and pack in their lunch), and cut up veggies and fruit ahead of time.
7. Ask them everyday what they did and didn't like:
This seems a little obvious, but I used to forget to do this, and, if whatever is unfinished or uneaten is getting thrown out, you're not getting the info you need on what's working.  This way you will also know right away when they get sick of a favorite food.  One of the first kid truths I learned is that they get sick of their favorites faster than you can scream "BUT YOU LOVED THAT YESTERDAY!"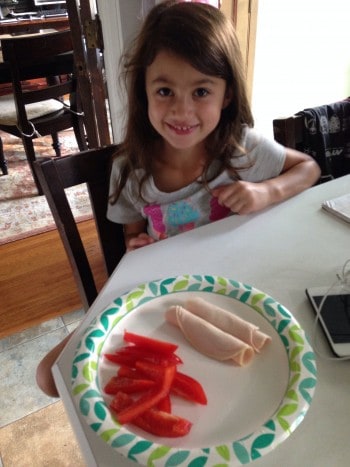 8. Roll up your protein! 
Kids seem to like meat and cheese in roll form, because it's just more fun!  Generally though, consider shapes when it comes to kids.  If it's something they wouldn't normally even take a bit of, a fun shape just might convince them to take that first bite.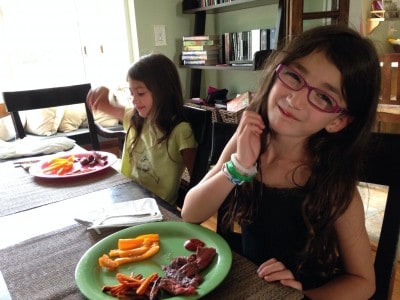 9. Not too many choices:
If they open their lunch and there are 5 things to eat, even if the portions are small they'll feel overwhelmed and eat less overall.  Stick to just 3 things (and one can be a dip) or even 2 if it's something they love and the portion is big. My oldest will often eat chicken salad and carrot sticks or hot dog bites and strawberries and feel fine with that.
10.  Stick to go-to's over variety:
If your kids are happy eating almost the same things every day for lunch, let them do it.  If they are healthy foods, there's no need to switch it up.  Most adults tend to eat similar stuff for lunch everyday (have you seen my insta?) so kids should stick to the tried and true if they're inclined as well.  You can always mix up their snacks and dinners so they don't eat a 2 lbs bag of grapes on the daily.
Now go on, stop procrastinating and pack the lunches already!  I'll still be here when you're done, promise.
Does packing your kids' lunches stress you out?  Have more tips to share or favorite foods to pack?Put it all in the comments!