Prior to eating paleo I wanted and expected my meals to be quick.  I didn't allot much time at all for meal prep and sometimes didn't factor it into my day at all.  Most of what I ate for breakfast and lunch at least came from a package and didn't require much before it was ready to be consumed.  I did cook dinner every night but it was very "semi homemade" and didn't involve a lot of real food.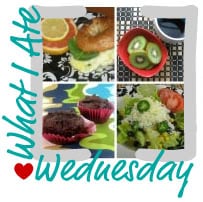 I thought people that spent a lot of time chopping veggies and using the oven for more than baked ziti on a regular basis were suckers and I just didn't understand why people would put so much time and effort into their food.  Life was hard enough making pasta with butter and grilled cheese sandwiches, you know?  How would holidays feel special if you roasted potatoes every night?  How could I put on eyeliner every morning if I was making bacon and eggs?
Even one year ago, if you had told me exactly what I cooked for daily meals for myself and my family I would have either not believed it to be possible or I'd think I lost my mind.  Paleo freak?  Not me.  I'm happy with my multiple bowls of cereal and ice cream, bagels, and random bouts of explosive diarrhea.
Okay, sorry about that last part and hopefully you weren't eating.  Now onto my meals.  Yes, the pictures are ones you've most likely seen before, or at least something that looks just like that.  You see, I STILL operate from the perspective of getting the best meal for my time, plus I don't grocery shop every day so variety is sometimes lacking.  This is also a great way to save time though – get comfortable making some good, healthy, delicious meals so it doesn't feel like a ton of effort even if it's a bit of work.  Just like you can train yourself to run faster and more efficiently, you can train yourself to cook this way too.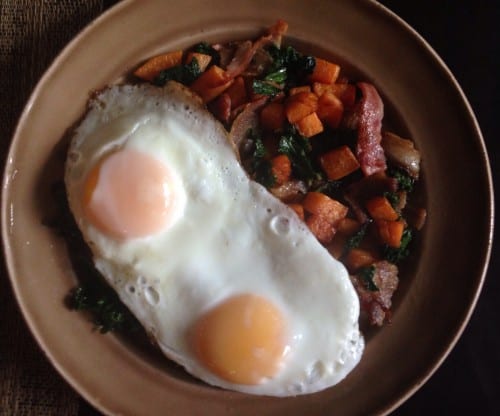 Breakfast for myself typically takes 15 minutes to prepare.  This was chopped bacon and ham (ran out of bacon) with sauteed sweet potatoes and kale with eggs.  During that time I also prepare food for everyone else, so mine winds up taking a bit longer (maybe up to 20) by the time I actually eat it instagram it.   We all eat some semblance of the same thing so the ingredients I use for everyone's are all the same (except my middle one who's been into yogurt and fruit lately, and gets it for herself.)  Breakfast is the biggest difference from pre-paleo in terms of time.  Cereal for everyone was a daily ritual and cereal only takes 5 minutes.  So my mornings are definitely more rushed now especially with running and showering, but it's still very manageable and MORE than worth it!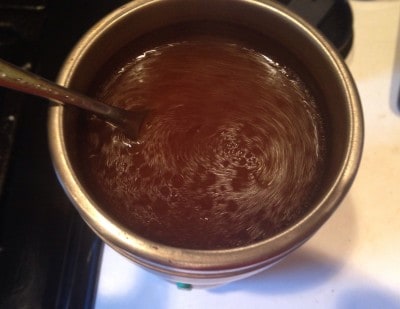 Between my husband and I, someone makes a pot of coffee in the morning.  If he leaves early and isn't having, I make enough for 2 cups for myself.  I add full fat canned coconut milk, which I blend and store in a container in the fridge to use all week.  You can just see those MCTs swirling all around 🙂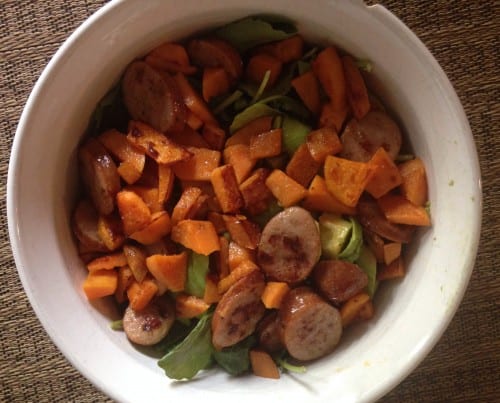 Hmmm looks like I ate a lot of sweet potatoes on this particular day.  This was baby kale (needed to get rid of my kale!) with a whole chopped medium avocado, sauteed sweet potato chunks and Aidells chicken apple sausage.  I drizzled some olive oil on top for more fat and flavor.  From start to finish this took 15 minutes, but I was interrupted with a potty situation so maybe it would've taken more like 12.  My tip for quick sweet potatoes is this: chop them pretty small and cook over medium in a good deal of fat, then cover the pan for a few minutes to soften them with steam.  Then uncover and sautee until nice and brown.  Really couldn't be easier.  I probably used to spend 10 minutes making a sandwich anyway or at least 5 toasting a bagel.  Yes, the chopping and clean up is more work, but again, so worth it for this food.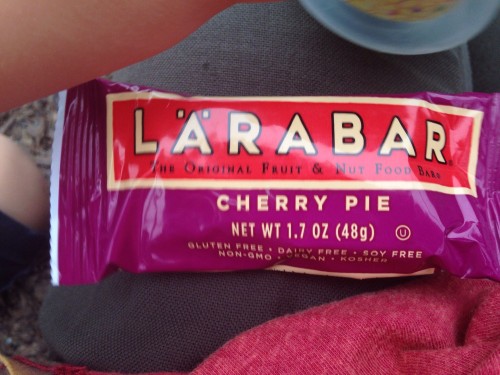 Okay here is a really quick food with no prep at all – a Lara Bar!  These are great for my busy afternoons when I'm taking the kids to activities and I want something before dinner.  I always have an afternoon snack and when I'm out of the house these things are my go-to.  No time involved.  Just remember to bring it with you.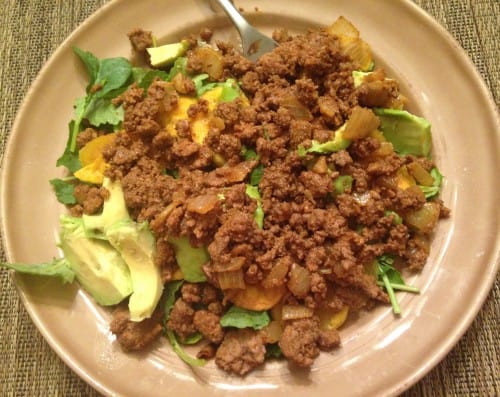 On this day I had very limited time for dinner, since we get back from dance at 5:30 and I like to be done with dinner by 6:30 so we can get homework and bath-time done by 7:45.  Anyway, this is a really basic version of my Taco Salad (the plantain chips are under there!) The thing with this is that my kids just get the meat, chips and then some cut up veggies, which tonight was red peppers.  The whole thing from start to finish took 30 minutes, but most of that was making the plantain chips.  But I freaking love these chips and so does my daughter and husband, so it's really really worth it.  SO much better than store bought and healthier since you're using your own fat for the frying.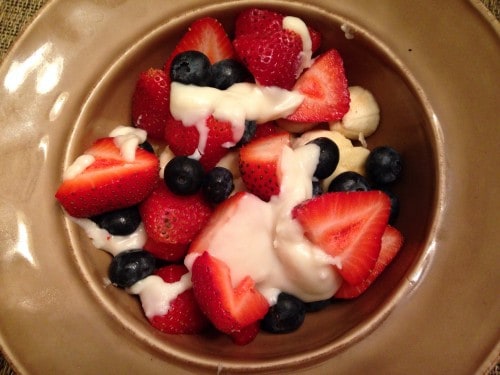 And then my bowl of fruit and coconut butter.  Takes no time at all and besides, after the kids are bathed I'm cutting up fruit anyway for their snacks and I just keep going to make a bowl for myself.  I've noticed digestive problems after eating raw apples, peaches and pears and so I've been sticking with this mix that is both delicious, healthy and stomach-friendly for me even with a long or hard run the next day.  5 minutes to prepare including warming the coconut butter.
Thanks so much to Jenn at Peas and Crayons for hosting the WIAW linkup!  Coming up with different themes for each week is fun and hopefully informative for people looking into a paleo lifestyle.
How much time do you put into meal prep/cooking for breakfast, lunch, and dinner?  Has your approach to the time you spend on meals changed at all over the years?  When is your biggest time challenge with cooking?