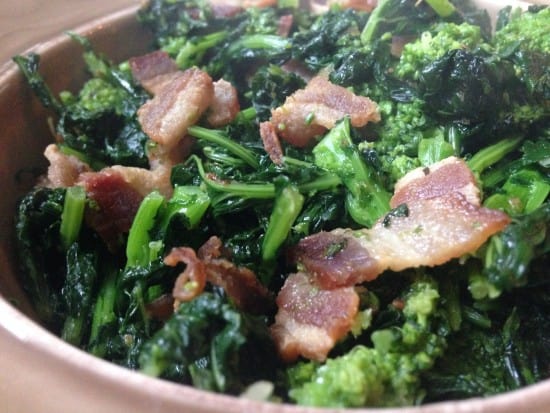 Hold me Bacon.  Yes I love you that much.  If you haven't checked out U.S. Wellness Meats yet for their Sugar Free Pork Bacon slices, you seriously must.  It's so good though that you have to sign up for restocking notices because they sell out immediately!  I'm sure I'm not hurting their business by buying 6 lbs at a time.  It's just really good okay?
So when I do have their bacon available I'm guilty of cooking everything with it.  The fat renders so clear and perfect that I like to cook everything I can in it.   And here's another secret about bacon: it takes the "bite" out of some of the more "biting" dark leafy greens out there, like broccoli rabe.
I like broccoli rabe, but pickier eaters aren't always so fond of it because it sure as heck can taste pretty "green."  Enter bacon and a few seasonings and poof!  Like magic it tastes a trillion times more picky-eater-friendly.  I'm not about to brag that my kids will eat this because they won't (they will stick to regular broccoli with butter thank-you-very-much) but I think my husband ate it and that counts.  Although I didn't actually see him eat it, he claims he did and he also said it's worth blogging.  So here you go husband, maybe you'll even make this for me one day?  Can somebody forward this to him because I don't think he opens my emails…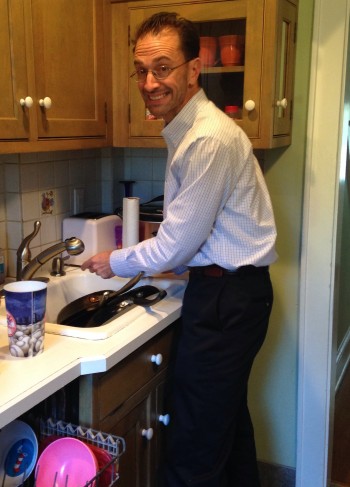 Simple Side Dish Recipe: Bacon Broccoli Rabe
Simple side dish recipe for broccoli rabe cooked with bacon and seasonings.
Prep Time: 5 minutes
Cook Time: 20 minutes
Total Time: 25 minutes
Course: Side Dish
Cuisine: Paleo
Servings: 4 servings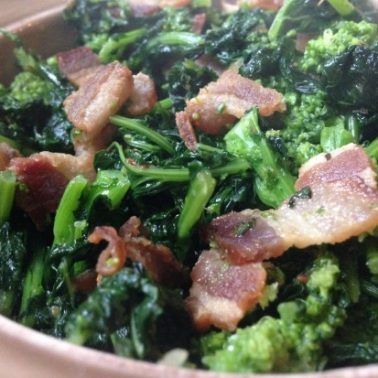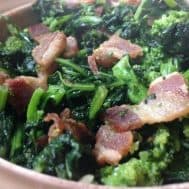 Ingredients
1 head of broccoli rabe thick stems removed and roughly chopped into 2-3 inch sections
6 slices thick nitrate free bacon, cut into 2 inch pieces
1/2 tsp onion powder
1 tsp pizza seasoning mine was Frontier brand
Instructions
Put a med-large pot of water seasoned with fine-grain sea salt on high heat to boil

In a large saute pan, cook the bacon over med-high heat until mostly cooked (not too crisp because you will cook the broccoli rabe with it shortly)

Drain a couple of tbsp of the rendered bacon fat (I recommend saving for later use!) and set the saute pan aside

When the water comes to a boil, add the broccoli rabe and cook for 1 minute. Drain in a collander and immediately rinse with cold water. Then squeeze excess moisture out with paper towels (don't go nuts with this!)

Return the saute pan with the bacon and rendered fat to med heat and add the broccoli rabe. Add the onion powder, pizza seasoning, and sea salt to taste and stir while cooking for about 5 minutes, or until the broccoli rabe and bacon are both cooked to preference. If desired or needed, add a bit more of the rendered fat from the bacon while cooking.

Serve with anything you want! Works perfectly as a side dish for anything, or you can toss with veggies noodles or spaghetti squash for a paleo "pasta" dish.
Then after you eat make your husband clean the dishes because dammit he doesn't have to know this was easy.  Look, you made bacon and that means you're a good wife who deserves a break.