These Paleo Pumpkin Spice Latte Blondies are a fun spin on your favorite hot fall beverage!  Soft fudgy pumpkin blondies flavored with lots of pumpkin pie spices and espresso are topped with a creamy frosting for the ultimate fall themed paleo blondies!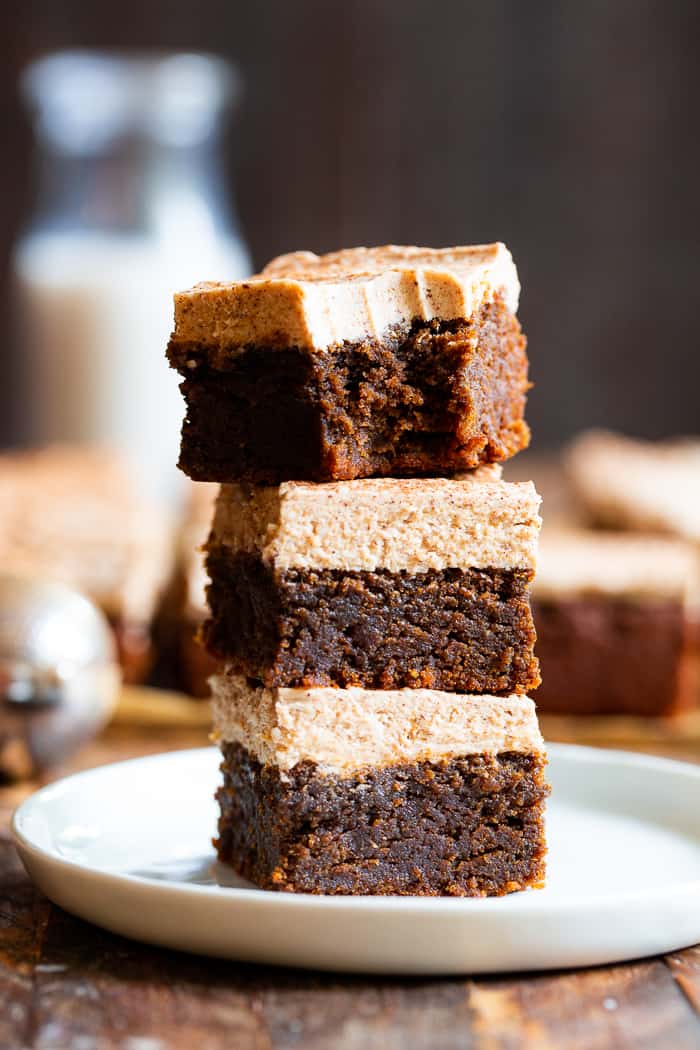 Whether you're a die hard fan of the favorite fall latte or not, let me let you in on a secret – you're going to LOVE these grain free and paleo blondies.
Between the warm spices and hints of coffee in the bars, to the sweet creamy frosting, these pumpkin spice latte blondies are delicious, period.
And yes, I have a thing for baking all things "PSL" flavored.  First it was cookies, then muffins, and now blondies.  Maybe next year we'll make a full on show-stopping triple layer cake!  The possibilities are endless.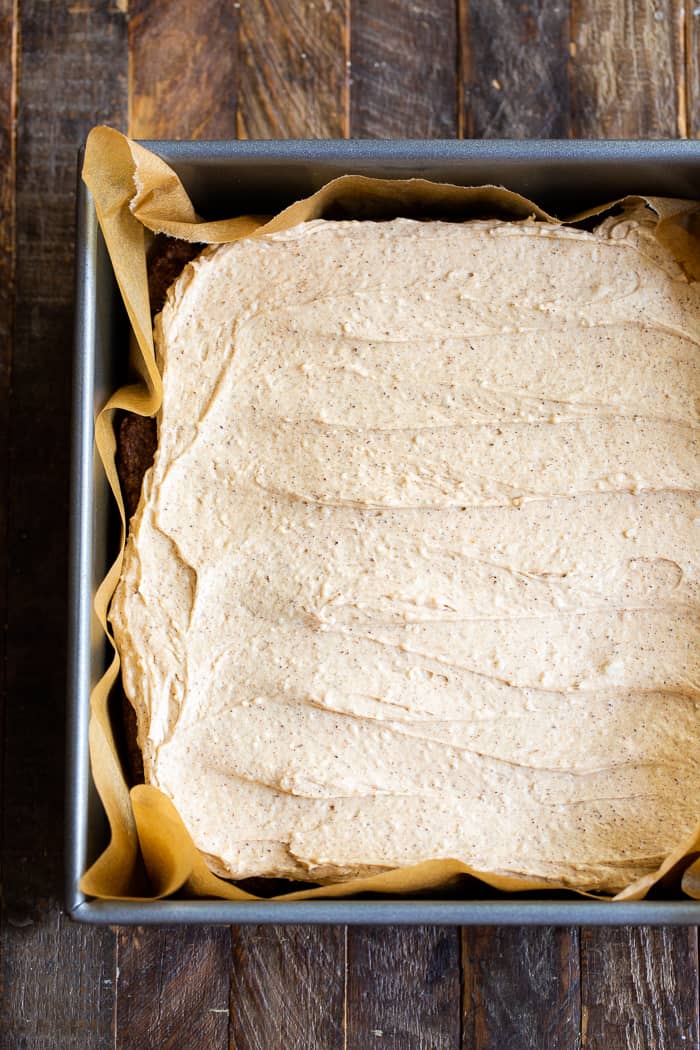 What You Need to Make Pumpkin Spice Latte Paleo Blondies:
Blondie Batter:
Blanched Almond Flour
Pumpkin Pie Spice and Cinnamon
Baking Soda
Espresso Powder
Fine Sea Salt
Ghee, coconut oil, or grass fed butter
Maple Sugar, or coconut sugar
Pumpkin Puree
Pure Vanilla Extract
Frosting:
Palm oil shortening, or grass fed butter
Raw honey, or pure maple syrup
Tapioca flour
Vanilla extract
Espresso powder
Pumpkin Pie Spice
Do I Have to Use Palm Shortening For the Frosting?
I like using palm oil shortening for frosting because it's dairy-free, cream colored (so makes a beautiful frosting!), has a neutral flavor and creates a light and creamy texture for frosting.
The only sub I recommend using for the palm shortening is grass fed butter.  Coconut oil will be too greasy, and ghee will give you a yellow frosting, and the texture can really vary between brands.
I love using this non-hydrogenated organic palm oil shortening from Amazon – it lasts a long time and never lets me down!  In addition to frosting, it's great to use in dairy-free, grain free pie crusts.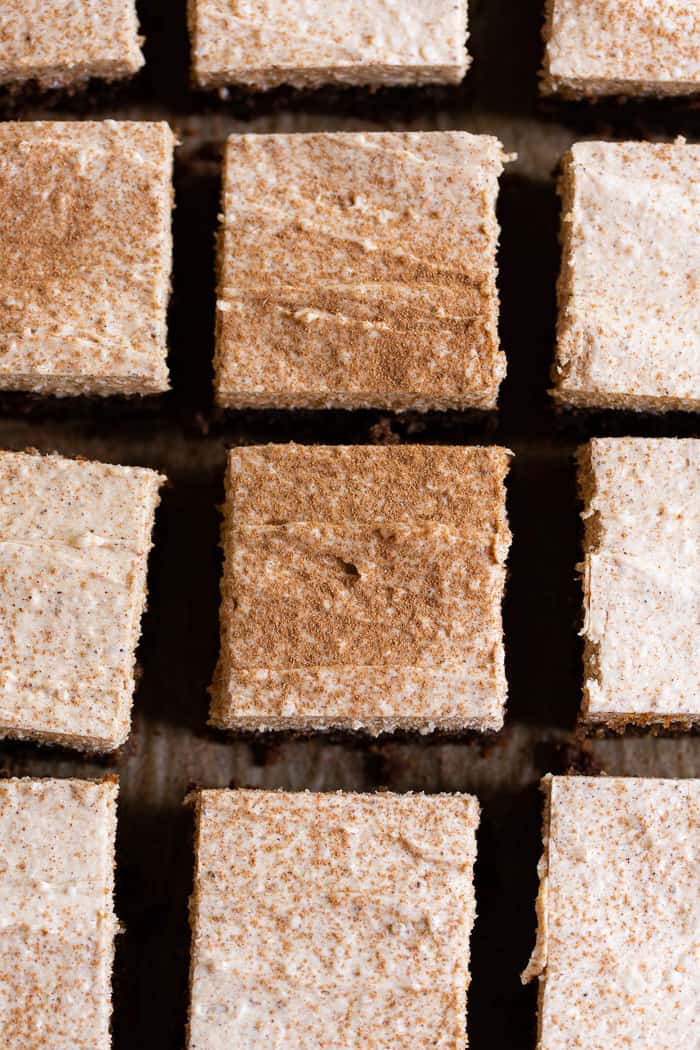 Baking and Storage Tips for these Pumpkin Spice Latte Paleo Blondies
The blondie batter will be on the thick side, so it's best to use a rubber spatula to smooth the top of the batter nice and evenly before baking.  After baking, it's best to cool the un-cut blondies in the pan on a wire rack until they reach room temperature.
Tip: I like to use the refrigerator to speed up the cooling time.  After they've cooled for about an hour, stick them in the fridge until chilled, and then frost.  After frosting, chill them again for about 20 minutes and they'll be really easy to cut into neat squares.
Storage Tip:  These blondies are best stored covered in the refrigerator. You can eat them straight from the fridge, or have them sit at room temp for about 30 minutes do they soften, if you prefer.  They'll last in the fridge for about 4-5 days.
You can also freeze them, unfrosted, for about 2 weeks, and then thaw completely in the refrigerator before frosting.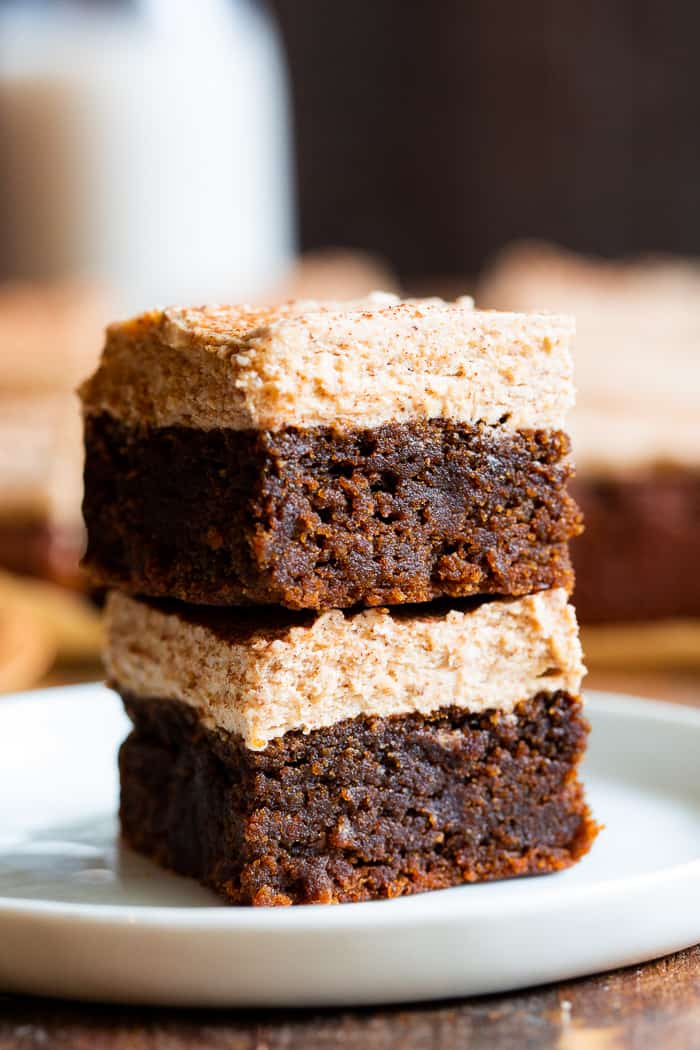 Can I Sub Anything for the Espresso Powder?
Espresso powder has a fine texture, making it perfect to mix into batters and even frostings!  However, if you can't get espresso powder, you can still give your blondies some coffee flavor with instant coffee crystals.  However, I don't recommend mixing instant coffee into the frosting since it won't be smooth.
I hope you're ready for a seriously FUN, delicious fall treat!  Grab your pumpkin puree, preheat your oven and get excited because it's time to bake these pumpkin spice latte paleo blondies – let's go!
Pumpkin Spice Latte Paleo Blondies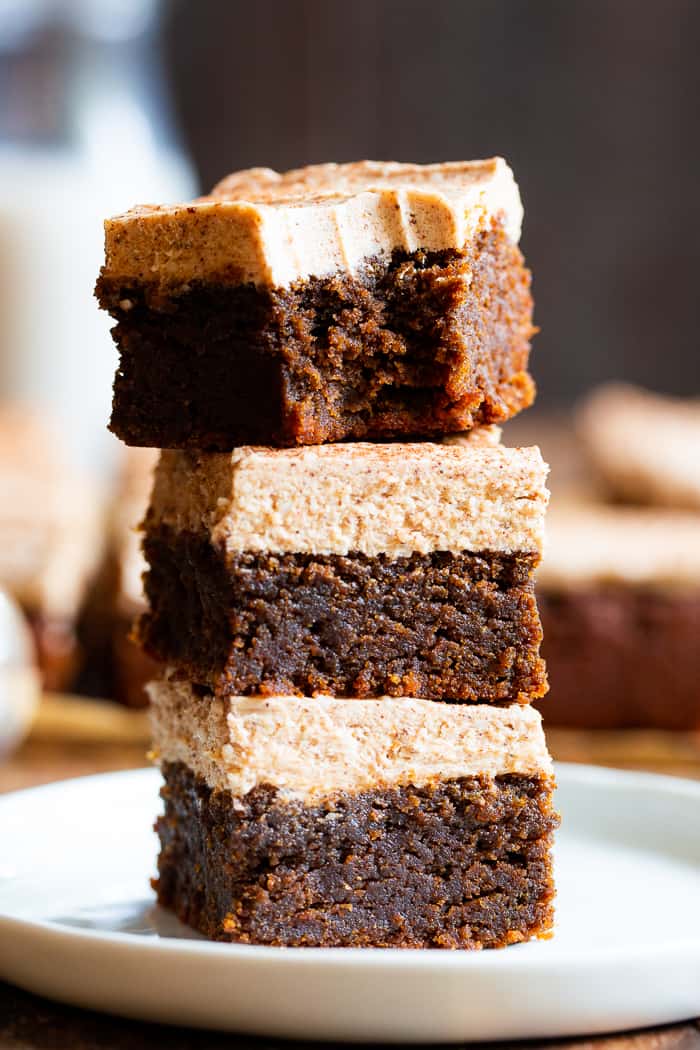 Pumpkin Spice Latte Paleo Blondies
These Paleo Pumpkin Spice Latte Blondies are a fun spin on your favorite hot fall beverage! Soft fudgy pumpkin blondies flavored with lots of pumpkin pie spices and espresso are topped with a creamy frosting for the ultimate fall themed paleo blondies!
Prep Time: 20 minutes
Cook Time: 20 minutes
Cooling Time: 2 hrs
Course: Baking/Dessert
Cuisine: Gluten-free, Paleo
Keyword: blondies, espresso, paleo blondies, pumpkin, pumpkin spice
Servings: 16 bars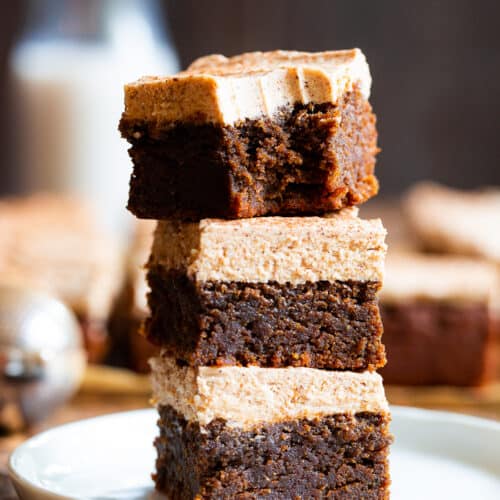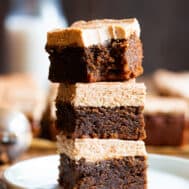 Instructions
For the Blondie Batter:
Preheat your oven to 350° F and line an 8 x 8" square baking pan with parchment paper on the bottom and up the sides.

In a mixing bowl, combine the almond flour, baking soda, pumpkin pie spice, cinnamon, espresso powder, and salt.

In a separate mixing bowl, using an electric hand mixer or whisk, cream together the ghee and maple sugar until smooth, then whisk in the pumpkin puree, egg, and vanilla. Mix until very smooth, the batter will be thick.

Stir or beat in the flour mixture until well combined. Using a rubber spatula, transfer the batter to the prepared pan, scraping the bowl and smoothing the batter evenly in the pan.

Bake in the preheated oven for 20 minutes or until just set in the center. Remove from the oven and allow to cool in the pan on a wire rack for 3 hours or more, until completely cooled. After about an hour, you can chill in the refrigerator if you want to speed up the cooling.
For the Frosting:
Before serving, make the frosting. In a large bowl, use an electric hand mixer to beat together the shortening or butter, honey or maple syrup, and tapioca until smooth and fluffy. Beat in the vanilla, espresso, pumpkin pie spice, and salt until well combined. Smooth the frosting over the completely cooled blondies, before cutting into squares.

I recommend chilling the frosted bars for about 20 minutes before cutting to make it easier, but this is optional. Use a sharp knife to cut into 12-16 squares before serving. Dust a little extra cinnamon over the top if desired. Store leftovers covered in the refrigerator for up to 5 days. Enjoy!
Nutrition
Calories: 233kcal
Carbohydrates: 12g
Protein: 3g
Fat: 20g
Saturated Fat: 8g
Cholesterol: 25mg
Sodium: 99mg
Potassium: 56mg
Fiber: 2g
Sugar: 8g
Vitamin A: 1206IU
Vitamin C: 1mg
Calcium: 32mg
Iron: 1mg
Shop Products and Ingredients:
Want More Paleo Pumpkin Treats?  Try One of These!
Pumpkin Chocolate Chip Cookies
Fudgy Pumpkin Chocolate Chip Blondies 
Paleo Pumpkin Cupcakes with Maple "Cream Cheese" Frosting 
Note: This post contains Amazon affiliate links. This means that if you click on a link and make a purchase, I will receive a small commission at no cost to you. Thank you for supporting The Paleo Running Momma!