A healthy and nourishing version of a summer favorite!  This pina colada protein smoothie is perfect as a quick meal or a refreshing yet filling snack, and has paleo and vegan options.   Whip it up in your blender in less than 5 minutes!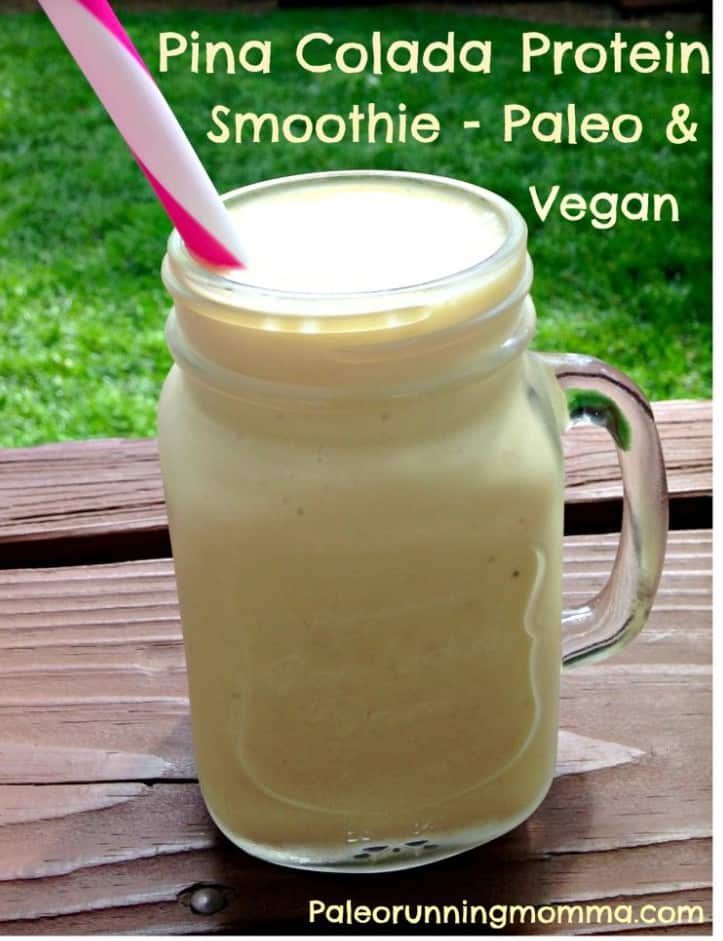 I know you guys saw this recipe briefly on my WIAW post this week, but I actually wound up making this, and drinking it, 3 days in a row.  I had to test out the different protein powder/vanilla options and was getting really confused.
I'm not going to hashtag foodbloggerproblem because I really can't even joke about any of that being a problem, especially because each version came out delicious, and, I would've made a smoothie anyway given the weather we've had.  The only problem I encountered was trying to keep the little bugs away outside when taking pictures. With the 90 degree humid weather this week it means lots of little bugs are just hanging out everywhere.  Step away from my recipe, bug.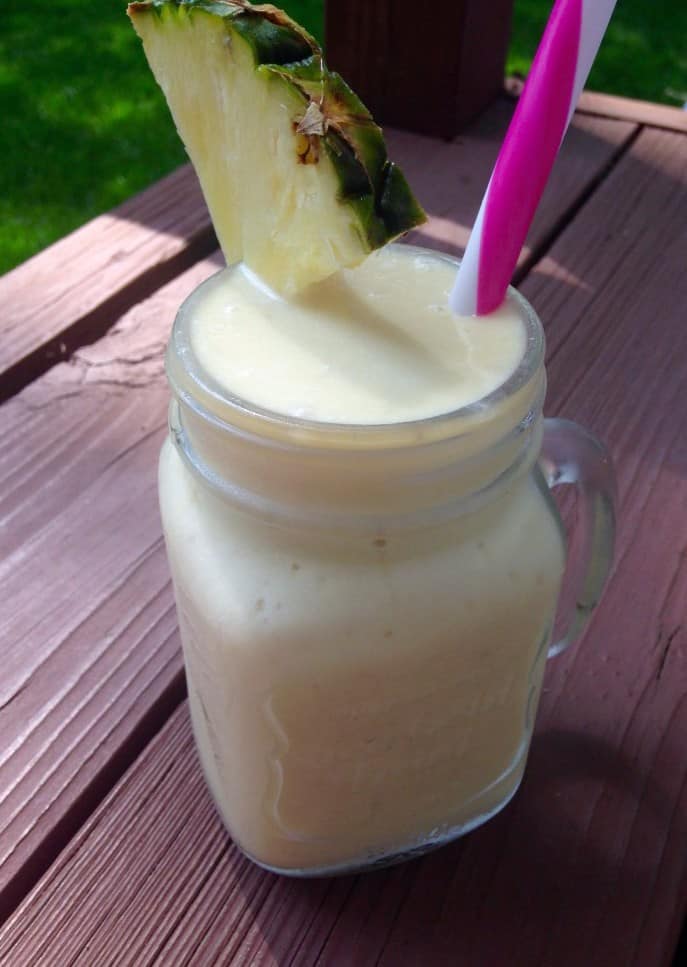 My only warning about this smoothie (don't be scared) is that with the protein powder it's really quite filling, so don't let it spoil your dinner like I did before I realized it was already after 4pm.  I'm always nagging my kids not to snack after 4pm and yet I continue to make the same mistake myself.  Then again, I'm much more open to the rule that we have to finish our dinner before we get dessert.  Or at the very least, I can commit to eating the leftovers with breakfast.  In fact, I can commit to eating anyone's leftovers in my breakfast because we all know that's just how I roll. Have you seen my Instagram?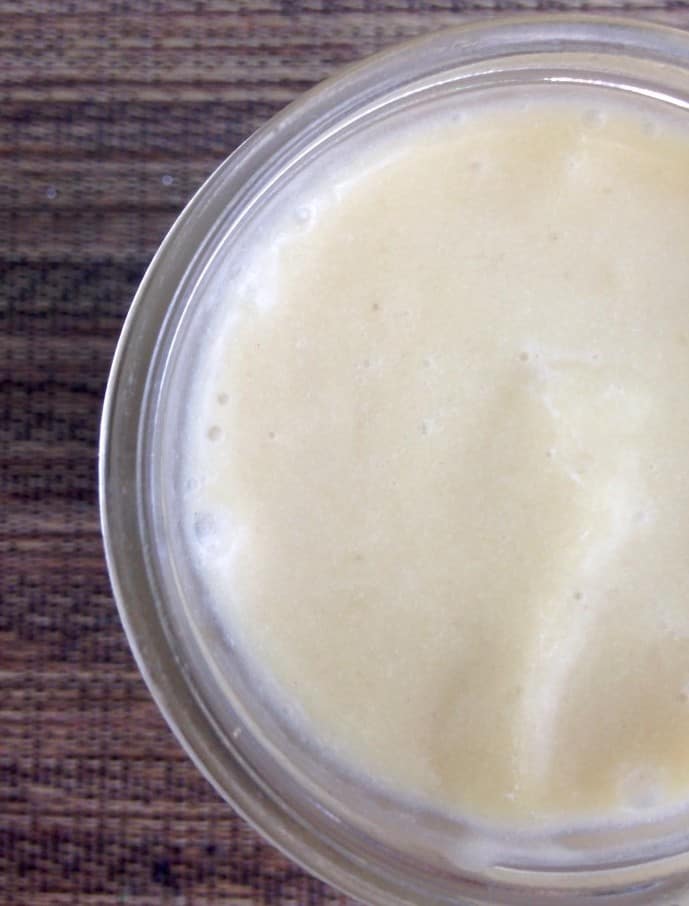 Wanna know something else really cool about this smoothie?  My kids liked it!  And so did Adam!  Of course, I made the non-protein version for them because I'm not really into protein powder for my kids.  Let them discover the wild world of protein supplementation on their own, when they're much older, right?  For now though, I'm very happy to let them enjoy a whole foods smoothie that tastes like a dessert.  I'm gaining even more respect for bananas lately, if that's even possible.  What are they not good for?  I mean, besides surviving past 2 days in this weather.   I haven't quite adjusted to the banana turnover rate this summer and keep winding up with brown ones!  But anyway, here we go…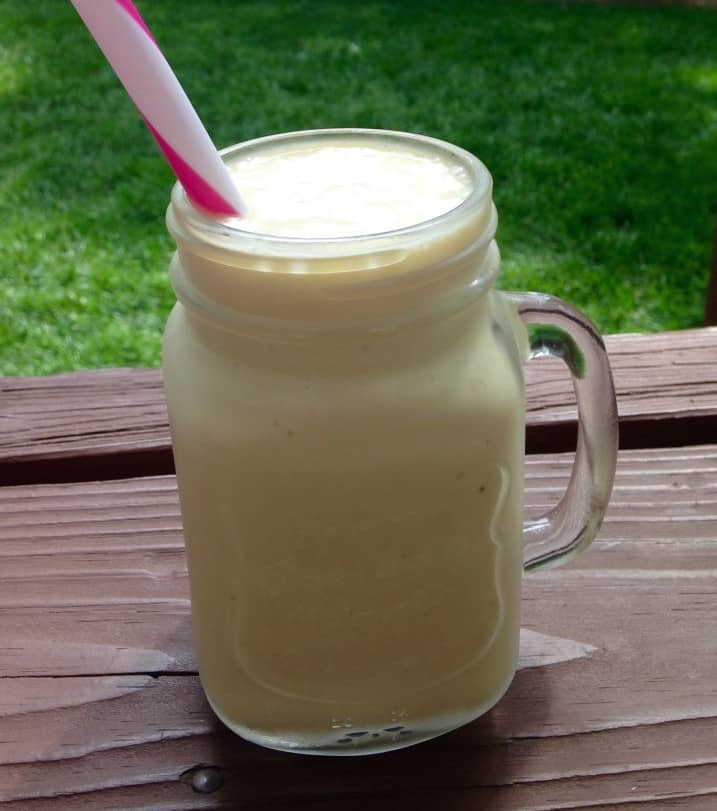 Pina Colada Protein Smoothie
A healthy and nourishing version of a summer favorite, this creamy and refreshing pina colada protein smoothie is perfect for a quick meal or filling snack. Paleo and vegan options.
Prep Time: 5 minutes
Total Time: 5 minutes
Course: Smoothie
Cuisine: Paleo or Vegan
Servings: 1 serving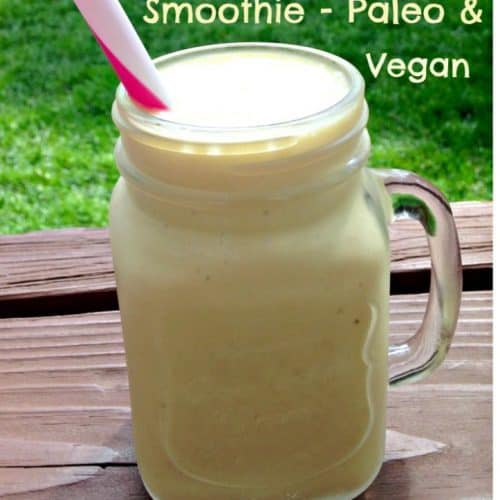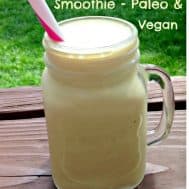 Ingredients
1 and 1/2 cups frozen pineapple
1 banana
2/3 cup almond milk or favorite non-dairy milk
3 tbsp full fat coconut milk
1 tbsp plant based vanilla protein powder like Skoop B, or 1 tbsp plain egg white protein + 1 tsp vanilla extract
* If you want to omit the protein powder just add the 1 tsp of vanilla extract
Instructions
Blend all ingredients in a blender until thick and smooth and serve right away, with a pineapple wedge to be fancy!

Enjoy!
What's the weather like by you? Does it get buggy?
Do you eat snacks too late in the afternoon and spoil your dinner?
What's your favorite tropical drink?