There is so much hearty flavor is this savory Chorizo Butternut Pizza Hash that it's sure to become a favorite dish for any time of day!  Diced butternut squash is cooked with chorizo until toasty brown and then baked with spinach, pizza sauce and eggs.  It's paleo and Whole30 friendly, and ready in 20 minutes!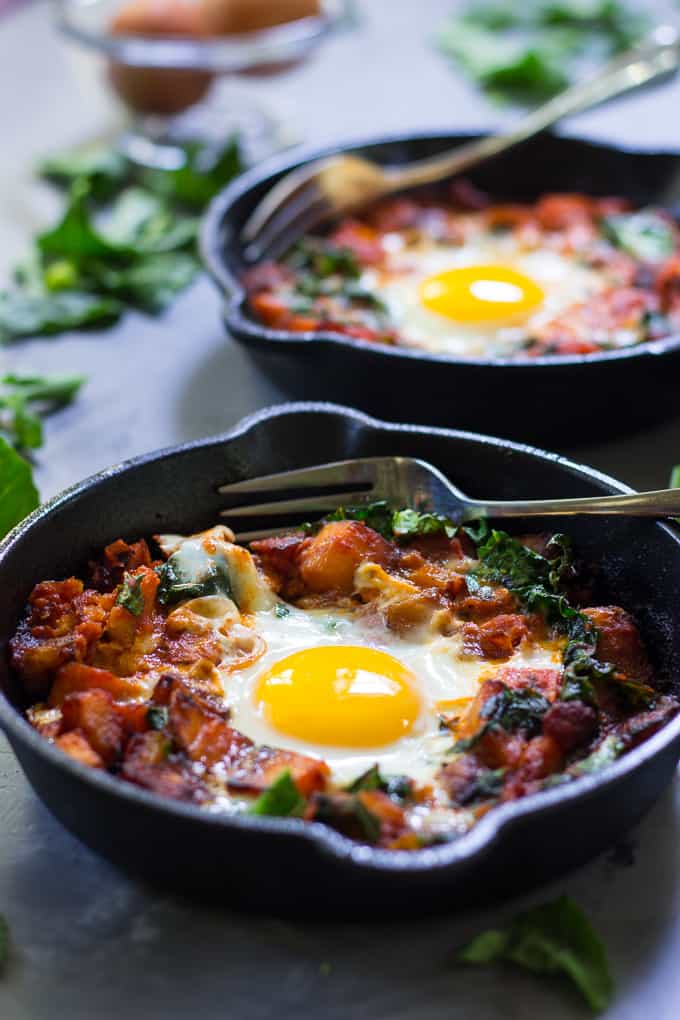 Guys, I wouldn't want you to forget about my undying love for sausage.  Without it, half my recipes wouldn't exist in the first place.  This one is no exception!  Whether it's sweet italian, andouille, chorizo, or breakfast sausage, I sort of feel like I could just go on about it like Bubba from Forest Gump did with shrimp.  Sausage is really good with shrimp, too.  Okay, back on topic.
You know what else I've always loved, because I'm human and not just a paleo ET?  That would be pizza.  Living in Queens as a kid eating some of the best pizza in the world (my opinion) there's no way I could escape a burning love for pizza.  In fact, sausage pizza was my number one favorite, if someone had made me choose, for most of my life. Spinach, too, believe it or not!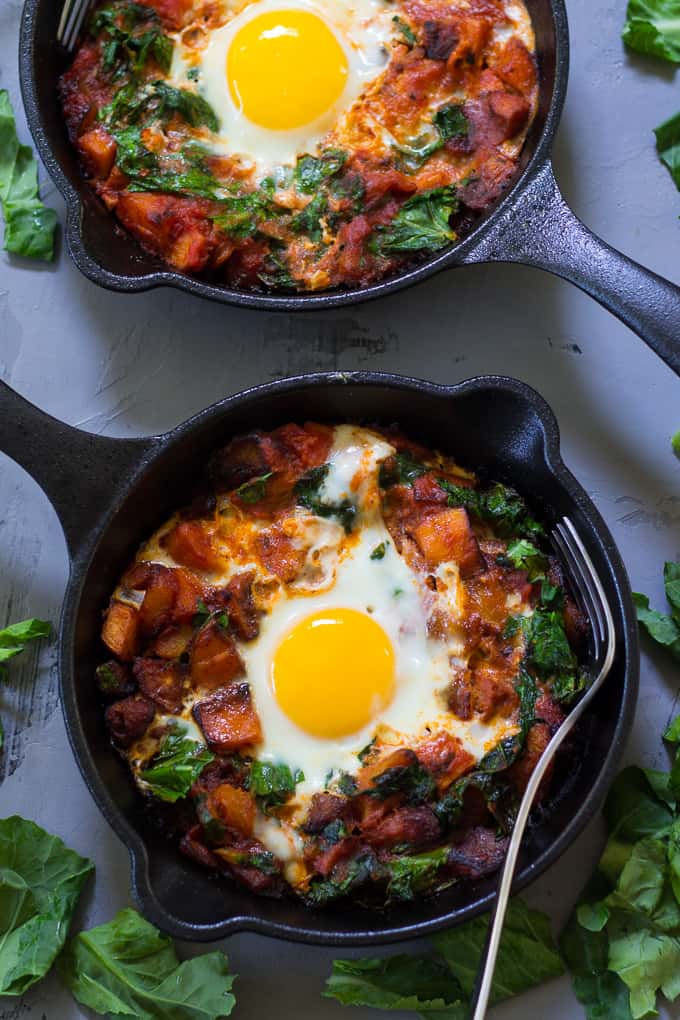 I've had pizza on the brain ever since last week when I created a gluten free and paleo pizza board on Pinterest. Because as far as I'm concerned on Pinterest there are no rules – I mean, you can pin anything you want and just stare at it without having to do anything else.  I have to say, I really like that and I'm starting to understand the Pinterest addiction.  Looks a little dangerous, but I'm feeling like I can handle it, at least for now 😉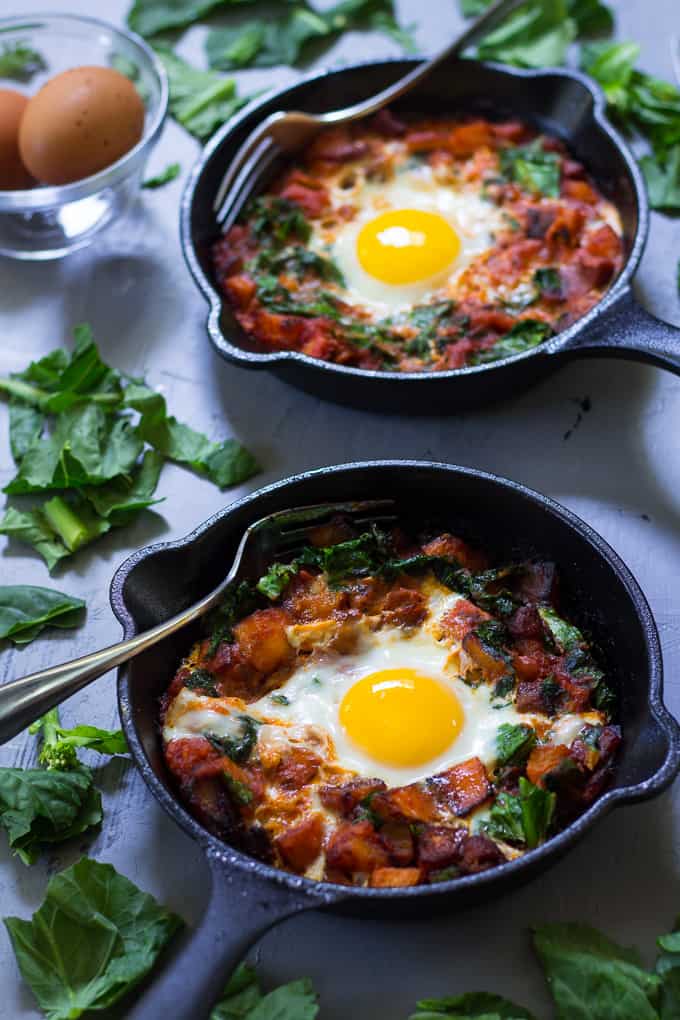 Anyway, I'm sort of on the impulsive side so after staring at pizza I decided to cook up a little version of my own, except in a hash, because it's easy, quick, and super nutritious.  This Chorizo Butternut Pizza Hash is both Paleo and Whole30 friendly, as long as your sausage does not contain added sugar.  I purchased mine from Whole Foods, but I've found many local grocery stores who make their own sausage will not add sugar.
I chose chorizo for this recipe rather than Italian sausage for no reason other than it looked really awesome in the store and I haven't had it in a while.  A spicy Italian sausage would also work really well, and, of course would be more authentically Italian.  I'm going to be honest, any spiced meat makes me happy and whatever you decide to use for this is sure to be delicious!
Chorizo Butternut Pizza Hash with Baked Eggs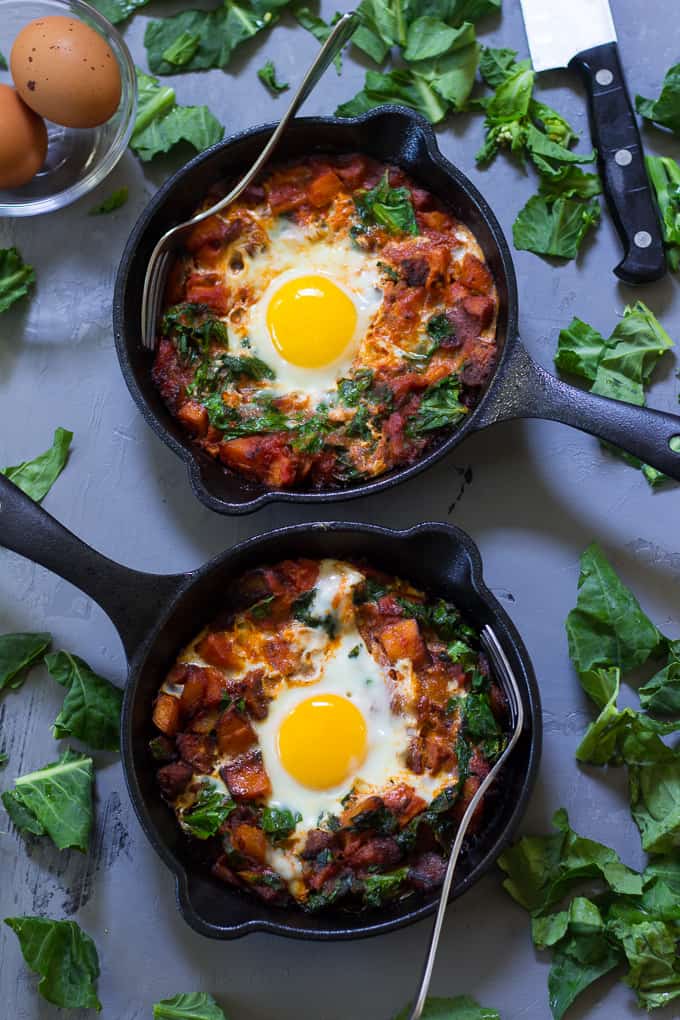 Chorizo Sausage Pizza Hash with Butternut Squash
A savory chorizo butternut pizza hash with spinach and baked eggs. Paleo and whole30 friendly, gluten free, grain free, and dairy free.
Prep Time: 10 minutes
Cook Time: 15 minutes
Total Time: 25 minutes
Course: Breakfast/Brunch/Anytime
Cuisine: Paleo
Servings: 2 -4 servings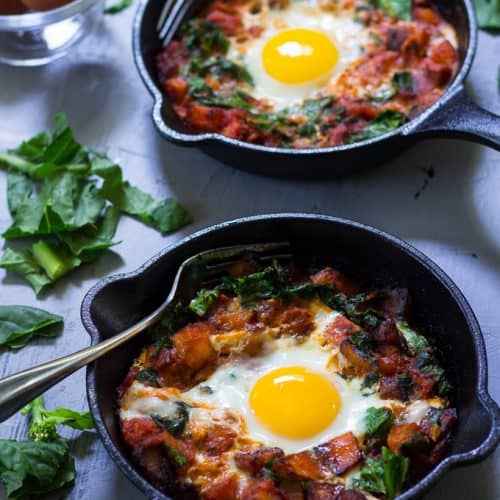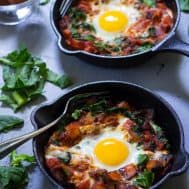 Ingredients
1 tbsp ghee coconut oil, or preferred cooking fat
2 cups diced butternut squash
1/2 lb chorizo pork sausage precooked (either buy pre-cooked, or, precook prior to beginning) and diced - check labels if you need a Whole30 compliant sausage (sugar-free)
dash of crushed red pepper*
1/4 tsp oregano*
2/3 cup of your favorite pizza sauce or marinara sauce
Large handful fresh spinach chopped
2-4 eggs
Salt and pepper to taste
Instructions
Preheat your oven to 400 degrees

Once the skillet is hot, add the diced butternut squash and cook, stirring occasionally, until it is a light toasty brown.

Once the butternut begins to brown, add the chorizo to the pan (remove the casing first if it has one) and stir. Add the crushed red pepper and oregano as well as you cook.

Add the pizza sauce and spinach and stir to combine. Cook and stir for a minute or 2 until heated through.

To add the eggs, create grooves where you will put each egg and carefully crack each one into the space. Sprinkle salt and pepper over them to taste.

Put the skillet in the oven to allow the eggs to bake into the hash until cooked to preference, 5-15 minutes depending on how well done you'd like them.

Once eggs are cooked, remove from oven and let the skillet sit for 5 minutes before serving. Serves 2-4 people and will save well for leftovers. Enjoy!
What I Used To Make My Butternut Chorizo Pizza Hash:
So, Tell Me!
What's one food you could go on and on about, Bubba style?
What's the best pizza you've ever had/where was it from?