These flourless triple chocolate Paleo sweet potato brownies taste ultra rich but are actually good for you!  Melted chocolate, cocoa powder and dark chocolate chips make them incredibly fudgey and packed with chocolate flavor.  Gluten free, grain free, dairy free, Paleo.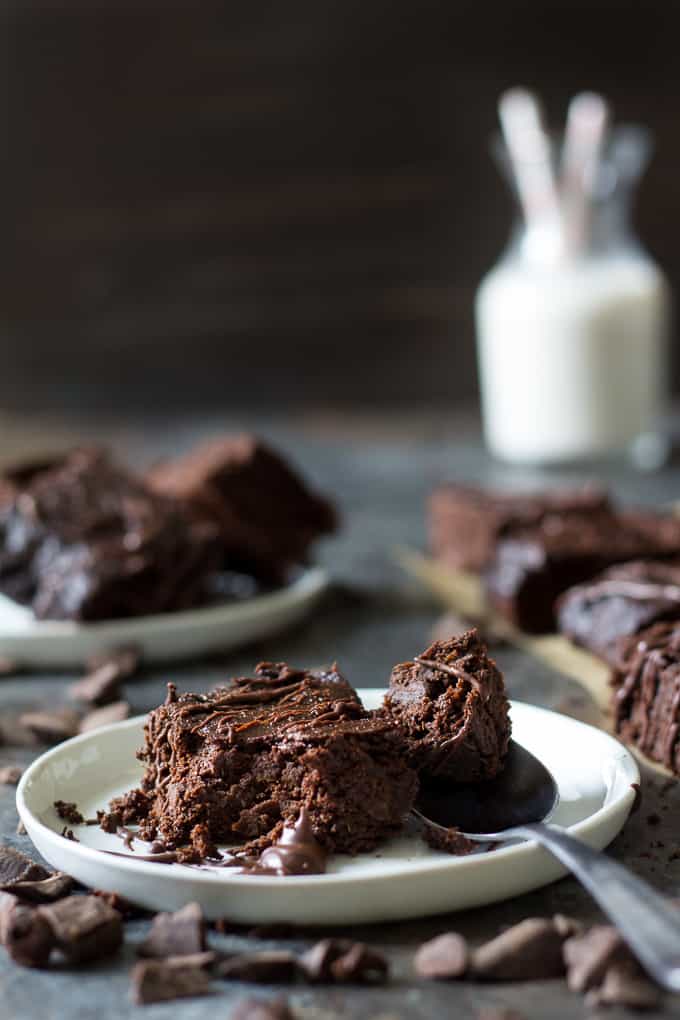 There is something about brownies that brings out my inner "keep-adding-chocolate" urge.  As in, I literally do not have the discipline to STOP adding different types of chocolate to my brownie recipes.
Whether it's an extra fudge layer on top, caramel frosting with chocolate chunks (holla!) or my triple  chocolate pumpkin ones with 85% dark chocolate thrown into the batter, um, just because.  I just can't stop!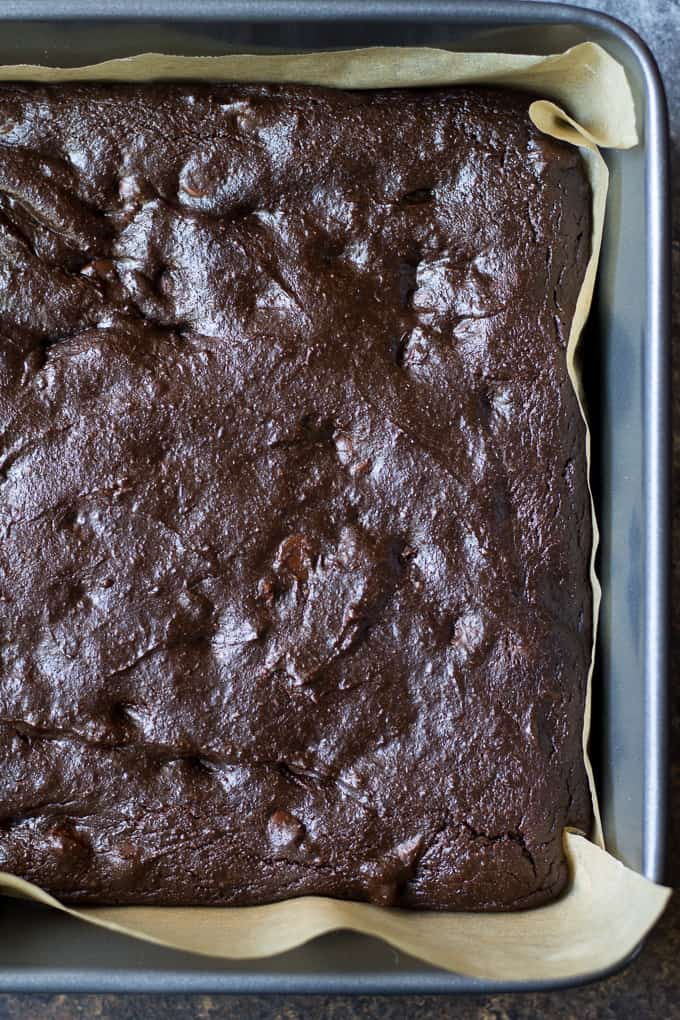 I think it's actually very simple – you cannot mess up brownies by adding TOO MUCH chocolate – they only get fudgier, richer, and chocolate-ier, which I suspect is what you want if you're making brownies to begin with.
I don't typically hang out with chocolate haters (we can still be friends, but, just saying.)  Even still, I can't imagine hearing a person say, after biting into a rich fudgy brownie "these brownies are okay, but, I dunno, too much rich chocolate flavor." No.  People don't say things like that after biting into a brownie.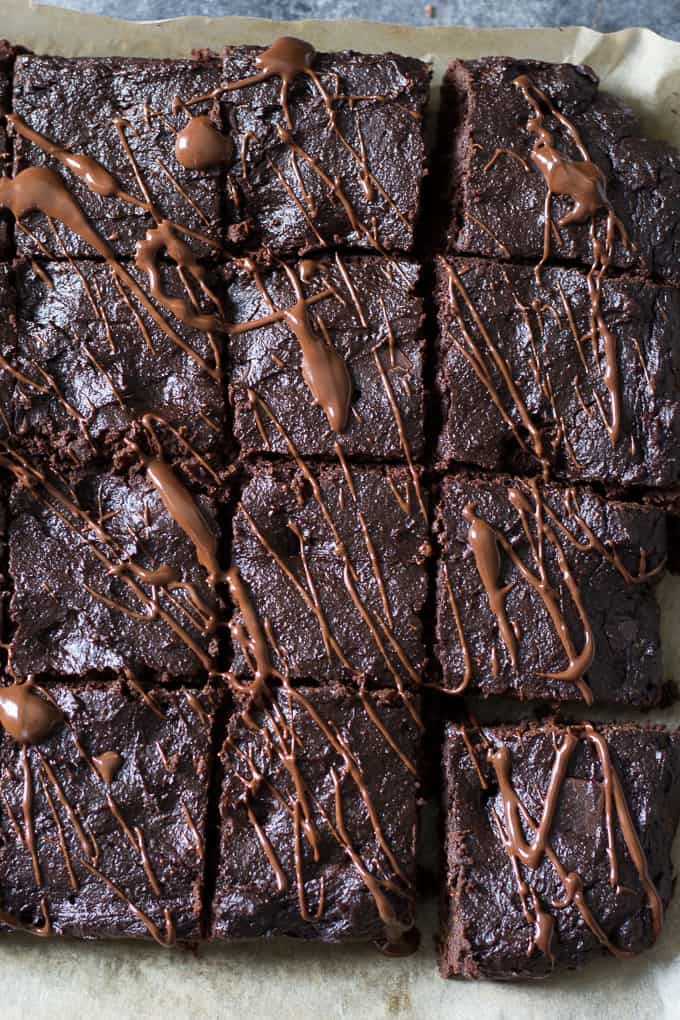 Now, even if you did know before eating one that these incredible brownies are made with sweet potato and happen to be Paleo, you definitely would NOT say, after biting into one – "I taste the sweet potato."  Because, you 100% cannot taste the sweet potato in these brownies.
Much like pumpkin brownies, the sweet potato only adds to the texture, and, of course provides some natural sweetness and other good things!  Good things like vitamins, fiber, and healthy, "real-food" carbs.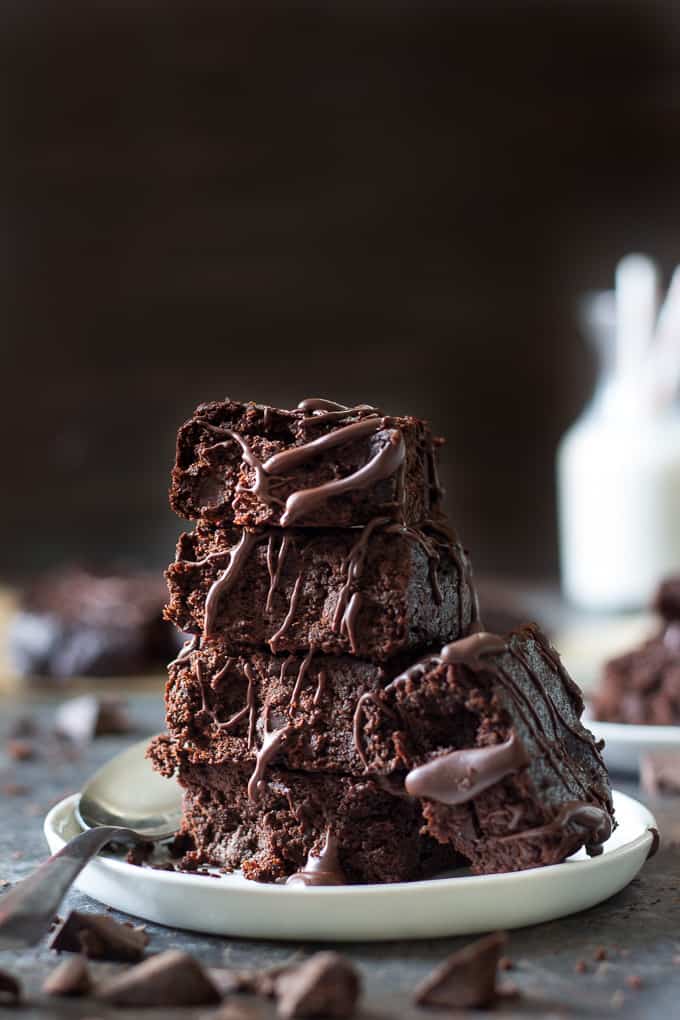 But, maybe you can't totally trust me on the whole "you can't taste the sweet potato" because I'm so far gone into Paleo eating that I wouldn't know the difference.  Totally valid point – sweet potato is all I know of life some days, or something.
BUT my picky and (sometimes) gluten + sugar-eating children and husband went wild for these brownies too – I wound up making 2 batches in a week because they were such a hit.  My middle daughter Emily legit said "these are the best brownies I've ever had."
I will say that she tends to live in the moment, so take it with a grain of salt, but, at least in that moment she believed they were the best.  And, she actually cannot stand sweet potato otherwise.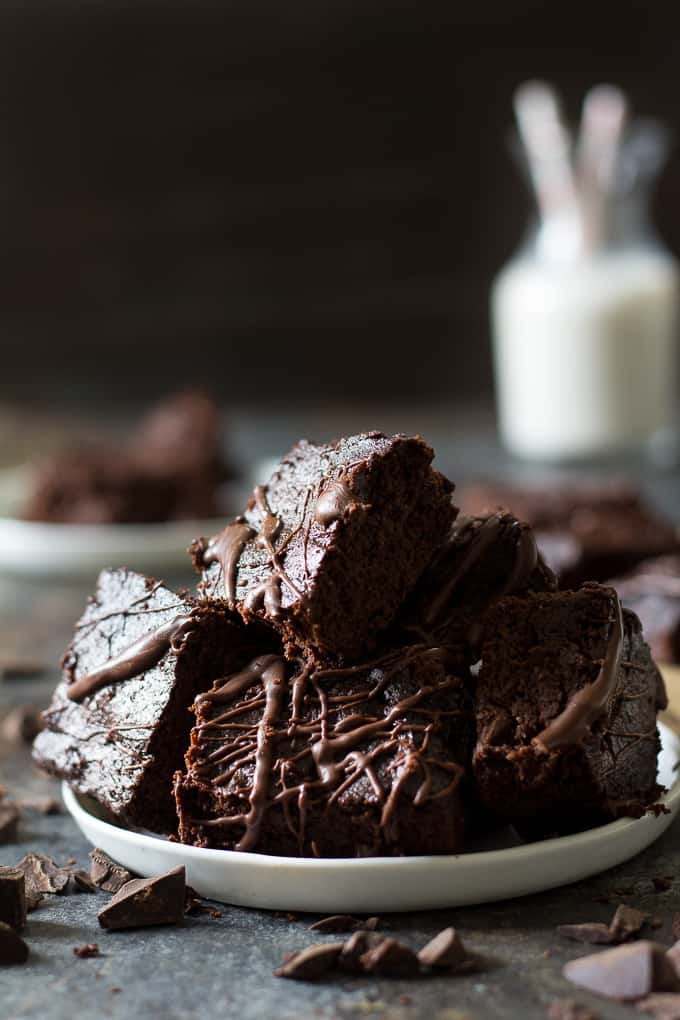 For the sweet potato mash/puree in these, I simply wrapped a sweet potato in foil and baked until soft, then scooped out the inside and mashed it well.   If you want to go super easy, you can purchase organic canned sweet potato and it will work just fine for the brownies!
One other note – make sure you allow these brownies to cool completely before slicing, since all the melted chocolate will make them very gooey before they're totally cooled.  You can always stick them in the fridge or freezer to speed up the cooling!  Now let's start baking…
Fudgey Triple Chocolate Paleo Sweet Potato Brownies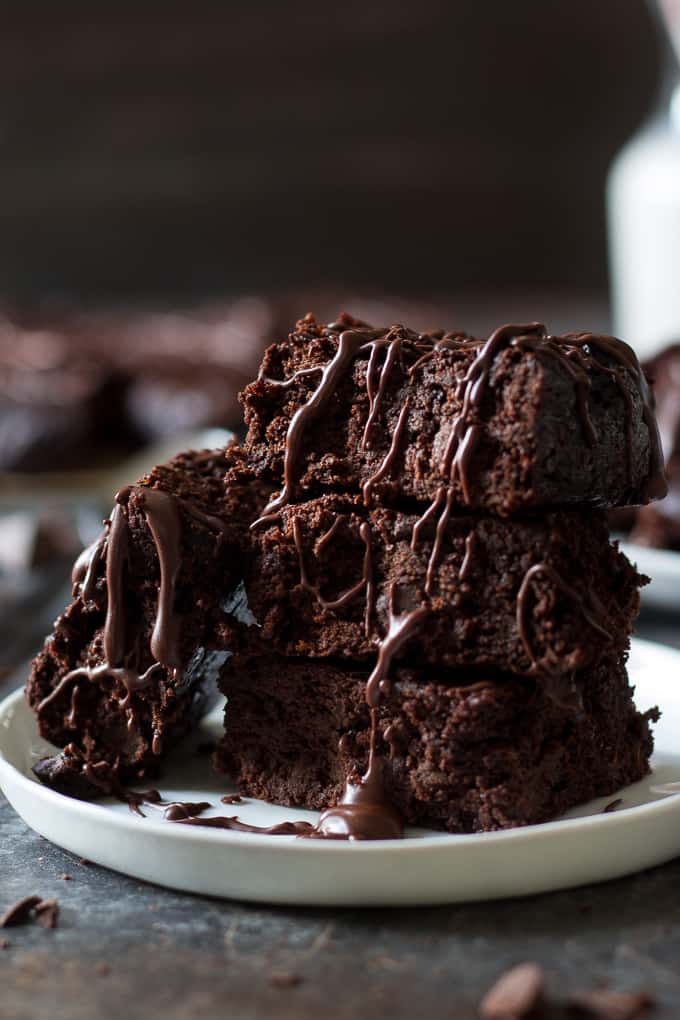 Triple Chocolate Paleo Sweet Potato Brownies
These fudgey triple chocolate sweet potato paleo brownies are packed with chocolate flavor and have an ultra rich texture that tastes purely decadent, yet they're good for you! Paleo, grain free, dairy free, flourless.
Prep Time: 10 minutes
Cook Time: 25 minutes
Total Time: 35 minutes
Course: chocolate, Dessert
Cuisine: Paleo
Servings: 16 brownies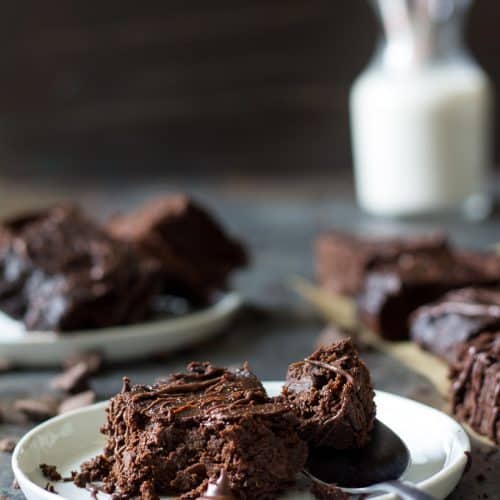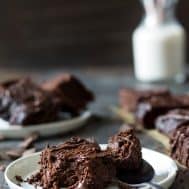 Instructions
Have all your ingredients at room temperature, measured and ready to go before beginning. Preheat your oven to 350 degrees and line a

square 8" baking pan

with parchment paper***

In a medium saucepan over low heat, melt together the unsweetened baking chocolate and almond butter, stirring, until smooth, then remove from heat.

Stir in the sweet potato puree, coconut sugar, and vanilla and beat well. Then, beat in the egg and egg yolk until creamy.

In a separate small bowl, combine the cocoa powder or cacao, coconut flour, baking soda and salt. Mix the dry ingredients into the wet (still in the saucepan) until just combined, being careful not to overmix.

Finally, stir in the dark chocolate chips. Transfer the batter into the prepared baking pan using a rubber spatula to scrape all the brownie batter into the pan and spread evenly.

Bake in the preheated oven for 20-25 minutes, being careful not to overbake. Remove from oven and allow to cool in the pan completely (2 hours) before cutting into squares and serving.

Optional - make a drizzle with 1/4 cup dark chocolate morsels and 1 tbsp coconut butter and microwave in a small bowl to melt, then drizzle over the brownies to serve. Enjoy!
What I Used to Make My Triple Chocolate Paleo Sweet Potato Brownies


Want more Paleo brownie recipes?  Try one of these!
Chocolate Chip Cookie Dough Fudge Brownies
Double Fudge Almond Butter Brownies
Flourless Brownies with Caramel Frosting
Paleo brownies on the web:
Tell Me!
What's something no one would ever say after biting into a brownie?
Do you like chocolate chips/chunks added to brownies?  Other favorite brownie add-ins?