These baked Paleo Lemon Poppy Seed Glazed Donuts are surprisingly easy to make and healthy enough for breakfast, yet they taste like a decadent dessert!  Made with almond flour and finished with a dairy free sweet and tangy maple lemon glaze, they're gluten free, grain free, Paleo, and perfectly dense, soft and moist.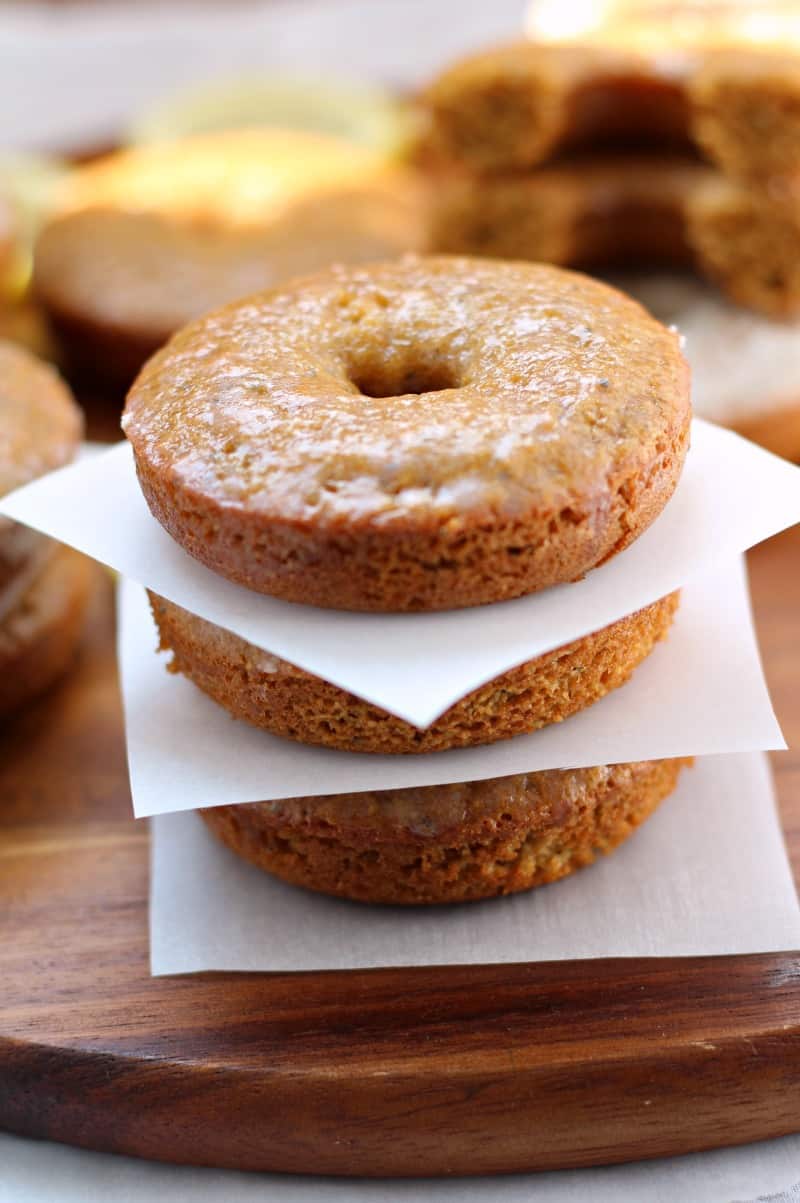 Did you know I almost forgot that I made these Paleo lemon poppy seed donuts?  And do you know why?  Truth be told: (and I'm not sure this is something to brag about) I made a dozen of these donuts last Friday morning, and, by the time the kids went to bed there were two left.
By the next morning even those were gone, and since chaos ensued Saturday night I completely forgot about these donuts.  I guess 10 in one day isn't all that much considering we are 5 people, however I only ate one, so…someone had more than their share and that person is not letting me know who they are.
It really doesn't matter (as I said yesterday, always bigger battles to fight) and honestly I will take the sneaking as a sign that these donuts are sneak-worthy, AKA as a compliment.  Because there's really nothing worse than making a new recipe that no one but you will touch.  I just don't trust my tastes that much!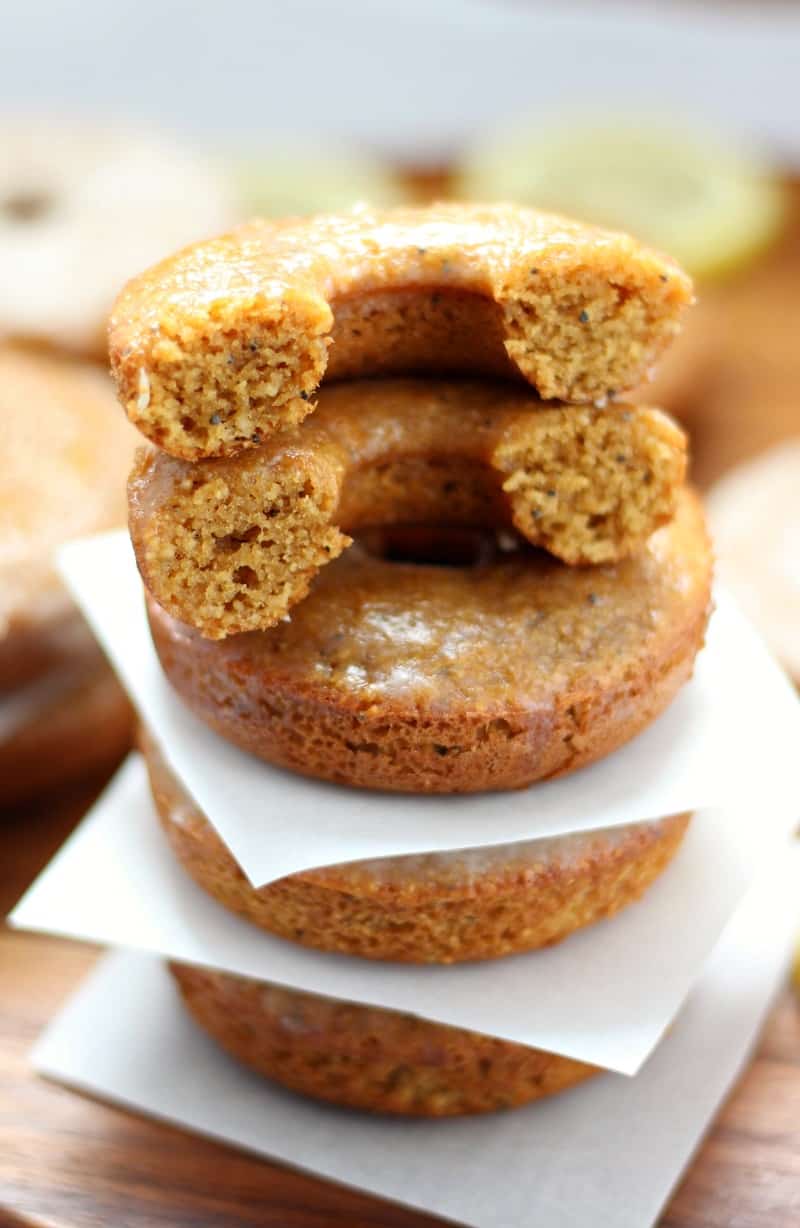 But now that I'm done bragging (I guess I was bragging after all in case you didn't catch that), I'll tell you the story behind why I made these Paleo Lemon Poppy Seed Donuts hopefully without boring you to tears!  If you do start crying though I give you permission to scroll down to the recipe and whip out your donut pan.
I originally was planning to make Paleo lemon poppy seed muffins – and – here's a secret – if you don't have a donut pan you can make these in a muffin pan and ride off into the lemony sunset just as happy as if you'd made donuts.  Really, they're Paleo, it's sort of all the same.
Anyway, I wanted to glaze them or ice them with something and donuts just seemed like a better idea than glazed muffins.  I guess glazed muffins are sort of like cupcakes anyway, right?  Off subject.  So, I made the executive decision to whip out my own donut pan, which I've had for over a year and have used all but once, and not even for my own recipe.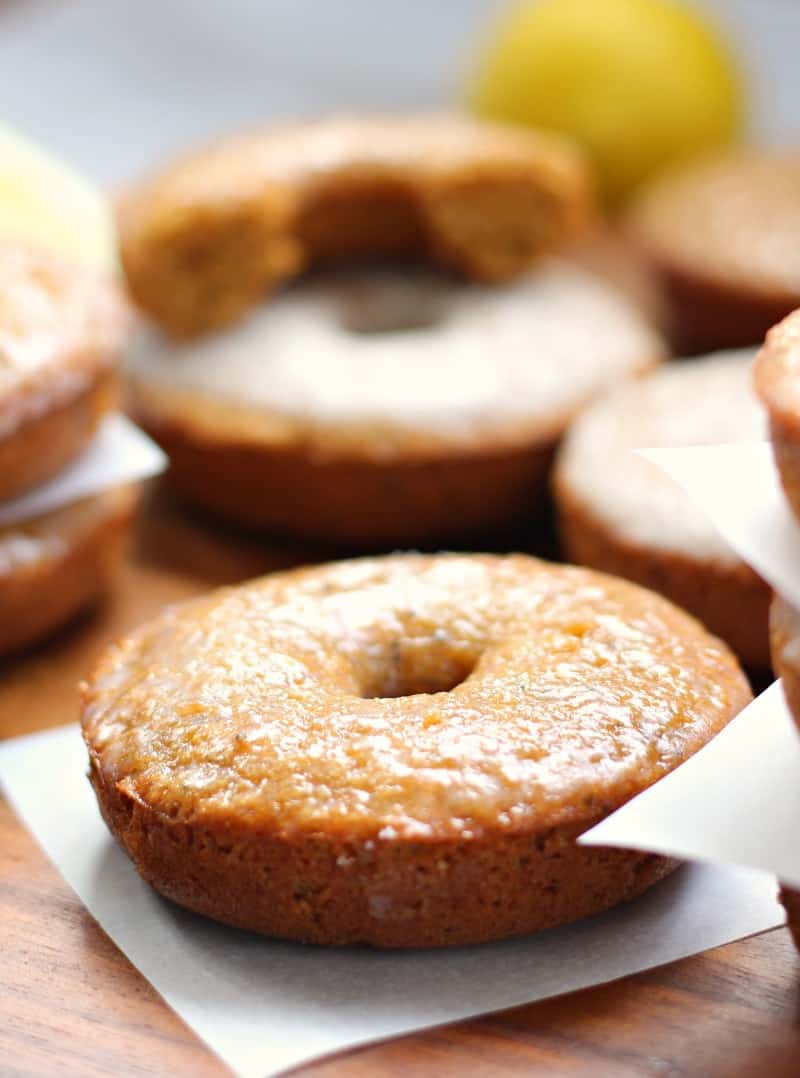 These Paleo Lemon Poppy Seed Glazed Donuts have a definite lemony-sweet flavor, especially with the glaze, but I also used almond extract in both the donut and glaze because I love the way almond and lemon flavors mesh together!  The glaze mixes the flavors of maple, lemon, and coconut and I literally had to stop myself from drinking too much of it so I had enough to glaze the donuts.
Another secret (um…what was the first?) is that you can double glaze these if you want for a thicker and sweeter topping.  I glazed half once and the other half twice and both were delicious – the double glazed ones were a major hit with my kids, and, probably the reason for the sneaking.
Enough donut chat though and let's start baking!  I'll be making these again right along with you, and this time hiding a few so I can eat more than one 🙂
Paleo Lemon Poppy Seed Glazed Donuts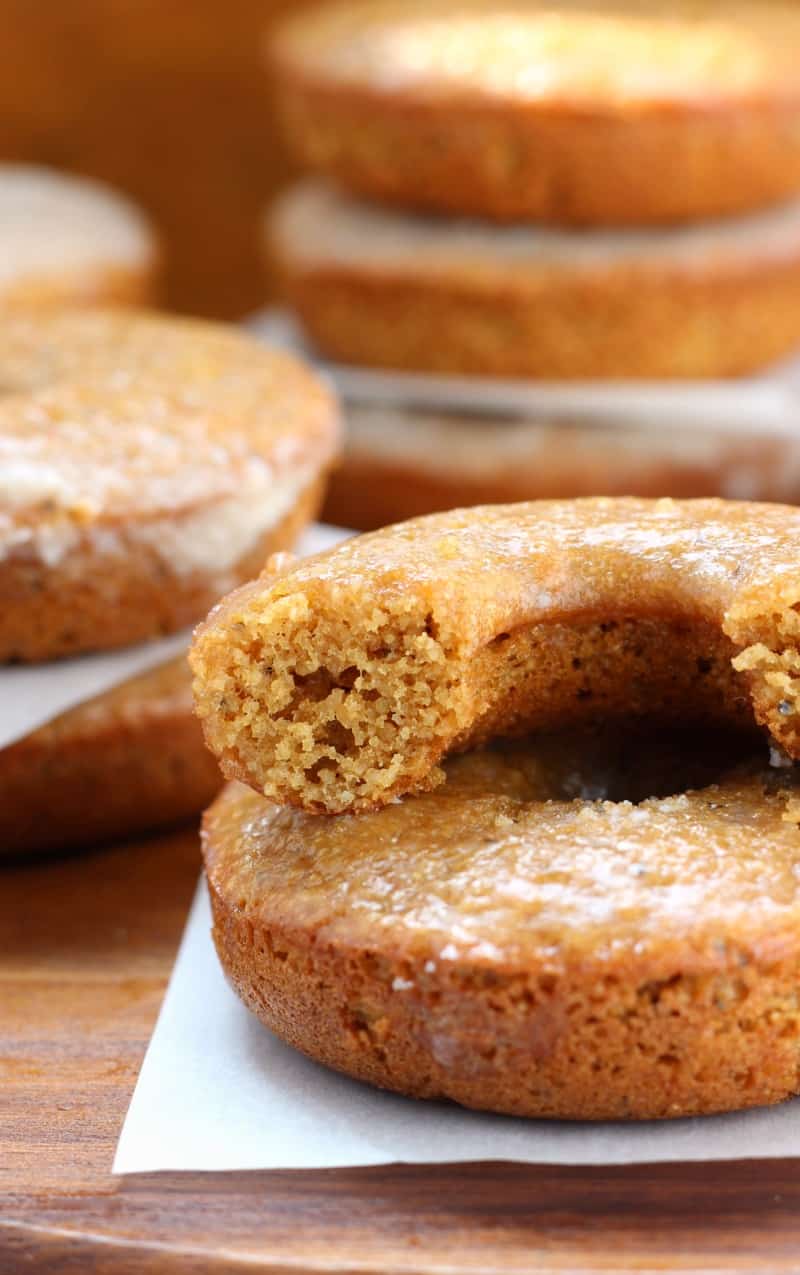 Paleo Lemon Poppy Seed Glazed Donuts
Paleo Lemon Poppy Seed Donuts with a Maple Lemon Glaze that are surprisingly easy to make and healthy! They're grain free, gluten free, dairy free, and Paleo.
Prep Time: 20 minutes
Cook Time: 15 minutes
Total Time: 35 minutes
Course: Breakfast/Snack/Dessert
Cuisine: Paleo
Servings: 12 servings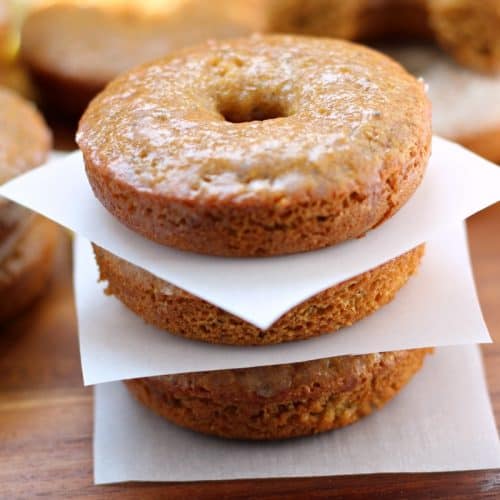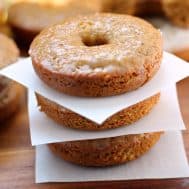 Ingredients
For the Glaze
2 tbsp coconut oil melted
1 tbsp fresh lemon juice
2 tbsp pure maple syrup raw honey would work well too
1/2 tsp almond extract
1-2 tbspfull fat canned coconut milk*see note
Instructions
Preheat your oven to 350 degrees and grease a donut pan** with coconut oil to prevent sticking (this will make 12 donuts, so if you only have a 6-donut pan like I do, you can bake them in two batches.

In a large bowl, whisk together the eggs, coconut sugar, lemon juice, melted and cooled coconut oil, and almond extract.

In a separate bowl, combine the almond and tapioca flours, baking soda and salt. Then stir this dry mixture into the wet ingredients until fully combined, then, stir the poppy seeds into the batter.

I used a large measuring cup to pour the batter into my donut pan. I found this to be the easiest and lest messy way to get the batter into the donut molds! Whether you do this or spoon the batter in, fill the donut molds up to the top but don't let the batter overflow.

Bake the donuts in the preheated oven for 10-12 minutes or until set and beginning to brown**

Remove from oven, allow to sit for a few minutes before carefully removing from pan to fully cool on wire racks.

While the donuts bake, make the glaze. In a medium bowl, whisk together the melted coconut oil with maple syrup until smooth, then add the almond extract, lemon juice, and coconut milk until very smooth - you can also use a hand blender to do this.

Refrigerate the glaze until it cools a bit and the donuts have cooled as well. Before dipping the donuts in glaze, whisk again until smooth.

Dip one side of each donut in glaze and place unglazed side on parchment paper. Repeat until all the donuts are glazed, and if you choose to, you can repeat the dipping process for extra sweetness.

Serve right away or store in the refrigerator for later. Leftovers can be stored covered in the refrigerator for 3-4 days. Enjoy!
Recipe Notes
*Use canned coconut milk that separates, then discard half the water and blend the rest for a thicker, creamier consistency. I do this with all my coconut milk and use it as a coffee creamer and for baking!
**You can use a muffin pan as well, however the baking time will be a few minutes longer, so keep your eye on the oven and bake until centers are set.

Were you a treat-sneaking kid?  
Favorite classic donut flavor? I can't decide between glazed jelly or Boston cream!