Are you a rule follower?  I totally am.  Every morning after dropping the kids off at school, I still feel like I'll get caught and be in trouble if I don't sit down to work on the computer or do something equally productive.  (Productive according to me, anyway, since I guess that's the only person I'm getting in trouble with.)
Care to think out loud with me today?  It's Thursday…it's the rule.  

All three of my kids seem to be rule followers right along with me, which is mostly fine, except it can be extreme to the point that I have to explain that it' OKAY to loosen up and NO the teachers are most likely not talking to you when they speak to the class about bad behavior.  Funny how it's the rule followers that continue to take those talks to heart and button up even more.
You know those anxiety dreams where you didn't study/your school changed and you don't know where anything is/you're signed up for extra advanced calculus in another language/etc?  Well, Drew recently shared a little kid modern day version of one of those with me:
In his dream, he was playing on his iPad when the word "buy" popped up and he clicked it, then the iPad said "uh oh!" and he knew he was in big trouble.  Yes, I do make a big deal about not buying anything on the iPad, so, I thought this was pretty funny, and a good sign that at least he's listening!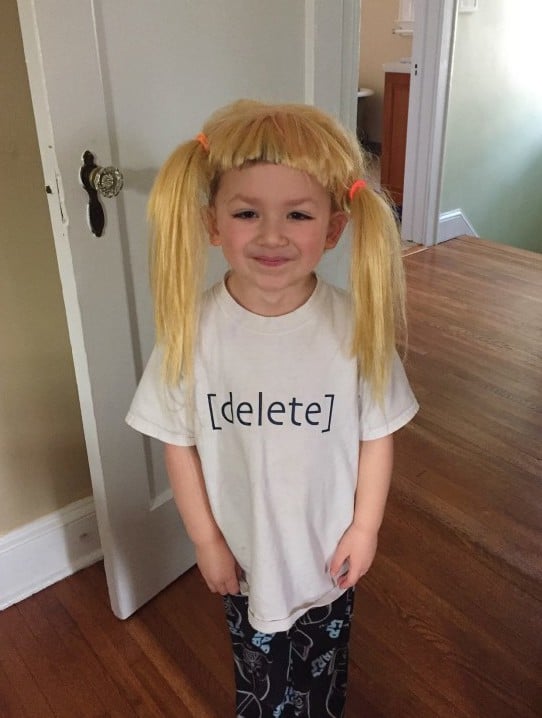 Drew might be a rule follower in some ways, but not when it comes to hair.  Emily will literally beg me not to let him out (especially in front of her friends) with things like this on his head, but I typically have bigger battles to fight than this one.  It usually gets itchy and/or hot and he takes it off on his own anyway.  And even if he didn't, again, I usually have bigger problems than anything a blond wig can offer.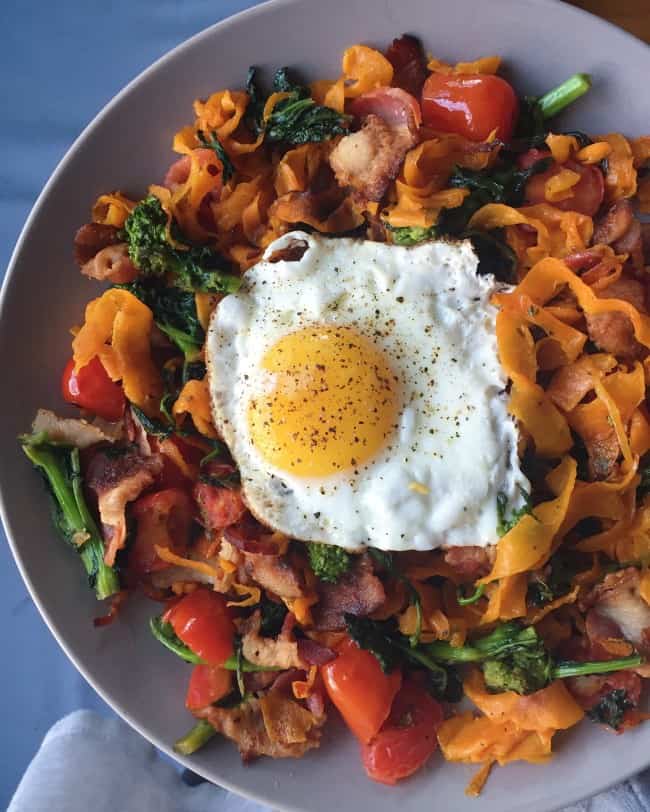 Noodles!  I'm thinking about noodles because I've been thinking about roasted butternut squash noodles for a while, and I finally made them.  What you see above is the leftovers I had for breakfast, they were prettier the first day!
Anyway, why is it that I'm too lazy to take out my spiralizer more often?  It's sitting in the same place as everything else I use on a daily basis, and it's easy and not even particularly messy.
Every time I finally spiralize something, I promise I'll do it once per week, yet months will go by with nothing.  I'm very excited to post the recipe for this next Tuesday because it was such a relief to finally make the idea that's been in my head for weeks.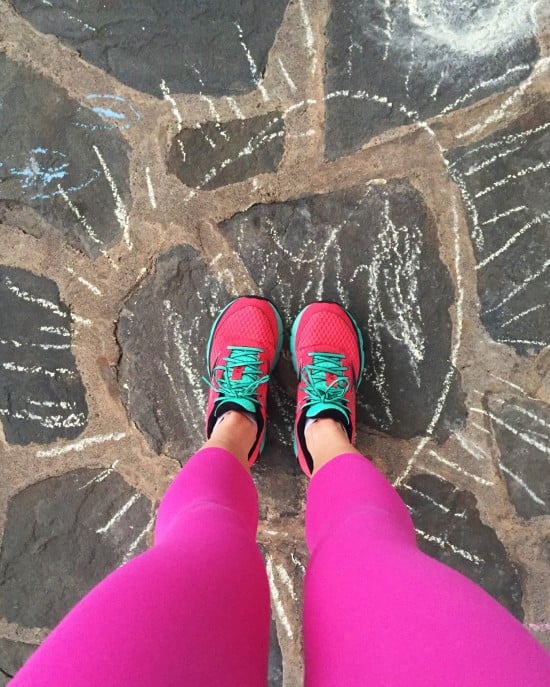 I was thinking it would be darker in the morning when I ran in these insanely bright pink pants.  It's actually not as dark as I thought it would be around 6:30am, and with the weather being so much better now (mid 40's) I can't complain about running.  Give me a little more light and it's my absolutely favorite conditions of the whole year.
Unrelated, but you've seen a bunch of shoe-pictures over sidewalk chalk creations from my front porch – sidewalk chalk is one of those little things that makes me happy to see in the beginning of spring!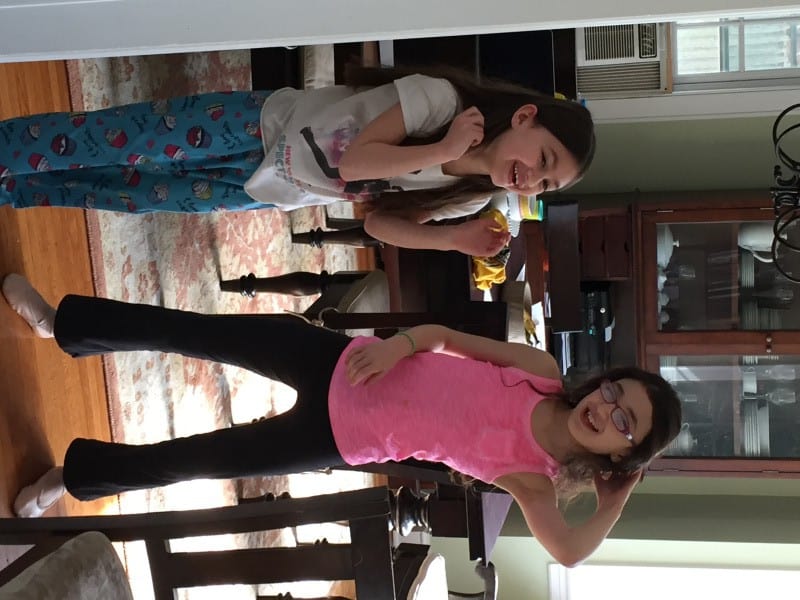 I can't remember what we were talking about, but it occurred to me the other day that my kids have NO IDEA that what/how much we eat and exercise has any connection to the size/shape of our bodies or weight.  Once I realized they didn't know or care about this, I started to wonder how long this can be kept secret before someone starts talking about it and they start listening.
So help me, that someone will not be me or Adam.   I think it's totally fine to explain what's healthy food/activity and what's not so healthy (moderation) but is there really a need to ever make the connection between food, exercise and weight?  Personally, I hope they don't figure this out for a while, and even after they do I hope they just don't care.  Wouldn't that be nice?  Nice but unlikely, so I probably have to figure out what to say when the subject inevitably comes up.
Have you made veggie noodles?  What are your favorites?
Are you a rule follower?  Do you still worry about "getting in trouble"?
Have you had to talk about the subject of weight/food with your kids?