Is it possible I jinxed myself with all the Spring fever talk last week?  Because at 6pm on Saturday the weekend took a major turn.
I did manage to get all my planned training in although the long run high was short lived.  I was actually looking forward to a great weekend we had planned afterwards too!  I hate to say annoying, common things like "it's always something" but, really.  It is always freaking something.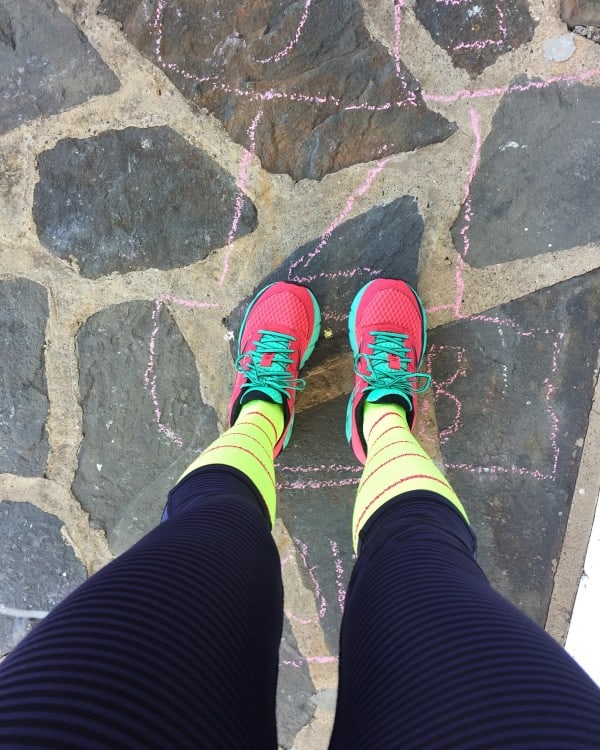 Boston Marathon Training Week 7
Monday – 5 miles easy, post run stretching
Tuesday – 5 miles easy, quick 15 minute vinyasa flow with Lesley Fightmaster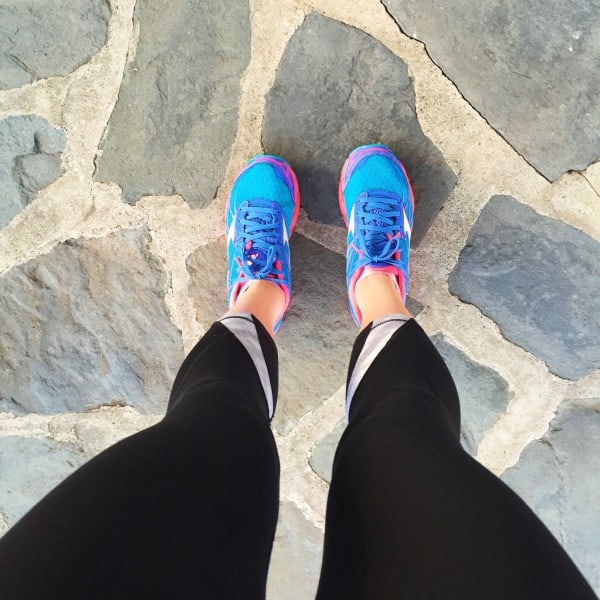 Wednesday – 5.1 miles on a sort of hilly route.  The weather was perfect and it was such an enjoyable run.  No yoga but some hamstring and hip stretching.
Thursday – 5.4 miles on a hilly route – I'd been running this route most Thursdays and finally tracked the distance!  Good to know it was about what I wanted.
Friday – Total rest day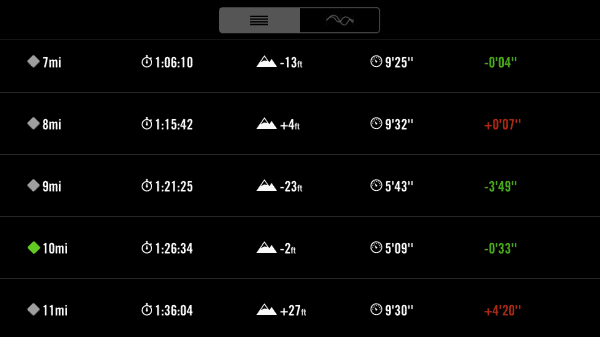 Saturday – 18 miles!  Way to knock out paces in the 5's out of nowhere 😉 The Nike app messed up mid way through the run and clocked two miles at nearly half of what they were.  I probably didn't need to track anyway since I know the route and my paces were as per usual.
The weather was perfect so there's so way I can complain about that.  Overall, for the first half to 10 miles I was feeling off and had a couple of side stitches.  After mile 11 I started feeling a lot better and the rest of the run was fine.
Pre run I fueled with a banana and brought a cherry Larabar for the run itself, which has been my go-to.  Post run was a typical breakfast: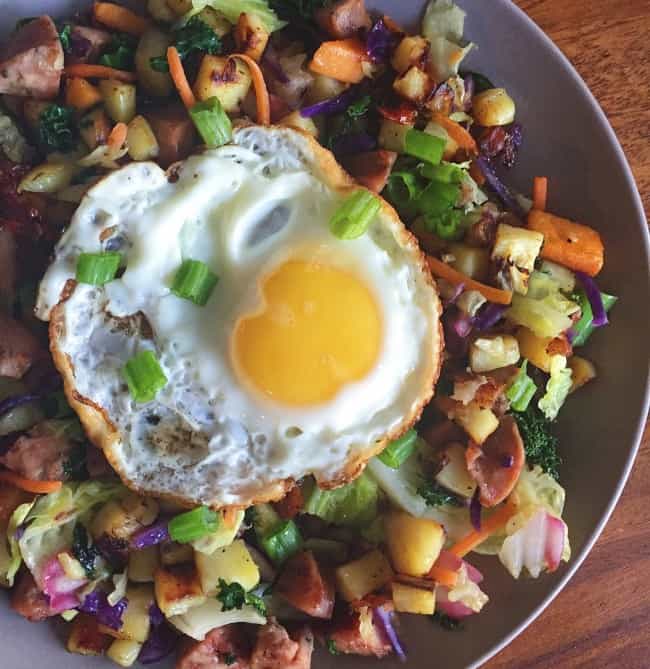 Sunday – Rest?  If attempting to function on literally zero hours of sleep equals rest, then that's what I did.  I'll get to that in a minute.
But first, the good things.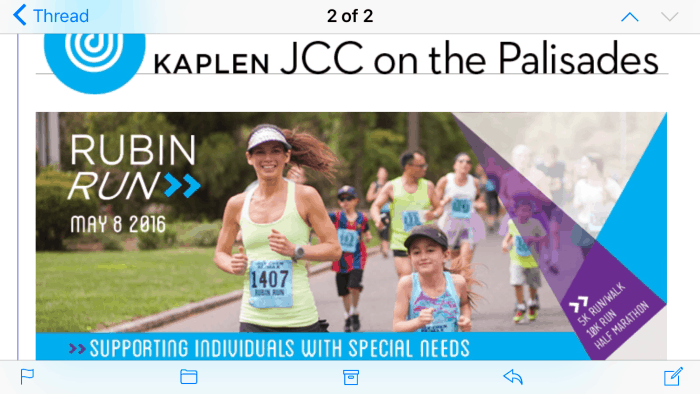 Although I deleted this email without opening it, luckily Adam is a little more careful/curious with email because this one for our local Mother's Day 5k had a nice little surprise in it!  This was Emily and me running the 5k last year – this year we plan to do the same thing along with Diana.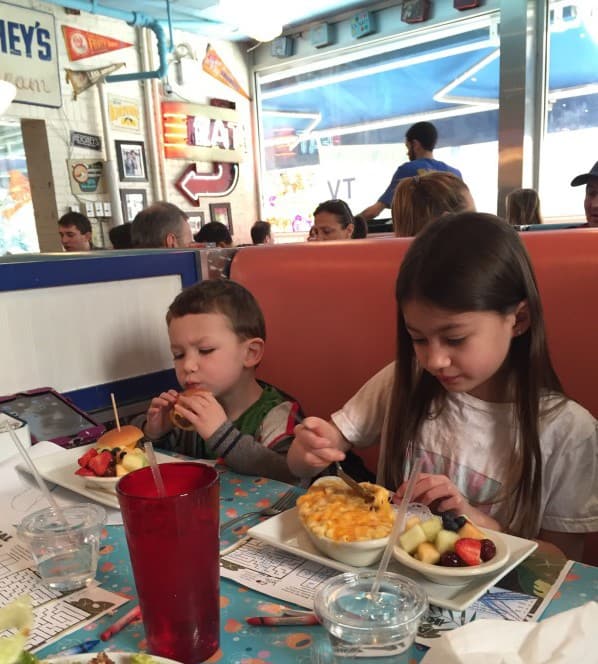 We originally had plans to get together at my parent's house for my sister's birthday, but my dad came down with the flu, so my sister and I decided to meet up in the city instead on Saturday.  We went to Big Daddy's and the kids were beyond thrilled to have real milkshakes!  The girls had had them years ago but it was totally new to Drew.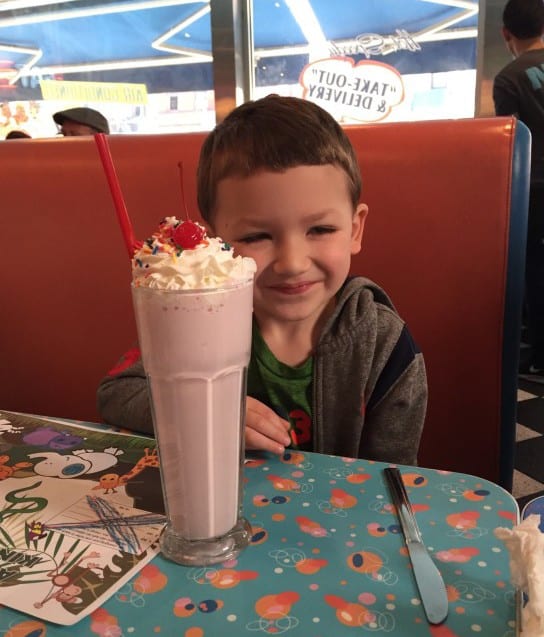 He ordered the Barbie Fruit Shake, of course 🙂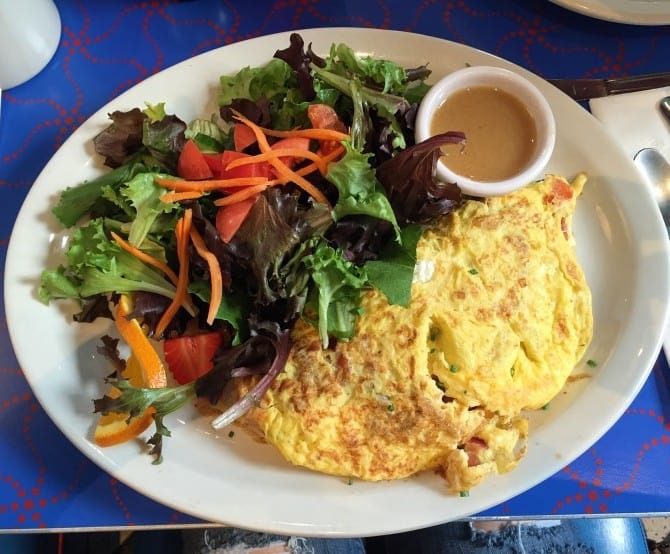 I ordered an omelette with goat cheese, bacon, caramelized onions, tomatoes and spinach.  I'd say that about covers any omelette craving.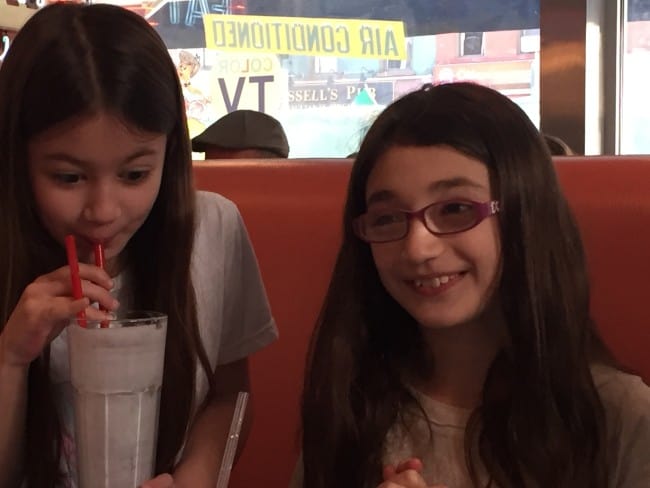 This is Emily's happy place if there is one, the face says it all 🙂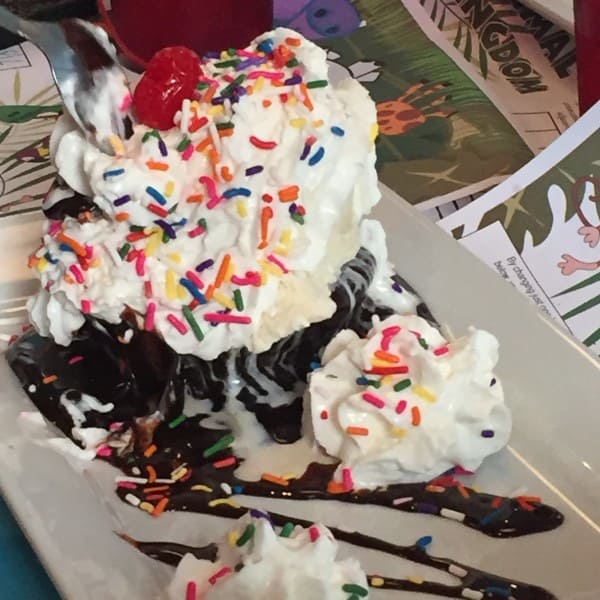 My sister's ice cream (shared with her husband.)  I think there's a lava cake under there!
After lunch we walked around and took the kids to a playground for a while before heading home.
We all had a great day – up until dinner time when Diana got sick – REALLY sick – out of nowhere.  I guess it always happens out of nowhere so that's nothing new.
She was sick for 7 hours (imagine the worst of both) until we decided she needed to go to the ER to get things under control.  I don't know if it was food or a virus (she ate a burger at lunch, but so did Drew, so I'm leaning toward miserable virus.)  They gave her IV fluids and medicine for the nausea which really helped I think.   She was also relieved to be getting taken care of after being so sick at home for that long.
In these situations I get so anxious that I feel basically useless (and sick myself), so Adam becomes my hero.  I couldn't help but think what I would've had to do if I were alone though – taking 3 kids to the ER in the middle of the night sounds like something that might kill me, I don't know.  I'm seriously so thankful we live just 2 minutes away from the hospital!
With all this happening I did not sleep Saturday night, at all!  The anxiety made it impossible even when I had the chance.  But, with two other kids, life must go on, and Sunday still included taking Emily to her dance show, some grocery shopping, and many many loads of laundry.   I don't know what I'm in for this week, but please please please let it not be a repeat of Saturday night!
Is anyone else sick?  It seems like the NY area is getting hit with a lot of bugs lately!
Did you go out to eat this weekend?  
How were your workouts last week?