These chocolate chip cookie Paleo ice cream sandwiches are an amazing real food treat for summer or any season!  Chewy grain free and Paleo chocolate chip cookies with creamy sunflower butter banana ice cream in the middle.  Dairy free, gluten free, Paleo.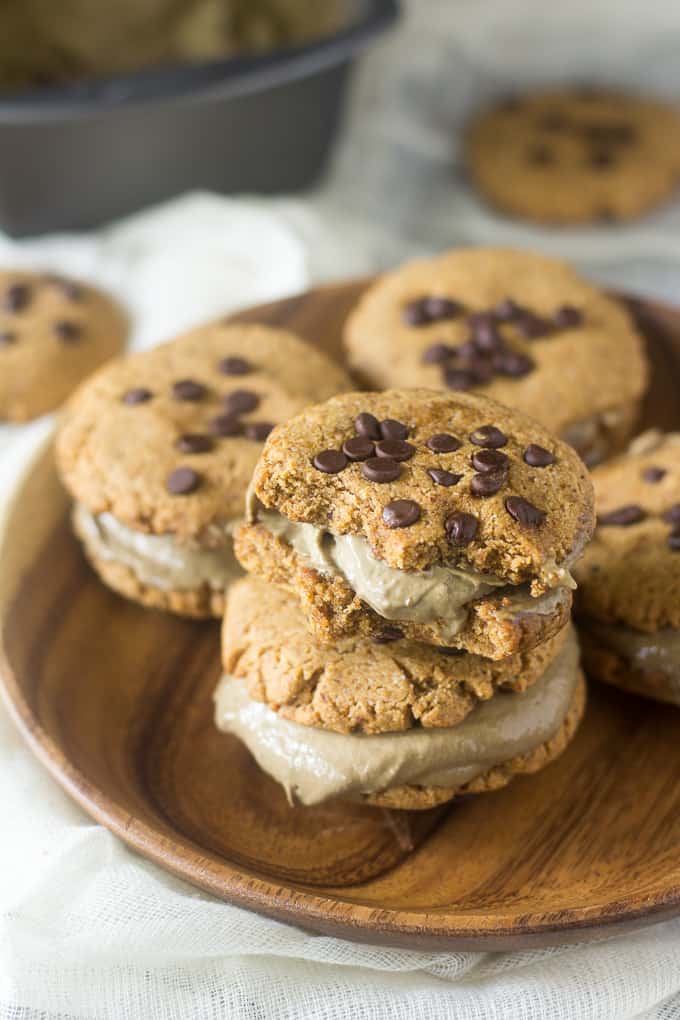 Hello Paleo chipwiches!  Are "chipwiches" a thing all over the place or just where I'm from?  I remember looking forward to buying one first thing after school before cheerleading practice in high school, and it was basically the highlight of my day.  If my memory wasn't completely shot I might even be able to tell you the price.  Ah, I miss those chipwiches!
Either way, I think everyone gets the concept of why a cookie ice cream sandwich is a very, very, awesome thing.
But keep in mind this is coming from a person who made ice cream sundaes nearly every day for 2 years at Friendly's (high school job) and then continued to eat ice cream nightly right up until this whole Paleo thing began.  What I'm trying to say is that it's quite possible I like ice cream maybe a bit more than the average person.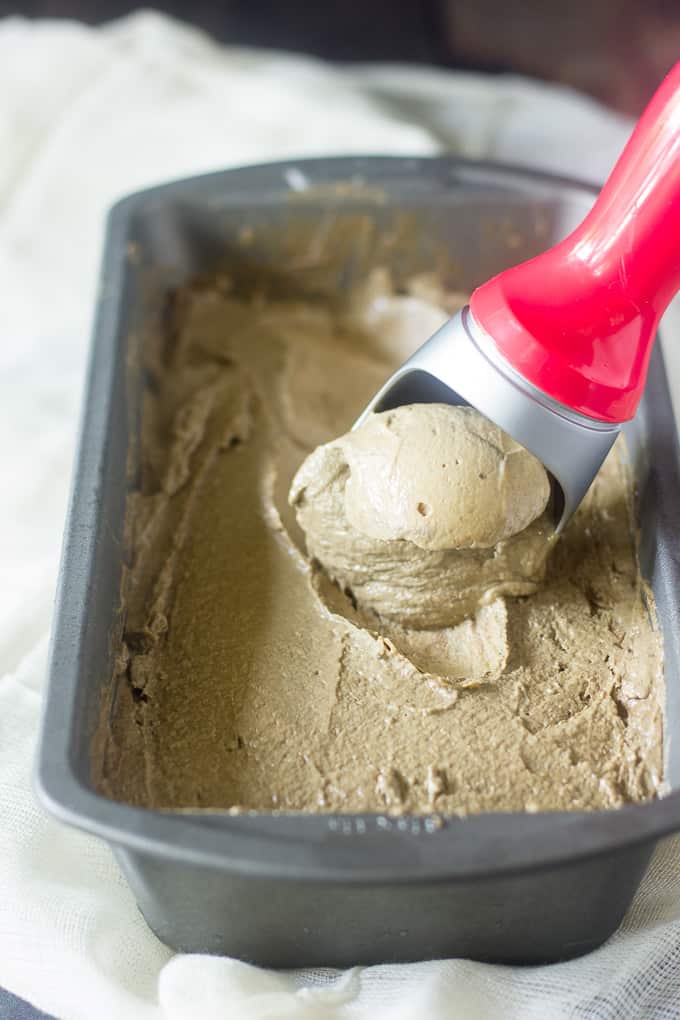 Which is one reason it's hard for me to wrap my head around homemade dairy free ice cream.  But, head is now wrapped ever since I started making vegan and Paleo ice cream with the winning combo of almond milk, bananas, and nut butter!  Or seed butter, in this case.  A truly creamy sunflower seed butter puts the cream back in dairy free ice cream that in my opinion can sometimes be missing.
The chocolate version of this particular ice cream can be found in my vegan chocolate ice cream bars and for the "original" version I decided to make Paleo ice cream sandwiches!  I did not create a new chocolate chip cookie recipes, since I knew my chewy chocolate chip cookies would work perfectly, plus are quick and easy to put together.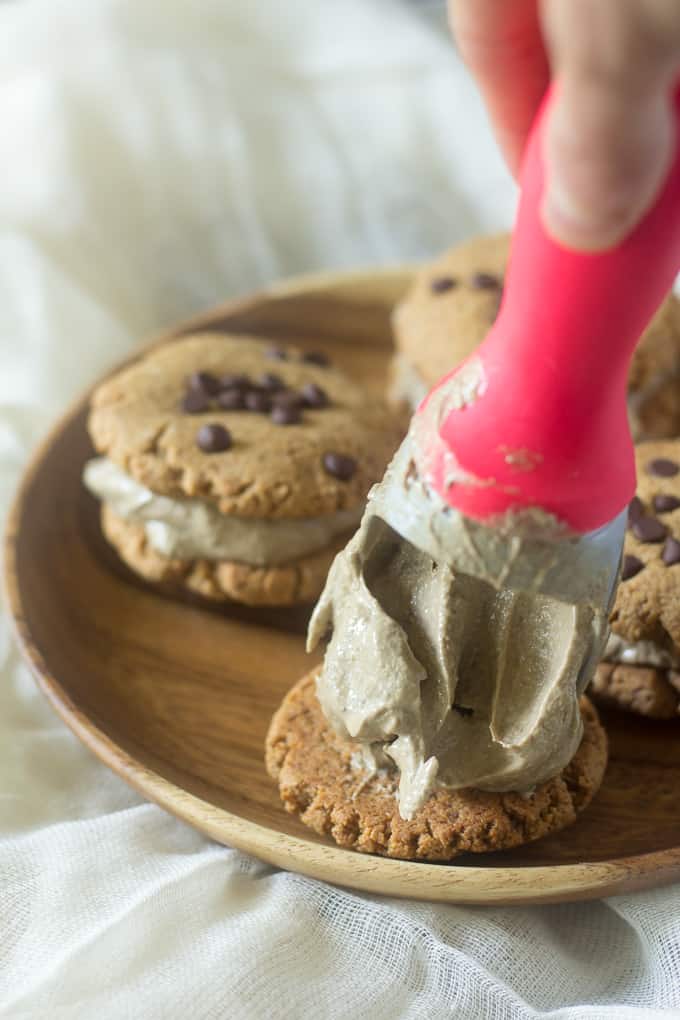 Did you know I actually use the same basic recipe for the "cookie" part of all my sandwich cookies? There are always small variations based on flavor, but the basic ingredients are the same as the original chewy cookies.   As for the ice cream, any nice and creamy nut or seed butter will work.  I happen to love the flavor combo of bananas and sunflower butter, but almond, cashew, or even peanut butter (not Paleo) would be delicious too!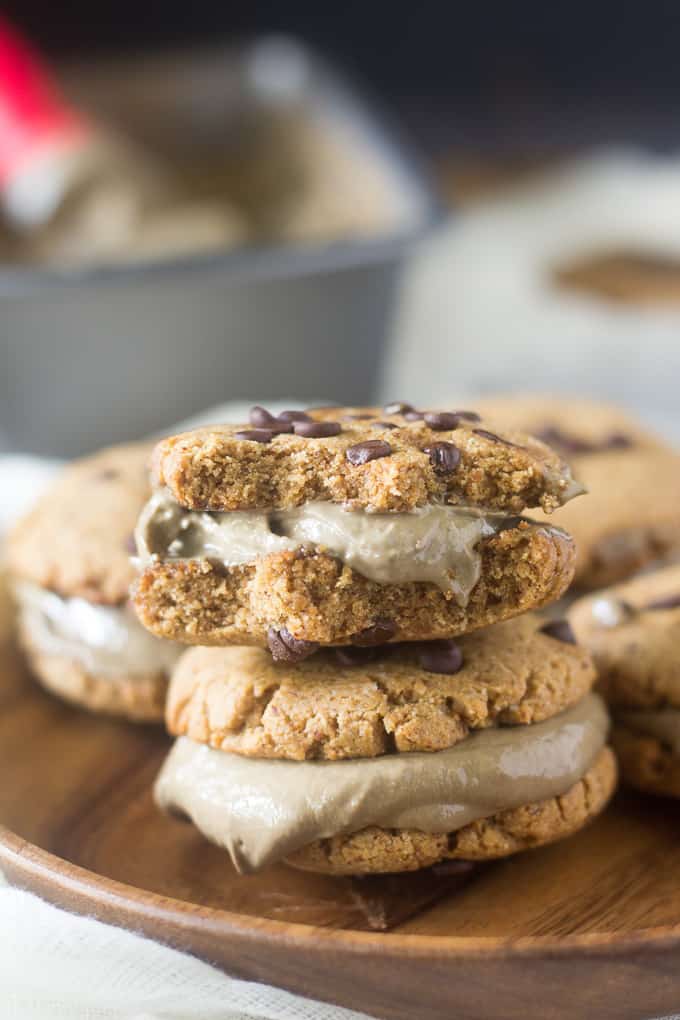 Have I rambled enough about my love for paleo ice cream and cookies?  I think it's time to move along with this recipe for chocolate chip cookie Paleo ice cream sandwiches, uh chipwiches, if that conjures up fond memories for you like it does for me 🙂
Chocolate Chip Cookie Paleo Ice Cream Sandwiches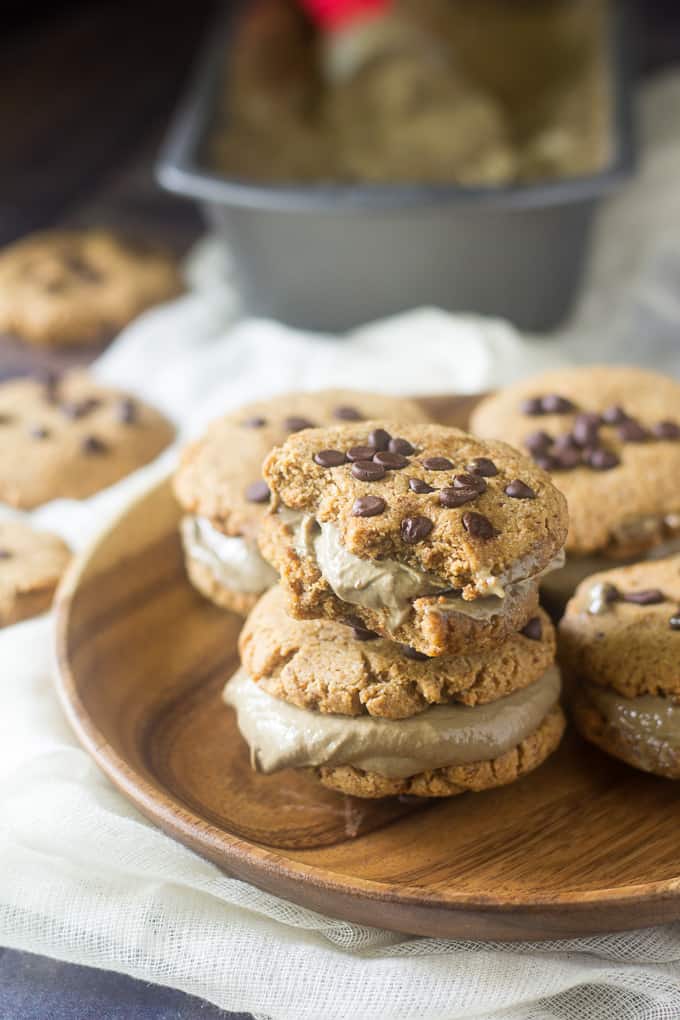 Chocolate Chip Cookie Paleo Ice Cream Sandwiches
Grain free, dairy free chocolate chip cookie paleo ice cream sandwiches with creamy homemade sunflower butter banana ice cream! Amazingly decadent real food dessert everyone will love!
Prep Time: 25 minutes
Cook Time: 4 hours
Total Time: 4 hours 25 minutes
Course: Dessert
Cuisine: grain free, Paleo
Servings: 8 ice cream sandwiches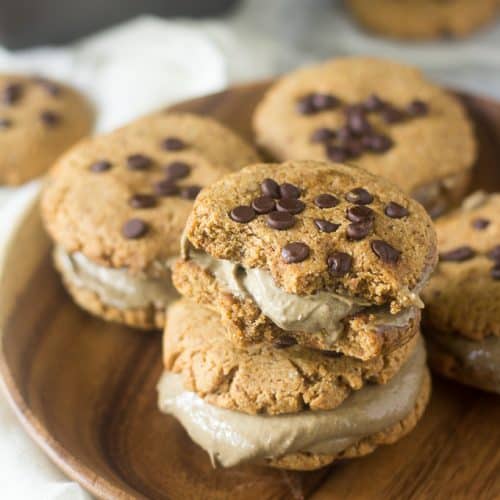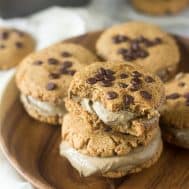 Ingredients
For the Cookies
1 batch unbaked batter chewy chocolate chip cookies*
Instructions
For the Ice Cream
Add all ingredients to a blender and blend on high speed until creamy. Pour into a freezer friendly container (I used an

8.5 x 4.5 loaf pan

) and cover tightly with plastic wrap** Freeze for at least 4 hours or overnight before making the sandwiches
For the cookies
Preheat your oven to 350 degrees. Divide the

cookie dough

into 16 balls and flatten each one (they won't spread)

Bake in the preheated oven for 10 minutes, remove and allow to cool completely before filling

To assemble ice cream sandwiches, scoop desired amount of ice cream on one side of a cookie and top with as second cookie. Store leftover ice cream in the freezer, tightly covered to avoid ice crystals forming. Enjoy!
Recipe Notes
*Make the batter and sub mini enjoy life chocolate chips instead of larger chips
**Keeping the plastic wrap tightly covering the ice cream will keep it creamy and prevent ice crystals from forming.
"cook time" is actually time to freeze the ice cream
What I used for these Paleo ice cream sandwiches:
If you like these ice cream sandwiches, try one of these other similar recipes!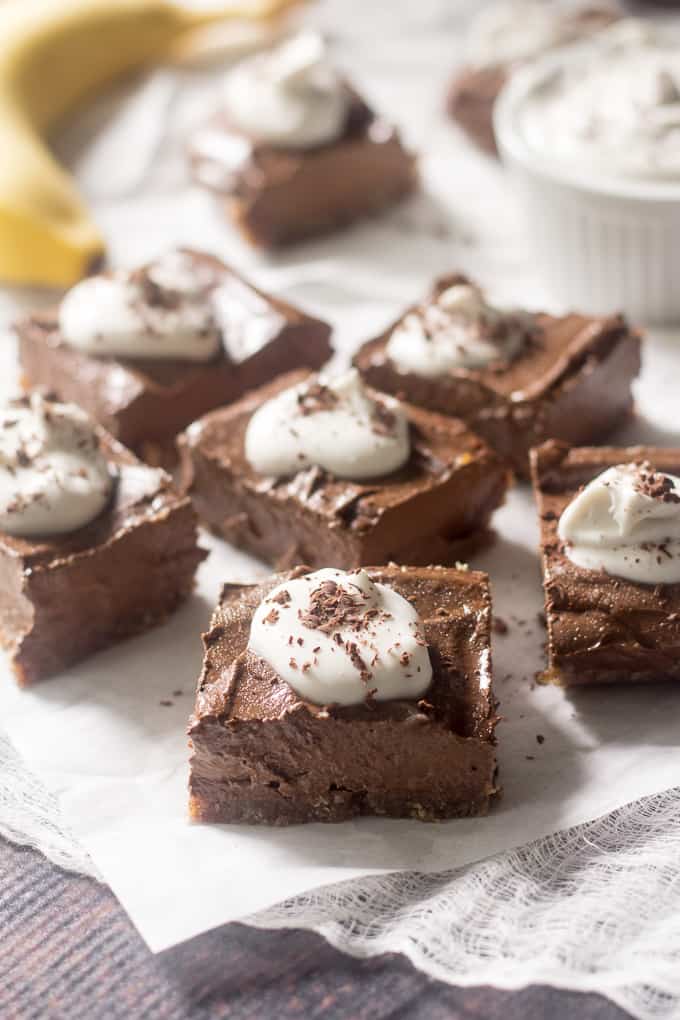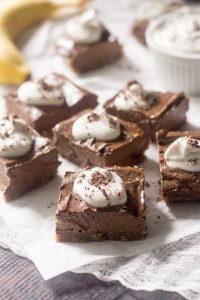 Banana Sunflower Butter Chocolate Ice Cream Bars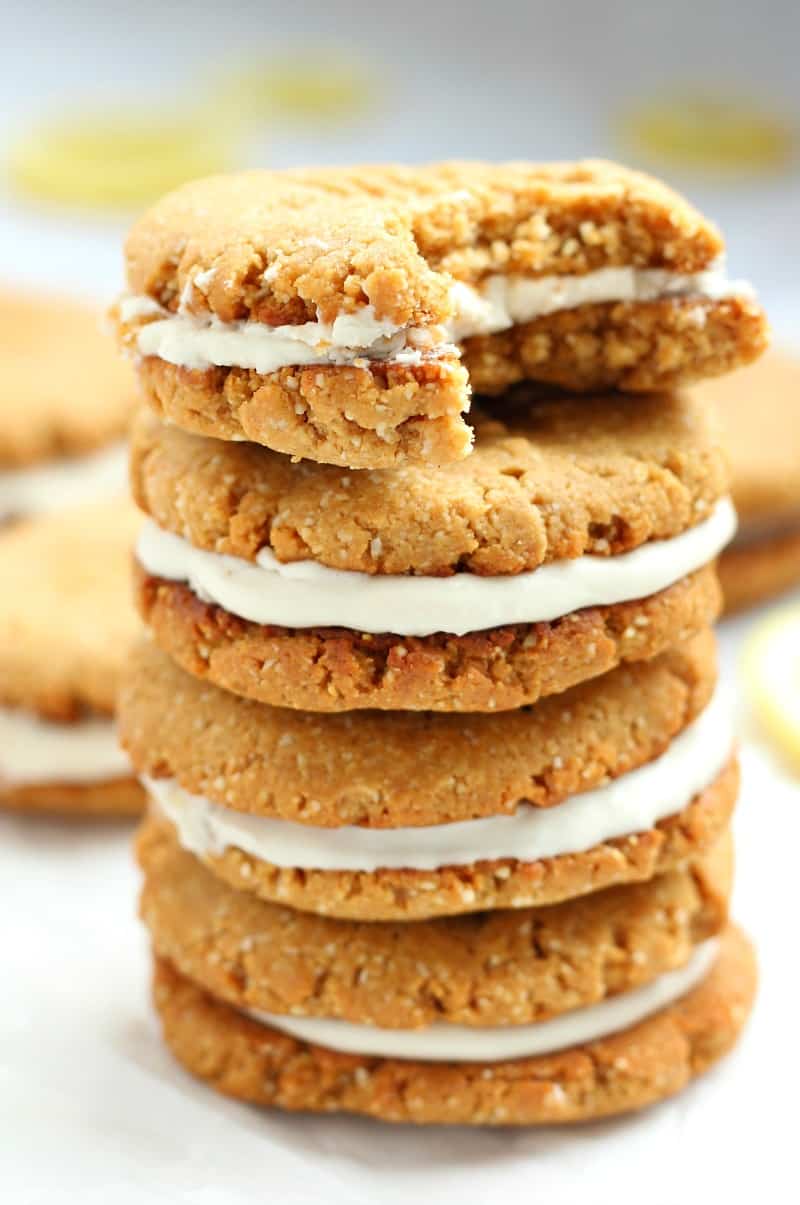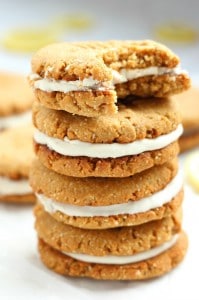 Lemon Coconut Cream Sandwich Cookies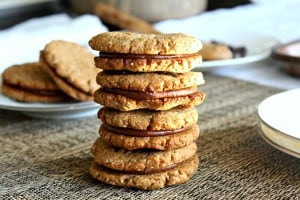 Chocolate Almond Butter Sandwich Cookies
Any ice cream sandwich memories?
Do you make homemade ice cream?
On a scale of 1-10, how big of an ice cream lover are you?  (I think I'm a 9.5)
Note: This post contains Amazon affiliate links which means that if you click on a link and make a purchase, I will receive a small commission at no cost to you. Thank you for supporting The Paleo Running Momma!