These Vanilla Cookie Crumb Cranberry Bars come together quickly with a grain free and dairy free "buttery" vanilla cookie dough plus homemade cranberry sauce!  You can also use whatever jam or preserves you have on hand.  Great holiday or anytime dessert that you won't believe is Paleo!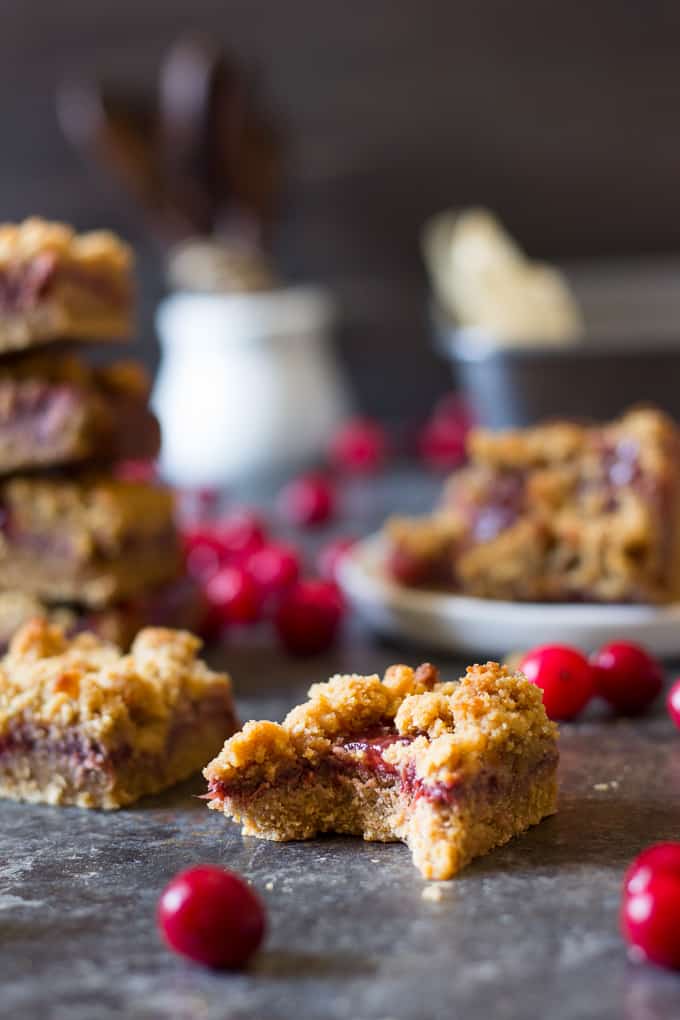 Thanksgiving is nearly here, and, as usual I'm starting to feel like I'm a wee bit in over my head with everything I'm planning to cook/bake/roast/prepare.  The kids have already created and printed out "menus" though (they are legit menus, not sure why the quotes) so I'm feeling pretty committed.  Last minute changes are my middle name though, so I'm predicting one or two "specials" on the menu in addition to what's already on there.
Actually, having a menu is helpful to reign me in and get me organized.  The concept of organization is tough for me in general, let alone on Thanksgiving.    What I'm really good at doing on Thanksgiving is being so indecisive that I wind up making 2 types of a lot of things.  Two stuffing recipes, two types of mashed potatoes, two types of bread, etc.  People like a lot of everything on Thanksgiving, so, the more the merrier, right?!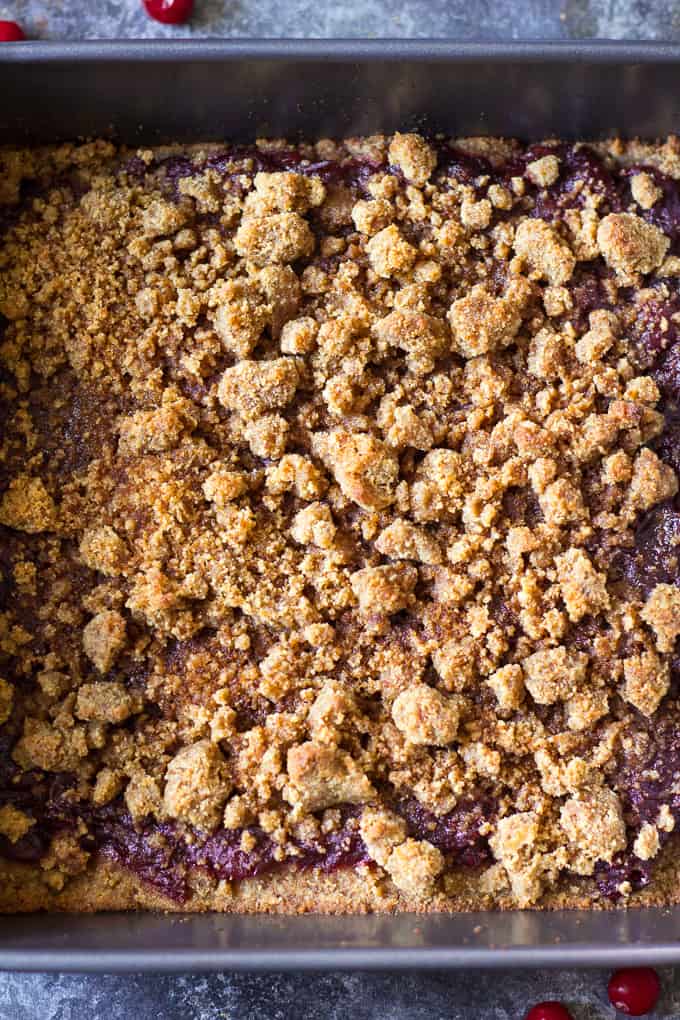 Cranberry sauce!   I love cranberry sauce so much because it requires no effort or brainpower – it cooks itself.  Plus, you can make it way ahead of time if you want to and then forget about it until the moment you need it.  How many side dishes/sauces can you say that about?  Definitely not gravy.
Gravy is literally the opposite of everything I love about cranberry sauce, and, probably why it seems to stress me out every Thanksgiving.  I can make gravy any other day of the year, but, on Thanksgiving gravy does not come easy – I have limits when it comes to working under pressure!
But I've gone way off now – apologies, Dear Readers who just want to make cookie crumb cranberry bars!  The thing I love the most about these bars.  Let's see.  Too many things!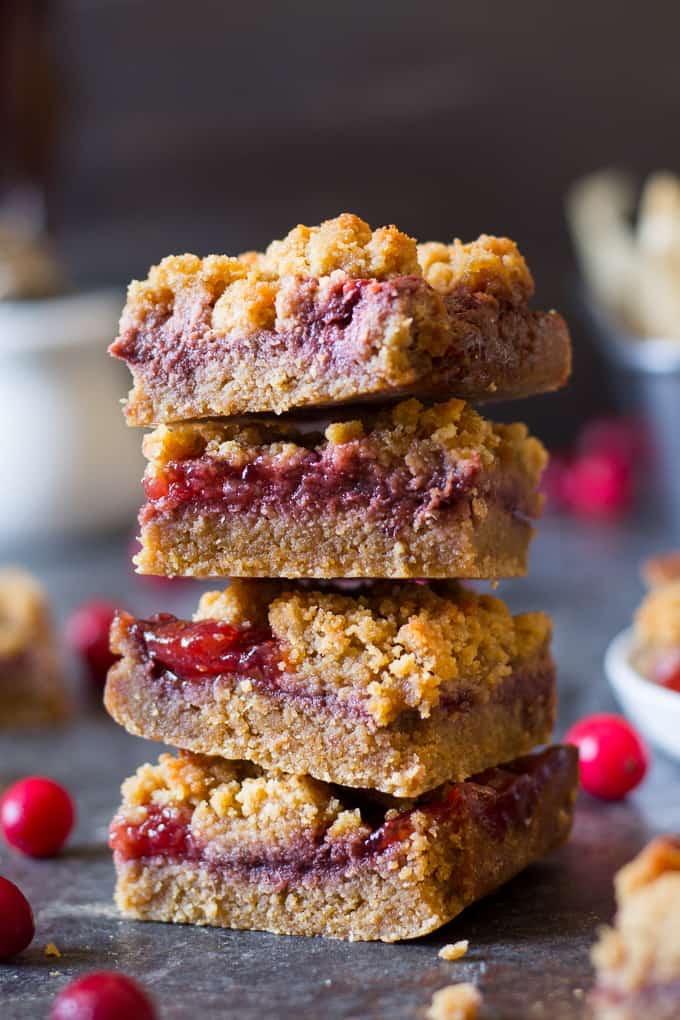 For one, there are really only two parts to this recipe – not 3 as is may appear – the crust and crumble are the same dough – which is a wonderful thing if you ask me.  You simply chill the remaining dough a bit longer while you bake the bottom crust, cover with cranberry sauce, then crumble the rest of the dough over the top, and bake.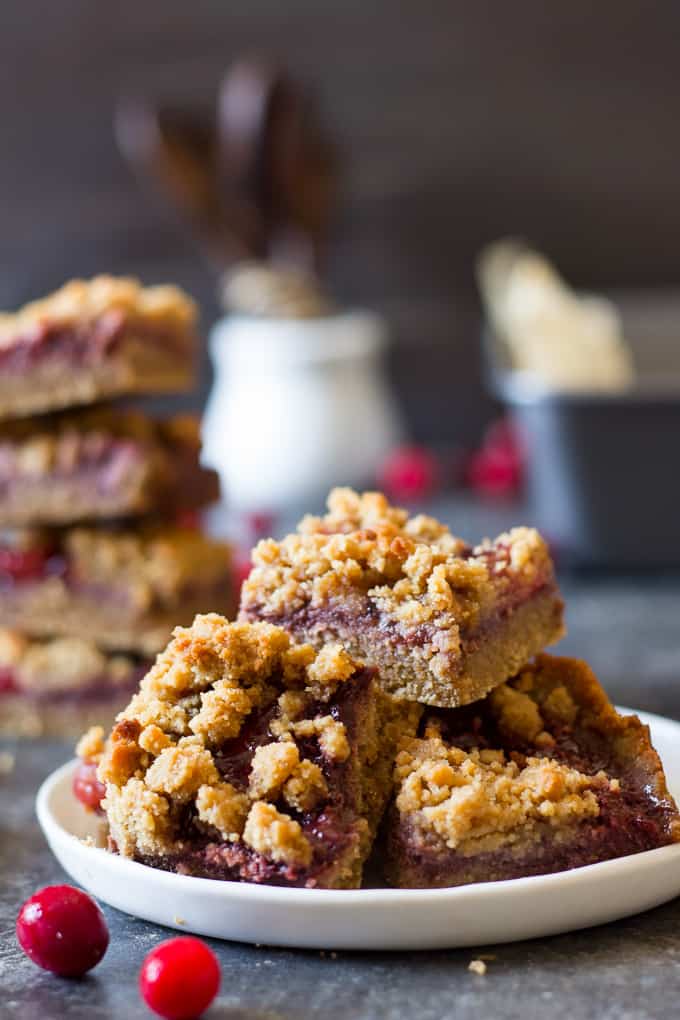 The other fabulous thing about this recipe is that you don't have to make it with cranberry sauce!  I know!  I've been talking up my cranberry sauce non-stop, but let's face it – cranberry sauce typically only comes out around the holidays.
But!  For this recipe, you can use whatever fruit preserves you feel like, and make it seasonal.  I also tried it with strawberry (I'm a tad addicted to the crust/crumble) but I'll definitely try it with cherry and blueberry too.   My favorite way to eat these lately is topped with coconut vanilla ice cream – I finished the last one last night and already want to make more.   If I make them for Thanksgiving, that means I'll have to agree to share them.  Tough call!  You'll see what I mean after you make them…
A few notes on the recipe before you dive in.  The crust behaves much better when the baking dish is lined with parchment paper.  This is true for nearly everything I bake, but, worth noting that it's a very important part of the recipe!  I messed up once, so I'm lecturing myself as well 🙂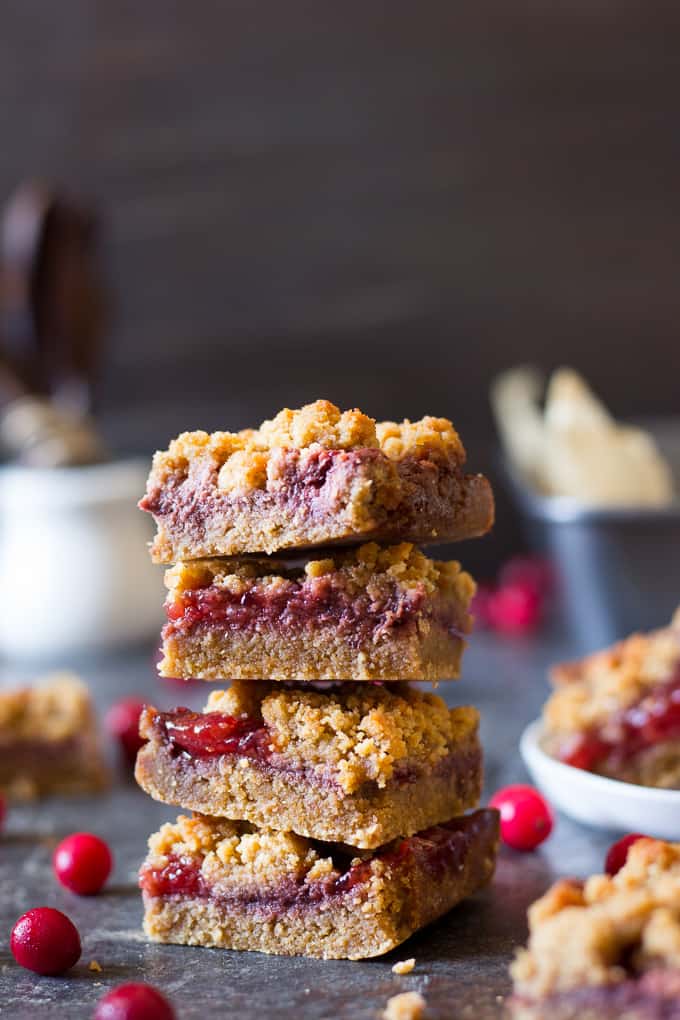 My favorite parchment paper, the one that I use every time I bake is the If You Care Parchment Baking Sheets.   I could not write this blog without them, seriously!  Nothing sticks to them after baking, and they're also fabulous to use when you need to press sticky dough down into a baking dish, as you do with this recipe.
The other note I have is to make sure you wait until the bars are fully cooled before cutting into.  Duh, right?!  Again, I am super impatient and lecturing myself.  Don't fret if you're like me – you can chill these bars in the fridge, even the freezer, to speed up cooling time and it works perfectly fine.  Let's bake!
Paleo Cookie Crumb Cranberry Bars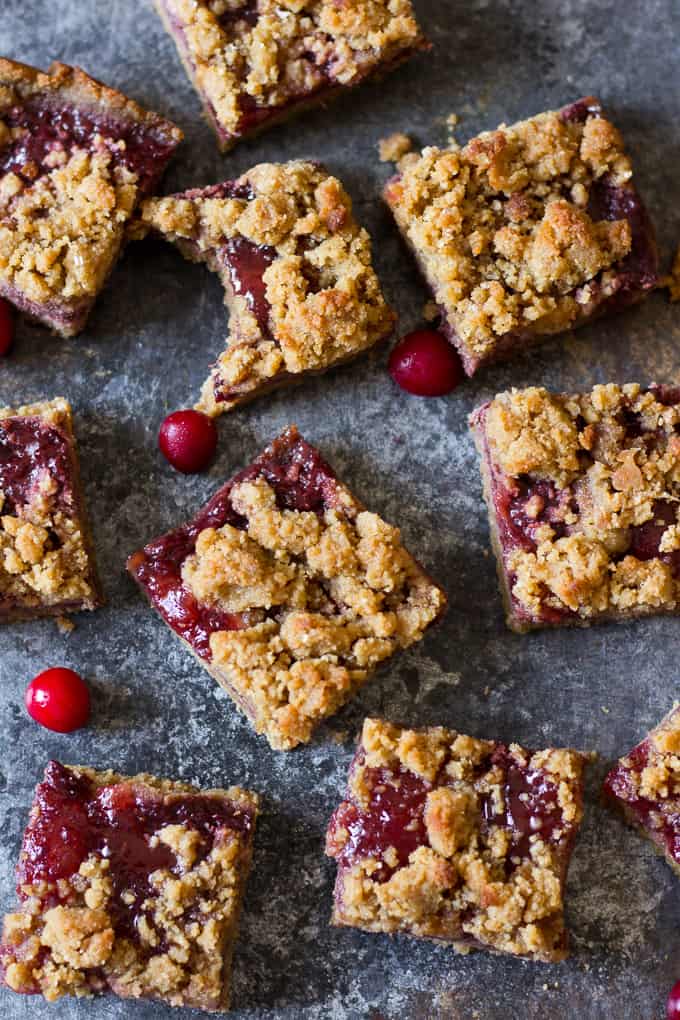 Paleo Cookie Crumb Cranberry Bars
These Vanilla Cookie Crumb Cranberry Bars come together quickly with a grain free and dairy free "buttery" vanilla cookie dough plus homemade cranberry sauce! You can also use whatever jam or preserves you have on hand. Great holiday or anytime dessert that you won't believe is Paleo!
Prep Time: 15 minutes
Cook Time: 27 minutes
Total Time: 42 minutes
Course: Dessert
Cuisine: Paleo
Servings: 16 bars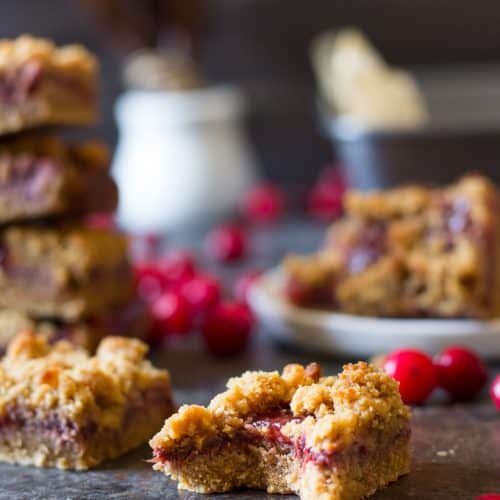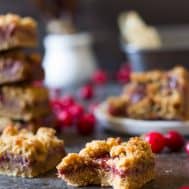 Instructions
Preheat your oven to 350 degrees and line an 8 x 8" square baking dish with

parchment paper

.

In a large bowl, whisk together the eggs and coconut sugar until smooth, then the coconut oil and vanilla until combined.

Combine the coconut flour and salt, then add to the wet ingredients to form a dough. Coconut flour is very dense and expands once added, so the dough will become thicker as it sits. To firm it up enough to press it into the baking dish, you might need to chill it in the freezer for 5-10 minutes.

Once chilled, press about 2/3 of the dough into the bottom of the parchment lined baking dish using another piece of parchment paper to press down since it will be sticky. You want the bottom layer to be about 1/4-1/2 inch thick, take more dough from the remaining mixture as needed.

Bake the bottom crust in the preheated oven for about 7 minutes until almost set. During this time, chill the remaining dough in the freezer.

Remove the bottom crust and immediately top with the cranberry sauce, then crumbled the remaining chilled dough all over the top. Sprinkle with a bit more coconut sugar as desired, then return to the oven to bake for another 18-20 minutes, or until crust and topped are golden brown and filling is bubbly.

After removing from oven, allow the bars to cool completely before cutting into squares and serving. You can chill to speed up cooling time. Enjoy!
Recipe Notes
*You can sub whatever fruit preserves, homemade or purchased that you like.
What I Used to Make My Paleo Cookie Crumb Cranberry Bars:
Want more Paleo dessert recipes for the holidays?  Try one of these!
Pumpkin Caramel Pecan Fudge Bars
Paleo Cranberry Orange Coffee Cake
Cranberry Crumb bars on the web:
Gluten free & vegan Cranberry Crumb Bars
Tell Me!
Do you prepare official menus for big meals?  
What dish are you most looking forward to for Thanksgiving/Christmas/Hanukkah?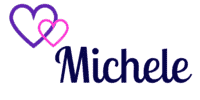 Note: This post contains Amazon affiliate links. This means that if you click on a link and make a purchase, I will receive a small commission at no cost to you. Thank you for supporting Paleo Running Momma!