This coffee cake paleo banana bread is swirled and drizzled with easy dairy-free caramel and topped with a thick cinnamon crumb layer.  It's gluten free, dairy free, nut free, kid friendly and surprisingly easy to make!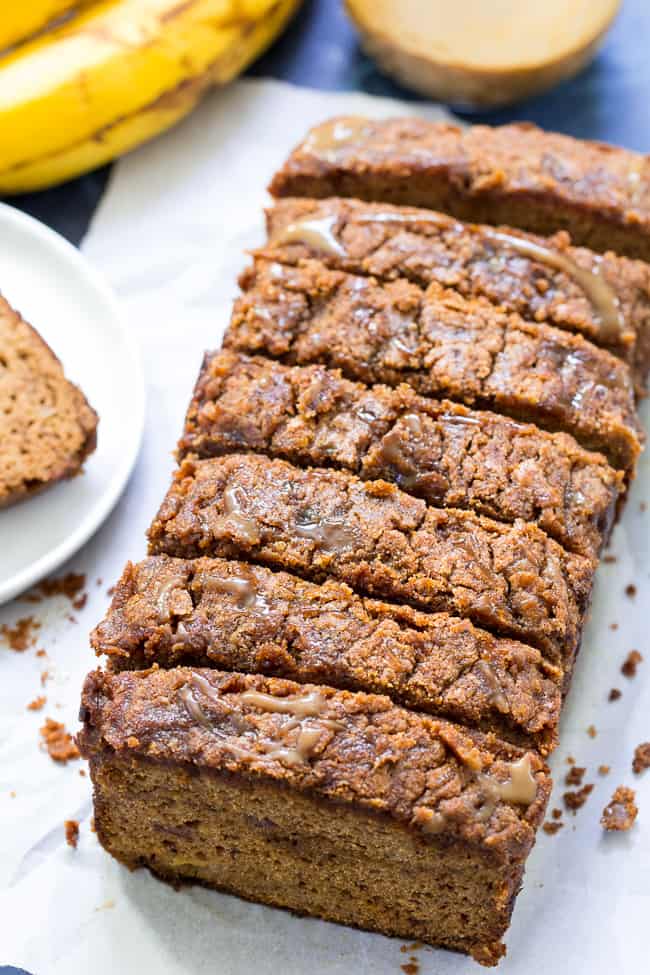 No matter how many times I make coffee cake, or coffee cake muffins, these recipes are STILL one of my favorite ones to make.  That's all thanks to my lifelong obsession with cinnamon crumb toppings, most likely born from childhood memories of Entenmann's single-serve crumb cakes.
For birthday breakfasts, my parents would stick a candle in either a crumb cupcake or a cinnamon frosted pop tart.  And so, you see why I'm more than a little obsessed with cinnamon crumb and gooey toppings!  For this paleo banana bread, I decided to combine those two favorite food memories…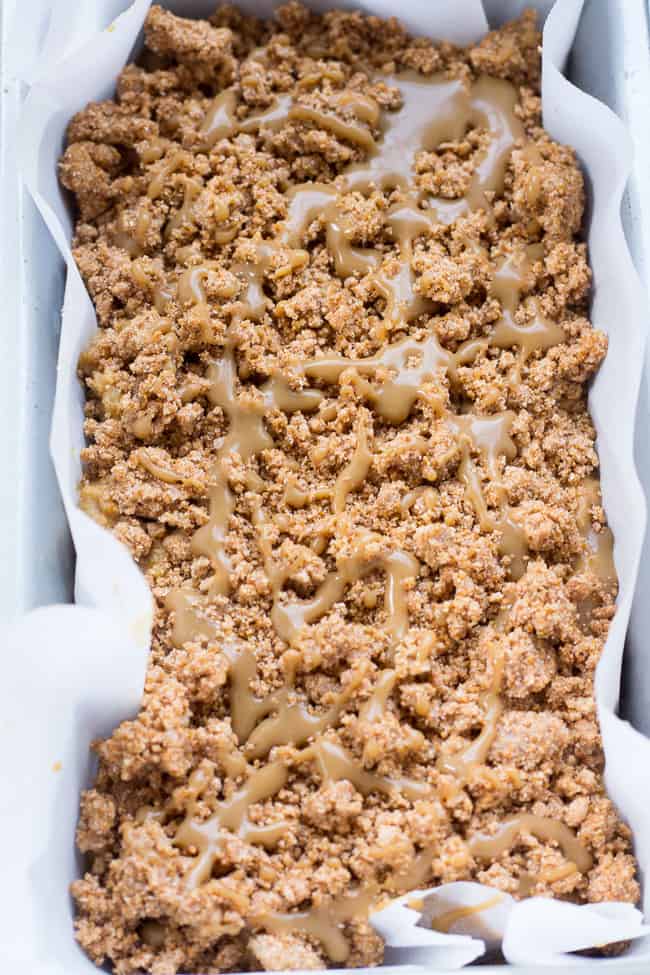 Gooey and sweet, easy dairy-free caramel with LOTS AND LOTS of grain free, nut free cinnamon crumb topping.  Yes, nut free too!   For this recipe I chose to go the coconut/tapioca flour route to keep the recipe completely nut free.   If you don't want too much of a coconut flavor in the topping, I definitely recommend using organic refined coconut oil, which is completely flavorless.  One of those good-to-know paleo baking tidbits 🙂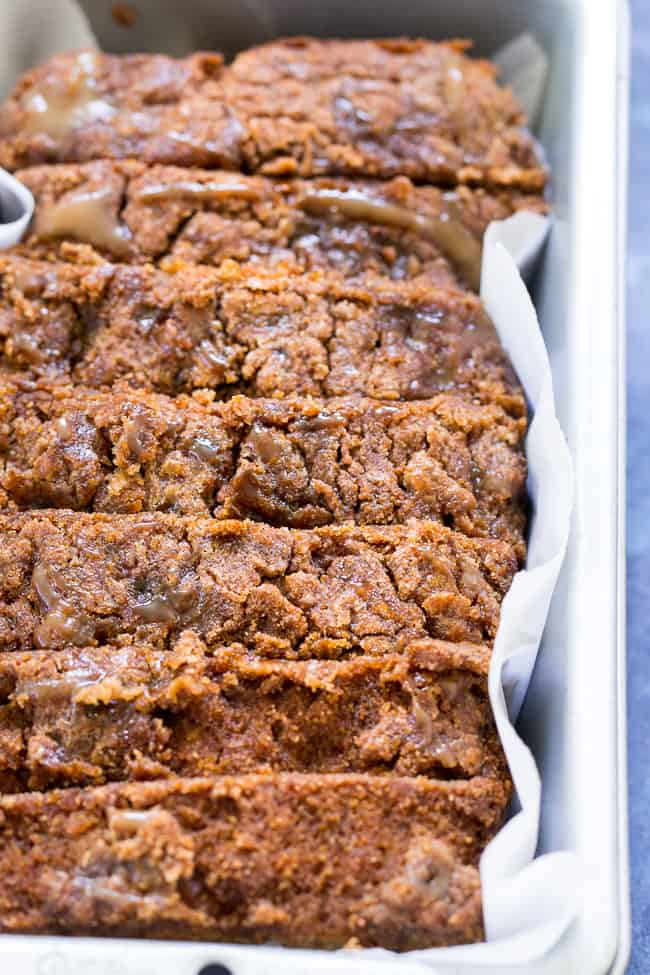 The caramel I used in this recipe is a tried and true favorite of mine – I remember making it for the first time and thinking it was seriously too good to be true.   Of course, although it's technically refined sugar free, it's very much a rich, decadently sweet caramel sauce, and, therefore this is quite the "desserty" banana bread.  Not to even mention the crumb topping, but, I'm thinking by now you get the idea!
Speaking of the caramel sauce, I highly recommend you make it ahead of time so you can use it right away for the recipe.  You won't us the entire amount, so I'll leave it up to you to decide what else you'll drizzle it on.  Eating it with a spoon is also not out of the question, but, maybe forget that I said that.  DANGEROUS!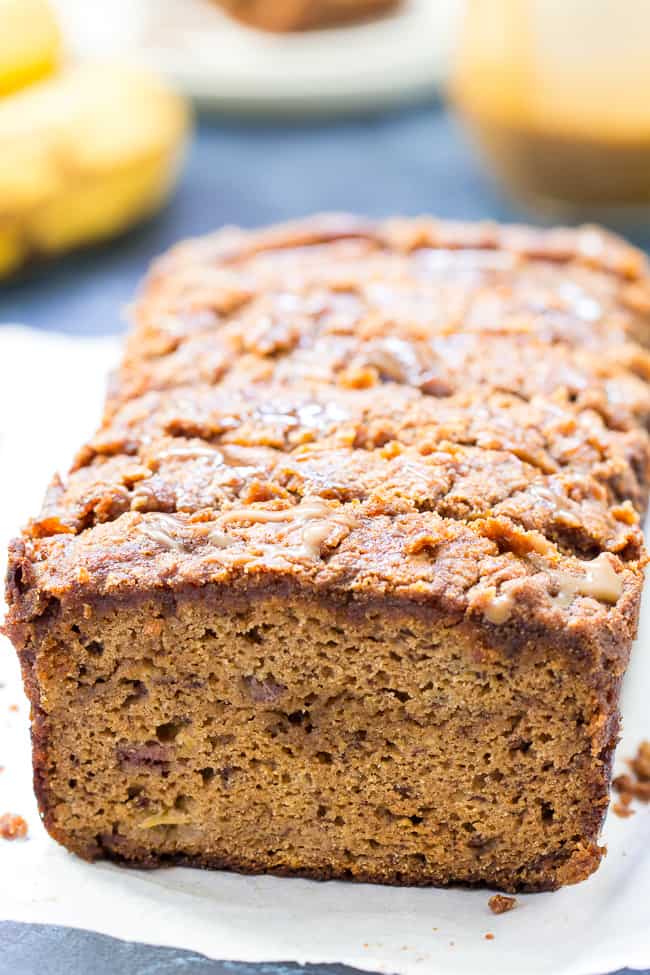 Are you guys ready to get on with baking this crazy delicious caramel coffee cake banana bread?  I guarantee this stuff will be gone before you know it after it's sliced.  As a tip, you might want to hide it completely before getting your fair share.  Just saying, I made that mistake and wasn't thrilled, although my family's enjoyment of it almost made up for it.  Okay, let's GO!
Caramel Coffee Cake Paleo Banana Bread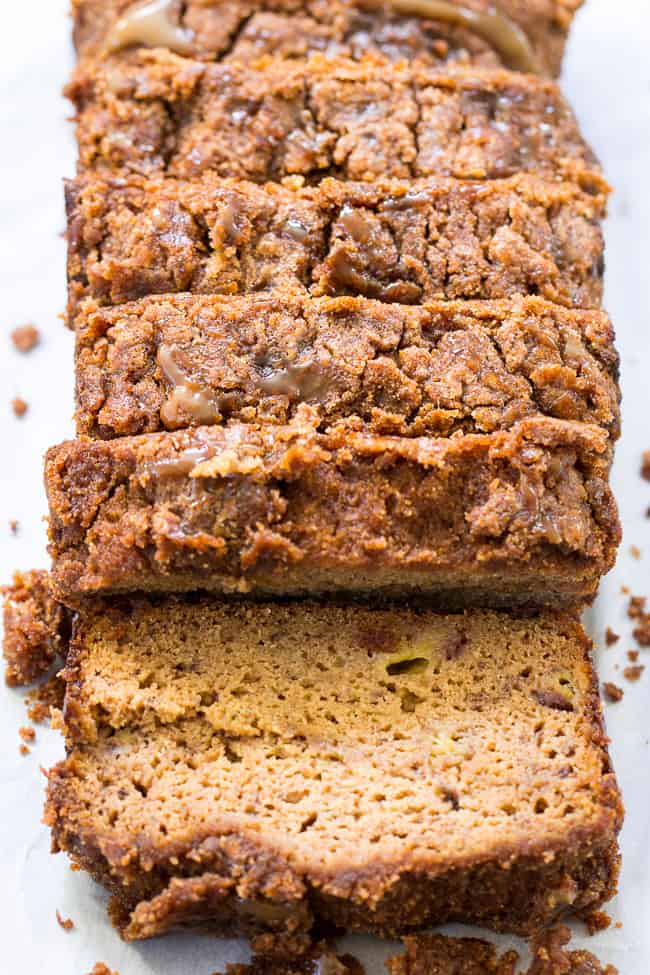 Caramel Coffee Cake Paleo Banana Bread
This coffee cake paleo banana bread has easy dairy free caramel swirled into in and a thick cinnamon crumb topping plus more caramel drizzled over to serve. It's gluten free, dairy free, nut free, kid friendly and surprisingly easy to make!
Prep Time: 15 minutes
Cook Time: 1 hour 15 minutes
Total Time: 1 hour 30 minutes
Course: Snack/Dessert
Cuisine: Paleo
Servings: 10 slices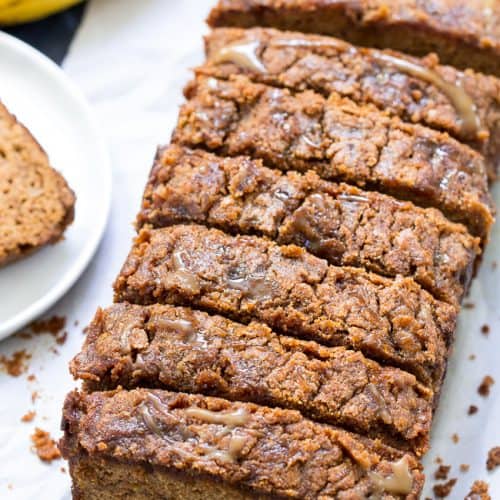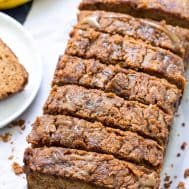 Instructions
Make the caramel first:
In a small saucepan over low heat, stir together the coconut milk and coconut sugar to dissolve. Raise the heat enough to bring to a boil stirring, then boil for 15 more minutes over medium or medium low heat (more than a simmer but not a rollin boil) or until thickened and deep golden brown. Remove from heat stir in 1 tsp vanilla and dash sea salt - this makes 3/4 cup caramel. Set aside or chill in the fridge until ready to use.

Preheat oven to 350 degrees and line a 8.5 x 4.5 or 9x5 loaf pan with parchment paper

Mash the bananas, then use a whisk or electric hand mixer on low to combine the bananas with the eggs, 1/3 cup coconut milk, coconut sugar and vanilla

In a separate bowl combine the coconut flour with the tapioca flour, cinnamon, salt and baking soda

Mix the dry ingredients into the wet on low speed or by hand until just combined (batter will be thick due to the coconut flour

Transfer half the batter into the prepared loaf pan, then top with about 3 tbsp of caramel, followed by remaining batter

Blend the crumb top ingredients together with a pastry blender until a thick crumb develops, don't sprinkle it on just yet.

Bake the bread in the preheated oven for 20 minutes, then top with some of the caramel sauce and the crumb mixture

Continue to bake for another 30 minutes or until a toothpick inserted near the center comes out clean. If the top starts to brown too much, you can loosely cover with aluminum foil.

Cool in the loaf pan for about 15 minutes, then carefully remove the loaf from the pan using the overhanging parchment paper and transfer to a wire rack to cool completely before slicing. Drizzle leftover caramel over the top to serve, if desired. Store leftovers covered in the refrigerator. Enjoy!!
Recipe Notes
*Before making the caramel, I discarded about 1/2 the "water" from the canned coconut milk and blended up the rest
**If you don't want too much coconut flavor in your topping, use organic refined coconut oil, which is flavorless.
***You can top with as much as you want, being careful not to allow it to drizzle down the sides too much to avoid burning.
Nutrition
Calories: 231kcal
Carbohydrates: 30g
Protein: 5g
Fat: 10g
Saturated Fat: 8g
Cholesterol: 65mg
Sodium: 272mg
Potassium: 125mg
Fiber: 7g
Sugar: 11g
Vitamin A: 110IU
Vitamin C: 2.1mg
Calcium: 25mg
Iron: 1.3mg
What I Used to Make My Caramel Coffee Cake Paleo Banana Bread:


Want more paleo banana bread recipes?  Try one of these
Banana Blueberry Breakfast Bread
Chocolate Caramel Banana Bread
Chocolate Chunk Almond Butter Banana Bread
Tell Me!
Have you made caramel with coconut milk?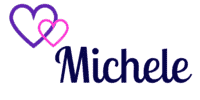 Note: This post contains Amazon affiliate links. This means that if you click on a link and make a purchase, I will receive a small commission at no cost to you. Thank you for supporting Paleo Running Momma!