Is it possible that I need a cooking rest day?  Is there such thing as kitchen burnout or cooking breakdown?  No, that's stupid, but I'm sure most of us can relate to needing a little mental break from endless chopping, frying, oven timing, and, the most fun part of all, the cleaning.  I am always forced to clean as I go due to lack of space, which I prefer anyway I think, but cleaning can be really overwhelming, especially when making big meals.
Friday afternoon was spent making 3 desserts for our Saturday seder.  This was just a warm up before making dinner that night so on Friday I cooked about 3 hours straight.  I wound up with a double batch of chocolate dipped macaroons,  gooey fudge brownie pie, and a double batch of chewy chocolate chip cookies.   Admittedly the double batches were just overkill, and I got caught in that holiday food trap of "we won't have enough!" which always leads to lots of leftover goodies.
On Saturday I ran 10 miles in the morning, did some gentle yoga, and slowly geared up for another cooking marathon.  The thing with cooking is that once I start I don't stop, to the point where I'm making things that are just unnecessary.  Like the from-scratch chicken salad I decided to make for lunch for my kids.  They loved it though and it seemed to make sense at the time, but I was making things harder for myself than they needed to be!
Later on my parents and sister came over and I worked on a gluten-free raisin farfel (matzoh) kugel.  I've made this recipe for years but nowadays I sub in organic coconut sugar and gluten free matzoh and there's no difference in taste, the coconut sugar might even make it better, if that's possible?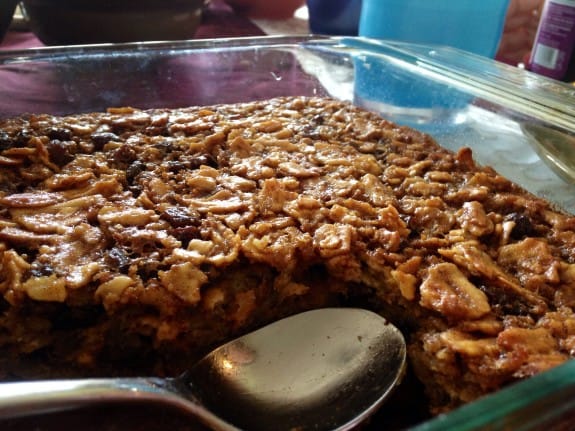 The rest of what I cooked is pretty much the same stuff I cook any night of the week over here, just double the amount, which in my small kitchen feels like a big deal.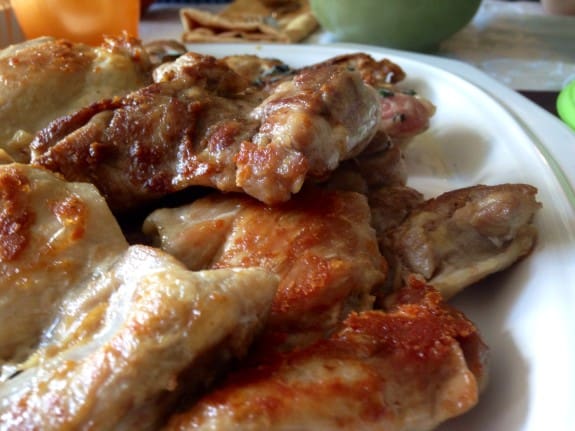 I have a recipe on here for garlicky chicken thighs, which is great, but since I've been avoiding garlic I make something really similar but without the garlic and I think it's just as good.
I heat my large cast iron skillet to medium/med-hi heat and melt about 1/4 cup of butter, ghee or lard in the skillet (for butter be careful about not burning.)  I season the bottom of the pan with sea salt and one side of the boneless skinless thighs with sea salt and pepper.  One the skillet is hot I cook the chicken on each side for about 10 minutes to get a nice browned crispy exterior.  Then I turn off the heat and sprinkle on some fresh herbs, sage and thyme are a favorite combo for us but any fresh herbs will be great.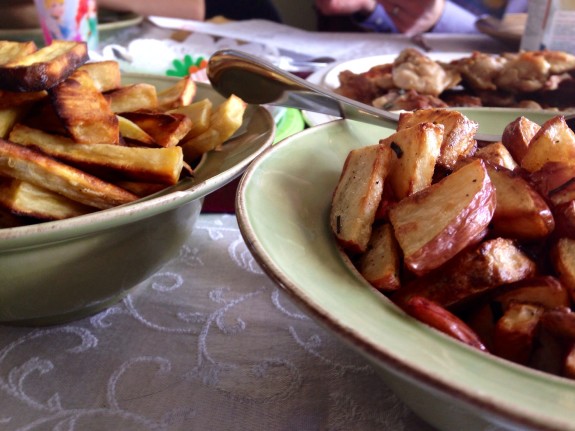 I also made crispy roasted japanese sweet potatoes and red potatoes, another combo I make really often because Drew loves the sweet potato fries and my girls love the roasted red potatoes.   Luckily I found a way to cook them at the same time and they both come out great.
I preheat the oven to 425 degrees and cut the potatoes into desired shapes (I peel the sweet potatoes and cut them into fry-shape.)  I toss everything in melted coconut oil to completely coat (two separate bowls), and season everything with sea salt.  Then I also toss the red potatoes with fresh chives.
On two huge baking sheets lined with parchment paper (a must!) I spread out the potatoes so they're in a single layer with room to breathe (they need space to get crispy) and bake in the preheated oven for 30-40 minutes, turning as many as I can at the 25 minute point.   Really simple ingredients and a must-try!  My sister was really curious about the sweet potato fries since she sees them on the blog all the time, and it was love at first taste for her 🙂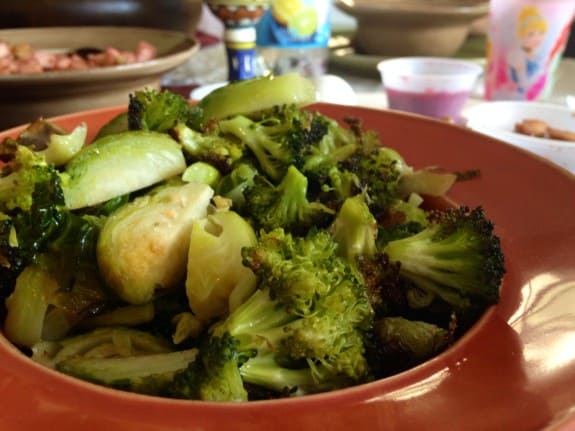 Because I've been feeling a little FODMAP deprived lately I decided to go to hell with myself and have roasted brussels sprouts and broccoli and it was way worth it.  I roasted them in olive oil and sea salt in the same 425 oven for about 15 minutes and they were perfect 🙂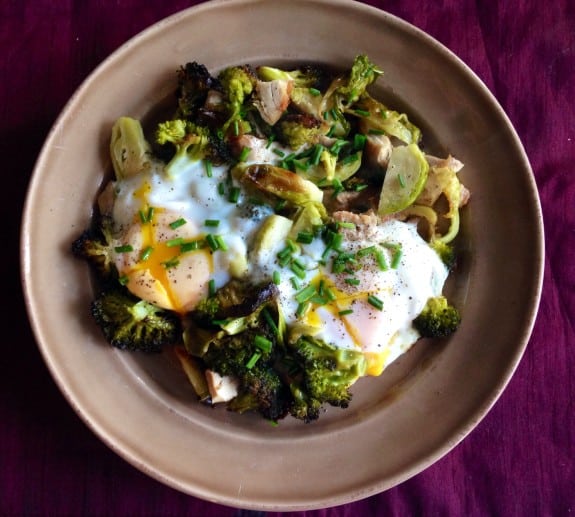 So actually I'm not complaining about the cooking burnout, a day of mostly leftovers should get me revved up again for the week.  I started off my Sunday with just that and it was as good as the day before, although I'm hoping my stomach doesn't get made about all these veggies.  They were cooked really well and that usually helps.
I heated leftover chicken thighs with broccoli and brussels and then threw a couple of eggs on top (plus those chives, love them!) I also let me kids have leftover chocolate chip cookies for breakfast with fruit.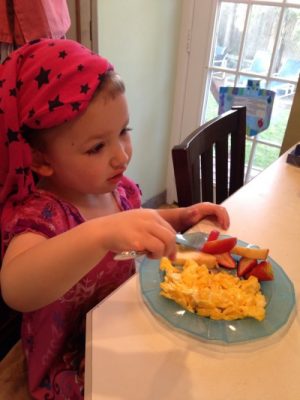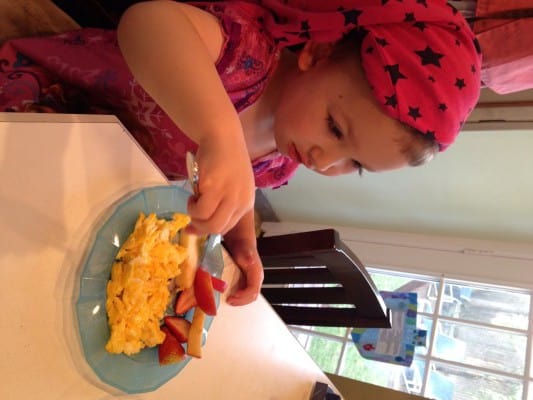 Drew of course rebelled and demanded scrambled eggs.   Kids often operate in mysterious ways so I was not at all surprised.
And now I'm gearing up to do an Easter egg hunt and take Emily for her 1.5 mile run today, all fun things!  And then planning a few activities for the week since all 3 kids are home for the break, so I'll need to get a bit creative to keep everyone away from constant TV and iPad.
Did you cook a lot this weekend?  Best thing you made?
Are your kids off from school? How do you fill the time?
Do you feel burnt out if you don't get a break from cooking?