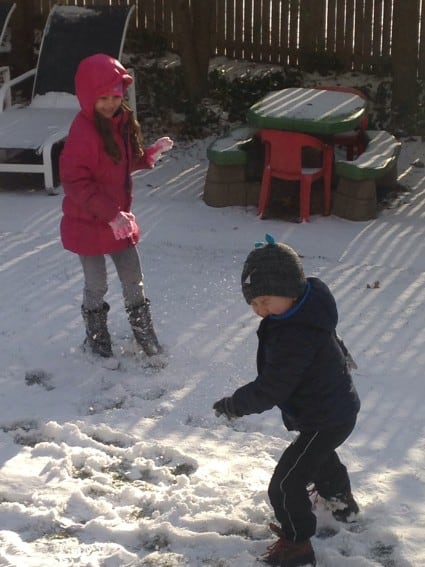 Like I've said before I really can't handle the cold unless I'm running, and I can't understand how my kids enjoy playing outside like this!  Throwing snow in each others faces for fun?  Blech.  This only lasted about 10-15 minutes before they were freezing of course.  Totally worth the snow/mud/water cleanup that inevitably happens when they come back in.  I admit I'm lazy with all things cleanup.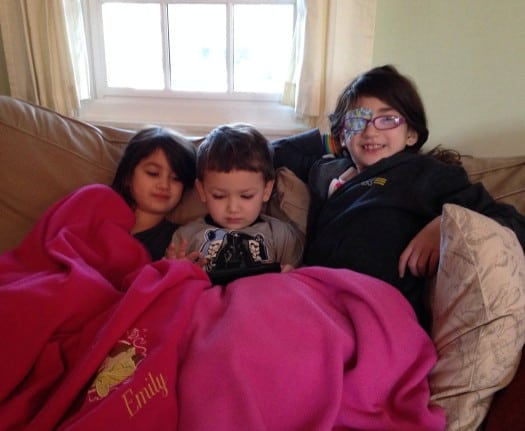 This is definitely more my style on Saturday mornings.  And yes, my son is on his iPad in every photo mainly because he doesn't let me take pictures, so I have to sneak up on him when he's otherwise occupied.
My long run this week was Sunday, so Saturday felt off for me.  I'm used to having my long run out of sight and out of mind by 8am and the rest of the weekend to allow myself to kick back as much as possible.  Isn't it tough to completely forget you have a long run the next day?  The day before a long run I'm thinking "long run" all day in the back of my mind.  Which means being careful about resting, paying attention to what I eat, getting to bed early enough, you know, all that fun stuff we look forward to on weekends.
Of course that was sarcasm.  I HATE paying attention to those things on a Saturday, which is why I normally plan long runs for first thing Saturday morning.  After that, as far as I'm concerned the world as we know it could come to a screeching halt (apocalypse or what have you) but I got my long run in so dammit I'm going down a happy camper.
My son waiting for his sweet potato fries  – definitely not a happy camper here.  Trying to explain the concept of roasting time to a 3 year old is challenging at best.  He saw me preparing his precious sweet potato fries and said they really should only need "5 minutes" in the "fire" before they're ready.  I explained that would be more like 30 minutes, like a full back to back Doc McStuffins episode, and this was the reaction.  Then he stole my phone and took pictures of me, the above being the only one worth daylight.
Paleo, IBS and the Low FODMAP Diet
Natural light makes food look 500 times better, it's really amazing.  For this reason, I'm not sure any dinner I make during the dark months will ever look worth eating.
Anyway, what I really wanted to discuss today is revisiting the idea of IBS and FODMAPS.   For a look at what FODMAPS are and how they impact digestion for many people suffering with IBS, check out this website.
I'm going to say something right now and hopefully never take it back:  With over a year of eating Paleo and experimenting with eliminating and reintroducing different foods and food groups, I had an "ahhh!" moment this past week.
Health wise for me, low FODMAP is much more important than "Paleo."  Paleo naturally removes all of the high FODMAP grains, legumes, and dairy, and I believe that by the huge removal of all of those foods when I began Paleo, I immediately began to feel about a million times better with IBS symptoms.
But, here's the thing.  Paleo does not eliminate all high FODMAPS since many of the pretty rough ones are different types of veggies and fruits.  Also, paleo eliminates all gluten free grains (rice, corn, etc) that are low FODMAP that I know from experimenting I tolerate pretty well.  As a runner especially, there is no good reason to avoid white rice, and I have been known to eat corn tortilla chips and air popped popcorn without any impressive reaction.
So why am I thinking about FODMAPS now?  Because over the past 2 weeks, I let too many of them sneak back into my diet and I paid the price.  Consider yourself warned now that I'm about to discuss IBS symptoms!
Two weeks ago I decided to buy both mushrooms and Brussels sprouts.  The problem is, when you're feeling pretty well, it's tempting to test how you react to foods you've been avoiding, especially when they're healthy ones that you enjoy.
Another thing that trips me up is, FODMAPS are all about AMOUNT, and sometimes I seem to be able to tolerate more in my diet than other times.   For example, some cooked skinless apples, some roasted broccoli and an avocado all in one day are often fine.  Another day, maybe not.  I believe this is one of the reasons it's so hard for people with IBS to get any sort of handle on what bothers them.
Well, let's see.  The combo of mushrooms, Brussels sprouts, an apple and pear with skin here and there, avocados (a moderate one that I've always included because I love them), dried fruit, and some onion and garlic sneaking in in my marinara sauce, I was defeated.  That's a whole lot of high FODMAP eating and I should have known better.
I can tolerate a little bit of gas, cramping, distension and that sort of thing.  Of all the pain I've dealt with with my IBS over the course of my life, those mild symptoms don't bother me THAT much, and for foods I love it can actually be worth it.
The problem is when those FODMAPS build up in your system and they aren't being eliminated quickly enough.  I soon found myself in a situation where days went by with a very distended and gassy abdomen, some cramping and irregularity, and stupid me was STILL not connecting the high FODMAPs with these symptoms.  I guess I was in denial, and I missed eating apples and pears.  I really love apples and pears!  But no, I cannot eat these fruits in more than small amounts, and if I do I have to be mindful of keeping everything else I eat that day very low FODMAP.
On Thursday, my brain finally caught up and I had that "duh!" moment where I did a little refresher course on FODMAPs, realized I had been eating too many high FODMAP foods and completely stopped.  And like magic, as of Friday I have been feeling much, much better.  Just like the very hungry caterpillar after he eats that nice green leaf.
For a pretty complete list of FODMAPs you can check here.  There are a few apps out that have search options for different foods but I haven't found any comprehensive enough to recommend yet.  If you already eat Paleo, it is mainly the fruits, veggies, and nuts that you want to be mindful of as you've eliminated lactose, gluten containing grains (very high) and legumes.
I'm saying all this in a matter-of-fact way, but, this stuff is actually really emotional for me. Whenever I start having symptoms bordering on moderate (which is rare since paleo) it triggers a bunch of painful memories of how I struggled over the course of my life, the anxiety it caused and how for long periods my life revolved around the fear of my own digestion and of an "episode."  All without ever knowing if it was within "normal" limits or something terribly wrong. If you missed the posts on my full history with IBS you can read them here and here (part 1 and part 2.)
Any highlights to your weekend?  
Do you have intolerances to foods but sometimes eat them anyway?  
Have you struggled with IBS, and have you heard about FODMAPs?