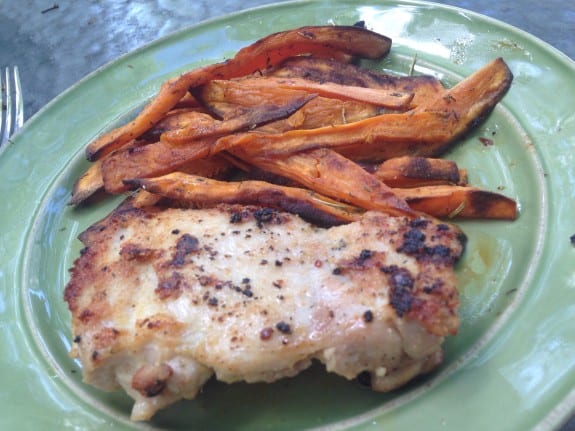 Is this picture screaming "best you've ever had?"  If it is it's pure coincidence, because this was a last minute throw together dinner.  My husband took a bite and said "this is the best chicken I've ever had" and that I need to put it on the blog. So the chicken didn't have time to reapply lipstick and touch up powder and what not before the photoshoot.
But don't let looks deceive you because the chicken is surprisingly fast to prepare (no marinade, just a few spices) and although there is no secret ingredient, there is a secret cooking method* that is unusual but is what I think made this recipe stand out.
First, I would like to take the opportunity to bore you with the wonders of ghee. I had no idea what ghee was before I started eating paleo. Maybe I just wasn't paying attention or maybe most people don't know about this, but either way here it is. Ghee is a type of clarified butter, which is butter that has had the milk solids and water removed, resulting in pure butterfat. It has a higher smoke point and a longer shelf life than butter, making it great for stovetop cooking. Since the dairy solids have been removed, it has no lactose or casein which makes it acceptable for people with dairy sensitivities who normally could not consume butter. – Wikipedia.org. Ghee specifically is used in traditional Indian cuisine and medicine.
You can make ghee at home without too much difficulty, how to video here. Or, you can buy it on Amazon like I do!  My favorite one so far is Purity Farm Organic Ghee
 – a must try if you haven't worked up the courage to make this yet.  The homemade version remains on my to-do list.
Okay, get ready. Here is the recipe for the best you've ever had chicken!
Ingredients:
For the Chicken:
1.5 lbs boneless, skinless chicken thighs
3 tsp garlic powder
3 tsp Italian seasoning (my mix includes rosemary, red and black pepper, garlic, onion, sea salt, tomato and parsley)

3 tbsp ghee

sprinkle of coarse sea salt
For the Fries:
2 large sweet potatoes, peeled and cut into 1 inch inch "steak fry" shape
2 tbsp olive oil
1/2 tsp dried rosemary
1 tsp dried thyme
salt to taste
Directions:
Preheat the oven to 450 degrees and prepare your sweet potatoes. Toss them in a large bowl with the olive oil, herbs, and salt. Line them up on a large parchment lined baking sheet, making sure they don't touch each other (use 2 baking sheets so they can spread out) This will prevent steaming and allow them to get crispy.

Put the sweet potatoes in the 450 oven. Bake for 20 minutes, turn and bake for about 10 more minutes or until nicely browned and crisp.

While the fries are baking, sprinkle the chicken thighs on both sides with all of the garlic powder and Italian seasoning. Don't be shy. The herbs and spices make the flavor!

Heat a large saute pan over med high heat and add the ghee to melt. Now add a sprinkling of the coarse sea salt (just a sprinkle don't go overboard) to the pan over the ghee. Let the pan heat up this way *secret cooking method right here. Don't screw this part up and make me look bad!

Once the pan is heated, add the chicken and cook it on each side for about 5 minutes, or until the outside is crispy brown and the inside is just no longer pink. Make sure the fan is on! Have some double lined aluminum foil ready for when the chicken is done.

Once the chicken is done, wrap it up in the double lined aluminum foil while you get the fries ready. Timing is everything with cooking isn't it?

Once the fries are out of the oven, serve everything together. Aren't you glad you saved some of the juices in the foil? Pour that over the chicken when you serve.

I know, I know. It really is the best you've ever had. Easy, quick and fool proof. Your welcome and I hope you add it to the rotation 🙂