A delicious healthy option for breakfast, brunch, lunch or dinner!  This Parsnip Carrot Hash with Turkey & Bacon is the perfect quick meal for leftover turkey or chicken, packed with nutrients, low carb, Paleo, and great with or without eggs!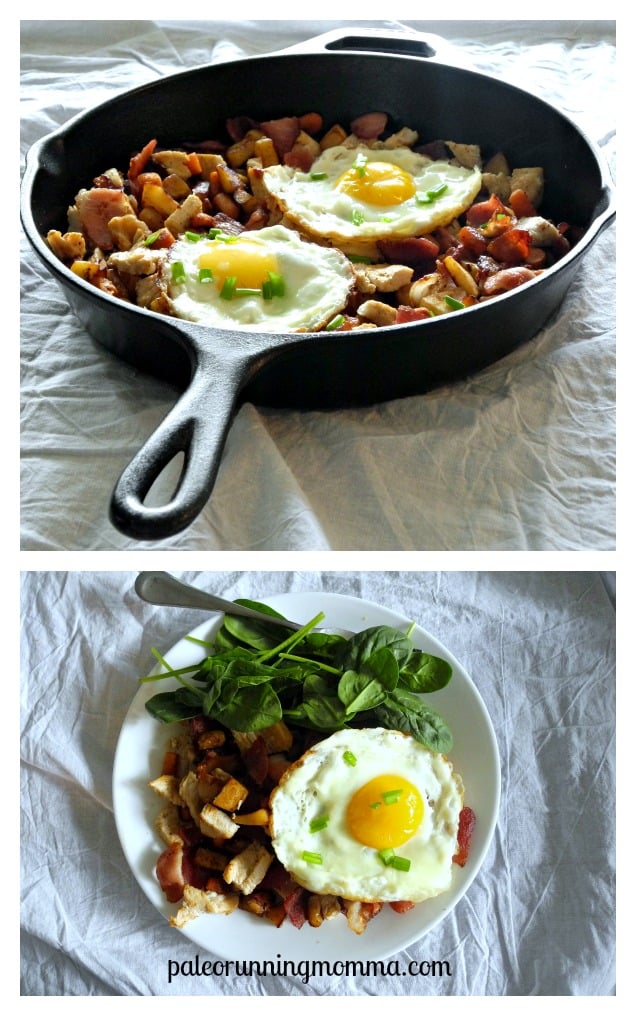 Yet another recipe for your leftover turkey!  I know by this point the Thanksgiving leftovers are long gone, but isn't turkey just too good to say goodbye to on December 1st?  I think so.
If you're so done with turkey and ready to click away, rest assured that this recipe will come out just fine if you use a rotisserie chicken too.  Or basically any form of cooked poultry.  "Cooked poultry of your choice hash" should be the real name of this recipe.
As I'm writing this I'm in kind of a dinner debacle for tonight.  Here's the deal: my daughter has gymnastics from 3:30-4:30 after which we head straight to my other daughter's dance class from 5-5:45, and then I have a parent teacher conference at 6pm and the other at 7:40.  I do not do fast food anymore so my options are 1. Make a one pot dinner at 2pm and reheat after the first conference or 2. Make bacon and eggs for dinner after the first conference or 3. cereal?  I think I'm going to wind up making meatballs at 2pm and heating up at 6:30 for all of us.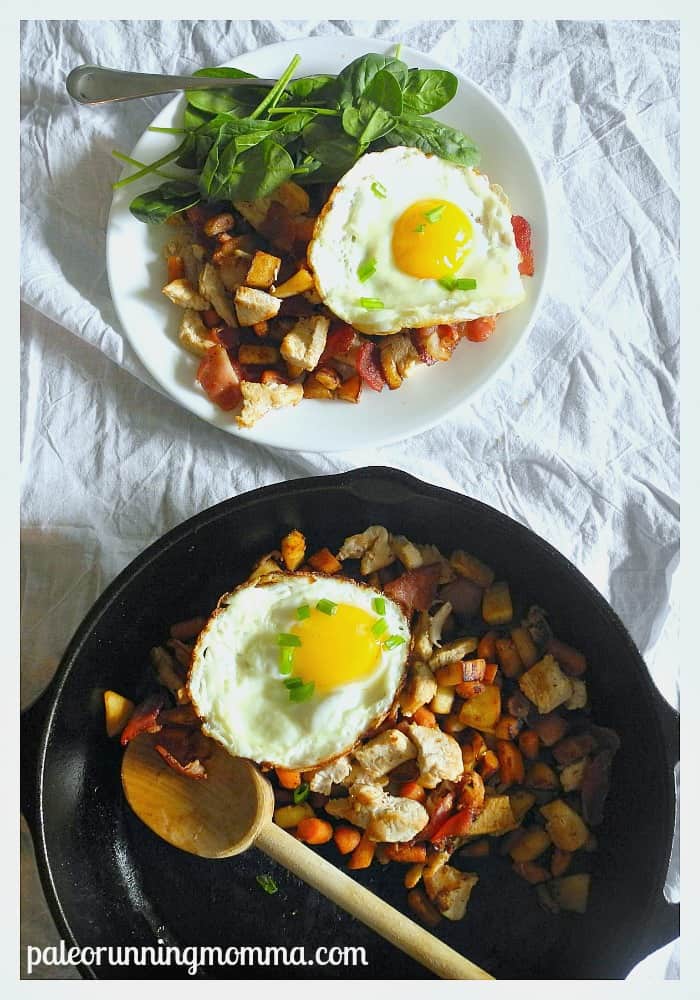 This totally would have been the night for a slow cooker recipe, but I dropped the ball with my lack of meal planning!  Second ball dropped was that this recipe could have been saved for dinner instead of breakfast, but, whoops, too late again.   I know lots of people make dinner early to serve later on so I will stop whining now.  Thanks for helping me make that decision.  Oh the drama of the stay at home mom!
Turkey Parsnip and Carrot Hash with Bacon
A hash using leftover turkey or chicken, parsnips, carrots, bacon and green onions, topped with eggs for a simple and delicious grain and dairy free breakfast!
Prep Time: 10 minutes
Cook Time: 25 minutes
Total Time: 35 minutes
Course: Breakfast
Cuisine: Paleo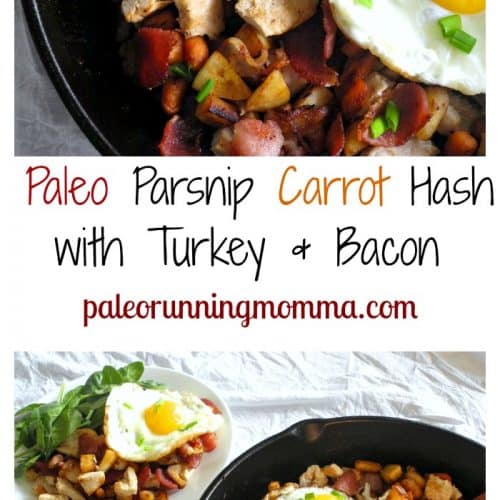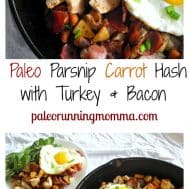 Ingredients
1.5-2 cups cooked turkey or chicken shredded or chopped - mine had been seasoned with salt and pepper but use whatever you like
6-8 slices nitrate free sugar free bacon - mine is from U.S. Wellness Meats
1 large carrot peeled and chopped into small pieces
1 large or 2 small parsnips peeled and chopped into small pieces
1/4 tsp salt
4 whole eggs
salt and pepper to taste
2 green onions thinly sliced
Instructions
Preheat your oven to 400 degrees. Heat a 9-10 inch ovenproof skillet on your stovetop over hi heat.

Cut your bacon into 1/2-1 inch pieces and add to the skillet

When the bacon has cooked about halfway and some fat has been rendered, add your chopped carrots and parsnips to the pan and stir to coat. Add the salt and mix together to blend flavors.

Let the bacon, parsnips, and carrots cook together over med-hi to hi heat, stirring occasionally to prevent burning, until the mixture is toasty, the veggies are soft and lightly browned and the bacon is crisp. Leave the fat in the pan and turn the heat down to low.

Add the cooked and shredded/chopped turkey to the mixture and stir to coat the turkey with the bacon fat. Remove mixture from heat.

Now one at a time, carefully crack each of the 4 eggs into the pan in a different spot. You can make little grooves in the mixture to help avoid the yolk from breaking. Sprinkle the eggs with salt and pepper if desired.

Once all the eggs are added, put the skillet in the oven and bake for about 15 minutes or until your eggs are cooked to preference. I cooked mine until the whites were completely set but yolks remained intact.

Remove from the oven and let sit for 5-10 minutes before serving. Take the biggest piece for yourself. Duh, guess you probably did not need me to tell you that 🙂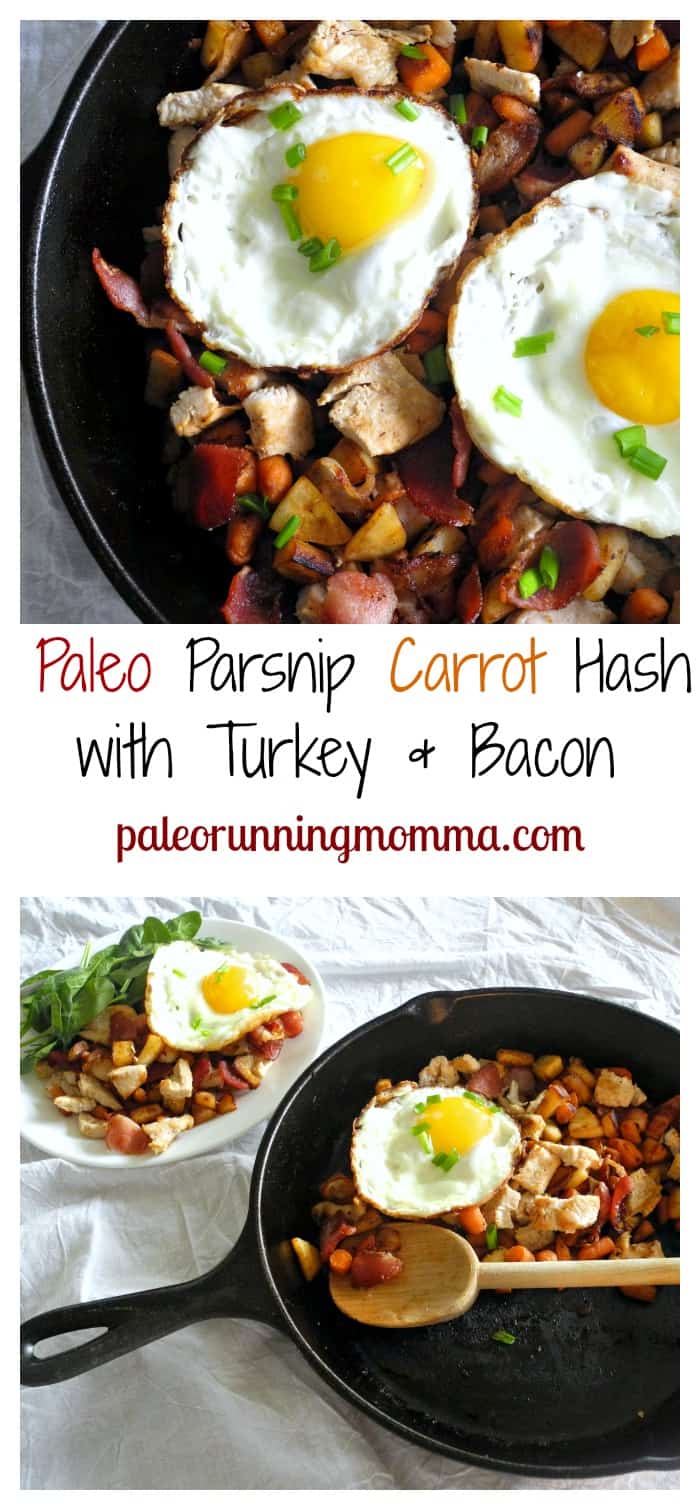 What's you favorite way to cook eggs?  
I like them sunny side up or over easy.  I ate them scrambled for most of my life and I was really missing out!
Are you sick of turkey yet or still going strong?
I actually like and eat turkey year round!
Do you make dinner ahead of time when you'll be busy all night or do you resort to takeout?
I try to make it ahead of time but due to lack of planning it's always stressful.
Happy Friday guys!  Relax and do something nice for yourself this weekend!