This Pumpkin Pie Paleo & Vegan Ice Cream is the perfect healthy pumpkin treat to make when you start craving all the sweet flavors of fall!  It's creamy, sweet and perfectly spiced – just like a pumpkin pie in ice cream form.  My kids can't get enough!  Paleo, dairy-free, vegan, egg free and easy to make.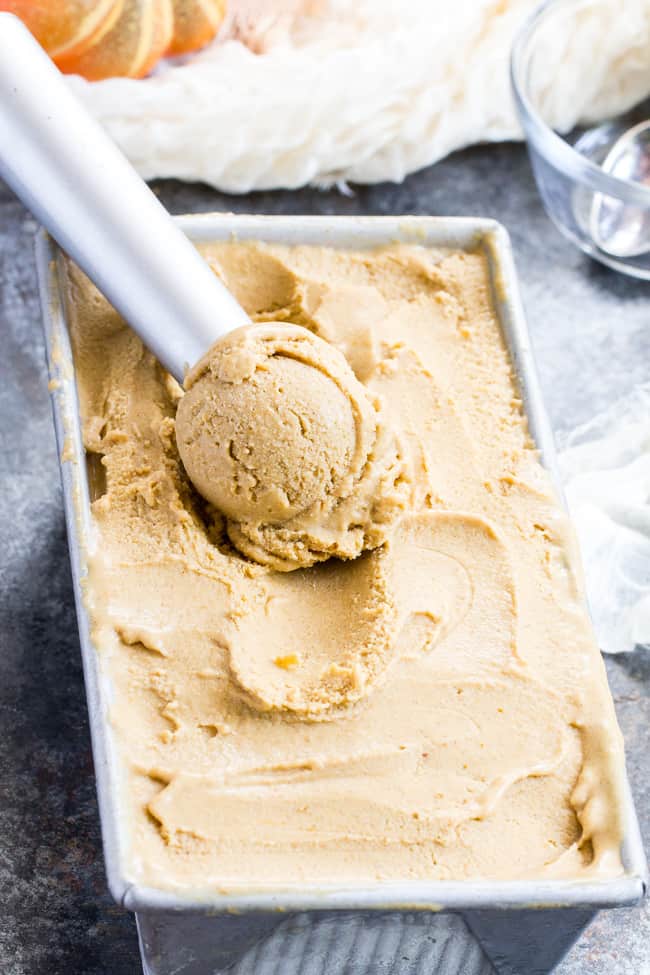 It's that time of year – time to embrace your inner pumpkin spice, don't fight it.  I'm pretty sure I literally received the memo (AKA email) from Dunkin Donuts last week that pumpkin spice lattes are on their way.
(If you're wondering why a Paleo blogger receives DD emails, well, the answer is not completely clear to me, either.)
In any case, that memo is a signal to me to start rolling out the pumpkin recipes – which won't totally stop until the New Year, I'm apologizing in advance.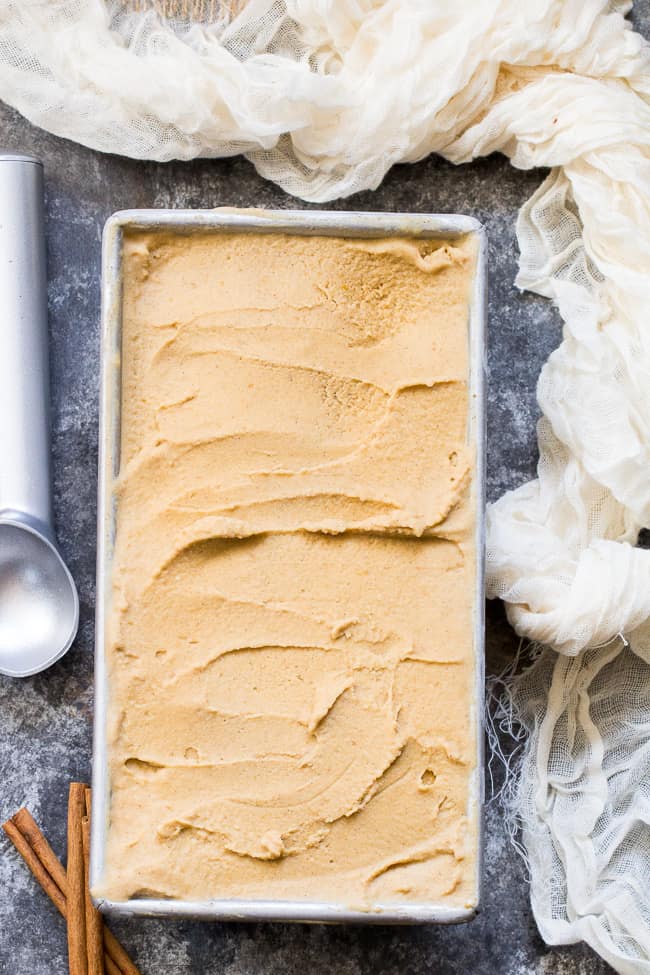 Anyway, it's the last weekend in August, we're already being fed pumpkin spice lattes, the kids might already be back in school, and, if you're like me, you might already be shopping for your kids' snow boots on Zappos.
Craziness, seriously.  In my defense, being a food blogger means I test pumpkin recipes when the rest of the world is picking peaches, so no wonder I'm just a bit confused.
Our first stop?  This pumpkin pie paleo and vegan ice cream!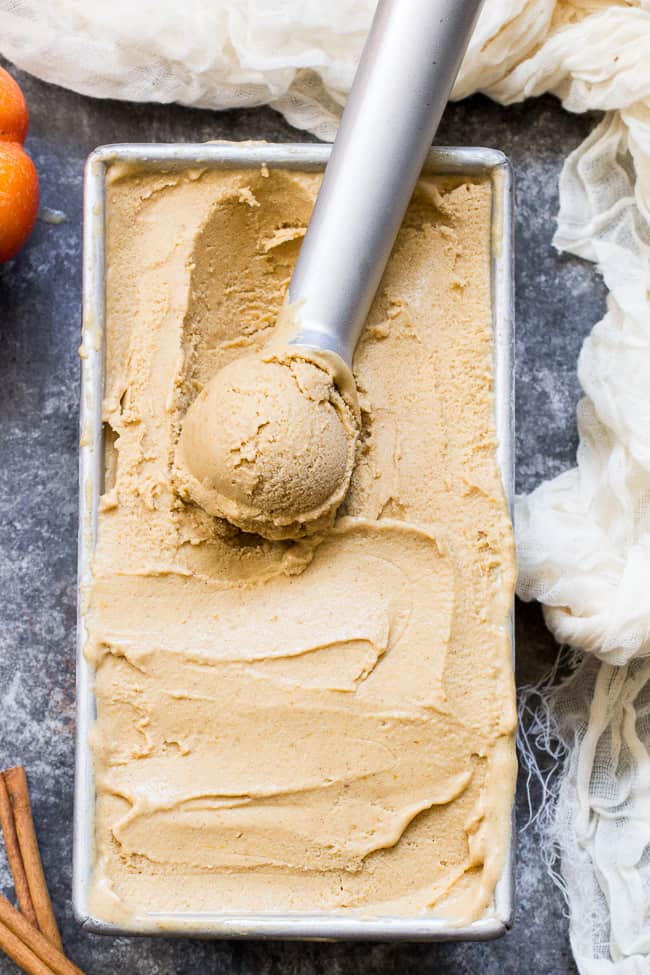 Since I originally made this ice cream so off-season, I didn't even think to offer some to my kids since they were busy eating watermelon and cherries.
But, one of them discovered it in the freezer and helped herself, and then within 5 minutes they were all digging in, with sound bytes like "this almost tastes like pumpkin pie!"
Sweet relief – the kids' approval is always a huge deal for me.  And the pumpkin pie thing, I informed them, was the original point anyway.
Healthy dairy-free, paleo and vegan ice cream that tastes like pumpkin pie.  Heck to the OMG YES!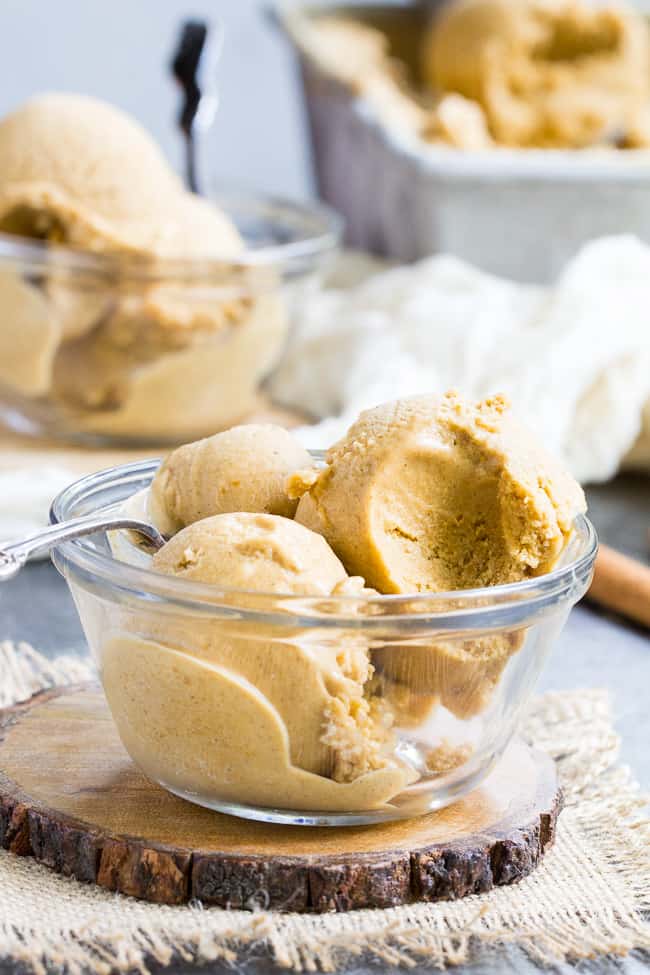 Okay, now for the details regarding this perfect-excuse-for-late-summer-pumpkin ice cream.  For the base, I used a combination of canned full fat coconut milk and coconut cream.
Just to distinguish the two, coconut milk is both the cream and water combined, sold in 13.6 oz cans (I used these.).
Now, the coconut cream is what tends to confuse people.  The cream can be scooped out of a full fat can of coconut milk after the can has been chilled for awhile, but this isn't possible with all brands.
Alternatively, you can just buy the coconut cream by itself, without the water, from a few different brands – I buy the small Native Forest cans on Amazon which work well for whipped cream and many other recipes.  It's up to you whether you get the cream alone or from a chilled can of coconut milk.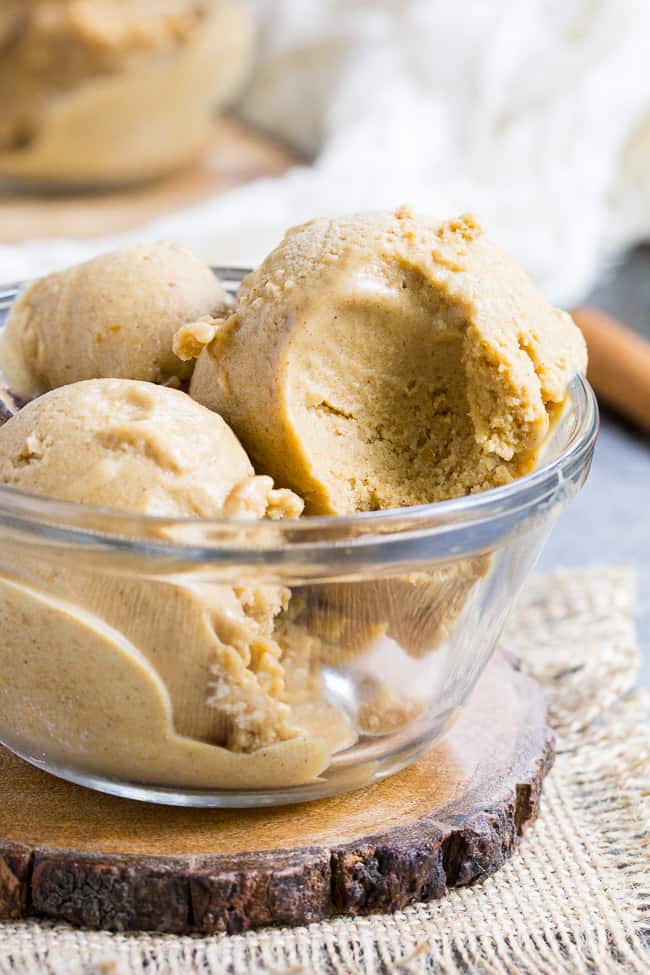 Okay, so the base involves the coconut milk and cream, molasses, maple sugar – which is light in color and very fine (I've been SO into it lately!) and dissolves into the ice cream mixture well.
I wouldn't use coconut sugar, so if you had to sub a sweetener, I'd use pure maple syrup, as instructed in the recipe box.
And, since we're talking pumpkin pie, we need plenty of pumpkin puree and spices in there too!  I made my own pumpkin spice mixture, but you can also sub in the equivalent of pre-purchased pumpkin spice mix – totally up to you.
Everything is blended with an electric hand mixer before churning.  Churning with an ice cream mixture is HIGHLY recommended for creaminess, but not mandatory – you can see the instructions below for a no-churn version that still provides you with that great pumpkin spice flavor!
Pumpkin Pie Paleo & Vegan Ice Cream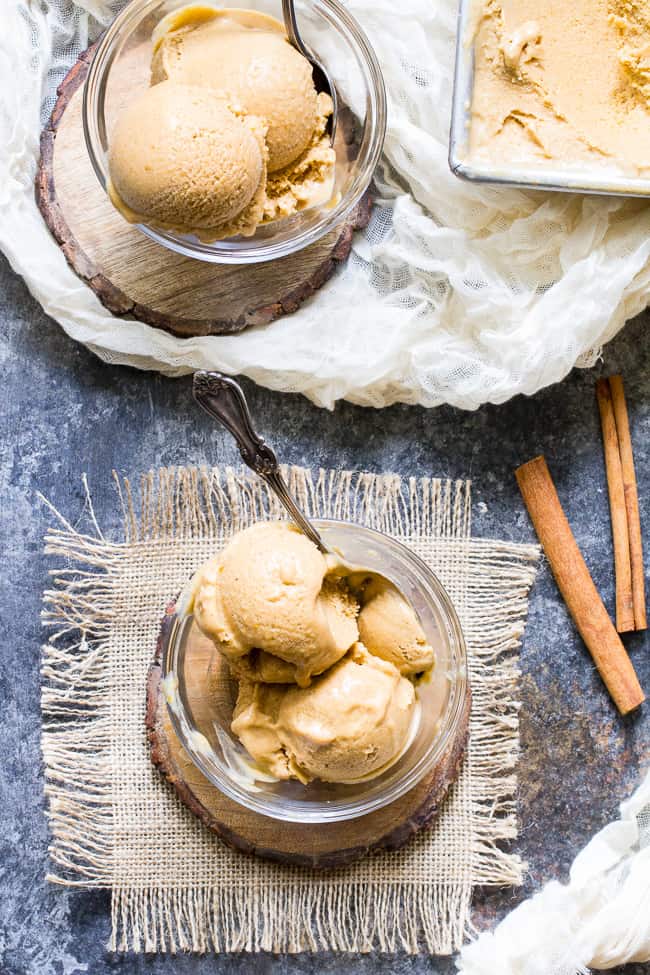 Pumpkin Pie Paleo & Vegan Ice Cream
This Pumpkin Pie Paleo & Vegan Ice Cream is the perfect healthy pumpkin treat to make when you start craving all the sweet flavors of fall! It's creamy, sweet and perfectly spiced - just like a pumpkin pie in ice cream form. My kids can't get enough! Paleo, dairy-free, vegan, egg free and easy to make.
Prep Time: 5 hours
Total Time: 5 hours
Course: Dessert
Cuisine: Paleo, Vegan
Servings: 14 servings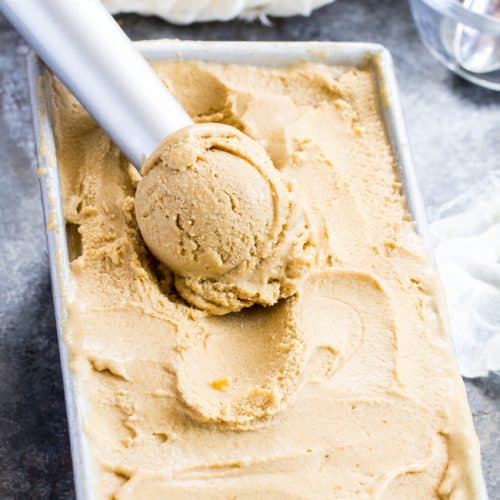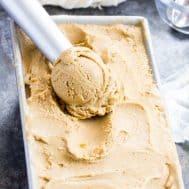 Instructions
*An

ice cream maker

is highly recommended to make this recipe.

This is the one I use

and love! Make sure the bowl of your ice cream maker has been in the back of your freezer for at least 24 hours before churning.

Using an electric hand mixer, mix coconut milk with sugar and molasses in a large bowl until well blended and sugar appears dissolved.

Add in the pumpkin and spices, blend until smooth, then blend in the coconut cream and vanilla. Mixture should be smooth with no bubbles throughout

Chill in the freezer just until cold, then churn for 25-35 minutes*, transfer to freezer safe container (I used a 9 x 5 loaf pan) and cover tightly with plastic wrap so the wrap is in full contact with the surface of the ice cream. Cover again with aluminum foil over the plastic wrap, and freeze for another 3-4 hours for a scoop able consistency. Once totally frozen, the ice cream will need to sit at room temp for 20 minute to re-soften.
Recipe Notes
*If you don't have an ice cream maker, you can still make this ice cream with a few modifications, however, keep in mind the ice cream will not turn out as thick and creamy as it does if churned: After combining the mixture, transfer to a large freezer safe bowl, and, over the course of about 4 hours, whisk the ice cream mixture vigorously every 30-45 minutes until desired consistency is achieved.
**Coconut cream can be purchased separately, or you can use the thick part only of about 2 cans of coconut milk. The cans will have to be chilled overnight in order for the water and cream to separate. Brands will vary based on stabilizers used. If you don't have coconut cream, you can use all full fat coconut milk, although it won't turn out as creamy.
Nutrition
Calories: 150kcal
Carbohydrates: 7g
Protein: 1g
Fat: 13g
Saturated Fat: 11g
Cholesterol: 0mg
Sodium: 6mg
Potassium: 214mg
Fiber: 1g
Sugar: 4g
Vitamin A: 2725IU
Vitamin C: 1.7mg
Calcium: 23mg
Iron: 1.8mg
What I Used To Make My Pumpkin Pie Paleo & Vegan Ice Cream:
Want more Paleo pumpkin recipes?  Try one of these!
Paleo and Vegan Pumpkin Spice Fudge
Paleo and Vegan Pumpkin Cookie Dough Truffles
Paleo Pumpkin Chocolate Chip Cookies
Paleo Pumpkin Gingerbread Muffins
Tell Me!
Favorite early fall pumpkin treat?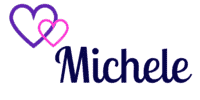 Note: This post contains Amazon affiliate links. This means that if you click on a link and make a purchase, I will receive a small commission at no cost to you. Thank you for supporting Paleo Running Momma!