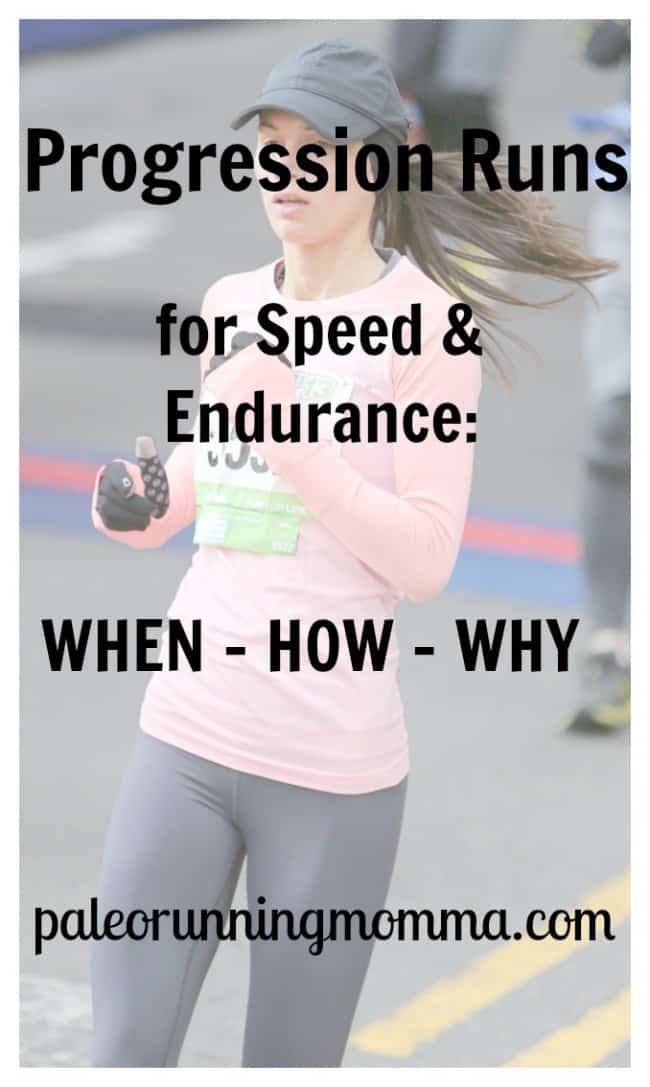 Progression runs remain my favorite type of run.  If you want to improve both your speed and endurance as a runner, progression runs should play a regular role in your training!
I mainly love them because they follow a formula that my body seems to naturally adhere to without putting much thought into it.  Focus is sometimes hard to come by at 5:30am, after all.
This morning, I did a progression run that was a total of 10 miles.  Miles 1-3 were at a pretty steady 8:40-8:50 pace, the middle 4 miles were 8:30-8:40, and the last 3 miles were 7:50-8:00 (typically my goal marathon pace).  These runs allow me to incorporate speed while keeping the run feeling "natural" – my body magically wakes up and is ready for more speed as I cover more miles.
Aside from these runs feeling natural and usually really strong, there is a good argument for putting these types of runs in your training plan, no matter what distance you are training for.  First, I'll quickly go through the most common types of progression runs.
Thirds:  These runs are broken up into three equal segments: The first segment is an easy pace, the second is a medium "normal" pace for you, and the third is the fastest, usually around your goal marathon pace.  This is my personal favorite type of progression run and I use this basic formula on many of my longer runs, especially during marathon training.  The strong finish will improve your stamina and will allow you to run at faster paces without rapidly accumulating lactic acid, according to Mcmillanrunning.com.  You can read more about thirds here.
Very Fast Finish: During these runs you will maintain a steady pace throughout almost the entire run, and then during the last half mile or so you will speed up to a 5k pace, or a "race to the finish" kind of pace.  This trains your body and mind to kick into high gear at the end of a race.
Threshold Progression: This is basically a tempo run thrown in at the end of a longer run.  In a 10 mile run, you would run the first 6 miles at an easy pace and then your tempo pace for the last 4.  They are a nice way to mix up your speed work during half or full marathon training and a huge confidence builder.  I find that these runs are as important psychologically as they are physically.
Marathon Pace Progression Run: The mac-daddy of progression runs, in my opinion, the idea of doing these during marathon training frankly scares the crap out of me.  These runs can be tailored to the distance you are training for, but for marathon training, an 18 mile run done about 4 weeks out from the race would look like this: 4-6 miles at a moderate pace and 12-14 at marathon pace.  Yes, that's why it's scary.  For a shorter distance, like a 10k, you could do an 8 mile run with 2-3 miles moderate and 5-6 at marathon pace.  The key here is that the "fast" part is longer and slower than in the other types.  Read more about this type of run here.
So WHY are these necessary and WHEN should we do them?
Since there is always a built in "warmup" in these runs, they allow our bodies to naturally build up to the point where they are primed and ready for some speed.
Jumping into a fast pace too quickly stresses all your systems: "A progression run allows the body to thoroughly warm up at a slower pace before speeding up to a pace that requires more muscle power, greater hip extension and more agile movements. If you try running fast from the start of a run before your respiratory, circulatory and muscular systems can warm up, you not only run the risk of injury but you also greatly increase lactic acid production by stressing your anaerobic system too much"- from Competitor.com.
Progression runs will benefit your aerobic system as well as keep you from risking injury.  Nothing to complain about there!
Progression runs also allow you to increase the amount of faster paced training in your schedule with less fatigue than other types of speed work.  Additionally, these runs may actually help you absorb the effects of harder workouts:
"A light progression at the end of a recovery run can actually speed recovery from a previous day's hard workout and give your body a better chance to absorb the harder session"- Competitor.com.  Again, more bang for your buck and less fatigue and risk of overtraining/injury.
As for how often to do them, it varies based on how often you run, your experience level, the event you are training for and where you are in your training.
In an "off" phase like I'm in now, I like to do some form of progression run about 2x week, but during peek marathon training, progression might take place during 3-4 runs per week, taking the place of other classic forms of speed/tempo work.
Just because you love progression runs though, doesn't mean every run you do should follow a progression formula!
I have been caught in this trap, and it can be both physically and mentally damaging to always feel you need to finish faster.  Slow recovery runs and long slow distance should have their place in any training schedule, as well as some shorter speed sessions.  As we've all probably experienced, too much of a good thing can quickly become a very, very, bad thing!  To read more about progression runs, check out these articles:
http://running.competitor.com/2013/11/training/advance-your-fitness-with-progression-runs_56591/1
http://running.competitor.com/2014/02/training/take-your-marathon-long-runs-to-the-next-level_58406
http://www.theactivetimes.com/why-you-should-do-progression-runs
What type of progression runs do you love to do? 
Do you tend to naturally start out a run slower or go out too fast? 
What benifits have you personally seen from progression runs?