This post has been sponsored by Wholesome. All thoughts and opinions are my own.
These grain free and paleo vanilla wafer cookies are light and crisp with sweet, buttery flavor. They're perfect for healthy snacking and treats!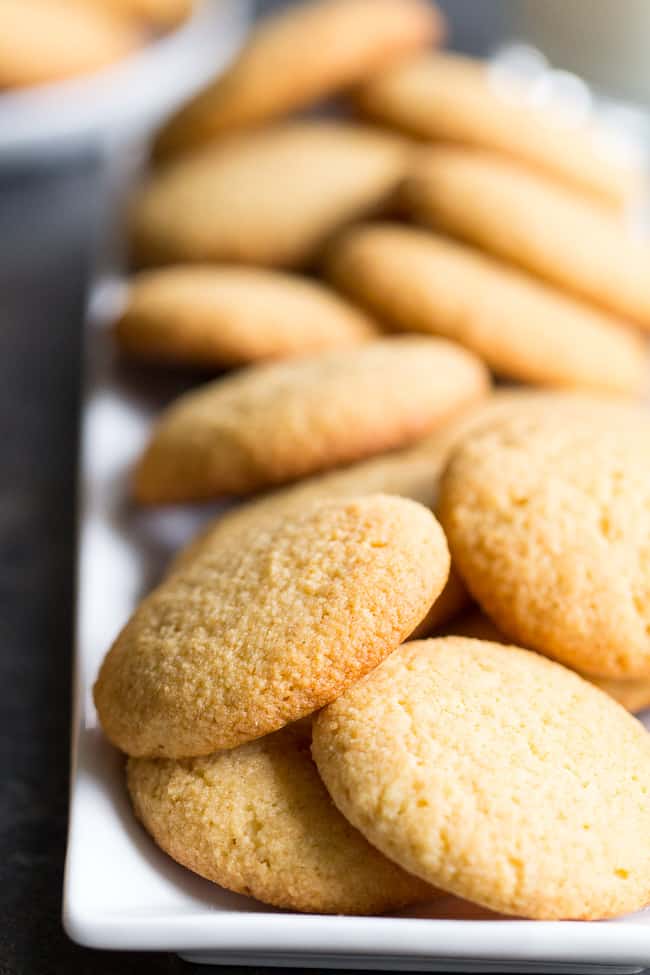 I've been meaning to make a Paleo vanilla wafer style cookie for a long time, so I'm very excited to finally be sharing this recipe with all of you!
And yes, it DID take me 5 tries to get this one right, but no worries – each batch was quite delicious and nothing went to waste. While each batch of cookies had that sweet buttery flavor, it was the texture that I had trouble getting right – crisp grain free cookies aren't so easy to come by!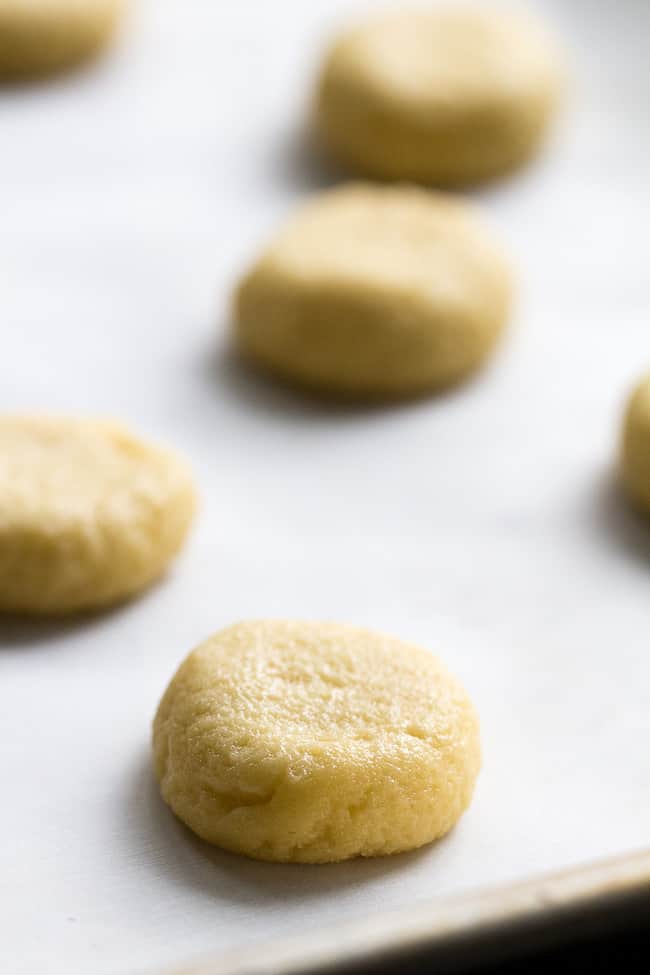 Luckily, it all came together in the end and my family was happy to have an endless supply of vanilla wafer cookies. They go perfectly with fresh fruit like berries and bananas and have been our go-to after school snack for the past couple of weeks.
But back to those 5 batches. There are so many decisions to consider when creating a recipe! Probably the easiest part of all was also a really important factor – the sweetener.
To give these cute little cookies their sweet flavor, I used Wholesome Organic Honey.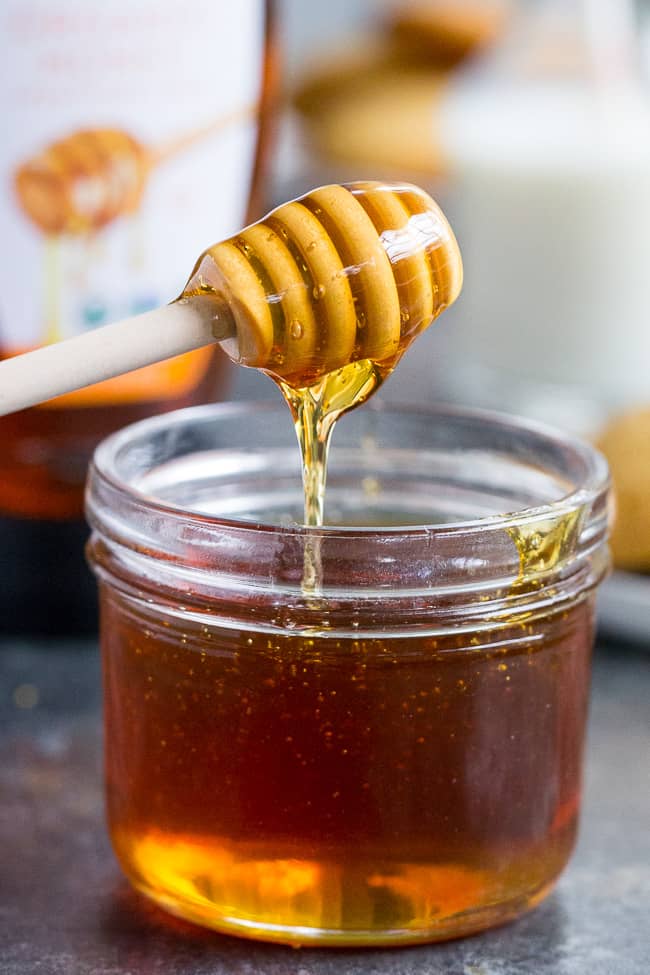 Wholesome Organic Honey is pure, pesticide free (unlike many local honeys), and derived from protected hives in the remote forests of Brazil.
Local doesn't necessarily mean better or cleaner – in fact, you can't buy USA produced organic honey b/c there is so much chemically-grown agriculture in the US. It is nearly impossible for domestic bees to avoid contact with pesticides.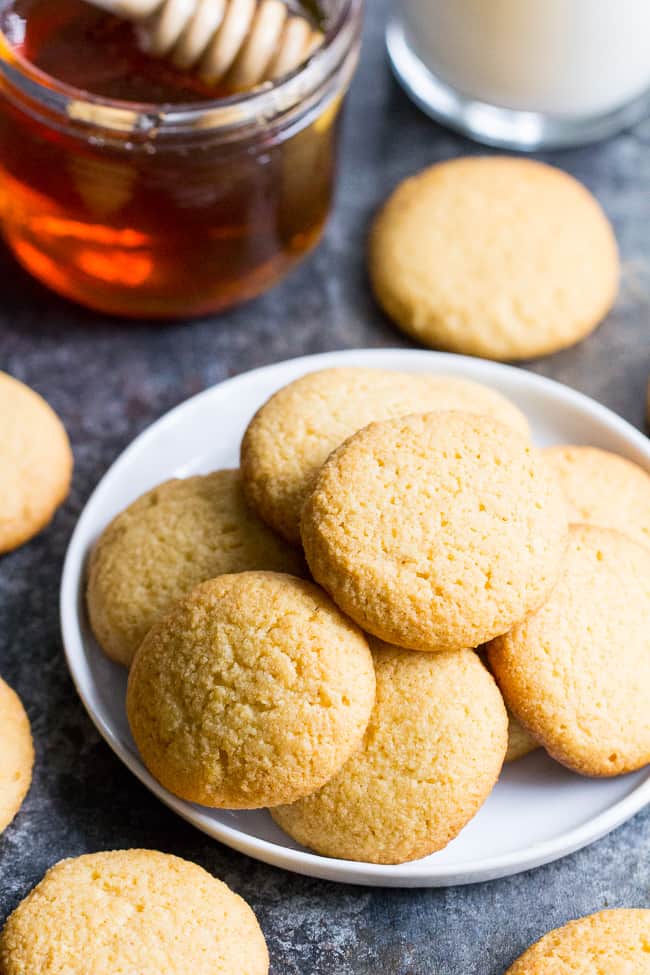 Wholesome Organic Honey is also now certified "Glyphosphate Free". It's pure, unadulterated, NON-GMO Project Verified, and fair trade.
You can find Wholesome Organic Honey at several local grocers – to find out where to buy yours, click here for the Store Locator. You can also click here for a rebate offer (effective November 17th) when purchasing Wholesome Organic Honey!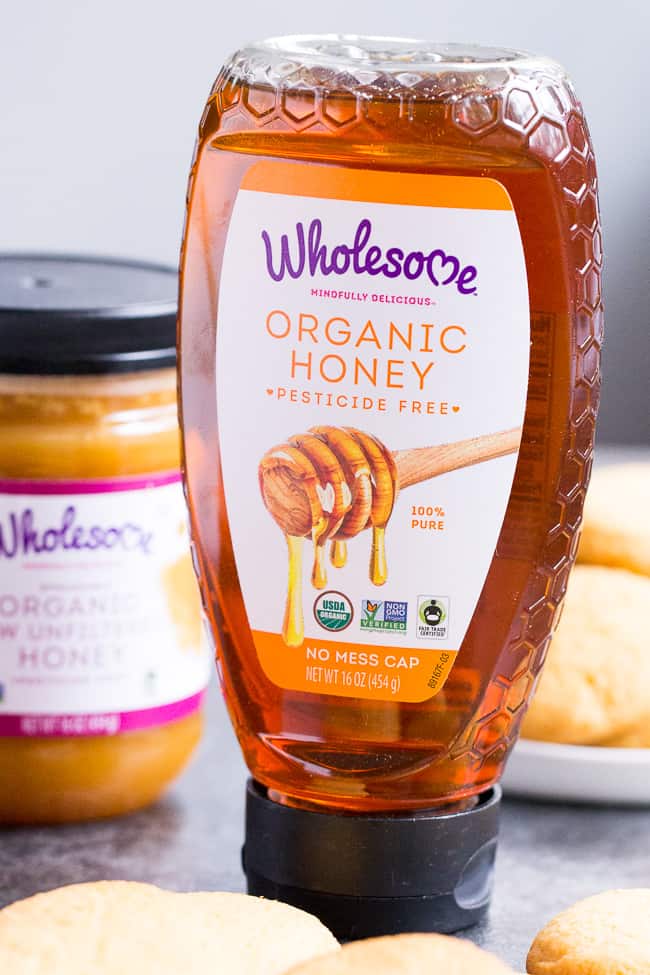 When the pure delicious sweetness of the honey combines with creamy grass-fed butter and pure vanilla extract, magic happens!
For the flours, I decided to use blanched almond flour combined with arrowroot flour (starch). I had originally tested the cookies with almond and coconut flours, but decided to try arrowroot to get the crispiness that was lacking in the coconut flour cookies.
I'm glad I switched gears there, because that last batch was certainly the winner!  You can also use tapioca flour in place of the arrowroot for a nearly identical result..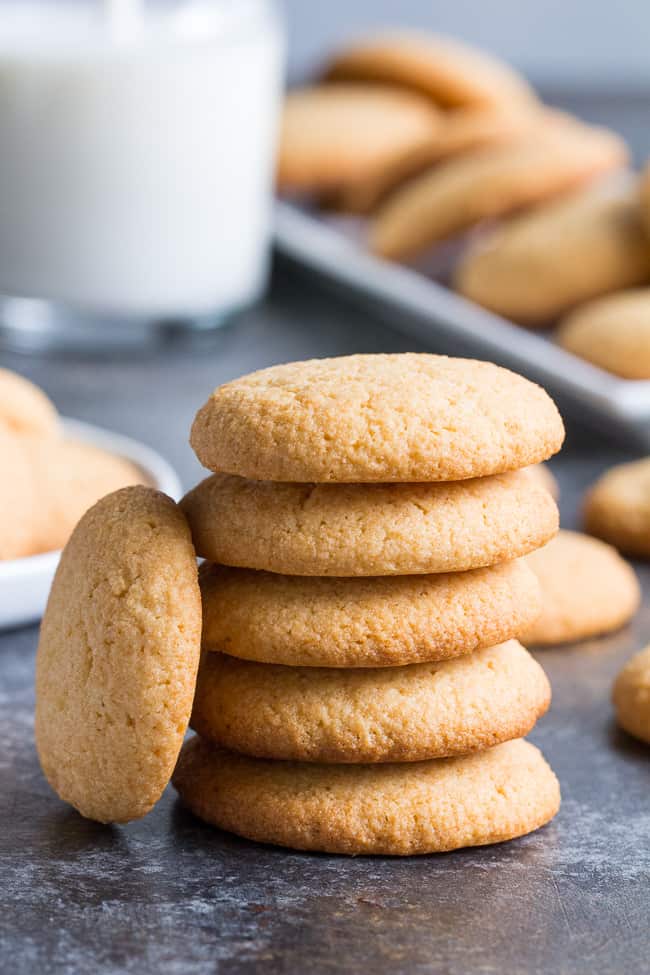 And now?  Irresistible, stackable, oh-so-cute little crisp and just slightly chewy cookies.
Are you all ready to be wowed by these fun, healthy, grain free and paleo vanilla wafer cookies? Let's bake!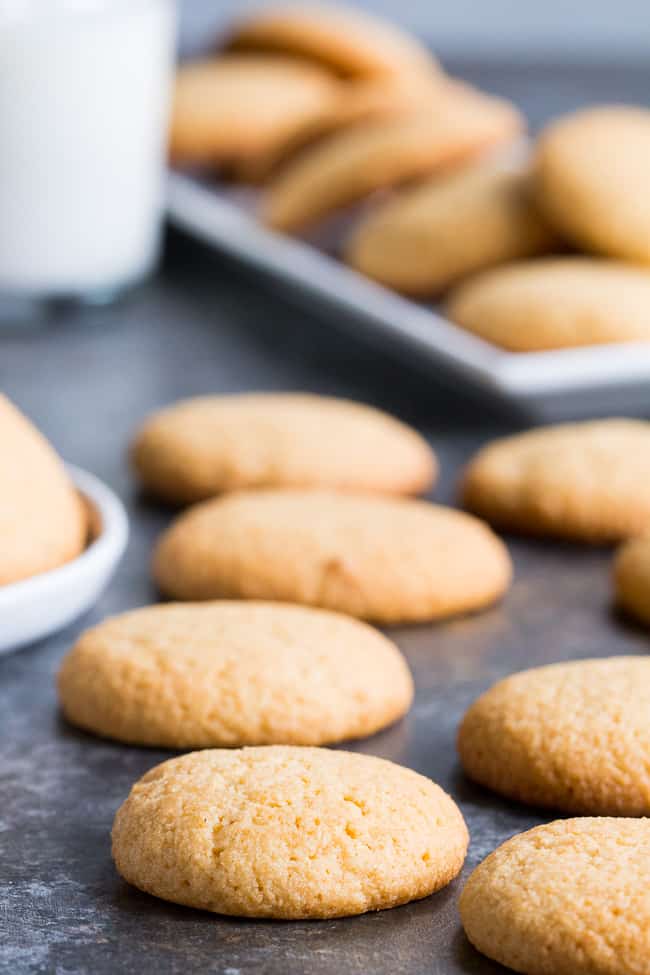 Paleo Vanilla Wafer Cookies
These grain free and paleo vanilla wafer cookies are light and crisp with sweet, buttery flavor. They're perfect for healthy snacking and treats!
Prep Time: 15 minutes
Cook Time: 20 minutes
Total Time: 35 minutes
Course: Baking/Dessert
Cuisine: Gluten-free, grain free, Paleo
Servings: 34 cookies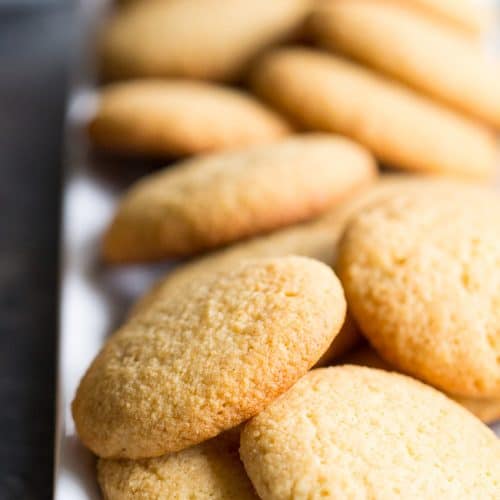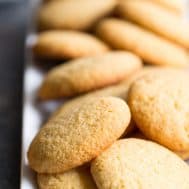 Instructions
Preheat your oven to 325 Degrees F and line 2 large cookie sheets with parchment paper. Place two oven racks in the upper portion of your oven (this will avoid the bottom of the cookies browning too much.)

In a large mixing bowl with an electric mixer, cream together butter and honey on medium speed until very smooth. Add in egg and beat on low/med until smooth, then add vanilla. Combine flours, baking powder and salt in a separate bowl and slowly beat into wet mixture until incorporated.

Chill cookie dough for at least 10 minutes and up to 30. Line 2 large baking sheets with parchment paper. After chilling, scoop or roll cookie dough into approximately tsp size balls and press down gently on each one to flatten to about 1/2" thickness.

Bake in the preheated oven (325) for 15-20 minutes or until cookies are golden brown. Remove from oven, allow to cool two minute on the sheets, then transfer to wire racks to cool completely. Once cookies cool they will have a crisp/slightly chewy texture. After a day at room temperature they will soften. Store covered in the refrigerator for 4-5 days.
Recipe Notes
*Recipe Note: To make paleo friendly baking powder (corn free) mix 1 tsp baking soda with 2 tsp cream of tartar. For this recipe, you will need just 1 tsp total of this mixture.
Nutrition
Calories: 66kcal
Carbohydrates: 5g
Protein: 1g
Fat: 4g
Saturated Fat: 1g
Cholesterol: 9mg
Sodium: 51mg
Potassium: 18mg
Sugar: 3g
Vitamin A: 60IU
Calcium: 20mg
Iron: 0.3mg
Learn more about Wholesome Organic Honey, get more recipes, and purchase your honey by visiting the following web pages:
*Effective November 17th

Want More Paleo Cookie Recipes? Try One of These!
Coconut Flour Chocolate Chip Cookies
Paleo and Vegan "Oatmeal" Raisin Cookies
Chewy Double Chocolate Tahini Cookies
Soft and Chewy Paleo Chocolate Chip Cookies
Paleo and Vegan Cherry Lemon Almond Thumbprint Cookies
Tell Me!
What do you love pairing vanilla wafer cookies with?